| TOGETHER WITH | |
| --- | --- |
Happy Tuesday. Happy first day of Fall.
Grover thanks you for taking five minutes out of your morning to learn a few things about the world and empower yourself to take control of your finances. Grover also wanted to tell you about our new "Come on Man Vote" shirts that just hit the store. Just click the picture to see more.
In Today's Newsletter:
Kentucky on high alert
Meat prices drop
Coffee saves lives
In Case You Missed It
credit: giphy
In Case You Missed It.
The Dow dropped 500 points on Monday.
Italy voted to shrink its government by one third in a referendum election held yesterday. Imagine if the U.S. did that. Oh, I'm laughing.
A big donor to British Prime Minister Boris Johnson has been called out for receiving funding from Russian President Vladimir Putin.
A woman in Oklahoma proved that you couldn't get out of a speeding ticket because you have to do a #2. Note to self.
Coronavirus Update: Total confirmed U.S. cases as of 3 a.m. ET: 6,857,967 — Total deaths: 199,884 — Total recoveries: 2,615,949
Health: High temperature isn't a good litmus test for coronavirus, doctors say
Pine-Sol has been proven to kill COVID germs on surfaces. Not in humans. Don't drink it.
CONFIRMING LOAN

Program

Rate

Change

APR

Change

30 year
3.05

%

0.02%
3.11

%

0.02%

15 year
2.82

%

0.12%

2.94

%

0.11%
The Lead: All Eyes on Kentucky
credit: reuters
Louisville, Kentucky, is under a state of emergency in advance of the city's announcement in the Breonna Taylor case. Taylor was a 26-year old EMT who was shot in her home during a no-knock search warrant.
We hope we are misinterpreting this, but we don't think we are. Likely it means one group is not going to like the announcement and could bring about civil unrest, but we can't predict which group. Right-wing white supremacists will be angered if the police are charged. Black rights proponents will be angered if they are not.
It is also likely that the effects of Taylor's death will be felt way beyond Kentucky's borders. This is a high-profile case with celebrities such as Beyoncé calling for justice.
Taylor's family received a $12 million settlement from the city this month as well as a commitment that the police department would make policing changes.
Sponsor: Fund & Grow
What if you could get 0% interest funding in order to buy your first investment property. Or new equipment for your business? You can!
Fund and Grow sets you up with business credit cards with 0% interest rates. The best part is that they work directly with the banks to get you the maximum amount of funding.
When I first started working with Fund and Grow they were able to get me $176,000 with 0% interest. I used that to buy three rental properties that each cash flow around $1,000 a month. This is a fantastic way to kick start your investing journey.
And the best part is you'll save $500 when you pre-qualify and watch the FREE webinar at this link right here.
How The Sausage Is Made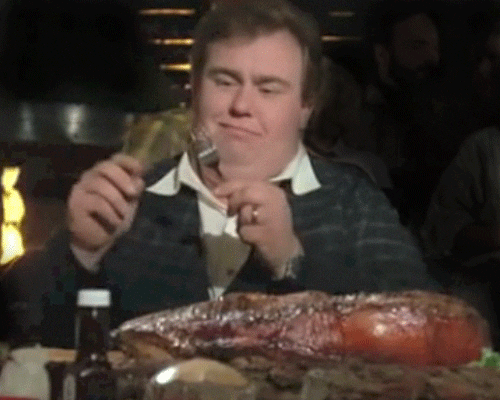 credit: giphy
The price of meat is back to pre-pandemic levels after price surges throughout the summer.
The high prices have reduced demand for meat and created a surplus. Not to mention that there are fewer steakhouses up and running at a lower capacity. Now, farmers have to move their product at a lower cost and accept lower profit margins.
While farmers could not move their livestock due to factory closures this year, the cows and pigs sat around getting fat. Literally, farmers are saying that this will result in more marbling and flavor in the meat, meaning the meat on the shelves will be cheaper and higher quality.
News By The Numbers
credit: theheatbroker
$6,000. That is how much an online flea market seller snagged for a vintage Aladdin shirt on Instagram. We cannot vouch for the authenticity of this search. It has a Fruit of the Loom label. You never see that in Disney stores.
56%. That is the percentage of American voters who favor splitting up tech companies to avoid a monopoly.
$1,200. That's the price tag of the new Gucci distressed denim jeans that come with grass stains! Because who can be bothered these days to DIY grass stains??
10 p.m. That is the new Last Call time for pubs and restaurants in the UK due to rising COVID cases. That doesn't give people much time to eat, given Europeans eat dinner at 9:59 p.m. Prime Minister Boris Johnson says he is considering this to "save Christmas."
Is there a doctor in the house?
credit: nytimes
According to the Association of American Medical Colleges, medical school applications are up 17% from last year.
We can choose to think that this means that our youth are altruistic people, given that doctors and nurses are being lauded as the true heroes of the pandemic. Or we can choose to think that our youth are opportunistic. The pandemic has forced medical schools to forego admission tests like the MCAT, so if ever there was a year to apply, it is this one! We are going with a little bit of both. Just keep in mind, medical students graduate in June like all other students, so try to avoid the emergency room in July if you don't want a Doogie Howser on your case!
Coffee will save us all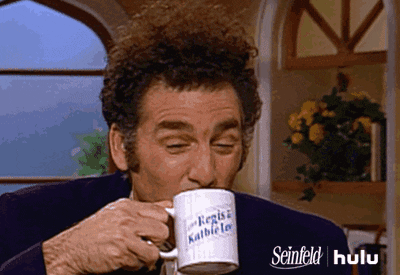 credit: giphy
A new study shows that people who drink up to four cups of coffee per day had a better chance of surviving colon cancer. It also slowed the progression of cancer.
Even though researchers were only able to prove correlation, not causation, they attribute this to java antioxidants and anti-inflammatory properties. And more seems to be better in this case. People who drank more than 4 cups of coffee per day had even more significant benefits than those who drank only one cup per day. So I've got that going for me!
Save the breweries
credit: Wonho Frank Lee
The Los Angeles County Board of Supervisors has decided to give breweries and wineries a $10 million grant to keep afloat during the pandemic. We like their sense of priorities!
Breweries and wineries are open again since lockdown but only for retail sales in Los Angeles County. Many of these businesses made a bulk of their income from visitors, tours, and tastings, which are not yet allowed.
Breweries and wineries can apply for this money based on their size, but if you compare the pot to the number of competitors, it comes out to a small amount when split many times.
Share The Love
Become a friend of Morning Invest by sharing this newsletter with someone you love.
When you do, we don't just give you a pat on the back and say, "Well done old sport." We give you actual rewards that'll make everyone jealous.