| TOGETHER WITH | |
| --- | --- |
Happy Thursday.
If you're new around these parts I want to share something FREE with you. Natali and I have built our 90-Day Financial Freedom Bootcamp that you can now download FOR FREE right here.
The Bootcamp will take you week by week to help you build financial freedom the right way. You deserve the same financial education wealthy people have so go ahead and download it now. And then come back and read the rest of the newsletter!
credit: clayton morris
In Case You Missed It:
Coronavirus Update: Total confirmed U.S. cases as of 3 a.m. ET: 7,916,533 — Total deaths: 216,903 — Total recoveries: 3,155,794
Students in Birmingham were given used Covid tests as a mistake. They realized this when they opened their swabs and found that they were not sterile. Gross.
Doctors say the Covid vaccine won't be recommended for children in its first roll-out.
In Today's Newsletter:
Europe catches up with the U.S. in Covid cases
Early voting lines stretch hundreds of yards
Amazon gets the NFL playoffs
CONFIRMING LOAN

Program

Rate

Change

APR

Change

30 year
3.28

%

0.26%

3.35

%

0.27%

15 year
2.75

%

0.12%

2.86

%

0.11%
Lead Story: Follow The Red Line
credit: wsj
Europe is beginning to overtake the US in rising Covid case numbers, and member states are going back into various levels of lockdowns.
In France, the rules mostly apply to a night-time lockdown. Residents of larger cities such as Paris will have a curfew between 9 p.m. and 6 a.m. for the next four weeks.
In Germany, group sizes were once again limited and an earlier curfew was instated for bars and restaurants. Germany has had a very low death toll for the virus but still saw case number spike to a daily record on Thursday to 6,638 in a single day.
Sponsor: Landlord Studio
People often ask us what software we use to manage our rental properties. Well look no further than LandLord Studio.
With Landlord Studio you get everything you need under one roof to be an organized landlord.
Track expenses by scanning receipts right on your phone
Screen tenants
A full financial dashboard
Email reminders
Track all of your expenses
Integrates with your bank for rental income
These are just a few of the amazing features. The best part is that you can do all of this right on your phone! We love Landlord Studio and you can give them a try for FREE by click right here. You're going to love it.
Climate: Stand Up And Take a Bow
kenichiro yoshida, CEO of top-ranked Sony, credit: Bloomberg
Sony was named the most sustainably managed company in the world by the Wall Street Journal. The paper graded companies based on the sustainability of manufacturing, delivery, supply chain, and data management practices, among other factors.
Most of this came from self-reported data from companies. The Journal points out that many companies are still reluctant to release this data because of the arduous nature of tracking it and fear of non-compliance. But government regulations are increasingly asking for this information so companies that rank high in sustainability will not feel the burden when the business world forces their hands.
Surprisingly, hardware companies are over-represented in the top 20. Philips, a company that buys back and refurbishes all of its hardware, is just behind Sony at #2. LG is #6, HP is #8, Ericsson, Xerox and Caterpillar are also in the top 20.
News By The Numbers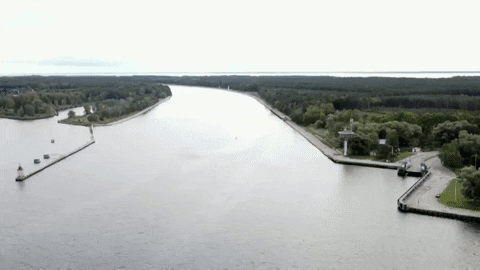 credit: giphy
12,000 pounds. That is how much a World War II bomb weighed that exploded on Monday underwater. The Polish Navy was attempting to diffuse it but, well, it didn't work. Thankfully no one was hurt.
400 years old. That is the age of a Dutch trading ship that was discovered in the Baltic Sea. Researchers say it is in pristine condition with some of its rigging still scattered on deck.
15 million. That is how many have people participated in early voting so far. In Texas yesterday 1 million people voted in one day! Actually, that was an early estimate. The actual number is expected to be much higher.
11 days. That is how long it took a bar-tailed godwit to fly from Alaska to New Zealand without taking a break, a record cross-continental flight. At least international travel is still open for some.
6,000 feet. That is how high a man in a jet pack was flying when a pilot for China Airlines reported him to the tower in Los Angeles. This is the second jet pack flyer spotted in the SoCal skies in just under two months. No word if it's the same person.
Turning Lemons Into Lemonade
credit: nature.com
Scientists have found a way to take plastic trash and turn it into hydrogen, which can then be used for clean fuel. This comes out of a study from the University of Oxford.
Plastic is an abomination. Nearly 5 tons of plastic ends up in a landfill or in nature and this number is just growing, killing wildlife and disrupting ecosystems. A new documentary asserts that recycling was actually a marketing idea from the plastics industry so that people felt good about buying more plastics.
The Oxford scientists used microwaves to initiate a catalytic deconstruction process to turn plastics into hydrogen. Don't do this in your home microwave. It's not the same and also, what would you do with raw hydrogen if you succeed?
Wells Fargo Needs Some Employee Training
credit: giphy
Wells Fargo has fired over 100 people for taking Covid relief funds for themselves. It is amazing how many of these abuse stories keep on coming.
The bank says that staffers made "false representations in applying for coronavirus relief funds for themselves." Recall that Wells Fargo was among the banks that could not process applications because it ran out of funds within hours of the program opening. Wells Fargo will now cooperate with government investigations around these thefts.
Amazon Primed For NFL Playoffs
credit: reuters
Amazon will stream a playoff game on Prime this season due to a deal with the National Football League. The streaming service already has 11 Thursday night games.
Amazon is reportedly paying $75 million per year for exclusive rights to NFL games. The company did not report how much more it would pay for a playoff game.
Share The Love
Become a friend of Morning Invest by sharing this newsletter with someone you love.
When you do, we don't just give you a pat on the back and say, "Well done old sport." We give you actual rewards that'll make everyone jealous.
Hit the button below to learn more and access your Reward Dashboard.