| TOGETHER WITH | |
| --- | --- |
Happy Friday. Today is our last quiet morning until the kids are out of school for two weeks. I'm just going to sit here for a few minutes and enjoy this silence.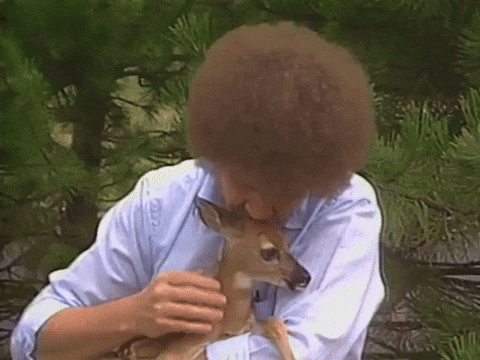 credit: giphy
In Case You Missed It.
The Minister for Foreign Affairs in Ireland has declared that Santa Clause qualifies for essential travel and will not need to quarantine. Children should not stay up for him, however, because he does need to practice social distancing. (Show this to your kids!)
Disney CEO Robert Iger is interested in becoming the ambassador to China in the Biden administration.

Hundreds of schoolboys who were kidnapped by Boko Haram in Nigeria have been safely returned.

Two Ohio parents were charged with renting a party bus for their child's 14th birthday but not going along to supervise. The kids started fighting, the bus driver tried to flee. It was mayhem.

Trading app Robinhood has agreed to a $65 million settlement with the Securities and Exchange Commission after it was accused of "gamifying" stock investments.

Coronavirus Update:
Total confirmed U.S. cases as of 8:30 p.m. ET Thursday: 17,179,180 — Total deaths: 310,325 — Total tests: 222,681,418
CONFIRMING LOAN

Program

Rate

Change

APR

Change

30 year
2.73

%

0.05%

2.78%

0.05%

15 year
2.40

%

0.10%

2.48

%

0.11%
The Lead: The Stimulus Battle
credit: getty
Congress promised a stimulus deal by Friday. Time to put up or shut up! Except we know they won't shut up.

Congress was scheduled to leave for Christmas break today, but Senate Majority Leader Mitch McConnell has said that they will stay longer if no deal is reached.
The runoff election for the two Senate seats in Georgia has lit a fire under the backside of GOP leadership. Current polling has the Republican candidates behind, which would mean that McConnell would lose power as the Majority Leader. If a stimulus is passed in time for the election, the two GOP candidates would benefit from a political win. Democratic opponents have slammed them both for opposing relief money to the American people.

Will $600 per person in relief money be enough in a down economy during the holidays? Decidedly not, but $0 is a much more devastating number. Rumor has it that the President wanted $2,000 in stimulus payments to the American people but aides stepped in to prevent him from interfering with the negotiations.
Ditching The Big Apple
credit: getty
Deutsche Banks is considering closing down its New York City headquarters and moving operations to small cities around the country. Last week Goldman Sachs announced that it was doing something similar, closing down an asset-management firm that generates $8 billion per year in revenue for the city.

What will Wall Street look like when the big players are playing from afar? The pandemic has proven that this is possible as over 3 million New Yorkers have moved out with no plans to return. There has been some new blood moving in but not big earners like the ones who left. By some estimates, the city will lose $34 billion in annual revenue from this exodus and the big banks will not be there to pick up the slack.
The same story is happening in the San Francisco Bay Area where Oracle has decided to move headquarters to Texas. Some say that Texas could become the next Silicon Valley.
Sponsor: PaintYourLife.com

Our family won't be together for the holidays this year, but I found a way to bring us all together…safely. A hand-painted compilation portrait from Paint Your Life. And it makes the perfect gift!

You can have your favorite family photo turned into a hand-painted canvas in just two weeks! Yes, a real artist will use your photo and create a beautiful painting for your wall. That's the power of PaintYourLife.com. And you'll save 20% if you text the word INVEST to 64-000. These guys are amazing.

● Choose from a team of world-class artists and work with them until every detail is perfect.
● You can order a custom-made, hand-painted portrait in less than five minutes!
● Quick and easy process. Get a hand-painted portrait in about 3 weeks!
● Meaningful, personal, and can be cherished forever.
● It makes the perfect holiday gift for someone you love. Or for yourself!
Again you'll save 20% off if you text the word INVEST to 64-000 right now.
Hackers Broke Into America's Nuclear Arsenal
credit: ap
The hack that is thought to have been perpetrated by the Russians seems to have affected the U.S. nuclear weapons stockpile. Not great.

Last week federal agencies were notified by a contract cyber securities firm that dozens of federal agencies had been compromised and their emails tracked. The list of agencies that were watched continues to grow and now we know that it includes the Energy Department and National Nuclear Security Administration, where, obviously, there is top secret information about nuclear security. That info may not be a secret to foreign adversaries at all anymore.

The federal agency that would deal with this, the Cybersecurity and Infrastructure Security Agency, has said that they are overwhelmed and might not be able to allocate the necessary resources to this problem. It doesn't help that the President fired its director Christopher Krebs a few weeks ago because he wasn't happy with the results of the Presidential election.
Breaking Up Is Hard To Do
credit: getty
An oil tanker called Safer has been abandoned for over 5 years and is now about to break down and dump 1 million barrels of oil into the Red Sea.

The tanker sits off the coast of Yemen where a civil war has been raging for 6 years. The company that owns it claims that it does not have the resources to retrieve or repair the vessel so it has sat there deteriorating. Now scientists are warning that if it is not addressed, it will create an unprecedented ecological crisis.

Safer contains 1 million barrels of oil – more than 4 times the amount of oil spilled in the 1989 Exxon Valdez catastrophe.

The United Nations has been given permission to inspect the tanker in January but no real plans to remove it have been made.
News By The Numbers
30,000 people. That is how many people's homes run on energy created from burning scrap tires in Turkey.

3-2-2. That is what Harvard Business School's Ashley Whillans predicts will be the new term for a full-time workweek, replacing the term "9-to-5." This means that employees will have the option of working 3 days in the office, 2 days from home, with 2 days off. Working 3-2-2, what a way to make a living… Not quite as catchy.
6 times. That is the odds that a black child is killed by gun violence when compared to a white child. This study was published in Pediatrics. Hispanic children were 3 times more likely to be shot to death than white children.

$8.4 million. That is how much money was seized from a fake ministry in Florida that received Paycheck Protection Program money from the federal government. The family behind it had set up a fake company to secure the loan and planned to buy a home in Disney World with it when they were caught.
Britain Tries To Have Its Scone and Eat It Too
credit: reuters
Negotiations are hanging on by a thread between the U.K. and the European Union over Brexit. Just like in the U.S., key negotiations are coming down to the wire and one Senior British minister put the chances of reaching a deal at less than 50%.
The EU has had clear trade rules in place since long before Brexit. The U.K. opted to leave and is now asking the EU to change those rules just for them and seems shocked that they won't. What are we missing here?

If no deal is reached, the UK will trade with the EU according to World Trade Organization rules and Prime Minister Boris Johnson has said that this will be fine too.

It is not clear if it will be fine. The UK is highly dependent on foreign imports. Trade routes in Northern France and Southern England are backed up as U.K. companies stockpile supplies before major tariffs and delays are placed on imports.
Share The Love
Become a friend of Morning Invest by sharing this newsletter with someone you love.
When you do, we don't just give you a pat on the back and say, "Well done old sport." We give you actual rewards that'll make everyone jealous.