| TOGETHER WITH | |
| --- | --- |
Happy Monday.
We have a ton of news to get to this morning. So much for easing back into the week
In Today's Newsletter:
Stimulus hits a Supreme Court sized wall
Canada studies poverty… America better pay attention to their findings
U.S. restaurants set time limits
In Case You Missed It

credit: giphy
In Case You Missed It.
Coronavirus Update: Total confirmed U.S. cases as of 3 a.m. ET: 7,762,809 — Total deaths: 214,771 — Total recoveries: 3,075,077
Surge: U.S. COVID-19 cases hit a two-month high with over 58,000 infections and 10 states report record increases.
CONFIRMING LOAN

Program

Rate

Change

APR

Change

30 year
3.05

%

0.06%

3.12%

0.06%

15 year
2.62

%

0.04%

2.75

%

0.03%
The Lead: Stimulus Soap Opera
credit: getty
Don't bank on productive lawmaking to happen in the US this week. Lawmakers are about to square off on a Supreme Court nominee's confirmation hearings and do not seem to be getting any closer to a stimulus package, despite some signs of progress last week.
Democrats say that Republicans' offering still falls too short of what is actually needed, even though they came up from $1.1 trillion to $1.9 trillion. Democrats claim disinterest as long as the Republican plan lacks money for Covid testing, contact tracing, and treatment. The Democrats' plan has a $2.2 trillion price tag.
Talks will continue this week, but more eyes will be on the confirmation hearings for Judge Amy Comey Barrett. Republicans have four days set aside this week and hope to call a confirmation vote by then.
Sponsor: Fund & Grow
What if you could get 0% interest funding in order to buy your first investment property. Or new equipment for your business? You can!
Fund and Grow sets you up with business credit cards with 0% interest rates. The best part is that they work directly with the banks to get you the maximum amount of funding.
When I first started working with Fund and Grow they were able to get me $176,000 with 0% interest. I used that to buy three rental properties that each cash flow around $1,000 a month. This is a fantastic way to kick start your investing journey.
And the best part is you'll save $500 when you pre-qualify and watch the FREE webinar at this link right here.
Covid Vaccine: Take At Your Own Risk

credit: axios
If and when you take a Covid vaccine, you will not have much legal recourse if it goes wrong, according to the Wall Street Journal.
The Covid-19 vaccine is covered by something called the "countermeasures injury" compensation fund. This gives drug companies immunity from potential liability lawsuits. It also raises the bar for proving the vaccine's ill results, has a shorter statute of limitations, no way to appeal, and will not pay damages for pain and suffering.
So take it at your own risk but don't look to us if it goes wrong. Comforting. Thanks.
News By The Numbers
credit: evans baudin / scuba diving magazine / grand prize winner
50. That is how many fish a whale shark had in its mouth for its winning photograph in the annual Scuba Diving magazine photo competition.
7,500 mph. That is the speed of a weapon-delivering rocket in the works from SpaceX and the US military. It will be able to carry 80 metric tons of cargo to any location in the world within an hour.
$1 million. That is how much a Black man in Texas asked in his lawsuit with Galveston's city after he was handcuffed and tied to a police officer's horse and paraded to jail like a slave. He was being arrested for trespassing but his offense was dismissed in court.
1,200 years old. That is the age of a Norwegian temple that has been found that paid homage to Thor and Odin. Not the Chris Helmsworth and Anthony Hopkins versions. The Norse Gods that preceded the Marvel universe by centuries, or infinity, depending on your belief system.
Attacking Homelessness in Canada
credit: shutterstock
Canada has been studying the effects of a basic income, and the results are surprising and encouraging, especially if you've got a government willing to learn.
For one year, 50 homeless people were paid $7,500 per month with no strings attached other than agreeing to be studied. Rather than buy drugs or booze, most of them spent the bulk of their money on food, rent, medicine, clothes, and savings. By the end of the year, the average participant was able to save $1,000 and reported a 39% reduction in alcohol, tobacco, and drug purchases.
The Numbers
Researchers interpret this data to mean that homeless people are not losers. They are simply people down on their luck who can pull themselves right-side-up with some help. They also calculate that paying $7,500 per month saves the government $8,100 per month per person in costs of shelters, food banks, and other assistants programs. That amounts to $405,000 in savings for the 50 participants.
This study should be read by Republicans who think giving extra stimulus payment will encourage people not to work or help themselves.
Gyms Want to Pump Up Your Credit Card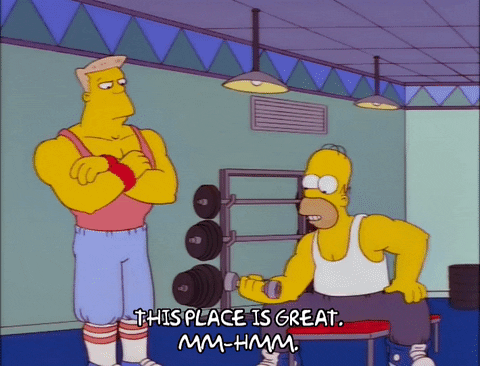 credit: giphy
Gym memberships are notorious for being impossible to cancel. That has gotten worse during the pandemic.
Gyms stopped charging members while they were closed, but monthly dues started back up again when they opened back up. Not all members wanted this. Many (us included) are wary about going into a closed space where everyone is panting respiratory droplets on shared equipment! Still, gyms are not letting people out of their dues and facing lawsuits as a result.
There is no federal law for how gyms can charge or not charge members and very few standards to hold them by. And we know they're hurting for business since forced lockdowns. Some gyms require members to come in person to cancel, which is exactly what they do not want to do.
Dr. Fauci Does Not Endorse President Trump
credit: dw
Dr. Anthony Fauci says that a political ad by the Trump campaign was released without his permission and taken out of context. The ad features Dr. Fauci saying, "I can't imagine that anybody could be doing more." It makes it seem like he is referring to the President when he actually was not. He was actually referring to himself and the Covid task force.
"In my nearly five decades of public service, I have never publicly endorsed any political candidate. The comments attributed to me without my permission in the GOP campaign ad were taken out of context from a broad statement I made months ago about the efforts of federal public health officials," Fauci said in a statement.
The White House issued no correction or apologies for taking this clip out of context.
Share The Love
Become a friend of Morning Invest by sharing this newsletter with someone you love.
When you do, we don't just give you a pat on the back and say, "Well done old sport." We give you actual rewards that'll make everyone jealous.