| TOGETHER WITH | |
| --- | --- |
Happy Thursday! There's not a lot to be happy about when we have to start off the newsletter with a frightening number of Covid-19 deaths in the U.S. As of this writing at 4 a.m. EST the U.S. crossed a grim milestone of 250,537 deaths. Yesterday saw over 1,100 in one day. Let's take a moment and thank all the healthcare workers who are working around the clock to keep up.
In Case You Missed It.
People Magazine has named Michael B. Jordan as 2020's Sexiest Man Alive.
The UK announced plans to ban fully gas-powered cars and vans by 2030.
A federal judge ruled that the Trump Administration can no longer deport unaccompanied minor children across the border.
Coronavirus Update:
Total confirmed U.S. cases as of 3 a.m. ET Today: 11,529,807 — Total deaths: 250,537 — Total recoveries: 4,293,640
A new study shows that people who vape may not respond well to the Covid vaccine. Just in case you thought vaping may be good for you.
The US logged over 170,000 confirmed cases in a single day for the 2nd time.
New York City schools are closing in-person learning again as the city population hits a 3% positivity level. Governor Cuomo warns of "astronomical" increases.
In Today's Newsletter:
Unemployment benefits set to run out

Everyone's moving to Georgia

China wants you to move to the countryside
Lead Story: Coal In Our Stockings
credit: reuters
We hate to be a holiday humbug but here is some grim news: About 12 million unemployed people will lose their unemployment benefits the day after Christmas when the CARES Act expires.

The extra $600 per week that had been offered to the unemployed expired in July but unemployment there had been additional funds offered from the Pandemic Emergency Unemployment Compensation benefits. The time is about up on that and the Pandemic Unemployment Assistance program, which gives jobless aid to freelance and gig workers. By some measures, 7.3 million people rely on that income.

Additionally, a moratorium on evictions will end on December 31. It's all like a ticking time bomb designed to test the economy. President-elect Joe Biden has called on Congress to pass a stimulus immediately but given he's not getting very far with his government cooperation, that request hasn't been very effective so far.
CONFIRMING LOAN

Program

Rate

Change

APR

Change

30 year

2.76%

0.13%

2.81%

0.14%

15 year
2.49

%

0.19%

2.57

%

0.20%
Well Ain't That a Peach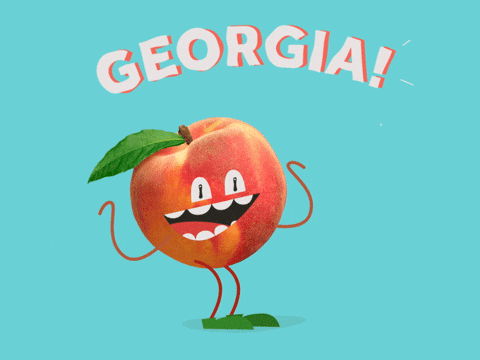 credit: giphy
The two Senate races in Georgia have big stakes for U.S. government with the potential to shift power out of Republicans' hands. That is why both parties are throwing their weight behind it big time, so much so that some Democrats are willing to move to Georgia in order to cast a vote.

The pandemic has shifted the voting demographic in a major, and perhaps permanent way. Red states like Arizona received a major influx of blue voters from high-tax states who cast their votes in their new homes. Some telecommuters who are seeking new homes are willing to move to a place just to cast a vote.
Activists in San Francisco are assisting one another to move to Georgia. One of them told the Chronicle that her phone was ringing every 20 minutes with these requests.

"People are asking me, 'When do I move to Georgia? Where can I stay? Should I get a block of hotel rooms?'"
We applaud this spirit but should you get to vote in a state if you have a hotel room??? This is not a civics newsletter but that hardly seems like fair play.
Sponsor: Get Free $1,600 with Webull

Webull is blowing my mind. Right now until December 15th, Webull is giving away 4 free stocks valued up to $1,600. Yes you read that right. Why not get some free money? Right now you can get FOUR free stocks valued up to $1,600 just for opening an account with Webull. And you have to check out Webull's new desktop app too! Seriously it's awesome.

You'll get up to $1,600 in stocks just for opening a free trading account with Webull and depositing $100 into the account to activate it. Simply click here and start an account. Even if you never do anything else with the account you still get that free money.
With Webull you can invest in thousands of companies using their trading tools and analytics to create your own financial portfolio. And the best part is $0 commissions and no deposit minimums. I remember when I used to pay $6 per trade with some other companies. Not any more thanks to Webull.
Sign up today and get your free stocks. Thanks, Webull.
The Great Shift of China
credit: wsj
China is trying to reverse its urban shift. For decades, people from small villages moved to big cities to seek work. This left rural China in dire straits, and the government wants to fix that.

The government is investing in the infrastructure of small towns and asking entrepreneurs and business owners to do the same. Some who left for the big city are going back and bringing with them new life and new business. Some villages that were in the dumps have now been certified as poverty-free.

Much of China's growth has been from manufacturing and exporting cheap goods. Now the government wants to turn its attention inward and increase domestic spending.
Air Canada Gets Creative
credit: 1News
Air Canada has cleared out the coach section of many of their airplanes to make room for cargo because inanimate objects and animals are not afraid to fly during a pandemic.

The planes have turned into shipping containers, carrying car parts, mail, produce, and pets. The 300 seats normally reserved for humans have been cleared out. Business class, however, was left intact. The pilots say that it is an odd change but gives them more freedom to fly the most efficient routes. With human passengers, they choose the smoothest air. With cargo, they go off-roading, so to speak.
"Freight doesn't really care," one pilot said.
News By The Numbers
credit: ap
$5.7 million. That is how much in free advertising Nike has enjoyed from a photo of a Hail Mary catch by DeAndre Hopkins, which has gone viral on social media. Hopkins won't share in that pot, however, because he is not a Nike sponsored athlete.
200 pounds. That is how much a mere human can lift if they wear a battery-powered Iron Man-looking exoskeleton suit.

300 miles. That is how far the Italian police traveled to transport a kidney to a new donor in a Lamborghini. But of course, the Italian police would have a Lamborghini in its fleet. The car sped from Rome to Padua in 2 hours at 145 mph with the kidney in its specially-designed refrigerated trunk.
Marissa Mayer Returns With A Great Idea
credit: sunshine contacts
Marisa Mayer used to be the hottest name in Silicon Valley but the former Yahoo CEO hasn't been in the spotlight much since 2017. Now she's back with an app to promote that will clean up your contact list.

The app is called Sunshine Contacts and it uses artificial intelligence to find and merge duplicate contacts and fill in incomplete contacts. It integrates with iOS and Gmail.

It also allows users to change their own contact information, which will automatically update on other people's contact lists. Mayer's company aims to release family sharing, scheduling, and organizing apps after the initial rollout of Sunshine Contacts. The contacts app is available by invitation only for now.
Share The Love
Become a friend of Morning Invest by sharing this newsletter with someone you love.
When you do, we don't just give you a pat on the back and say, "Well done old sport." We give you actual rewards that'll make everyone jealous.