| TOGETHER WITH | |
| --- | --- |
Happy Tuesday.
Grover thanks you for taking five minutes out of your morning to learn a few things about the world and enjoy some coffee. Our number one seller in our store is our "Come On Man" mug. Thanks for your support!
In Today's Newsletter:
Trump says "Maybe I'm immune"
The CDC goes airborne
U.S. restaurants set time limits
In Case You Missed It

credit: giphy
In Case You Missed It.
Coronavirus Update: Total confirmed U.S. cases as of 3 a.m. ET: 7,458,550 — Total deaths: 210,195 — Total recoveries: 2,935,142
Health: The UK suddenly became aware of over 15,000 Covid cases that it had previously missed due to a data entry mistake.
CONFIRMING LOAN

Program

Rate

Change

APR

Change

30 year
3.05

%

0.06%

3.12%

0.06%

15 year
2.62

%

0.04%

2.75

%

0.03%
The Lead: Trumpworld
credit: nbc news
President Trump was released from the hospital on Monday, just three days after being hospitalized for Covid. He insists that he is improving, even claiming "maybe I'm immune." But his doctors insist that he "may not be out of the woods yet." He will continue his care at the White House for the foreseeable future, but you wouldn't know it from his videos and photo ops.
The President posted a video of himself back at the White House, admonishing people not to be afraid of the virus that has killed over 210,000 Americans. He says not to "let it dominate your life." So the people who died from this virus or suffer lasting ill effects allowed it to dominate their lives? If only they'd had the President telling them not to!
Other staff
Meanwhile, Press Secretary Kayleigh McEnany tested positive for Covid and will be working from home for the foreseeable future. She is the umpteenth person from the White House to test positive…honestly, we've lost count. The White House currently has more Covid cases than Taiwan, New Zealand, and Vietnam combined, which imposed strict mask and distancing requirements. Yet the White House has decided not to do any contact tracing from the Supreme Court nomination event that left so many Covid positive.
Now we're on the watch to see how the President can follow quarantine protocols, which he already broke over the weekend. The First Lady, who is also infected, has been far more reserved, reportedly refusing to visit her husband in the hospital because she did not want to expose the Secret Service agents designed to protect her. Looks like the President needs to teach her how to not let it dominate her life.
Sponsor: Fund & Grow
What if you could get 0% interest funding in order to buy your first investment property. Or new equipment for your business? You can!
Fund and Grow sets you up with business credit cards with 0% interest rates. The best part is that they work directly with the banks to get you the maximum amount of funding.
When I first started working with Fund and Grow they were able to get me $176,000 with 0% interest. I used that to buy three rental properties that each cash flow around $1,000 a month. This is a fantastic way to kick start your investing journey.
And the best part is you'll save $500 when you pre-qualify and watch the FREE webinar at this link right here.
Health: Please Don't Cough On Me

credit: axios
The Center for Disease Control and Prevention now says that Covid can be spread through "airborne transmission" to people more than 6 feet away.
While most infections happen within the 6-feet proximity, the virus can travel beyond 6 feet in poorly-ventilated indoor spaces. The agency said that these more rare transmissions often happened in activities that "caused heavier breathing like singing or exercising." Which explains why so many gyms are still shut down.
News By The Numbers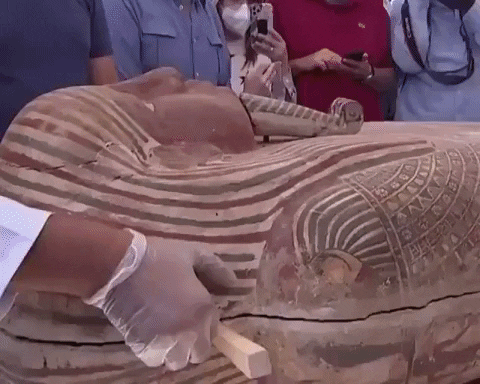 credit: giphy
2,600 years. That is how long ago an Egyptian mummy was buried. It was opened this weekend. Dozens of coffins and ornate artifacts were found in the tomb.
$166 billion. That is the projected sales for masks in 2020, according to the United Nations Conference on Trade and Development.
$5 million. That is how much a 9-year-old boy and his mother are demanding in a lawsuit against Nintendo because the Nintendo Switch controller sometimes moved characters or made them drift when the player was not moving them.
$41 million. That is the fine that clothier H&M will have to pay to the European Union for tracking the personal lives of employees on a company-wide database.
Mental Health: Online Therapy Takes Off
credit: phillymag.com
Online mental health programs are booming since the pandemic began. Not only are more people reaching out for virtual therapy, but more people have also decided to offer help by becoming licensed therapists.
Antioch University in Los Angeles reported a 200% increase in applicants to its clinical psychology program this fall. A common theme amongst these students: they found themselves soul searching for more meaningful work and took advantage of distance learning during the pandemic to make a change.
Patients who would like to talk to a therapist online can skip the leather couch and use apps like Talkspace and BetterHelp.
Real Estate: Vegas Struggles to Pay
credit: istock
Las Vegas has the highest increase in non-paying tenants in the country. The city has been hard hit by the lack of tourism, and the resulting layoffs meant that 10.6% of tenants missed their rent payment in September, up 4.1% from last year.
The national average of non-paying tenants is 7.8%, which is up 1.5% from this time last year. New Orleans, another tourism-dependent city, has the highest percentage of non-paying tenants overall at 12.9%.
Restaurants: Dine and Dash
credit: wsj
Times are hard enough for restauranteurs without you lingering at your table and costing them customers. To turn tables faster and increase profits, some restaurants are giving customers a 90-minute time limit.
In most states, restaurants cannot open at full capacity, which means that they cannot account for the same number of diners at a time. To make up for this, they need to turn tables faster. Which means customers had better eat up and get out!
Will this create customer friction? Is this America!? Restaurants are trying to avoid arguments by informing customers of these policies when they make their reservations and with reminder calls from the hostess.
Share The Love
Become a friend of Morning Invest by sharing this newsletter with someone you love.
When you do, we don't just give you a pat on the back and say, "Well done old sport." We give you actual rewards that'll make everyone jealous.