| TOGETHER WITH | |
| --- | --- |
Happy Friday. I'm glad this election could come down to a county in Georgia named Clayton. We need more counties named Clayton. It has a nice ring to it. Clayton County also looks cool on a map. Like a face with sunglasses on.
credit: clayton
In Today's Newsletter:
Bitcoin soars
U.S. smashes single day coronavirus case record
A dog won a Kentucky election. Yes, it's true.
CONFIRMING LOAN

Program

Rate

Change

APR

Change

30 year

2.85%

0.02%

2.90%

0.02%

15 year
2.72

%

0.13%

2.81

%

0.13%
In Case You Missed It.
A French bulldog named Wilbur was elected Mayor in Rabbit Hash, Kentucky.
Gentoo penguins are more diverse than we previously thought! Scientists say that there are four different species of them, not just one!
Voters in Jersey City, New Jersey, have approved a tax increase to support the arts.
Giant Australian spotted jellyfish are invading the Carolina coast. These beasts are so big they can damage boats.
On Today's Live Show: I'll have a full debate recap Subscribe and join us at 9AM EST right here.
Coronavirus Update:
Total confirmed U.S. cases as of 12 a.m. ET: 9,606,645 — Total deaths: 234,911 — Total recoveries: 3,781,751
The US hit a new record of more than 118,000 Covid cases in a single day on Thursday and experts estimate over 266,000 deaths from the disease by the end of the year.
A new study shows that even asymptomatic Covid carriers can continue to shed the virus for up to 70 days.
In Poland, ambulances are so busy with Covid patients that they have to wait hours in a car line to get patients into ER.
The Lead: The Waiting Is The Hardest Part
credit: axios
Same thing we said yesterday and the day before that: No decisive victor has been called for the Presidency. The numbers are looking increasingly good for Vice President Biden so President Trump gave a speech on Wednesday night and it was a molotov cocktail. Many networks cut away from it because it was full of so many untruths.
Pulling out all stops
The President is using every way possible to claim that he's been sabotaged. He says that the votes that are coming in now are illegitimate and the counting should have stopped on Tuesday when he had leads in key states. He said that the pre-election polls that put him behind was a form of voter suppression by pollsters, discouraging people from voting for him. He says that there was a lot of illegal activity at the polls, when there has been no evidence of that.
Tossed. In fact, a judge in Michigan threw out a lawsuit from the Trump campaign straight away. The President asked a court to make the vote counting stop due to fraudulent activity, and the judge said that there was no evidence of that. Michigan has already been called for Vice President Biden anyway.
The President is going to use every megaphone he's got to cry foul and we knew that. Facebook already shut down a group called Stop the Steal which was aimed at delegitimizing the election. It had gained 300,000 members in just two days.
Meanwhile, Stimulus and Stocks
Meanwhile, the stock market is set to close with its fastest upswing since April. Some say that the Senate Republican hold means that corporate taxes will likely not go up and investors danced a jig about it. This is not a foregone conclusion given the Georgia senate race is still not called and this may not actually give Republicans the Senate but the stock market is hedging its bets.
Sponsor: SaneBox
There are a few tools that I use every day. Sanebox is one of them. If you told me that I couldn't use it anymore I'd start to cry. Seriously I'd curl up and start to cry.
SaneBox helps me take control of my email inbox so that I only see the most important emails. Everything else is filtered into what they call their SaneLater folders which I check once a day. SaneBox is so smart that it knows what I want and what I don't.
It gets smarter over time. If I find an important email in my SaneLater folder I can drag it into my main inbox and I'll always see it from now on.
Perhaps my favorite folder is the SaneBlackHole. You keep getting that Pottery Barn catalog and you're just so darn sick of it. No worries. Just drag it into your SaneBlackHole and you'll NEVER see an email from them again.
Don't take my word for it, try it for free right now and you'll thank me later. Just click here to try it out. And get $25 credit towards your subscription.
Bitcoin Wins Beauty Pagent Advances to Go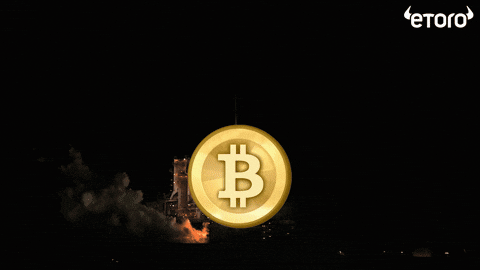 credit: giphy
The value of Bitcoin hit a three-year high on Thursday, trading at over $15,000 per coin.
Since the pandemic, the value of Bitcoin has continued its rise, more than doubling this year. On Thursday alone, it gained 7% in value.
Uncertainty in the current federal-backed currency is obviously helping investors seek alternatives, especially this week when uncertainty is the name of the game. The value of the dollar is plummeting while bitcoin surges. Some say it could top $20,000 by the end of the year.
News By The Numbers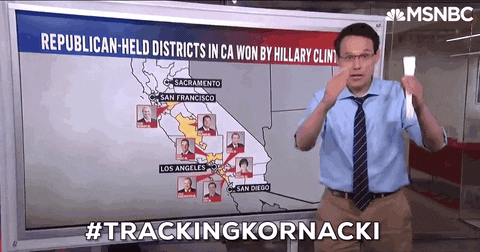 credit: giphy
2 hours. That is how much sleep MSNBC political analyst Steve Kornacki has had per night since Tuesday. The Internet is watching him keep going like the Energizer Bunny, furiously tapping touch screens to turn states blue or red. People noticed when he changed his pants because it meant he'd had at least some time to himself.
3 times. That is how much more likely a Latina woman is to have dropped out of the workforce during the pandemic than a non-Latina woman.
2050. That is the year that oil company Shell has set as a goal to become "a net-zero emissions energy business."
12,000. That is how much a man in Texas is willing to pay as a reward for finding his 10-month old puppy named Jocko. Someone bring Jocko home!
Double-Dip Brexit In a Waffle Cone Please
UK Prime Minister Boris Johnson credit: getty
The United Kingdom seems to be heading into a double-dip recession due to the pandemic and Brexit. The Bank of England is putting £150 billion ($195 billion) into the UK economy to prevent disaster.
Interest rates are 0.1% and they will stay that way. The country is currently back in a strict lockdown and making final preparations to make Brexit official. Once that happens, UK businesses will face high costs to do business with the rest of Europe and that is worrisome, especially when it will happen in an already-down economy.
Britain has its own form of stimulus which will pay 80% of the wages for unemployed people through March.
Grover's Corner: I'm Watching You
credit: afp
In Greece, if you abuse an animal, you can now face up to 10 years in prison. This new law was voted unanimously by the Greek parliament on Thursday.
This law is no joking matter. If you are convicted of hurting an animal, you will pay a fine of up to 15,000€ and get a minimum of 1 year in prison.
Recent abuse of animals has sparked outrage in Greece. There were 2,644 reports of animal abuse from January to June of this year alone. The Greek Agriculture Minister said that this law is meant to send a "strong message" to society that this will not be tolerated.
Share The Love
Become a friend of Morning Invest by sharing this newsletter with someone you love.
When you do, we don't just give you a pat on the back and say, "Well done old sport." We give you actual rewards that'll make everyone jealous.
Hit the button below to learn more and access your Reward Dashboard.