| TOGETHER WITH | |
| --- | --- |
Happy Friday!

We have had a power outage since yesterday's live broadcast. Maybe this is the first email newsletter ever written by candlelight! Feel free to read it by candlelight to get in the spirit!

In Case You Missed It.

Movers have showed up at the White House packing away boxes for outgoing President Trump, who plans to move to Mar-a-Lago, his Palm Beach, Florida resort.

Are they supposed to take this bust of Abraham Lincoln?

Donald Trump Jr. is being asked to sit down with the Attorney General's office in Washington D.C. regarding the case against President Trump's inauguration.

The President has banned his staff from mentioning Richard Nixon in his presence.

Rehearsals for the inauguration were canceled due to security concerns.
NASA says that 2020 was the hottest year on record, tied with 2016.
Chinese exports rose 3.6% in 2020 to a record $2.6 trillion. No wonder the planet is so hot.

Coronavirus Update:
Total confirmed U.S. cases as of 8 p.m. ET Thursday: 23,282,329 — Total deaths: 388,159 — Total tests: 273,074,188
The Lead: Biden Unveils a Stimulus
credit: Getty
President-elect Joe Biden announced a $1.9 trillion stimulus package that he is calling the American Rescue Plan. It includes money for Covid vaccines with a goal of vaccinating 100 million Americans and opening schools in the first 100 days of his administration.

The plan also includes $1,400 in direct payments to the American people as well as an extra $400 per week in unemployment benefits. He is also asking for a federal minimum wage of $15 per hour.

There is also rent relief, paid family leave, and nationwide restrictions on evictions included in the bill.

This is a big plan and some of it may sound like he is dreaming. Keep in mind, it is an opening negotiation. Some of this may be re-written with Congressional leaders before it can pass both chambers of Congress.

The President-elect did not say how he plans to handle the accumulated debt that the package will bring other than to say that the economic benefits of this package would "far surpass the costs" and that he believes that we have a "moral obligation" to act now.
CONFIRMING LOAN

Program

Rate

Change

APR

Change

30 year

2.82%

0.03%

2.88%

0.04%

15 year
2.43

%

0.03%

2.52

%

0.03%
Living With Covid Lung
credit: cbs
Doctors are just as worried about the patients that survive Covid as they are about the ones that do not. Even those that were asymptomatic have shown some alarming chest scans.

A trauma surgeon in Texas says that most of the lung scans of post-Covid patients show dense scarring. Doctors are calling this "Covid lung," much like smokers' lung, and indeed chest X-rays of Covid patients do look similar, with white lines that indicate scarring.

These scars can heal but doctors warn that it could take quite a long time.
Sponsor: Get Free $1,600 with Webull

Today is the last day for you to get Webull's 4 free stocks valued up to $1,600. Yes, you read that right it ends today. Why not get some free money? Right now you can get FOUR free stocks valued up to $1,600 just for opening an account with Webull.

You'll get up to $1,600 in stocks just for opening a free trading account with Webull and depositing $100 into the account to activate it. Remember you're not spending $100, you're simply depositing that money into your account.

Simply click here and start an account. Even if you never do anything else with the account you still get that free money.
With Webull you can invest in thousands of companies using their trading tools and analytics to create your own financial portfolio. And the best part is $0 commissions and no deposit minimums. I remember when I used to pay $6 per trade with some other companies. Not any more thanks to Webull.
Sign up today and get your free stocks. Thanks, Webull.
The Earth Is Screwed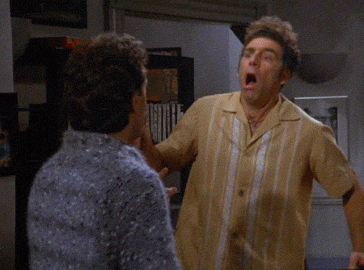 credit: observer
A new study from ecologists in Australia shows that we have underestimated the "challenges of avoiding a ghastly future" due to climate change. As Greta Thunberg warns, "our house is on fire." According to these scientists, she's not wrong.

The findings say that humanity has caused the "rapid loss of biodiversity" and the Earth cannot sustain complex life much longer at this pace. The solutions that we have implemented are not keeping pace with the degradation of the planet and "widespread ignorance of human behavior" has caused further delays. The scientists say that "we are already on the path of a sixth major extinction."

Okay, so turn off lights when you leave a room, ride your bike more often, don't use single-use items, eat less meat, and vote for green candidates like your life depends on it! Because it does!
I Gotta Get Me One Of Those!
credit: GM
GM announced a flying car this week called VTOL, or Vertical Take-off and Landing.
This is a concept car that can land on rooftops and travel at speeds of up to 90 kilometers per hour, or 55 miles per hour. It has an electric motor.

Cadillac has not said if or when this will actually go on sale but it sure looks groovy!
News By The Numbers
credit: WP.com
10,000 yen. That is how much it costs to rent 37 year-old Shoji Morimoto to come to your house and do nothing. Morimoto has a huge online following and had to raise his prices due to high demand since he began this enterprise in 2018. If you rent him, he will come to your house and not do anything other than "eat, drink, and give a simple response." Genius.

$1.1 billion. That is how much unpaid rent there is in New York City since the pandemic.

16%. That is how much stock of Beyond Meat surged after the company announced a partnership with Taco Bell to create an "innovative new plant-based protein that will be tested in the next year." Like beans?

$3,000 per month. That is how much the Secret Service pays to rent a studio apartment with a bathroom in Washington D.C. because they are reportedly not allowed to use the bathroom in the home of Jared Kushner and Ivanka Trump while they are protecting the first family.
Prime Delivery To Space

credit: blue origin
Blue Origin completed its 14th unmanned test flight of a rocket booster and capsule. This is the space company owned by Amazon founder Jess Bezos.

The NS-14 flight was the last unmanned test flight and it was a success. This means that the company is almost ready to send a crew aboard the next one. They could do this as early as April.

Bezos funds Blue Origin by selling off over $10 billion of Amazon stock per year.
Today's Live Show

credit: ap
Barring any continued power outage we'll be live at 9 AM EST and covering the hidden details of Biden's massive stimulus package as well as the Senate impeachment. Click right here set a reminder and watch us live at 9 AM Eastern.
Share The Love
Become a friend of Morning Invest by sharing this newsletter with someone you love.
When you do, we don't just give you a pat on the back and say, "Well done old sport." We give you actual rewards that'll make everyone jealous.