| TOGETHER WITH | |
| --- | --- |
Happy Monday. Can you spot yourself in this early voting line?
In Case You Missed It:
Social media was chock-full of long lines of people voting early this weekend. Most of them were wearing masks, thankfully. As of this hour, nearly 60 million people voted which is on pace to eclipse the 1908 election where 150 million voted.
Sources close to the President say that he is planning to fire the head of the FBI and the CIA after the election if he wins.
The price of gold is down once again.
The pope has promoted the first Black American man to cardinal.
Scientists found a murder hornet nest in Washington with 100-200 hornets, a bad sign that the scary insects are making themselves at home in North America.
Coronavirus Update: Total confirmed U.S. cases as of 3 a.m. 8,636,165 — Total deaths: 225,230 — Total recoveries: 3,422,878
Covid is surging all over Europe and leading to more restrictions by the day:
Italy is heading back into a partial lockdown.
Spain has introduced a national curfew as cases surge once again.
Ireland has gone back into a full lockdown.
Polish President Andrzej Duda tested positive over the weekend.
Cases are also surging in Belgium, France, Germany, the UK, and the Czech Republic.
The US hit record Covid cases on Friday and Saturday at over 83,000 cases per day. Experts say the US could hit 100,000 cases per day in the near future.
CONFIRMING LOAN

Program

Rate

Change

APR

Change

30 year
2.98

%

0.05%
3.04

%

0.05%

15 year
2.63

%

0.12%

2.74

%

0.12%
Lead Story: Supremely Confident
credit: cnbc
Amy Coney Barrett has just one more senate vote before becoming a Supreme Court Justice. That vote is scheduled for today at 1:30 p.m. If confirmed, she could take the bench as early as tomorrow.
The Senate had a rare Sunday voting session over the nomination yesterday. She passed that vote 51 to 48 in her favor. If she does in fact take the bench, which seems like a foregone conclusion, the Supreme Court will have a solid majority of six conservative justices with three moderate or progressive justices.
Sponsor: Landlord Studio
People often ask us what software we use to manage our rental properties. Well look no further than LandLord Studio.
With Landlord Studio you get everything you need under one roof to be an organized landlord.
Track expenses by scanning receipts right on your phone
Screen tenants
A full financial dashboard
Email reminders
Track all of your expenses
Integrates with your bank for rental income
These are just a few of the amazing features. The best part is that you can do all of this right on your phone! We love Landlord Studio and you can give them a try for FREE by click right here. You're going to love it.
China: Tensions On The Rise
credit: AP
China is threatening to retaliate if the US goes ahead with a plan to sell weapons to Taiwan.
The State Department confirmed the sale of 135 Boeing precision land attack missiles to Taiwan worth just over $1 billion. China's defense ministry demanded that the US cancel this sale and end all interactions between the US and Taiwan if they want to "avoid serious repercussions for relations between China and the U.S." What is Chinese for "fightin' words"?
China does not recognize Taiwan as an independent country, even though it does have an independent government. China takes offense when other countries treat Taiwan as a sovereign nation, so obviously a missile sale from the US is not going to go over well. This marks a new low point in U.S. relations with China, which were already on shaky ground.
News By The Numbers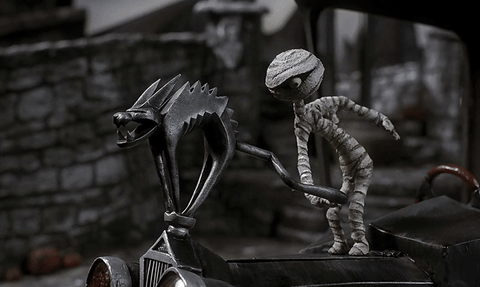 credit: giphy
80. That is approximately how many mummy priests have been dug up by archeologists in Egypt. They started with a dozen and then waited to see if any curses came as a result but so far none have, so they keep going.
1,500. That is how many runners have been tapped to test Adidas' new recyclable shoe called the UltraBOOST DNA LOOP.
2,000 years old. That is how old some palm tree seeds were that scientists were able to use to grow actual palm trees. These trees were said to have once grown around Jericho and the Dead Sea.
One Small Step For Man
credit: pexels
Retailers are taking a hard line on glitter this holiday season, vowing to eliminate it from holiday wrapping in an effort to save the environment. It's a start. Given a teeeeeeeeeeny tiny one.
Humans release about 1.5 million tons of primary microplastics into the ocean annually, which equates to about one plastic bag per person per week. These come from glitter, sure, but also those tiny microbeads that are in your exfoliators, your clothes when they are washed, and all manner of unexpected places. The number 2 cause of microplastics comes from bits of cars and tires that are washed from the road.
Glitter is a very small piece of the pollution stew but it can't hurt to get rid of it. It is a synthetic that comes with a production cost to our environment and given we've lived without so much merrymaking in 2020, will this really make a difference this year?
Meet The Ethical Hackers Brigade
credit: venturebeat
A group of hackers is definitely fussing with the US election, but in a good way. They call themselves the "ethical hackers," and they seek out vulnerabilities in election systems and try to point them out, rather than exploit them.
If the good guys find the holes first, they are more likely to be able to fix them before they are exploited by the bad guys. These ethical hackers are real life vigilantes. Only they may or may not be wearing a codpiece.
Facebook Swipes Right
credit: venturebeat
Facebook is launching its dating service in 32 European countries, after an 8-month delay. This is a matchmaking feature in the social network that lets singles find matches, filtered by all manner of personal features such as age, height, religious belief, etc.
Facebook Dating launched last year in the U.S. but the European Union has strict rules about sharing private data and it was not convinced Facebook was honoring them when Facebook tried to launch the dating service in February. Facebook jumped through the requisite hoops, promising they would not use data that they collect from this service, and now Europeans can find themselves some dates on Facebook too.
Our FREE 90-Day Financial Freedom Bootcamp
If you're new around these parts I want to share something FREE with you. Natali and I have built our 90-Day Financial Freedom Bootcamp that you can now download FOR FREE right here.
The Bootcamp will take you week by week to help you build financial freedom the right way. You deserve the same financial education wealthy people have so go ahead and download it now.
Share The Love
Become a friend of Morning Invest by sharing this newsletter with someone you love.
When you do, we don't just give you a pat on the back and say, "Well done old sport." We give you actual rewards that'll make everyone jealous.
Hit the button below to learn more and access your Reward Dashboard.