| TOGETHER WITH | |
| --- | --- |
Happy Tuesday. Thanks to the thousands of you who watch our live YouTube show every morning at 9AM EST. This morning on the show we'll be talking about the coming financial crisis and why the mainstream media continues to ignore it. Subscribe and watch right here. ➜ https://youtu.be/bNsqxJ7HrAo
In Today's Newsletter:
Young people are finally voting
The stock market takes a nosedive
California's mass exodus
In Case You Missed It
credit: raw story
 Harvard just released a poll that should give Trump's campaign heartburn. The poll found "historic interest in the upcoming election" among voters between the ages of 18 and 29, as 63 percent of these voters say they will "definitely" be voting this year, up from just 47 percent who said the same at this time in 2016.
Some deli meat has been linked to a listeria outbreak on the East Coast.
Google has said that the company will use recycled material in its phones by the year 2022.
German software company SAP lost $35 billion last quarter thanks to terrible earnings. Their stock tanked 23%. Salesforce and Oracle also fell 3.4% and 4%. Not too many people need overpriced office software at the moment.
IKEA is issuing a 2.0 version of its 2021 catalog because the original featured an image of a Black man wearing a T-shirt that looked like a prison uniform. The company won't reprint the catalog. They will instead tear out the offending page.
Coronavirus Update: Total confirmed U.S. cases as of 3 a.m. 8,704,524 — Total deaths: 225,735 — Total recoveries: 3,460,455
The US stock market took a nosedive on Monday as it becomes increasingly undeniable that Covid cases are on the upswing.
A judge in El Paso has ordered a 10 p.m. curfew for at least 2 weeks as Covid cases rise.
An 18-year-old college freshman has died from Covid.
CONFIRMING LOAN

Program

Rate

Change

APR

Change

30 year
2.86

%

 0.18%

2.91%

0.18%

15 year
2.57

%

0.18%

2.66

%

0.20%
Lead Story: The Supreme Court Feels Full
credit: getty

Her name is now Justice Amy Coney Barrett. She was confirmed on Monday as the 115th justice to serve on the Supreme Court. She joins the bench today and takes the bench for oral arguments next week. She took the oath on Monday evening on the South Lawn of the White House, where her nomination just months ago became a superspreader event for Covid. Even though fewer people were present, no one wore a mask. Coney Barrett is the fifth woman to serve on the Supreme Court.
Sponsor: Fund & Grow
What if you could get 0% interest funding in order to buy your first investment property. Or new equipment for your business? You can! Fund and Grow sets you up with business credit cards with 0% interest rates. The best part is that they work directly with the banks to get you the maximum amount of funding. When I first started working with Fund and Grow they were able to get me $176,000 with 0% interest. I used that to buy three rental properties that each cash flow around $1,000 a month. This is a fantastic way to kick start  your investing journey. And the best part is you'll save $500 when you pre-qualify and watch the FREE webinar at this link right here.
The Golden State Rush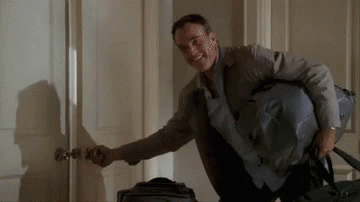 credit: giphy

You know the California exodus is serious when the Hollywood stars start to leave. That is exactly what Kiss star Gene Simmons is doing. He has listed his $22 million home for sale because he says that California's tax rates are "unacceptable." Simmons and his wife are moving to Mount Rainier, Washington, where they found a 24-acre estate. Washington has no personal income tax. California's income tax rate is 12.3% for top earners, which we can all surmise that Simmons is. "California and Beverly Hills have been treating folks that create jobs badly and the tax rates are unacceptable," Simmons told the Wall Street Journal. "I work hard and pay my taxes and I don't want to cry the Beverly Hills blues, but enough is enough."
News By The Numbers
credit: nasa 102 light-years. That is how far away we are from TOI-700 d, an Earth-like planet that scientists say could be inhabitable. Scientists are not yet sure if it has air or water, and because it is so far away, there are currently no plans to go there. 100. That is how many irrigation systems in Israel were left exposed online for a month. This made them open for a hacker to divert or change water systems away from crops, cities, and buildings. The IT department has since fixed the issue. 20 feet. That was the wingspan of the pelagornithid, a prehistoric bird that scientists say was the biggest bird to ever live. They say it was like an albatross with a hacksaw for a mouth. Is it terrible to say that we're not sad it's extinct?
50 States of Credit
credit: shutterstock

Minnesota is the state with the highest average credit score, according to Experian's 2020 analysis of the nation's credit. Other high score states include Vermont, South Dakota, New Hampshire, and Wisconsin. The state with the lowest credit score is Mississippi, followed by Louisiana, Georgia, Alabama, and Texas. Nation-wide, the average credit score is 688. A perfect Experian score is 850. The average person has $5,897 in credit card debt, $215,655 in mortgage debt, and $25,483 in non-mortgages debt. The average amount of past-due debt is surprisingly down from 2019, perhaps because consumers have focused on paying off debt rather than racking up new debt during the pandemic.
The Right To Vote
credit: sentencing project Volunteers and nonprofit organizations have been working tirelessly to help prison inmates submit their votes. Most people in jail still have the right to vote; losing it through a criminal matter is extremely rare. But doing so is another story altogether. Rights groups have been helping inmates register for mail-in ballots, and county sheriffs, county clerks, and local election boards have been assisting in the efforts. Most prisons won't go out of their way to do this, even though it is allowed, so groups such as the Sentencing Project have taken it into their own hands. "Of the 745,000 individuals incarcerated in jail as of 2017 nearly two-thirds (64.7%), or 482,000, were being held pretrial because they had not been able to post bail." This according to the Project's website. Courthouses running in extreme backlog due to the pandemic, so these people could be waiting a lot longer. And who are these people? Disproportionately people of color by almost half. In Cook County, Ohio, the jail was designated as an official polling location so inmates can actually vote there. In Los Angeles, inmates can use the prison's address as their official voting address.
Foot Off The Gas
credit: transition one

Want to turn your gas-guzzling car into an electric vehicle? A company in France is offering this service! The company is called Transition One. They replace the internal-combustion engine with an electric motor and battery in just four hours! This sounds surprisingly easy and fast! And maybe expensive? It is a bit. It costs approximately $6,000 but once you do it, you get the electric vehicle tax incentives, bringing the actual cost down significantly. Plus you're free of the petrol station once and for all! The replaced EV engines can go approximately 100 miles on a single charge and can be controlled with a smartphone app. Transition One estimates that every 10,000 kilometers in an EV rather than a gas car, saves one ton of carbon dioxide from being polluted into the environment.
Share The Love

Become a friend of Morning Invest by sharing this newsletter with someone you love. When you do, we don't just give you a pat on the back and say, "Well done old sport." We give you actual rewards that'll make everyone jealous.
Hit the button below to learn more and access your Reward Dashboard. Share Now