| TOGETHER WITH | |
| --- | --- |
Happy Thursday. Let's play a game. I'll list the ingredients and you'll try to figure out the drink. The correct answer will be found in News By The Numbers a little deeper in the newsletter.
Ingredients:
[Sugar, Condensed Skim Milk, Pumpkin Puree, Contains 2 Or Less Of Fruit And Vegetable Juice For Color, Natural Flavors, Annatto, Salt, Potassium Sorbate], Brewed Espresso, Whipped Cream [Cream (Cream, Mono And Diglycerides, Carageenan), Vanilla Syrup (Sugar, Water, Natural Flavors, Potassium Sorbate, Citric Acid)], Pumpkin Spice Topping [Cinnamon, Ginger, Nutmeg, Clove, Sulfiting Agents]
In Case You Missed It: Hurricane Laura is being called a monster of a hurricane after it started to make landfall early this morning. As a Category 4 hurricane forecasters say its dangers are far from over, as a catastrophic storm surge threatens lives, particularly those who didn't evacuate.
Meanwhile President Trump's RNC speech is still scheduled for this evening. Outgoing White House advisor Kellyanne Conway says it's possible though the speech will be postponed.
Coronavirus Update: Total confirmed U.S. cases as of 3 a.m. ET: 5,822,794 — Total deaths: 179,734 — Total recoveries: 2,084,465
New coronavirus infections fell by almost 15% over the past week, continuing a steady downward trend.
In Today's Newsletter:
Republicans return to attack Biden
A skinny stimulus comes back from the dead
Amazon grocery is here
CONFIRMING LOAN

Program

Rate

Change

APR

Change

30 year
3.17

%

0.01%

3.25

%

0.02%

15 year
2.76

%

0.04%

2.91

%

0.05%
The Lead: Skinny Stimulus
credit: giphy
Republicans are going on about another stimulus lite package this week. Recall that talks ended before the August break because Democratic leaders were asking for a $2 trillion package and Republicans were holding out at a $1 trillion package. So why we should get excited about a $500 billion package, I'm not sure but they like to tease us.
The Republican proposal would include more money for schools, treatment, and vaccines, more Paycheck Protection Program money for small business payroll, and more unemployment benefits, but not in the way of direct payments to Americans. Republicans have continued to speak against that, which they see as a deterrent for people to go back to work.
Rolling her eyes
House Speaker Nancy Pelosi is not impressed. She has said that she will not restart negotiations until the GOP comes to a compromise between their previous $1 and $3 trillion difference, not half of their last offer. That's not how bargaining works.
Sponsor: Ladder
Meet Natali and Clayton. They didn't have great life insurance. They were sad. Then Natali heard about Ladder from Clayton while writing this newsletter. Then in just a few minutes, she received a totally FREE quote for a great life insurance policy and they both have amazing coverage for their family. Now Natali and Clayton are happy.
Ladder is changing the industry because they don't have commissioned sales agents. They have smart algorithms that work in real-time to give you the best price they can.
Ladder doesn't charge fees (unfortunately most companies still do). And Clayton can cancel anytime. But he's not going to. Just look how happy he is.
Cancellation policy?
If you cancel within 30 days, you'll even get a full refund.
Ladder covers kids, mortgages, careers… your coverage needs will change over time. No sweat, they keep up.
Lock in your best rate today, adjust it tomorrow. Decrease your coverage (and price!) as often as you need.
And Natali and Clayton can apply for more coverage in a few clicks. Get your FREE quote right here.
Politics: RNC Day 3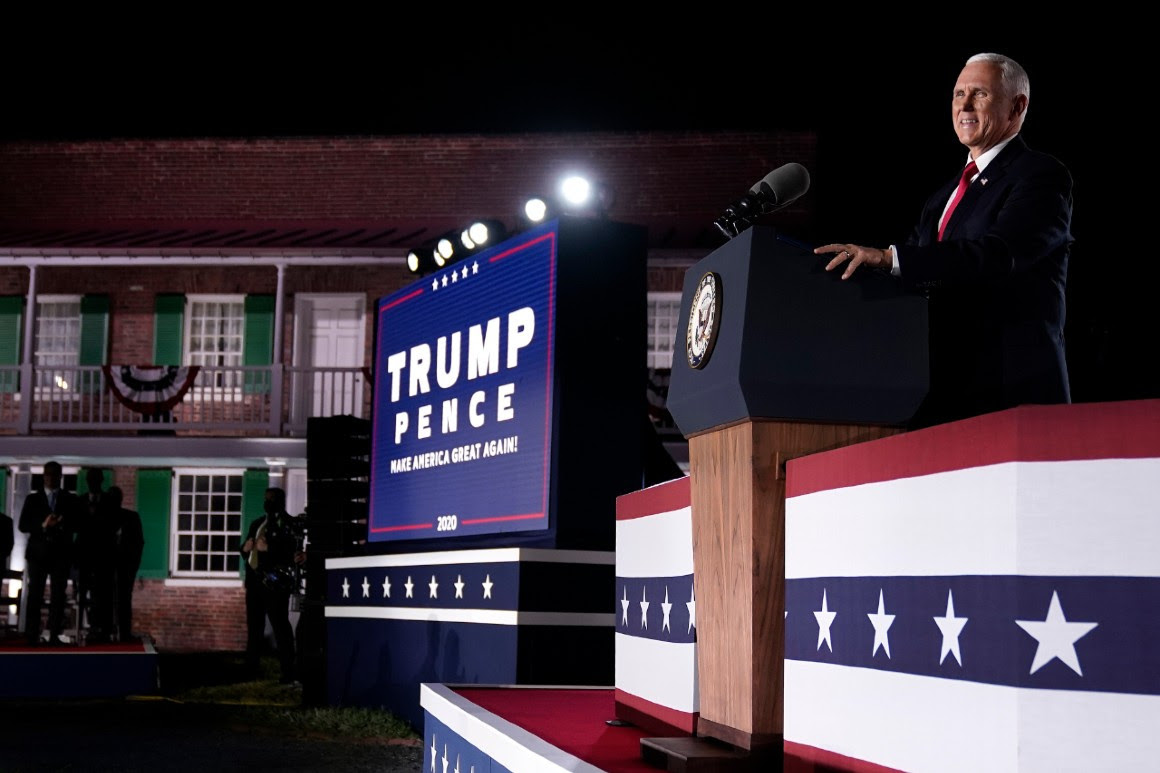 credit: Politico
America is not "all the way back," according to Vice President Mike Pence and his speech at the Republican National Convention last night.
"To bring America all the way back, we need 4 more years of Donald Trump in the White House," he declared.
The Veep discussed what he considers the administration's successes such as weakening ISIS, appointing conservative judges all over the land, and the lowest unemployment rate for women in 65 years.
Miracles are coming
He did not pretend that the administration has done a great job with COVID response but he did challenge Vice President Biden's assertion that "no miracle is coming" to end the pandemic.
"America is a nation of miracles," Pence said. "We're on track to have the world's first safe, effective, coronavirus vaccine by the end of this year."
He accused Biden of wanting to cut "funding to law enforcement," when Biden has explicitly said that he does not want that.
"You won't be safe in Joe Biden's America," the Vice President asserted.
Pinch hitters
Other speakers of the night included White House Press Secretary and former Fox News personality Kayleigh McEnany, who asserted that Donald Trump has supported her breast health somehow because she's had a mastectomy due to a pre-existing condition.
Former director of National Intelligence Richard Grennell also spoke, as well as an army veteran and physician-turned nun named Sister Dede Byrne, dressed in her habit declaring that "Donald Trump is the most pro-life President ever."
So in conclusion…
Pence ended his speech by promising that he and President Trump would "make America great again, again."
That doesn't make sense, but okay. It was still a solid performance of what we've come to know of Pence and his convictions.
News By The Numbers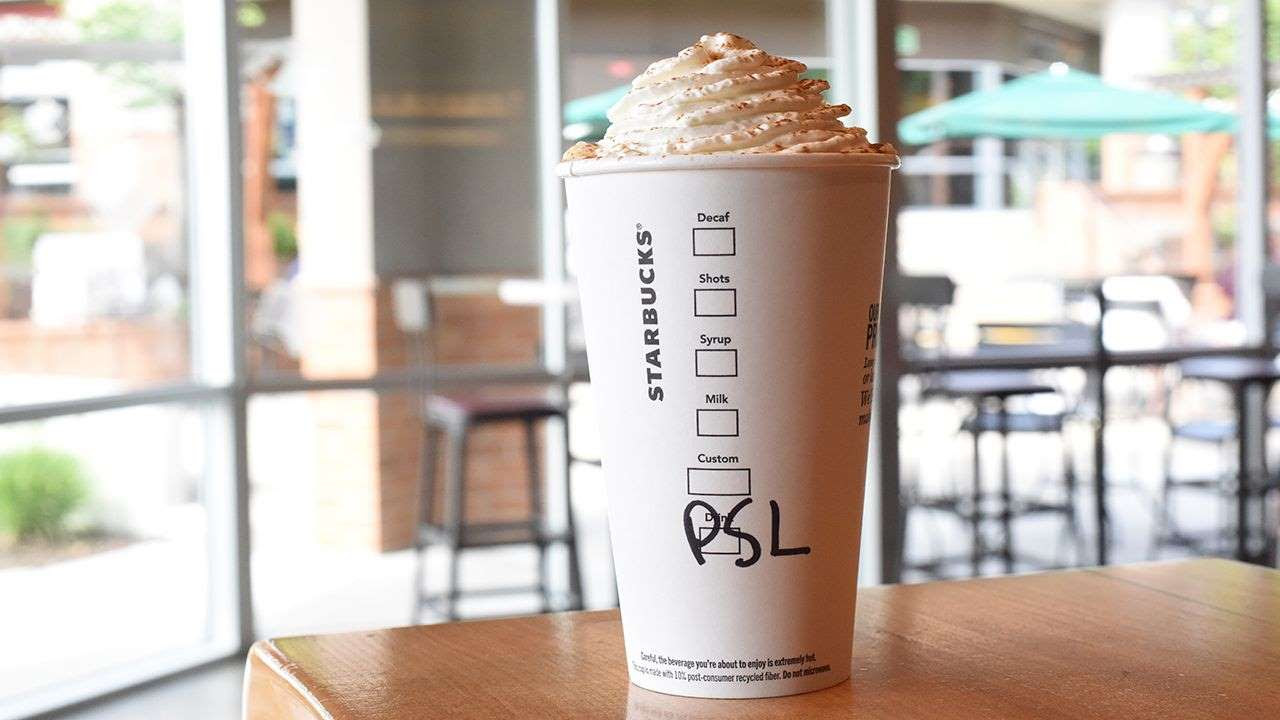 credit: dayton daily news
25th. That's the date in August this year when Starbucks rolled out their most popular menu item, The Pumpkin Spice Latte. Or PSL as the kids call it. That's the earliest in the season Starbucks has introduced the drink. If you were playing our ingredients quiz then here's your answer.
35,000. That's the square footage of Amazon's new grocery store in Los Angeles which opens today. Customers gets to use a shopping card that tallies up items as it enters the basket which makes for an instant checkout. They also Have Alexa stations throughout the store you can ask questions. Or if you have an 8 year old girl she can ask Alexa to play "Invisible" by Anna Clendening on a loop.
1 billion. That's the amount that the Trump administration has promised for research in artificial intelligence and quantum computing. The money will be distributed to seven institutes for artificial intelligence and five for quantum computing across the next five years.
Tech: TikTok is Hiring
credit: getty
Kevin Mayer has resigned as CEO of TikTok after just months in the role. He was hired to help the social network in its fight against Washington but now the company will have to go it alone.
Mayer was formerly an executive at The Walt Disney Co., responsible for acquisition deals such as Pixar, Marvel, and Lucasfilm. He sent an internal memo to TikTok employees after his resignation admitting that his ability to lead TikTok "as a result of the U.S. administration's action to push for a sell off of the U.S. business" is a different ball of wax than he signed up for.
TikTok has asked a federal judge to block the President's ban, saying that it was done for "political reasons" and is therefore an unconstitutional violation of the company's due process, meaning we will not watch this technology versus trade battle play out in court. Buckle up.
Checkmate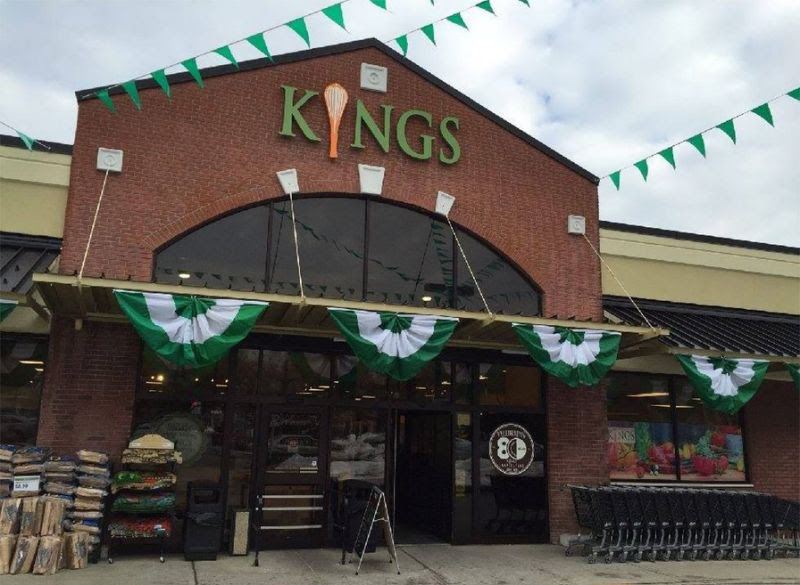 credit: yahoo
The holding company of King's Food Markets has filed for bankruptcy, citing liquidity problems. This is head-scratching, right? How can a grocery store be hurting during the pandemic?
The bankruptcy filings admit that the pandemic has helped fuel sales and provide "a brief respite from its liquidity challenges" but this will not last and the company's problems seem like they will.
King's Markets are concentrated in the Northeast, where they will begin auctioning off assets. The grocery chain is admittedly not my favorite. My mom swears that they have rude service. Still, they employ 2,900 people, many of whom we are sure are not rude.
Goodbye, Ruby Tuesday. Who could hang a name on you?
credit: giphy
The restaurant chain Ruby Tuesdays is closing down many restaurants across the country. Problem is, they haven't bothered to tell their employees. Some staff have reported showing up for work while the restaurant is moving out furniture.
But I wore all of my flare today!?
The chain has closed over 150 locations this year, despite receiving millions of dollars in PPP money, which undoubtedly has run out by now.
Is that allowed? To just let people show up to a job that no longer exists? Apparently it is. The federal WARN Act says that employers with less than 50 full-time workers at any single location do not have to give workers a 60-day notice.
Share The Love
Become a friend of Morning Invest by sharing this newsletter with someone you love.
When you do, we don't just give you a pat on the back and say, "Well done old sport." We give you actual rewards that'll make everyone jealous.