| TOGETHER WITH | |
| --- | --- |
Happy Tuesday. We're sorry, yesterday our hosting company had an issue that sent our newsletter out multiple times. That means many of you received more than one copy. Basically, the server was in a repeating loop like when you walk into a room to get something but you can't remember what you came for so you repeat the pattern over and over again. Kinda like that.
credit: instagram
In Case You Missed It.

A Pakistani couple is taking heat for featuring a sedated baby lion in their wedding photoshoot.
The new corporate owner of Toys R Us wants to re-open stores in the U.S.
The Oscar nominations were announced on Monday. Once again, we've seen only the animated ones. Maybe we'll do better when theaters are opened and babysitters allowed again.
An anti-porn group was offended by certain performances at the Grammys.
Unemployment in Nigeria was at 33% in the fourth quarter of 2020. In the U.S., we freak out if it is over 8%.
This video is going viral of a Christian Missouri business lawyer advocating for his transgender daughter and urging the state House of Representatives to vote against a bill that would discriminate against transgendered people.
Coronavirus Update:
Total confirmed cases as of 12:30 p.m. ET on Monday: 29,451,758 — Total deaths: 535,059— Total tests: 373,271,829
Today's Live Show
DEMS PREPPING MASSIVE NEW 4TH STIMULUS WITHOUT GOP HELP

Join us on today's live morning show. We'll be looking at how Dems plan to push their new massive stimulus package. We'll also take a closer look at universal basic income and how effect it is in reducing poverty. Click here to RSVP and I'll see you at 9 AM Eastern.
CONFORMING LOAN

Program

Rate

Change

APR

Change

30 year
2.97

%

0.02%

3.03%

0.02%

15 year
2.27

%

0.01%

2.36

%

0.02%
The Lead: Where's My Stimulus Check?

credit: wafb
Wells Fargo and Chase Bank are taking heat for holding stimulus payments. Both companies Tweeted that customers who were eligible for the stimulus would see the money in their account by March 17. This pissed people off because other banks made the money available right away.
The banks say that this issue is out of their control because the government payments will not clear until then. Banks that cleared customers' deposits faster are doing so from their own balance sheets temporarily. But many customers don't understand the banking system. They only understand that some people received their deposits and some had to wait.
Wells Fargo says that it will waive any overdraft fees that result in the waiting period.
Citizens whose checks will come in paper form will have to wait until the end of the month.
Sponsor: Policy Genius
There's never a bad time to save money, especially now. Meet Policygenius, the only insurance website that puts money back in your pocket. Seriously. Just take it for a spin and see how much money you'll save.
Compare insurance quotes side by side to find the best option – and save money doing it.
Apply and buy through Policygenius and let their licensed experts handle the rest. Free of hassle, free of charge.
So if you're feeling the pinch, find out how much you could save on home and auto insurance at Policygenius.com. They've saved their home and auto insurance customers an average of $1,000 a year by re-shopping. Policygenius. When it comes to insurance, it's nice to get it right.
I Like Calendars, I Love Looking At Old Calendars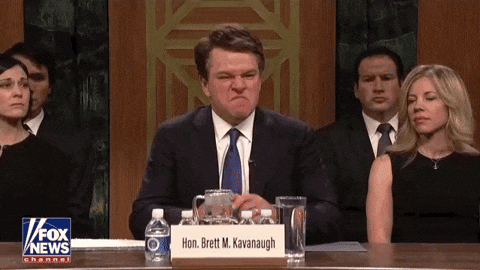 credit: giphy
Democrats are asking Merrick Garland, the brand new attorney general, to investigate the FBI's 2018 investigation into Supreme Court Justice Brett Kavanaugh.
You might recall that Justice Kavanaugh was accused of sexual assault in the roundup to his confirmation, which resulted in a harrowing testimony from Christine Blasey Ford. The FBI at the time said that it investigated Kavanaugh's background and found nothing out of order. All clear, we're good!
But the FBI did not interview Kavanaugh nor Blasey Ford nor several witnesses who wanted to share their accounts. Nor did they reveal to the Senate how they followed up on their tip line nor did they answer questions about the investigation. Justice Kavanaugh's confirmation was delayed for further investigations but a quick timeline was put on the inquiry with very little accountability.
A call for an investigation of this "investigation" is being led by Sheldon Whitehouse, a Democratic Senator and former prosecutor who serves on the judiciary committee.
The Catholic Two Step
credit: getty
The Catholic Church says that it cannot allow priests to bless gay marriages because "God does not and cannot bless sin."
For many, this is seen as two steps back after the step forward last year when Pope Francis endorsed "homosexual people" to "be in a family." Apparently, this family cannot be blessed.
The sticking point is the "creation of children." Since the church says that "God's plan" is for men and women to marry in order to create children, that excludes gay marriage.
Singer Elton John called the church out for this on Twitter saying, "How can the Vatican refuse to bless gay marriages because they ''are sin,' yet happily make a profit from investing millions in 'Rocketman' — a film which celebrates my finding happiness from my marriage to David?"
The Catholic Church invests in movies?
News By The Numbers
credit: reuters
$24,335. That was the hotel bill from Jared Kushner's trip to Israel just weeks before the Trump administration left office. This was an official government trip so taxpayers paid that bill. You're welcome, Jared!

100. That is how many people were arrested in Miami Beach last weekend as Spring Break kicked off. Reminder, this is not Spring Vacation. It's Spring Break woohoo!
246. That is how many times a high school principal voted for her own daughter for Homecoming Queen by hacking into the school's voting student system. She and her daughter were both arrested for charges of unlawful use of a communications device and criminal use of personally identifiable information.
57. That is how many people are confirmed dead due to the deep freeze in Texas last month, most of them associated with hypothermia.
Single and Looking For Housing
credit: getty
In South Korea, the government offers affordable housing to single people. Couples can qualify too but there is a long wait-list. For this reason, many South Korean couples pretend to be single or wait to register their marriage for sometimes years.
The census in Korea showed that there was a 10.7% drop in marriages since 1981.
So either people are getting married a lot less or they are keeping it on the down-low. Many couples admit to doing this in order to avoid high real estate taxes due to rising housing prices.
This would make for a messy divorce. How do married-but-not-married people split assets?
The Biden Tax Hike
credit: getty
Get ready for that Biden tax increase we've been bracing for. Someone's gotta pay for that $1.9 trillion stimulus package that we borrowed.
The President is reportedly getting ready to announce the details of this plan that would repeal the 2017 tax law that former President Trump passed in 2017. Trump's tax law increased Americans' take-home pay by up to 2.9% by some estimates.
The Deets
The Biden administration is treading carefully to raise taxes but not reduce take-home pay. How? By increasing business taxes from 21 percent to 28 percent for starters. The President said as much in the tax proposal he released while he was campaigning.
The plan would also raise taxes on anyone making more than $400,000 per year and increase capital gains taxes on people earning at least $1 million per year.
Okay. But to pretend that a tax increase will only affect businesses and not workers is short-sighted. Of course higher taxes will affect us all and maybe we should have a real discussion about what we get in exchange for it? Socialized medicine?
Education? Paid family leave? We don't get any of that for what we pay. We get a hard-fought stimulus bill that will run out in September and the taxes will still be high.
The President is planning to go on a national tour to promote the new tax law, which will face stiff opposition from the Republican Party. Tax reform is the new stimulus. You've been warned.
Share The Love
Become a friend of Morning Invest by sharing this newsletter with someone you love.
When you do give you actual rewards that'll make everyone jealous.