| TOGETHER WITH | |
| --- | --- |
Happy Monday. This is shaping up to be one of the busiest news weeks of the year. It feels like weeks since the last holiday already.
credit: giphy
In Case You Missed It.
Hundreds of dead birds littered the streets of Rome after fireworks displays on New Year's Eve.
George Clooney's Netflix movie, "The Midnight Sky" reached the #1 spot in 77 countries over the holidays.
This TikTok video has gone viral because a meteorologist shows how eating icicles means you are eating bird poop. Don't do that.
President-elect Joe Biden has canceled his inaugural parade in favor of a short military escort to the White House.
A judge in Britain will rule on whether or not to extradite WikiLeaks founder Julian Assange to the United States today.
Coronavirus Update:
Total confirmed U.S. cases as of 12 p.m. ET Sunday: 20,451,310 — Total deaths: 350,357 — Total tests: 249,448,470
CONFIRMING LOAN

Program

Rate

Change

APR

Change

30 year
2.79

%

0.00%

2.84%

0.00%

15 year
2.55

%

0.01%

2.65

%

0.01%
The Lead: Now What?
credit: reuters
Nancy Pelosi was re-elected as the Speaker of the House of Representatives on Sunday. So now what?
Now we go back to the business of trying to negotiate stimulus payments – or the business of not having that happen. The Republican-led Senate still refuses to put the $2,000 stimulus payment up for a vote. The Republican Party is instead.

focusing efforts on infighting about certifying the Presidential elections this week.
This puts the Senate at an impasse, making tomorrow's Georgia runoff election a very high stakes game. If Democrats win both seats, they will control the Senate majority and have the power to pass this bill or Minnesota Congresswoman Ilhan Omar's $2,000 recurring payment plan. If Republicans keep control of the Senate, the stalemate will continue. All eyes on Georgia!
Sponsor: TurboTax®
It's 2021 and that means you need to start thinking about your taxes. I know, I know. But it doesn't have to be painful.
TurboTax Live has experienced tax experts who listen to you, learn about your unique tax situations, and answer your questions. And on top of all that, they can do your taxes from start to finish. TurboTax Live gives you confidence that your uniquely-you taxes are done right.
No matter what your situation is, TurboTax Live's tax experts can answer specific questions, walk you through the process, review your return before you file, or even do it all for you.
TurboTax Live gives you confidence that your uniquely-you taxes are done right.
No matter what your situation is, TurboTax Live is there to help.
Trump Calling On Line One
credit: reuters
Audio of a phone call from this weekend was published where President Trump tries to bully lawmakers into reversing the Presidential election results in Georgia.
To their credit, Georgia Republican lawmakers stand their ground in the phone call, refuting the President's claims of voter fraud and misplaced voting machines. They point out that the campaign had their chance to prove that in the courts and have failed to do so. But the President persists. At one point, he asks them to go out and find 11,780 votes in order to give him the win.
This is inappropriate at best and illegal at worst. You cannot ask someone to "find" the votes you need to win. You cannot interfere with election results. But you are also not supposed to solicit campaign donations from porn stars or ask for aid from foreign governments…so what is a little bullying in the 11th hour?
Ohio's New Abortion Law
Governor Mike DeWine, credit: nypost
In Ohio, a woman now has to choose either burial or cremation for the tissue or fetus of an abortion. This bill was signed into law by Ohio Governor Mike DeWine. Failure to make a choice will result in penalties.
The bill also states that pregnant women will be responsible for the costs related to the disposal of fetal remains. Another bill on DeWine's desk would also ban doctors from offering abortions via telemedicine.
At the risk of influencing opinion in this newsletter, this is unduly burdensome to women and a thinly veiled attempt to punish women by people (men) who will never be faced with this choice about their own bodies. We will be very surprised if this bill is not further challenged in the courts.
News By The Numbers
credit: lightrocket
30-60 tons. That is how much trash washes up on the beaches of Bali each day, according to local authorities. Police say this is a regular occurrence but gets worse this time of year due to the weather.
$400,000. That is how much a teenage girl in the UK has made on her business where she gives Chinese babies Western names so that they can have an email address.
$75,000. That is how much it costs to get yourself a Hüga. It is a prefabricated tiny home that is weatherproof and bulletproof. It has a living room, kitchen, bathroom, bedroom, upstairs lounge, and an optional roof deck. It has become quite popular in North America during the pandemic.
Flight Fight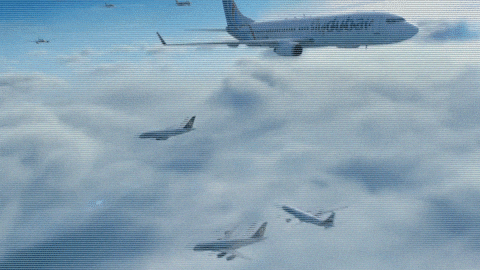 credit: giphy
Airlines are renegotiating their fees with airports due to the pandemic. Airports make money by charging airlines for the use of the runways and several other fees. They also make money from restaurants, parking, and retail spaces in the terminals.
Airlines that have seen revenues plummet since the pandemic are now asking that the landing fees be reconsidered. Airports have not shown the willingness to do this. In fact, in London, Heathrow Airport has tried to raise fees by 0.5 percent. These negotiations will heat up as airlines continue to cut flights. In Europe alone, an estimated 6,000 routes have been lost.
Welcome To The New Billionaires
credit: getty
The U.S. has added 56 new billionaires to its ranks since the pandemic began. Alright for some!
The Institute for Policy Studies says that the wealth of the richest population in America has jumped by over $1 trillion, bringing the number of billionaires in the country to 659 from the time between mid-March to December of 2020.
According to this data, America's billionaires own approximately double with the poorest 165 million poorest Americans own. The 10 richest people have a combined net worth of over $1 trillion.
Today's Live Show
Join us on today's live show as the battle for the Senate enters its final day. We'll have the latest polls and whether the new Congress can pass a massive stimulus package. Join us at 9 AM Eastern over your cup of coffee or tea. Click here to watch and subscribe.
Share The Love
Become a friend of Morning Invest by sharing this newsletter with someone you love.
When you do give you actual rewards that'll make everyone jealous.