| TOGETHER WITH | |
| --- | --- |
Happy Thursday.
Bat-eating spiders are a thing. They were discovered recently in the U.K. where I will not be visiting.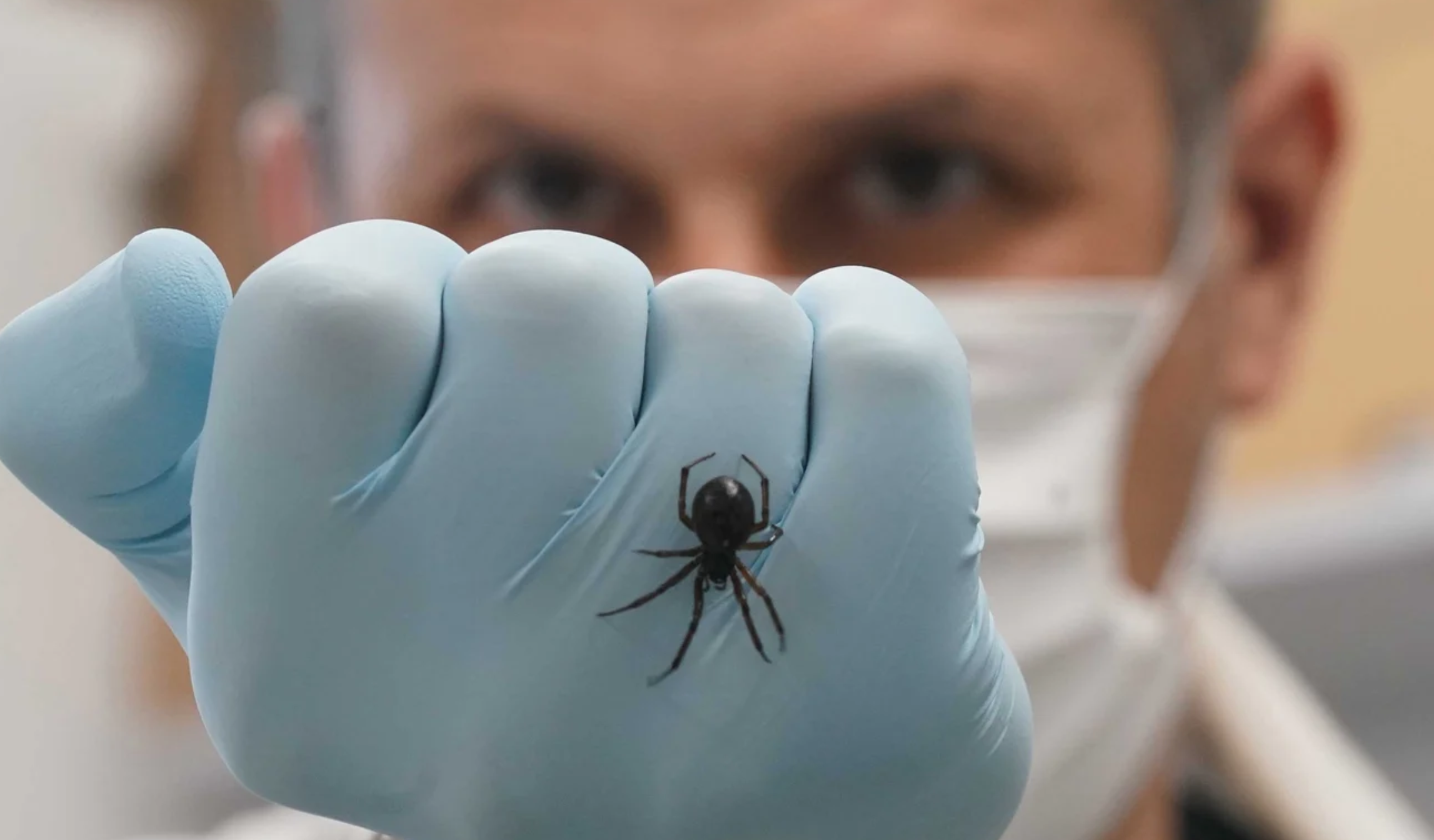 credit: rte
In Case You Missed It.
🛼 Roller skating is back in fashion. Google searches for the sport have more than doubled.
⌚️ Fitbit has recalled about a million smartwatches over concerns that it could burn you.
Coronavirus Update: 😷
| | | | |
| --- | --- | --- | --- |
| | Bitcoin | $43,321.96 | |
| | | | |
| --- | --- | --- | --- |
| | Ethereum | $2,896.58 | |
| | | | |
| --- | --- | --- | --- |
| | Cosmos | $32.24 | |
| | | | |
| --- | --- | --- | --- |
| | Dow | 33,891.35 | |
| | | | |
| --- | --- | --- | --- |
| | S&P | 4,386.54 | |
| | | | |
| --- | --- | --- | --- |
| | Nasdaq | 13,752.02 | |
*Stock data as of the market close, cryptocurrency data as of 5:00am ET.
Markets: Markets are cautiously optimistic following Jerome Powell's speech. The Fed Chair said that everything is connected and US Federal Reserve policy is directly affected by the crisis:

"The implications for the US economy are highly uncertain, and we will be monitoring the situation closely," Powell said.
The Lead: Escalation of Bombs and Sanctions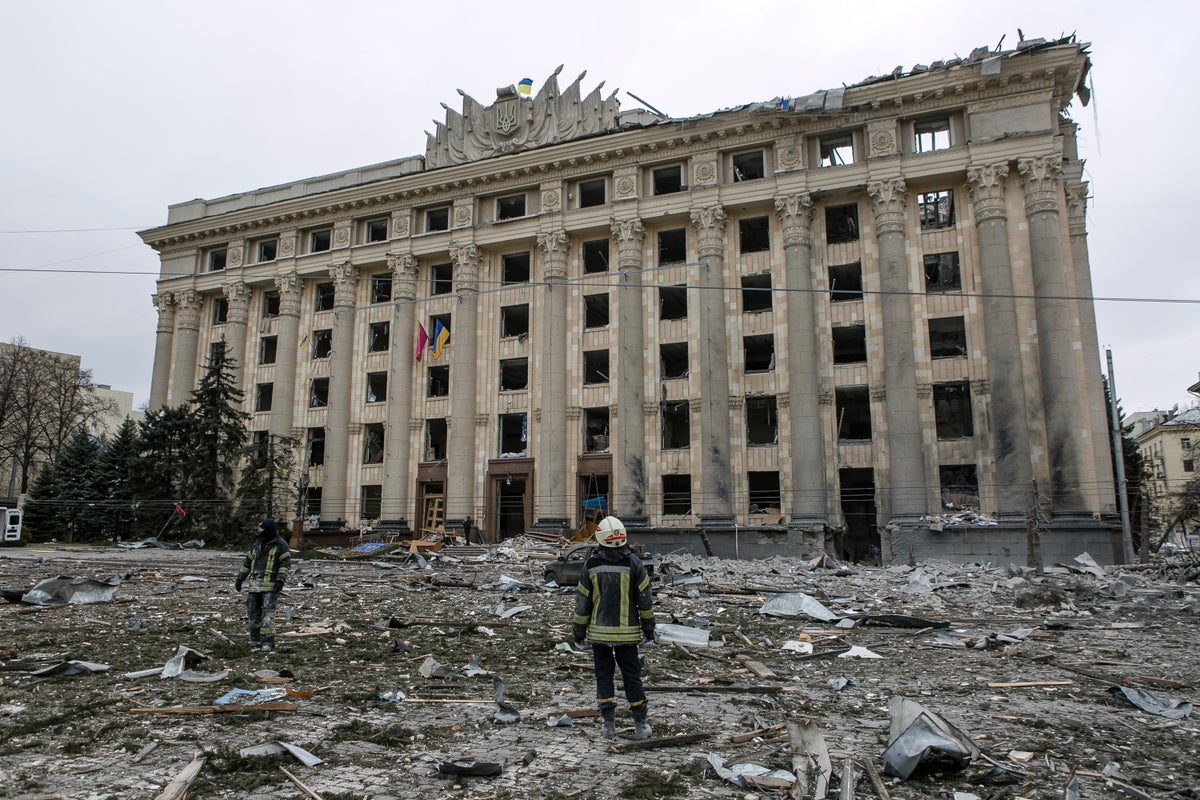 credit: independent
The Russian military dropped bombs in Ukraine's second-largest city Kharkiv on Wednesday night. A central train station and the major heating pipeline were damaged from missile debris. The missiles did not get a direct hit because Ukrainian officials say that they were shot down.
The death tolls are hard to confirm. Russia's Defense Military says that nearly 500 Russian troops have been killed and about 1,500 more injured. Ukraine says that its military has killed over 5,000 Russian troops. Who is telling the truth?
Ukraine also says that nearly 2,000 civilians have been killed in the conflict thus far.
Later today, Ukrainian and Russian officials are scheduled to have a cease-fire discussion near the Polish border in Belarus.
Meanwhile, Western nations continue to tighten sanctions in order to punish Russia for this aggression. The UK has announced sanctions against Belarus for allowing their land to be used as a base for Russian soldiers. Germany has seized a yacht owned by a Russian billionaire who was the target of European sanctions. But U.S. President Joe Biden may put a protective shield around sanctions for corporations that donated to his campaign while lawmakers have asked him not to.
Meanwhile, these sanctions are having a real impact on people's lives. Russians who are not involved in this conflict cannot access cash or medicines. While politicians play politics, real people are harmed and dying. See the Rwandan story below for more context.
Go Take A Rate Hike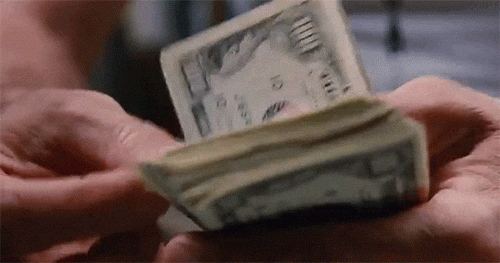 credit: giphy
The U.S. dollar is at an all-time high because…?? Who knows. It just is.
Now the Federal Reserve says that an interest rate hike could be coming within the next two weeks. He toyed with the idea last month and the stock market took a dive at the mere thought. Now Fed Chair Jerome Powell says that a tight labor market and strong economic demand is making him think it might be a safer time.
The market took that well. The S&P was up on Wednesday. Powell will tip-toe into raising rates from 0% to just half of one percent. Baby steps as long as other things like, oh, say, war, don't get in the way of this plan.
No More Painful Earbuds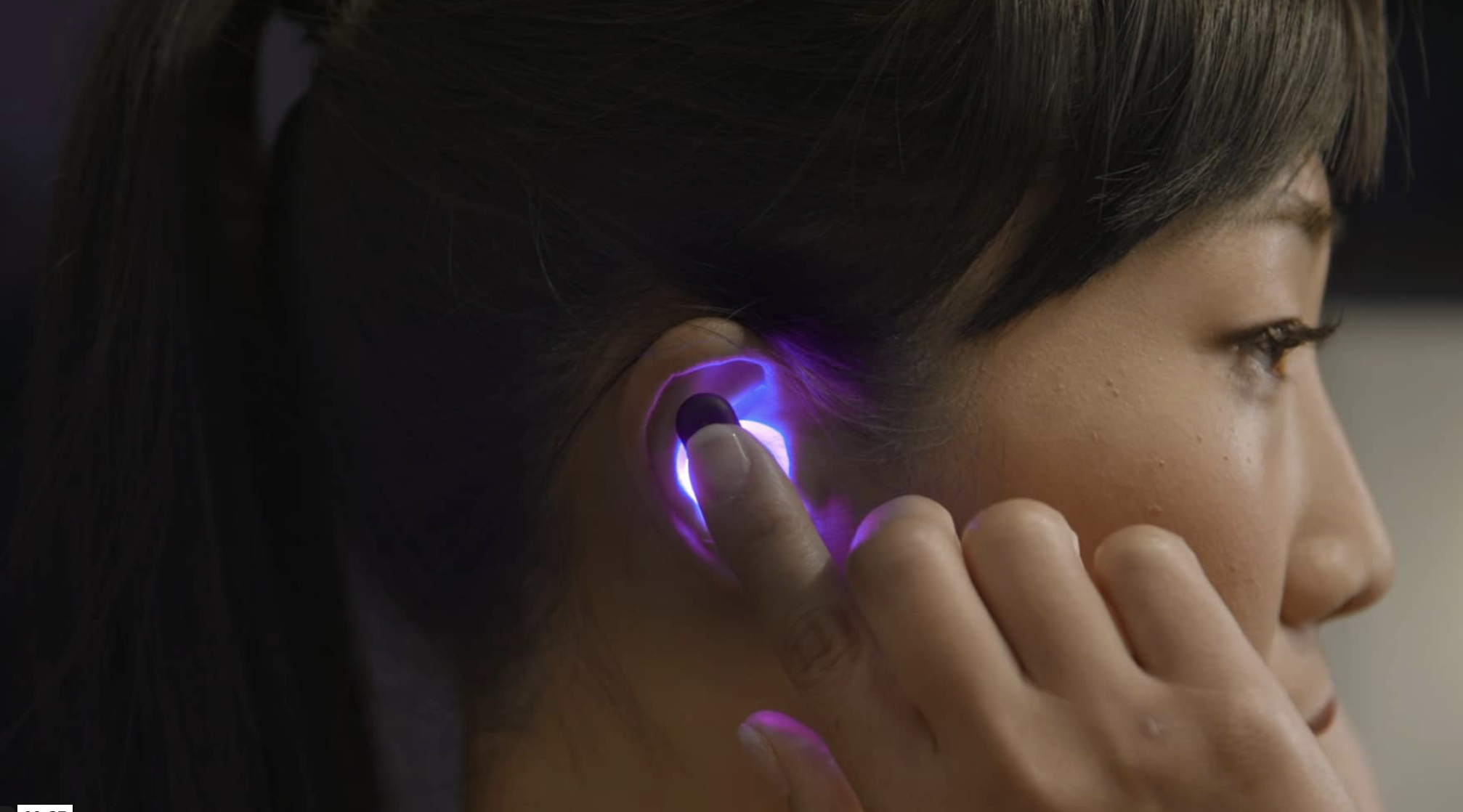 Ultimate Ear FITS are the world's most comfortable earbuds PERIOD. You get premium sound with all-day comfort molded to your ear.
Here's how they work:
Using groundbreaking Lightform technology, UE FITS mold to the unique contours of your ear in 60 seconds. You'll feel it getting warm until it creates the perfect fit and the light activates and completes the mold.

You get a guaranteed perfect and UE FITS will stay put when you're on the go, but feel ultra-comfortable so you can wear them all day long—without pain or discomfort.

Built on industry-leading expertise trusted by pro musicians and hi-fi enthusiasts for over 25 years.

Engineered to provide a full, warm sound with a tight, punchy low-end. And you can set custom EQ presets through the UE FITS app, too.

Play and pause music and answer calls with built-in controls. And use the free app to set custom actions—like voice assistant, volume adjustment, and more.
For a limited time, get 15% off your pair of UE FITS True Wireless Earbuds at ue.com/fits. Just use promo code INVEST at checkout.
Baseball Balks at Salary Cap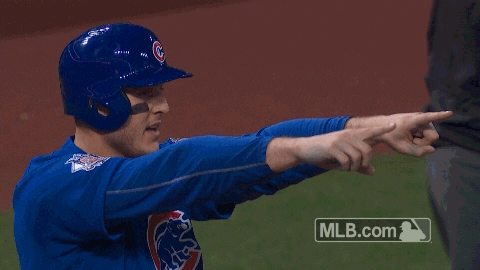 credit: giphy
We may not get a baseball season this year if union standoffs continue. The issue is salary caps and it is a bit confusing so let's try to work it out together.
Every professional American sport has salary caps except Major League Baseball. Players' unions have made sure of this by striking in 1994. Now, instead of salary caps, the teams have what is called a competitive balance tax (CBT), which taxes the teams who go over a certain payroll threshold up to 95%. Initially some teams just paid it but 95%!? No one is that crazy.
The players say that this tax acts as a salary cap and that seems to be true. The MLB wants to keep it and even increase tax rates and players are not going for it. This is the major holdout. If the CBT goes away, the rest of the negotiations seem negotiable.
A discussion about free-market economics is merited here, as well as a discussion about player parity. Let's leave that for another day because I have another question: Why does the MLB get to set its own tax rates? Tax rates are usually set by Congress for normal humans. But if you're a big moneymaker like American baseball you make your own rules? What am I missing here?
The Lasting Effects of Genocide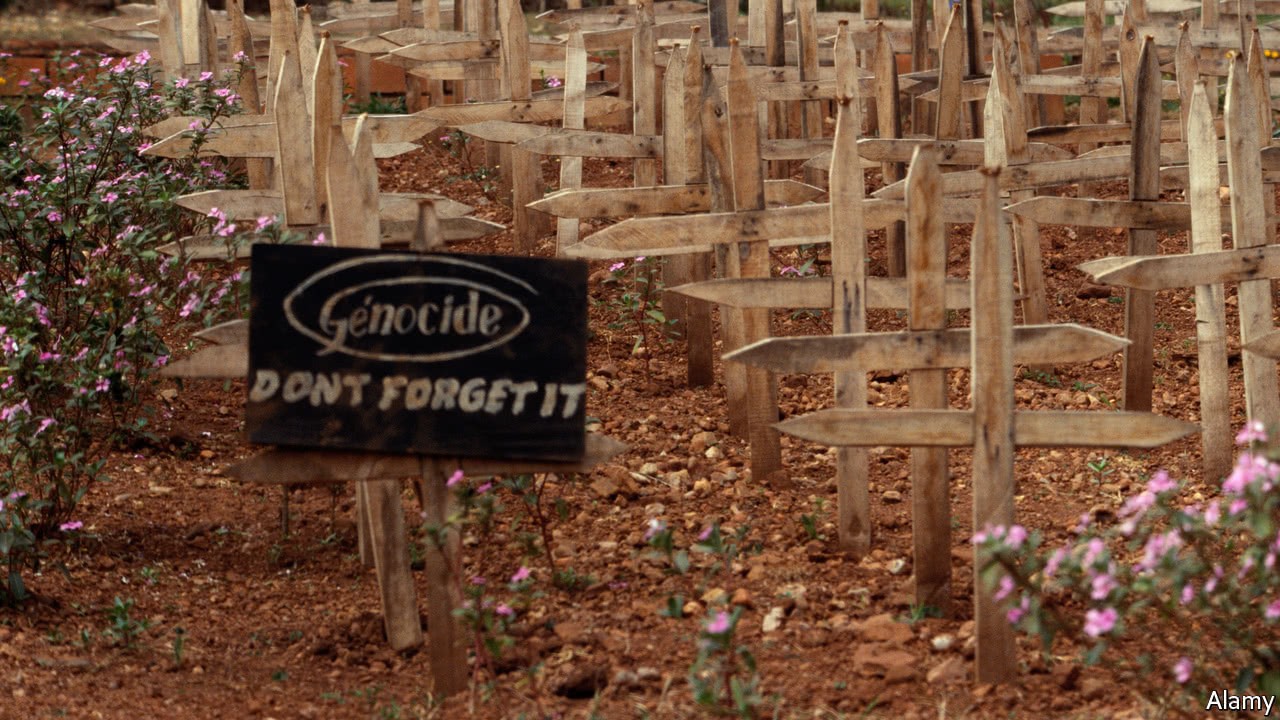 credit: economist
A new study shows that the 1994 genocide in Rwanda changed the DNA of the Rwandan people.
Researchers studied the DNA of pregnant women and their offspring during these atrocities and compared them to women who were pregnant and their offspring in other parts of the world. They found that women and children who were exposed to genocide-related trauma had altered DNA patterns.
This is called "epigenetic" modifications. It means that there were chemical modifications to the DNA.
"The Rwandan people who are in this study and community as a whole really want to know what happened to them because there's a lot of PTSD and other mental health disorders in Rwanda and people want answers as to why they're experiencing these feelings and having these issues," said one of the study's researchers.
Scientists are interested in whether the children born of this time will pass these traits down to their children. Whatever the data says, it stands to reason that the atrocities that humans inflict on one another have a lasting cost.
News By The Numbers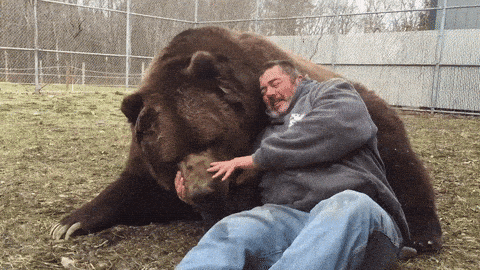 $103,176 per year. That is the maximum salary offered by the Department of the Interior for this job opening: Grizzly Bear Conflict Manager. It pays well but your coworkers are a real bear!
6-8. That is how many toddlers escaped their daycare in Southern California in a mass jailbreak. They were rescued by drivers who spotted them toddling along a busy road.
7. That is how many Asian women one man in New York City attacked in a single day of a hate crime spree. He was caught and arrested recently.
What's Trending?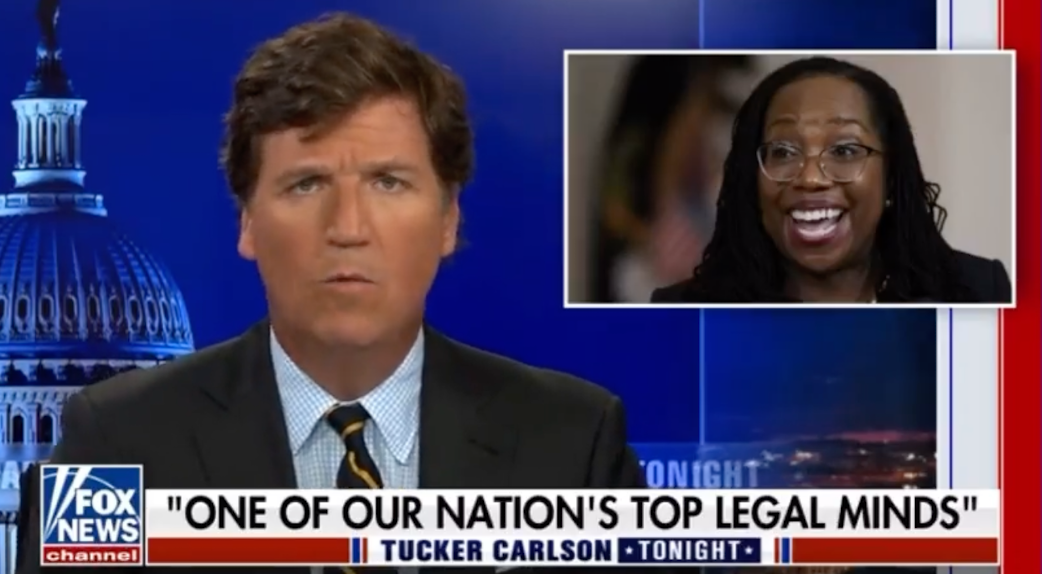 credit: foxnews
LSAT is trending because Fox News host Tucker Carlson wants President Biden to tell us what his Supreme Court nominee Ketanji Brown Jackson scored on the standardized law school admissions test.
Eastman is trending because former Trump advisor John Eastman is facing an ethics investigation by the California State Bar. The January 6 Committee claims that they have emails from him to Mike Pence urging him not to certify the 2020 Presidential election but Eastman says that the emails must be protected by attorney-client privilege.
Chaney Jones is trending. She is Kanye West's new girlfriend. She is a 24-year-old model that people are saying is a carbon copy of his ex, Kim Kardashian.
Dr. Seuss is trending because a group of "inclusive" artists are working on a new Dr. Seuss-inspired book with sketches of creatures actually made by Dr. Seuss. Last year six Dr. Seuss books were pulled from publishing after they were deemed to have insensitive images. The deceased author's estate announced this new project on Wednesday but did not announce names of the authors.
Today's Live Show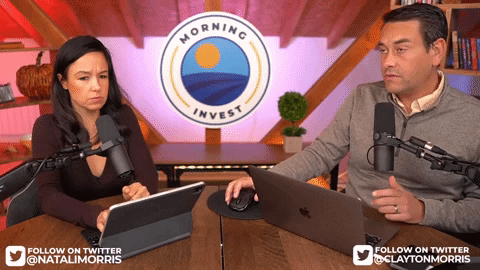 MORNING INVEST LIVE AT 9AM EASTERN
Join us on today's live morning show. Click here to subscribe for free.
We'll be looking at the latest escalation of attacks in Southern Ukraine while western sanctions appear to have crushing effects. Not surprising there's a big bowl of hypocrisy when it comes to sanctions. We're also looking at Fed Chief Powell's speech on big rate hikes coming this month. Click here to RSVP and I'll see you at 9 AM Eastern.
Share The Love
Become a friend of Morning Invest by sharing this newsletter with someone you love.
When you do, we don't just give you a pat on the back and say, "Well done old sport." We give you actual rewards that'll make everyone jealous.