| TOGETHER WITH | |
| --- | --- |
Happy Tuesday! Today is National Pretend To Be A Time Traveler Day (seriously it is). I'm going to pretend it's 2022. Enjoy 2020, I'll see you in two years.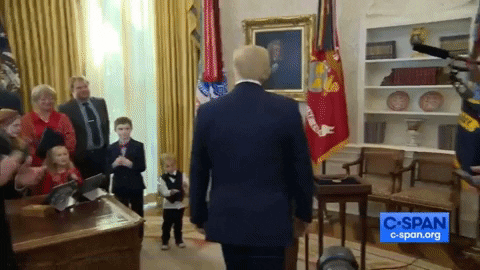 In Case You Missed It.
Wrestler and coach Dan Gable was awarded the Presidential Medal of Freedom yesterday by the President who issued the honor and walked out awkwardly immediately after. (above)
A third recount of the Presidential Election votes in Georgia once again confirmed that President-elect Joe Biden won the state.
President-elect Biden is expected to pick retired General Lloyd Austin, a Raytheon board member, as secretary of defense. Famously he helped spearhead the Iraq invasion and he is a member of the same private equity fund which invests in defense contractors.
Chuck Yeager, the first pilot to break the sound barrier, has died at the age of 97.
You can watch James Bond movies for free on YouTube with all the Bonds, except the current Bond, Daniel Craig.
Ikea will stop printing catalogs as more customers use the Internet to re-imagine their spaces than the phone-book sized books.
Coronavirus Update:
Total confirmed U.S. cases as of 7 p.m. ET Monday: 14,909,148 — Total deaths: 283,568 — Total recoveries: 5,624,609
Lead Story: America First
credit: reuters
President Trump is expected to sign an executive order that will give Americans first priority with the forthcoming Covid vaccine. This means that the U.S. will focus on vaccinating its own population before assisting other countries with a vaccine like it might normally do.
This doesn't necessarily mean buying up the stock away from other countries but it is not clear how pharmaceutical companies will prioritize distribution. The executive order would still direct the State Department and the United States Agency for International Development to work to help international partners obtain their own vaccines.
The executive order is expected to be announced at a Covid-19 summit at the White House today. A senior White House official calls this a "reaffirmation of the President's commitment to America First."
CONFIRMING LOAN

Program

Rate

Change

APR

Change

30 year

2.77%

0.00%

2.83%

0.00%

15 year
2.61

%

0.05%

2.71

%

0.06%
Health: The Mental Toll
credit: gallup
An annual survey of Americans' mental health showed this measure to be lower than it has been in the last two decades. This is no surprise, given what the world has gone through in 2020.
This year only 76% of U.S. adults rate their mental health positively. That is a full 9 percentage points lower than last year. And while 76% of people feeling fairly good sounds great, falling 9 points in one year is an unprecedented slide. The groups that showed the most stability in mental health included Democrats and regular churchgoers.
But while mental health is in decline, physical health is not. Americans' assessment of their physical health is about the same as it was last year.
Sponsor: Get Free $1,600 with Webull

Webull is blowing my mind. Right now until December 15th, Webull is giving away 4 free stocks valued up to $1,600. Yes, you read that right. Why not get some free money? Right now you can get FOUR free stocks valued up to $1,600 just for opening an account with Webull. And you have to check out Webull's new desktop app too! Seriously it's awesome.
You'll get up to $1,600 in stocks just for opening a free trading account with Webull and depositing $100 into the account to activate it. Simply click here and start an account. Even if you never do anything else with the account you still get that free money.
With Webull you can invest in thousands of companies using their trading tools and analytics to create your own financial portfolio. And the best part is $0 commissions and no deposit minimums. I remember when I used to pay $6 per trade with some other companies. Not any more thanks to Webull.
Sign up today and get your free stocks. Thanks, Webull.
Travel: Shaka in Hawaii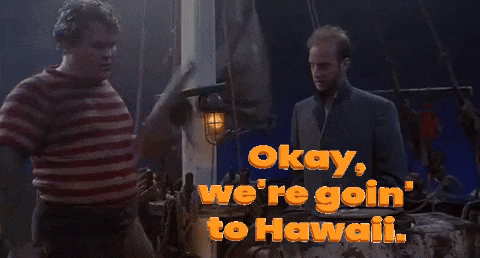 credit: giphy
The state of Hawaii will buy you a round-trip ticket to Oahu if you come to work from the islands. This is a pilot program called "Movers & Shakas."
The state will find you a flight, and help you find a place to live and get set up to telecommute, either with lodging credits or hotel discounts. You must agree to stay for at least 30 consecutive days and be required to volunteer for local nonprofit organizations.
The Hawaiian economy has been devastated by the lack of tourists so the state is hoping to attract some fresh blood. Applications for this program close on December 15 so wikiwiki!
Apple's Family Sharing Plan
credit: macrumors
If you have a family sharing plan on your iPhone, you know you can download apps that other family members have downloaded, but you could not share in-app purchases in those apps. Until now! Apple has confirmed that it will now allow for in-app purchase sharing with family members.
This is for things that need to be unlocked with payments, such as subscriptions, upsells, games. These things can be shared with up to 5 people in a family. To turn this on, go to the Settings section of the App Store, and look for the "Share New Subscriptions" feature.
News By The Numbers
credit: ap
$20,000. That is the cost for a backyard office in a box, soon to be available on Amazon. It is the creation of Estonian company Ööd. Odd indeed.
$300 million. That is the rumored amount that Universal Music has paid for the rights to the entire catalog of Bob Dylan. It includes over 600 songs from his 58-year musical career.
300%. That is how much some investors expect Tesla stock to grow in the next three years as the company expands into the insurance business and the HVAC business.
$708 billion. That is the size of a new stimulus package in Japan aimed at speeding up the country's recovery from the pandemic, including increased investments in new growth areas such as green and digital innovation.
Airplane Mode
credit: wired
Aviation experts are worried that 5G networks could interfere with airplane electronics and increase the risk of plane crashes. Yikes!
The Federal Communications Commission is scheduled to auction off C-band frequencies for 5G today, but it is not clear if the network would interfere with aviation electronics.
"I see a very significant safety issue here unless we find a way to mitigate it," Terry McVenes, president of RTCA Inc., a Washington-based nonprofit that studies technical issues involving aviation, told Bloomberg. His agency produced a 217-page study laying out the hazards of using this spectrum for 5G.
A trade group for the U.S. carriers is encouraging the FCC to do more research on this and a coalition of 15 aviation-industry groups sent a letter on Monday to the FCC reiterating these concerns, which they claim to have been expressing since 2017.
This is not only a U.S. problem. In France, 5G rollout has been slowed while this matter is studied further.
Today's Live Show
Join us on today's live show as we look at the very latest on stimulus negotiations and President-elect Biden's cabinet picks. Click right here set a reminder and watch us live at 9 AM Eastern.
Share The Love
Become a friend of Morning Invest by sharing this newsletter with someone you love.
When you do, we don't just give you a pat on the back and say, "Well done old sport." We give you actual rewards that'll make everyone jealous.