| TOGETHER WITH | |
| --- | --- |
Happy Thursday. Did you know there's a typo in The Lincoln Memorial? Yes indeed. The National Mall Service tweeted about this little-known fact. See if you can spot the problem. (answer below)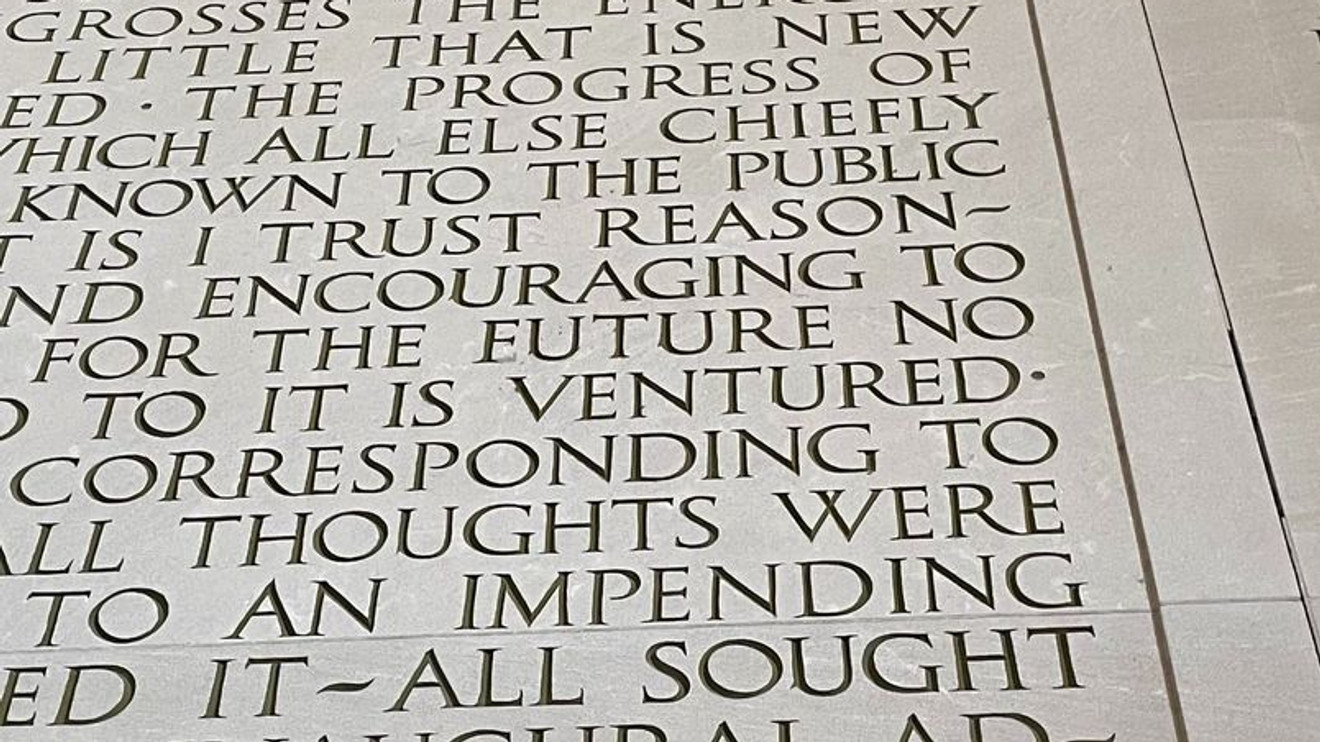 see the word 'future' it was originally spelled "euture" until they filled in the "e". credit: national mall
In Case You Missed It.
🎄 Retailers are worried about supplies and say you should do your Christmas shopping now. Kill me.
🎃 Home Depot sold out of its first release of Halloween decorations.
🎂 Former President Bill Clinton turns 75 years old today.
😳 T-Mobile confirms that a data breach resulted in stolen personal data for more than 40 million customers.
🍆 A library in Long Island had to apologize for accidentally handing out pornographic comic books to children. How does that happen exactly?
Coronavirus Update: 😷 Total confirmed U.S. cases as of 12:50 p.m. ET on Wednesday: 37,033,445 — Total deaths: 623,418
The TSA has extended mask mandates until January 18, 2022.
A new study shows that people with the Delta virus may be carrying 1,000 times more virus particles than those with the original Covid virus.
A group that advocates for people with disabilities has sued Texas Governor Greg Abbott over his ban on mask mandates.
| | | | |
| --- | --- | --- | --- |
| | Bitcoin | $44,717.03 | |
| | | | |
| --- | --- | --- | --- |
| | Ethereum | $3,004.14 | |
| | | | |
| --- | --- | --- | --- |
| | Cardano | $2.11 | |
| | | | |
| --- | --- | --- | --- |
| | Dow | 34,960.69 | |
| | | | |
| --- | --- | --- | --- |
| | S&P | 4,400.27 | |
| | | | |
| --- | --- | --- | --- |
| | Nasdaq | 14,525.91 | |
*Stock data as of market close, cryptocurrency data as of 5:00am ET.
Markets: Stocks across the board are down thanks to the Fed meeting minutes. Central bankers think the economy could be in a strong enough place for the Fed to begin winding down its pandemic-era stimulus measures before the end of the year.
CONFORMING LOAN

Program

Rate

Change

APR

Change

30 year
2.75

%

0.01%

2.81%

0.01%

15 year
2.03

%

0.00%

2.12

%

0.01%
The Lead: Booster Bonanza Begins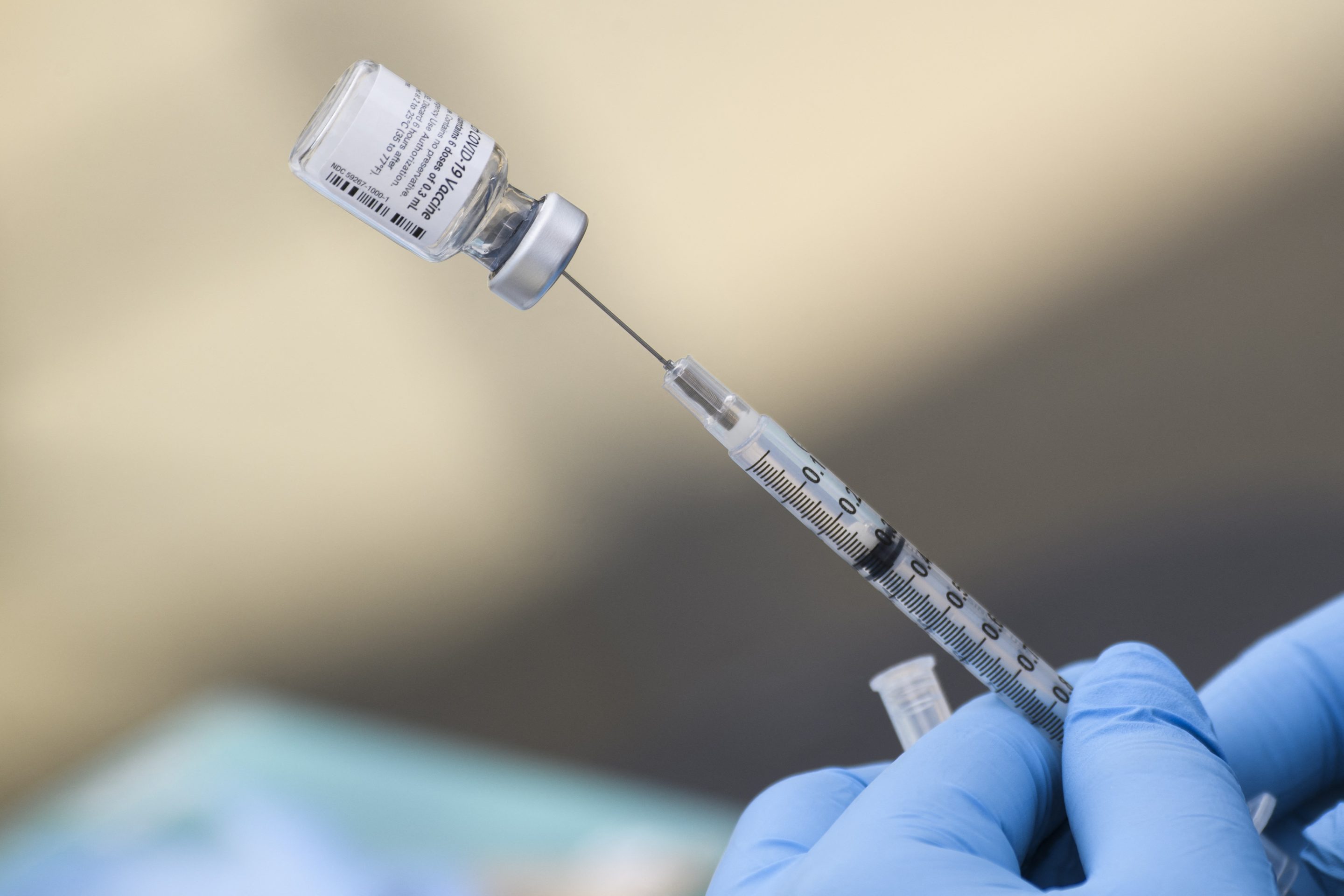 credit: getty
It turns out those vaccines lose their effectiveness over time. Enter the season of booster shots.
The CDC will begin a Covid-19 booster shot program next month as new data shows that vaccine protection wanes over time.
It's now "very clear" that immunity starts to fall after the initial two doses, and with the dominance of the delta variant, "we are starting to see evidence of reduced protection against mild and moderate disease," according to the statement signed by CDC Director Dr. Rochelle Walensky, acting FDA Commissioner Dr. Janet Woodcock, White House chief medical advisor Dr. Anthony Fauci and other U.S. health leaders.
This is a big shift from previous comments made by U.S. health officials, who said recently that fully vaccinated Americans did not need booster shots at this time.
When?
Boosters will be available to all eligible Americans beginning the week of Sept. 20, starting eight months after their second dose of Pfizer or Moderna's vaccines. For those of you with the Johnson & Johnson single-shot vaccine, you'll need to wait until they have enough data before recommending a booster.
Sponsor: Grammarly
When it comes to saving time and working more efficiently, it's the little things that start adding up and hogging time in your day. Grammarly Premium gives real-time suggestions on your writing, so you can get to the next item on your list in record time.
Here's what you get:
Clarity Suggestions: Grammarly Premium helps you get your message across quickly, without repeated or unnecessary words.
Vocabulary Suggestions: No more searching for synonyms. Grammarly Premium offers suggestions to replace overused words and phrases.
Integrations: I use Grammarly right inside Gmail and Microsoft's Outlook
Get 20% off Grammarly Premium by signing up at Grammarly.com/INVEST
Banning Toxic Pesticides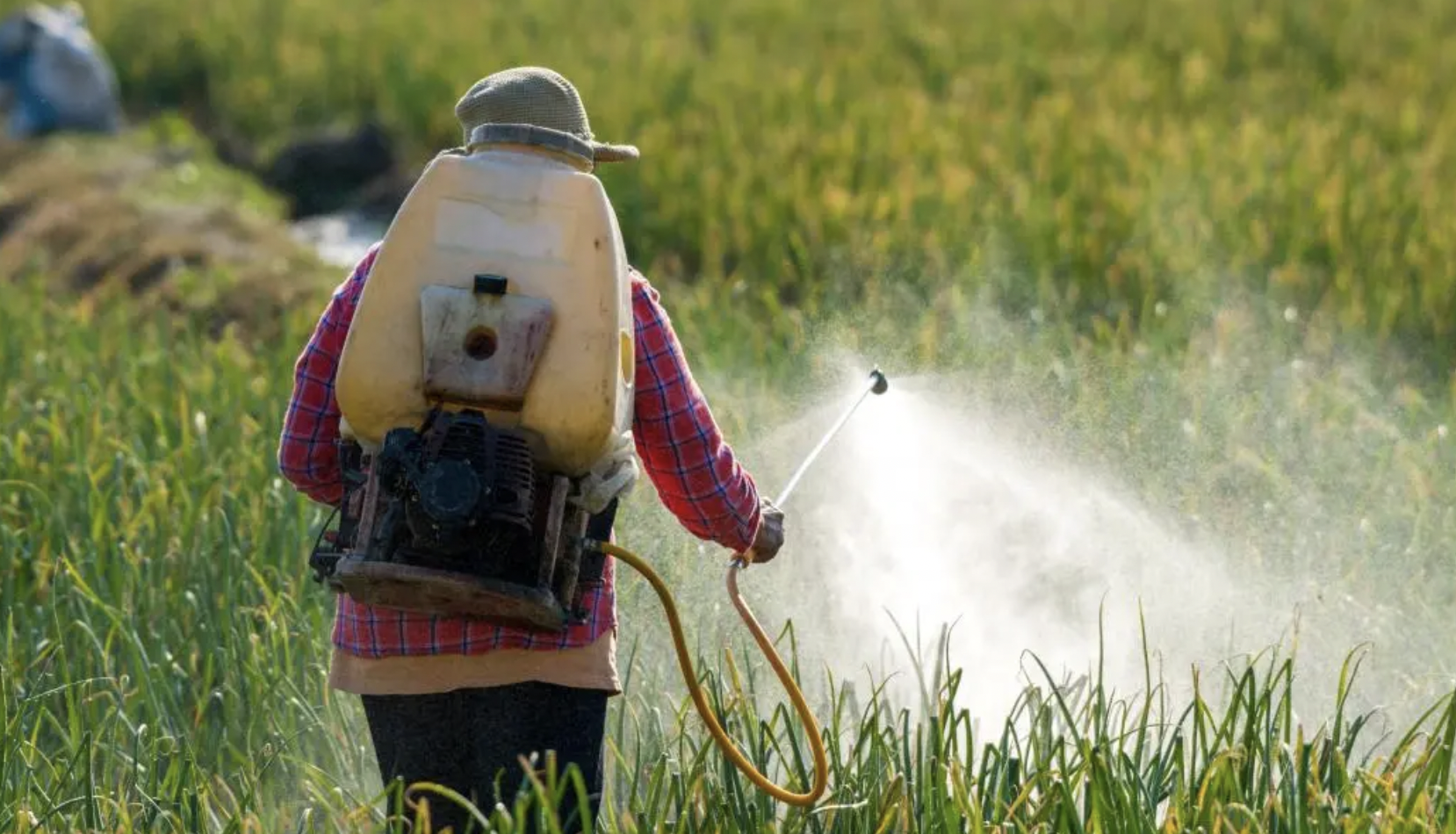 credit: shutterstock
A toxic pesticide well known for years to alter children's brains is finally banned from use in the U.S, begging the question, "what took so long?"
The insecticide in question is called chlorpyrifos and is used throughout agriculture on crops including soybeans, almond trees, grapes, broccoli and cauliflower. Chlorpyrifos has been in use in the U.S. since the 1960s, and more than 5 million pounds of it were used on U.S. farmland in 2017.
The EPA proposed ending its use in 2015, but the Trump administration later dropped the plan under pressure from pesticide maker Dow Chemical.
"Rather than ban the pesticide or reduce the tolerances to levels that the EPA could find were reasonably certain to cause no harm, the EPA sought to evade through delay tactics its plain statutory duty," Judge Jed S. Rakoff wrote in the Ninth Circuit's 67-page ruling in April.
The new EPA regulation, once formally published, sets a six-month deadline for agricultural companies to stop using chlorpyrifos. So to be clear the ban isn't finalized yet and companies have 6 more months to spray brain-altering chemicals on food.
Food Stamp Increase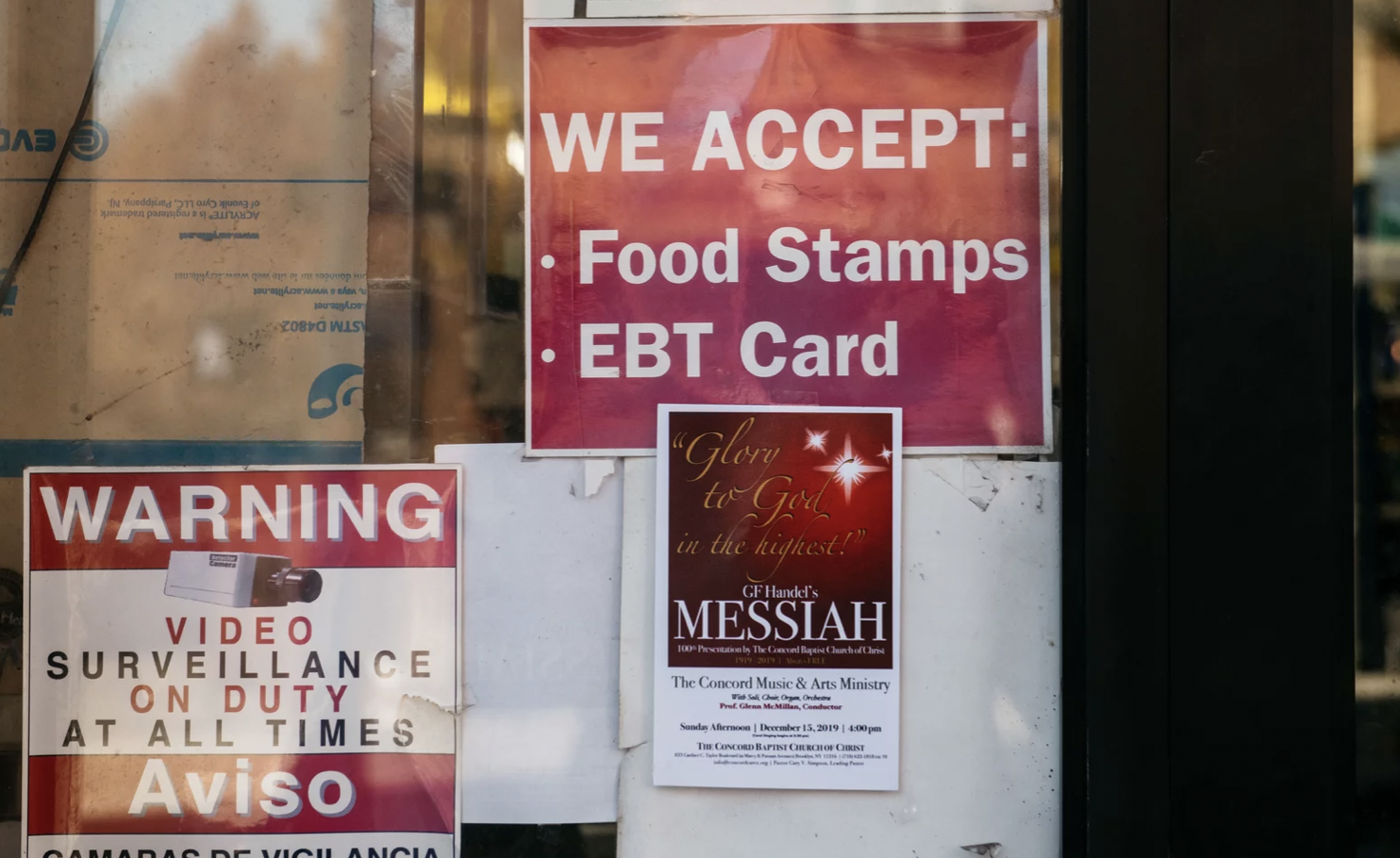 credit: getty
Americans who rely on food stamps for groceries received an increase in benefits this week from the SNAP program. The USDA is calling this the largest single increase for the program to date.
The increase amounts to approximately $36.24 per person. This is not a moment too soon as inflation has caused grocery bills to rise by 0.7% last month alone and 2.6% over the last year. The new increase is a 25% increase from previous food stamp levels.
These benefits were authorized by the Biden administration to begin in October.
News By The Numbers
credit: giphy
20. That is how many protestors "seized" Edinburgh Castle in Scotland on Tuesday, claiming control of the landmark under article 61 of Magna Carta. They were escorted right out of the castle they had seized by police. Storm fail.
14. That is the minimum age to put your children in tackle football if at all, according to a new public service announcement from the Concussion Legacy Foundation. The ad stars Hall of Fame quarterback Brett Favre.
3. That is how many volcanoes erupted simultaneously in Alaska. None of them were a threat to any human communities.
7 million. That is how many Pop Its were sold in the U.S. between 2020 and 2021, according to FoxMind, the maker of the original toy.
TikTok Would Like To Share Your Face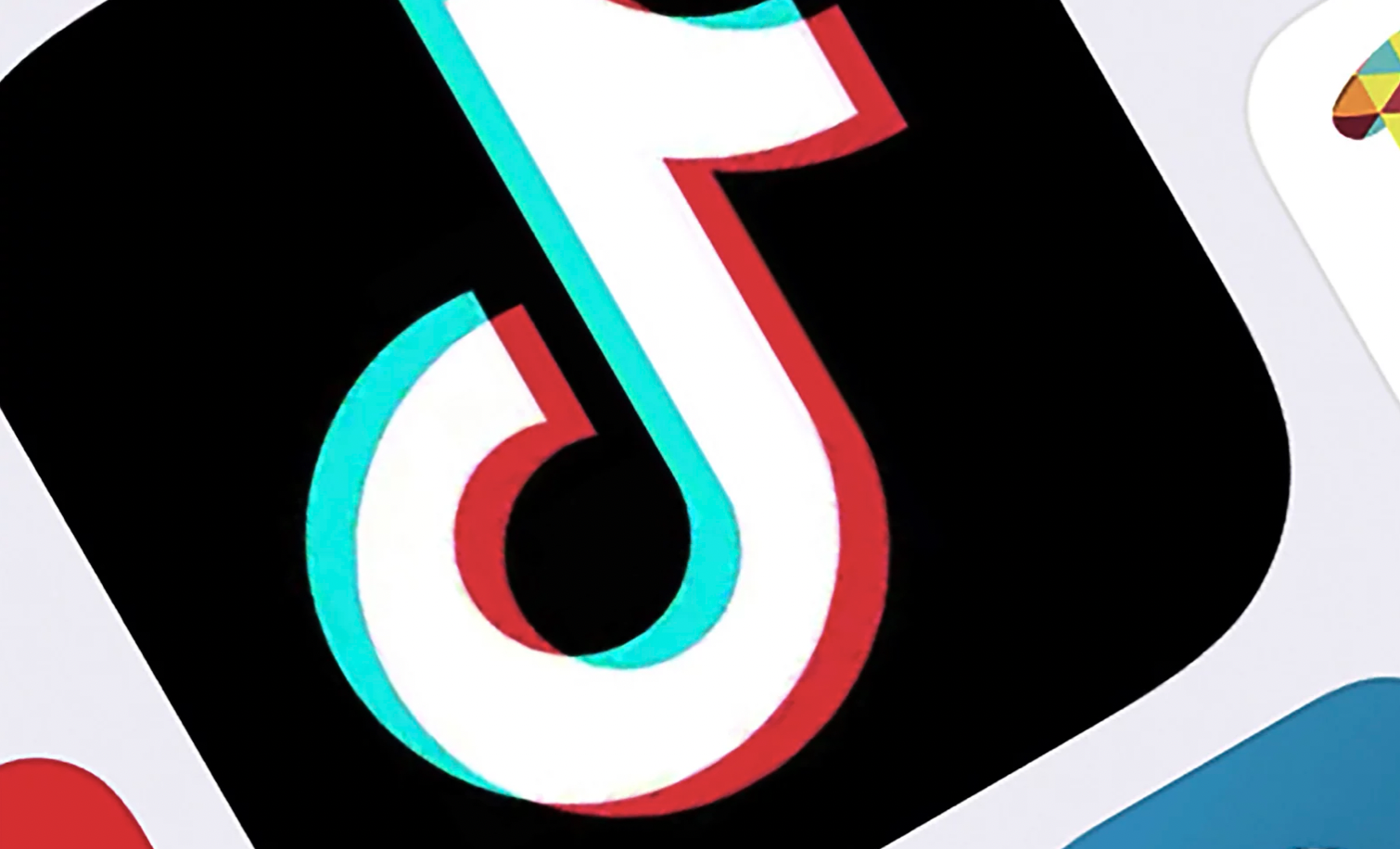 credit: ap
TikTok's new terms of service allow the app to collect more information about its users than before, including faceprints and voiceprints. The company unabashedly shares this information with third parties.
A bipartisan group of U.S. lawmakers wants some more clarity about these practices. Senators Amy Klobuchar and John Thune wrote to TikTok's CEO asking for clarification of these terms.
The Senators are especially concerned about data collection for users under 18 years old. They said that they find TikTok's terms "alarming" and would like answers to their questions by next week.
Daddy Short Legs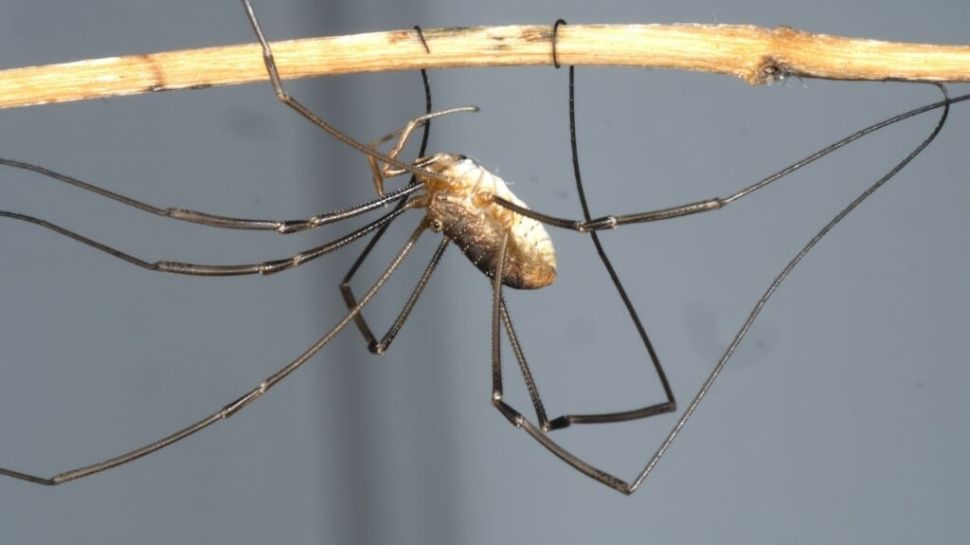 credit: istock
Are daddy long-leg spiders less scary when their legs are shorter? Nope! Here is proof.
A group of scientists mapped the entire genome for harvestmen spiders, better known as daddy longlegs. They then replicated the sequence but changed the genes that were responsible for growing the legs long. Instead, the genes grew the legs short.
"Our purpose was not just to shorten their legs just for the sake of it," lead author Guilherme Gainett, a graduate student at the University of Wisconsin-Madison, told Live Science. "We wanted to understand more about how these fascinating creatures evolved their alien way of locomotion and body plan."
The mutated spiders died before they reached adulthood. The researchers said that they learned a lot about the 400 million-year-old species and hope to use this research to study the spiders' fangs next.
Today's Live Show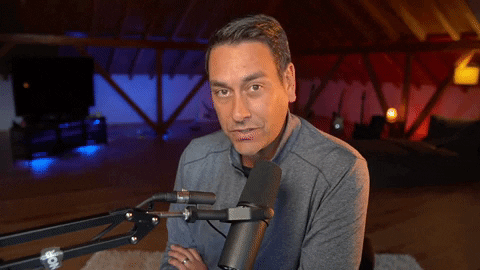 BIDEN'S STIMULUS PLAN MOVES FORWARD
Join us on this morning at 8:30 AM EST for the only morning show that's not funded by billionaire corporations. On today's show we'll be looking at the next steps on this $3.5 trillion dollar stimulus package. Click here to RSVP and I'll see you at 8:30 AM Eastern.
Share The Love
Become a friend of Morning Invest by sharing this newsletter with someone you love.
When you do give you actual rewards that'll make everyone jealous.