| TOGETHER WITH | |
| --- | --- |
Happy Friday! Did you get your Trump neck tattoo yet? This guy did.
In Case You Missed It.

Supporters of President Trump are planning a march in Washington this weekend to protest the results of the Presidential Election. They are calling it the MAGA March.
Australian scientists are working on a laser tractor beam that can harness lightning in order to reduce the number of fires caused by lightning strikes.
A Dutch neurologist analyzed popular music and found that Queen's "Don't Stop Me Now" is the happiest song ever.
China has come around to congratulating President-elect Joe Biden on winning the Presidency. They had been slow to do so for fear of pissing off President Trump, but a spokesman for the republic said this today: "We respect the choice of the American people," and "We congratulate Mr. Biden and Ms. Harris."
Coronavirus Update:
Total confirmed U.S. cases as of 10 p.m. ET: 10,546,706 — Total deaths: 242,622 — Total recoveries: 4,051,256
Researchers at Georgia Tech have built a real-time Covid risk assessment tool to help find your chances of contracting the disease by location.
New lockdown restrictions due to Covid surges have been ordered in the city of Chicago as well as many states such as New York, Ohio, Minnesota, and Maryland.
A new report shows that 80% of Texas jail inmates that died of Covid while in jail were not convicted of any crimes. They had been awaiting trials.
In Today's Newsletter:
Bank deposits reach new highs
Team Biden eyes a 4-6 week lockdown
Home prices set a new record
Lead Story: The First Real U.S. Lockdown
credit: reuters
A member of President-elect Biden's Covid task force is suggesting full lockdowns for 4-6 weeks. Dr. Michael Osterholm is one of 12 members on this team that is ramping up plans to take on the pandemic right after the inauguration.
Before you panic, Dr. Osternholm also has a plan for paying for it. He points out that banks have record-high savings balances. See the story below for more about that. This means that banks could lend to the federal government in order to pay out a stimulus package that keeps people home.
In his own words
"We have a big pool of money out there that we could borrow at historic low-interest rates," he said in an interview with Yahoo Finance. "We could pay for a package right now to cover all of the wages, lost wages for individual workers, for losses to small companies to medium-sized companies. For city, states, county governments. We could do all of that. If we did that, then we could lockdown for 4-6 weeks, and if we did that we could drive the numbers down. Like they've done in Asia, like they did in New Zealand and Australia. And then we could really watch ourselves cruising into the vaccine availability in the 1st and 2nd quarter of next year and then bringing back the economy long before that."
Would that really be so bad? If a lockdown is imposed under a Biden administration, it won't be until January 21, the dead of winter. So you could conceivably get paid to stay home and stay warm for the good of us all, missing out on no holiday other than maybe Valentine's Day, which is a commercial holiday anyway. So don't panic. Maybe just dream about all-day pot roasts on a cold day at home.
CONFIRMING LOAN

Program

Rate

Change

APR

Change

30 year

2.82%

0.09%

2.87%

0.09%

15 year
2.61

%

0.12%

2.71

%

0.12%
Interest Rates Low, Deposits High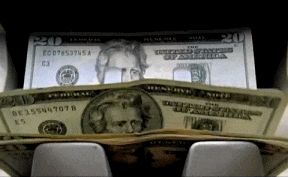 credit: giphy
Have you noticed that the piddly little interest rate on your savings account is even more piddly lately? That is because banks have lowered interest rates this year even as consumers continue to make large deposits into their savings accounts.
Last year, US consumers put approximately $13.2 trillion into savings accounts. This year, that number will be closer to $15.9 trillion. Clearly, we are all worried about the economy and trying to save up for a rainy day. Er, rainier day.
Banks typically lower savings interest rates when the Federal Reserve lowers rates, which it has. But this increase in deposits and a decrease in interest rates could mean big profit for the banks. They are allowed to lend out 90% of every dollar deposited in their coffers. This means that they are using your money to make interest on loans but not paying you very much in return. But loan applications have leveled off so they are not lending as much as they'd like. Still, they're happy to accept those deposits!
Sponsor: Get Free $1,600 with Webull

Right now until November 15th, Webull is giving away 3 free stocks valued up to $1,600. Why not get some free money? Right now you can get THREE free stocks valued up to $1,600 just for opening an account with Webull. And you have to check out Webull's new desktop app too! Seriously it's awesome.
You'll get up to $1,600 in stocks just for opening a free trading account with Webull and depositing $100 into the account to activate it. Simply click here and start an account. Even if you never do anything else with the account you still get that free money.
With Webull you can invest in thousands of companies using their trading tools and analytics to create your own financial portfolio. And the best part is $0 commissions and no deposit minimums. I remember when I used to pay $6 per trade with some other companies. Not any more thanks to Webull.
Sign up today and get your free stocks. Thanks, Webull.
Trump Losing Interest in TikTok?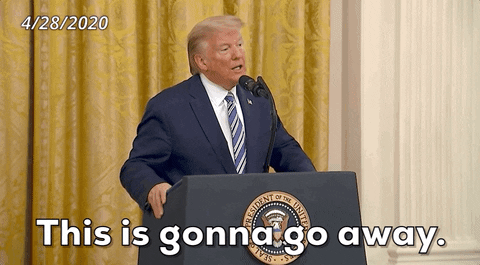 credit: giphy
President Trump seems to have lost his appetite for shutting down TikTok. The Department of Commerce did not enforce the deadline for shutting down the social media company after it came and went this week.
The President took aim at TikTok this summer based on its Chinese ownership, expressing concern about the amount of user data collected. TikTok owners have repeatedly said that they do not share this data with the Chinese government. The company was set to sell off a majority portion to Oracle and Walmart but terms of this deal are still not agreed upon.
The Department of Commerce said that it did not enforce the shutdown yesterday based on an injunction it received last month when three TikTok stars challenged the shutdown in court. The Government issued an appeal of the injunction just yesterday.
Home Prices Set A Record
credit: getty
Home prices rose across the country in the third quarter, according to the National Association of Realtors. This is the first time that the association saw increases in every single market since 1980.
The median price of a single-family home is now $313,500, up 12% from this time last year. The areas with the largest increase in price were Bridgeport, Connecticut with a 27.3% increase and Crestview, Florida with a 27.1% increase.
News By The Numbers
credit: lucara diamond corp
998-Carats. That is the size of a diamond that was recently discovered in Botswana. It is being called the fifth-largest diamond ever found.
1,500. That is now many nurses in Philadelphia are threatening to strike due to safety concerns. Unions groups are currently negotiating contracts to prevent this.
$99. That is how much AMC is charging for private theater rentals for up to 20 people. This is the starting price tag for older movies. If you want a newer release, you will pay up to $350. That may seem like a lot but it works out to about $17 per person, which isn't much more than the average movie ticket these days. Well, not these days. Those days last year. You know what we mean here.
Stone Cold Prank?
credit: guardian
A statue in Palencia, Spain, was recently restored if you can even use that word. The original was a stone carving of a smiling woman in a head covering. The new one looks like a clay figure from a PBS Special. Or, according to some, President Trump.
Images of this "restoration" went viral on Facebook and many are asking why the government would pay someone to do this. It seems like a prank. Clearly, somebody was trying to get away with it unnoticed but the Internet noticed.
Share The Love
Become a friend of Morning Invest by sharing this newsletter with someone you love.
When you do, we don't just give you a pat on the back and say, "Well done old sport." We give you actual rewards that'll make everyone jealous.
Hit the button below to learn more and access your Reward Dashboard.