| TOGETHER WITH | |
| --- | --- |
Good Tuesday Morning.
Did someone forward our newsletter to you? If you want to subscribe then visit us right here. We'll be delivered right to your inbox first thing in the morning.
A reminder that if you love this newsletter remember you can win stuff every day by referring real friends with your unique referral link found at the bottom of the email. Things like mugs, and even hoodies!

In Today's Newsletter:
Gun sales explode in the U.S.

Trump races to auction off drilling sites

Biden's transition team gets stonewalled by Trump
In Case You Missed It
credit: giphy
Hurricane Iota rages on as a Category 4 hurricane in Central America.
Despite a bang-up year, the economy is in pretty good shape and so are most people's finances.
A black bear was caught walking in the snow in Yosemite. Go to bed, young man!
President Trump told a Republican Senator that if his challenge to the election doesn't work out, he will run again in four years.
Coronavirus Update: Total confirmed U.S. cases as of 4:45 p.m. ET: 11,163,990 — Total deaths: 246,953 — Total recoveries: 4,185,549
In Philadelphia, new lockdowns rules mean that people of different households are banned from being together indoors until January 1. That means no Thanksgiving or Christmas with extended family or friends.
Pfizer is running a trial of its Covid vaccine in Rhode Island, Texas, New Mexico, and Tennessee.
A new study shows that mouthwash may be effective at killing Covid.
Moderna announced that its vaccine was 94% effective in combating Covid, sending the stock market soaring once again.
CONFIRMING LOAN

Program

Rate

Change

APR

Change

30 year

2.82%

0.08%

2.87%

0.08%

15 year
2.46

%

0.22%

2.54

%

0.23%
Lead Story: Biden is Losing Patience With Trump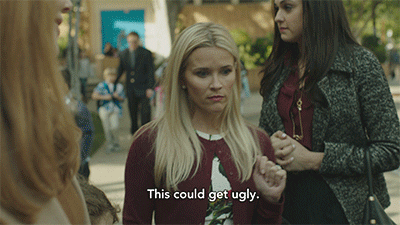 credit: giphy
The President-elect spoke on Monday, and it is clear he is losing his patience with transition delays. The incoming leader has been gracious so far but now he wants Americans to understand the consequences of the Trump Administration's election-challenge game.

"More people may die if we don't coordinate," President-elect Biden said. "If we have to wait until January 20 to start that planning, it puts us behind over a month, month and a half."

The Trump Administration has not shown any hope of legal challenges to the election but the President keeps Tweeting that he won and forbidding federal agencies from working with the incoming administration. This means that the new administration will lack important intelligence and resources that they will need to combat the pandemic.
The economy
The President-elect also spoke about his economic efforts, signaling a strong alliance with labor unions.

"I made it clear to the corporate leaders. I said 'I want you to know I'm a union guy. Unions are going to have increased power.' They just nodded. They understand. It's not anti-business. It's about economic growth."
Sponsor: HelloFresh

Want to save 40% on your grocery bill? Want delicious ingredients shipped right to your door? Want to prepare amazing meals in under 30 minutes? Want to get a coupon for $80 to try it out? Then you're in luck. You'll get free food with that link.
Introducing HelloFresh. Get fresh, pre-measured ingredients and mouthwatering seasonal recipes delivered right to your door, America's #1 meal kit. HelloFresh lets you skip those trips to the grocery store, and makes home cooking easy, fun, AND affordable.

The recipes are easy to follow and quick to make, with simple steps and pictures to guide you along the way. You'll save 40% off your grocery bill by using HelloFresh. The packing is all made from recyclable materials. They have multiple meal options for small and large families ranging from vegan to meat and everything in between.
Even if you don't like it you just got 80 dollars of free food delivered to your door because of Morning Invest. You have to use this link.
Oh, Canada Thank You For Warning Us
credit: getty
As you ponder your Thanksgiving table next week, consider Canada. Canadian Thanksgiving was last month. Covid cases had been on the upswing there but the data shows that the holiday has made it worse.

"The reason why we're fairly confident Thanksgiving did increase cases is that we saw our highest numbers yet in the two weeks following Thanksgiving, which is consistent with the incubation period, when people would show symptoms and get reported," said Dr. Laura Rosella, an epidemiologist at the University of Toronto.
Now look at the U.S. Many towns would not give up Halloween and that also was two weeks ago. Now the U.S. is hitting record numbers on a daily basis.

Despite these hard lessons, an Ohio State University survey shows that 2 in five Americans still plan to celebrate the holiday with more than 10 people.
News By The Numbers
credit: the daily sentinel
32,131,914. That is how many guns have been purchased in the U.S. in 2020. That is up from 28 million last year. Yes, you read that number correctly. Illinois is the state with the highest gun sales, followed by Kentucky.
7,314. That is how many hate crimes were reported in 2019, according to the FBI, the highest number recorded in a single year in a decade. Hate murders are the highest they've ever been and there was also a 7% increase in religion-based hate crimes.

25%. That is how much stronger cannabis is now compared to 50 years ago so use it carefully!
As Sarah Palin Used To Say: "Drill Baby Drill"
credit: ap
The Trump administration is on the clock to auction off drilling sites in Alaska before their time in office is up. A call for nominations opens today. It allows oil and gas companies to identify locations in Alaska's Arctic National Wildlife Refuge that they would like to drill.

In 2017, Congress authorized drilling in the refuge. Now the government wants to secure the drilling contracts before President-Elect Biden and the Democratic House of Representatives can shut them down. They also want to adopt a more narrow definition of what constitutes a critical habitat for endangered species which would lessen liability for companies that harm migratory birds in their drilling.

The Arctic National Wildlife Refuge is home to migrating caribou and waterfowl, polar bears, Arctic foxes, and more.
Gut Check Time
credit: public domain
A new medical study confirms that there is a strong link between your gut bacteria and your propensity to get Alzheimer's and dementia.

Researchers in Switzerland and Italy have been able to confirm the connection between an imbalance of gut microbiota and the development of amyloid plaques in the brain, which leads to neurodegenerative disorders.

Gut bacteria is an entire ecosystem of microscopic living organisms that live in your digestive system. Eating foods that keep this ecosystem healthy, according to this and many studies, is the key to sustainable health. Eating foods that destroy that system can lead to chronic disease. Scientists hope that this research will help them find more innovative ways to feed good bacteria into our intestines.
Turning A Page
A footballer in the UK is launching a youth book club. That is what they call soccer players there. Not to be confused with an American football player.
Marcus Rashford is a forward for Manchester United. He partnered with Macmillan Children's Books to read books together with young people. The first title will be an illustrated non-fiction book about Rashford's life. It comes out in May and Rashford will curate the reading list for subsequent titles for children aged 7 and up.

"We know there are over 380,000 children across the UK today that have never owned a book, children that are in vulnerable environments. That has to change," he said.
Share The Love
Become a friend of Morning Invest by sharing this newsletter with someone you love.
When you do, we don't just give you a pat on the back and say, "Well done old sport." We give you actual rewards that'll make everyone jealous.
Hit the button below to learn more and access your Reward Dashboard.