TOGETHER WITH
In Case You Missed It.

credit: twitter
 This Tweet is trending because it is hilarious. A lawyer goes before a judge on Zoom and cannot figure out how to change his filter from showing him as a cat. Follow the hashtag #catlawyer because it's great.
A Christian organization is boycotting American Girl Dolls because the Kira doll has lesbian aunts.
A polar bear in the Detroit Zoo was killed by another polar bear when the zoo was attempting to mate them.
Coca-Cola is launching a new 13.2-ounce bottle made of entirely recycled plastic.
Aunt Jemima brand of pancakes and syrup has been renamed Pearl Milling Company.
An oil refinery had a spill in the San Francisco Bay Area on Tuesday, causing the health department to issue a Level 2 Health Advisory and local wildlife do not thank us for it.
Former First Lady Michelle Obama is launching a cooking show for kids on Netflix called Waffles + Mochi. Her co-hosts are puppets.
Coronavirus Update: 
Total confirmed cases as of 11 a.m. ET Tuesday: 27,100,086 — Total deaths: 465,096— Total tests: 321,856,938
CONFORMING LOAN

Program

Rate

Change

APR

Change

30 year
2.66

%

 

0.00%

2.71%

 

0.00%

15 year
2.15

%

 0.01%

2.25

%

 0.00%
The Lead: Impeachment Theatrics
senator chuck schumer credit: getty
President Trump's defense attorney, Bruce Castor made his opening arguments in the impeachment trial on Tuesday and it was a bit nonsensical. He admitted that he changed what he was planning to say because the House of Representatives had made such a good case.
So he's winging it. Okay. He could really blow it but it still seems like Democrats won't wrangle enough Republicans to vote for impeachment. But you never know. In fact, some say that Senate Minority Leader Mitch McConnell is subtly encouraging fellow Republicans to vote in favor of impeachment, likely to bar Trump from running for public office again.
The Senate voted again on the constitutionality of the impeachment of a former President and the vote was 56 to 44 in favor of the trial.
Notes of interest
As an aside, people online were wondering about co-council for President Trump, attorney David Schoen. He covered his head with his hand every time he took a sip of water. This is because he is an Orthodox Jew and common practice in that faith is to cover the head when eating or drinking. Schoen was without a yarmulke so he improvised to demonstrate his faith. We did not know that you could improvise a yarmulke. You learn something new every day!
Sponsor: Atomic Social
Right now is the BEST time to take your business to the next level with Atomic Social.
If you have a business, Atomic Social can not only help you design a new website, but they can also help by putting you directly in front of your prospects with their Organic SEO techniques.
Atomic Social has a custom-tailored SEO solution that will rank you at the TOP of the search engines like Google and Yahoo!
I have personally seen Atomic Social's Portfolio and Case Studies first hand. You should ask them about their previous work!
You can call them directly right now at 480-608-1690 or click here to schedule a call and get started.
Atomic Social is giving away a FREE Month of SEO along with a Free Consultation! They offer 4 and 12-month packages for which they will create a custom targeted goal to get you on the top and first page of any search engine!
Click on this calendar link right now to book your Free 20-minute Consultation.
Where Did I Put My Bombs?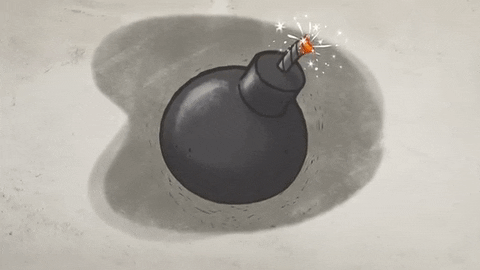 credit: giphy
Missing explosives. That is not a phrase you want to hear but that is exactly what is being investigated in the U.S. Marine Corps base in San Bernardino County, California.
The Marines notified the nearby sheriff's department that explosives were missing from the base but the Marines did not ask for help investigating. The Naval Criminal Investigative Service is taking the lead.
It was not clear what kind of explosives or how many have gone missing.
No More 9-to-5
credit: giphy
Salesforce is embracing the disrupted office environment permanently. In a blog post on Tuesday, the company says that "the 9-to-5 is dead" and that it will now allow employees flexibility in creating a schedule that works for them.
Some employees will be allowed to remain fully remote if they do not live near an office, an acknowledgment that many employees have moved away and can therefore stay where they are. Some employees will return to the office 1-3 days per week and a small population will work from an office between 4-5 days per week if their roles require it.
Facebook, Google and Twitter have already announced similar options.
News By The Numbers
credit: cnn
1 in 30 million. That is the odds of catching a yellow lobster in Maine because they are so rare but one man did catch one and donated it to the University of New England. They have lovingly named it Banana.
5. That is how many subway knife attacks have occurred in New York City in the last week.
15%. That is how much housing prices were up in urban markets in the last three months. Home prices are booming across the country in suburban markets too.
$375,000. That is how much the Super Bowl Streaker won by placing a bet in Las Vegas on whether someone could pull this off. He was arrested for trespassing and we hope charged with something that makes it illegal to bet on yourself doing something that endangers others and then profiting by actually doing it. He's an idiot.
Heavy Pandemic Drinking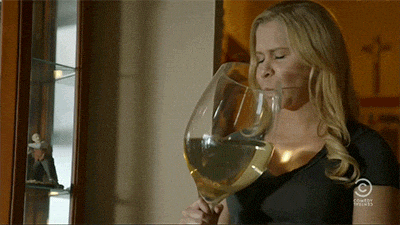 credit: giphy
Doctors say that they are treating more people with liver disease from alcohol consumption than ever before since the pandemic.
Pre-pandemic, alcohol-related diseases were mostly reserved for older adults. Now, doctors say that they are seeing this in people 40 and under and they call this "alarming."
Drinking alcohol can cause fatty liver, inflamed liver, cirrhosis, which is scarring of the liver, as well as high blood pressure, mental health problems, poor gut health, disturbed sleep…you know this. But what you might not have known was that lockdowns and imploding economies have exacerbated these problems and sped them up in younger and younger people. The RAND corporation found that alcohol consumption was up almost 30% during the pandemic.
Take it easy out there, folks. Truly. Try a hot tea and early bedtime some nights.
Hormonal Connection To Nature
credit: oprah
A new study shows that human hormones change with the seasons. Scientists studied the bloodwork of 3.5 million people and found that the chemicals that control human functions all peak at different times of the year.
The sex hormones, for instance, peak in winter: testosterone, estradiol, and progesterone peak in late winter or spring. The same phenomenon of seasonal hormone changes has been observed in other mammals such as arctic reindeer.
This is evidence that we are far more connected to nature than we might have thought and should maybe give us pause about moving to outer space.
Today's Live Show
Join us every day at 9 AM EST for our live show. Today we're looking at the impeachment theatrics and some exciting stimulus news and the growing pressure on Joe Manchin. You can RSVP right here to join us live.
Share The Love
Become a friend of Morning Invest by sharing this newsletter with someone you love.
When you do give you actual rewards that'll make everyone jealous.