| TOGETHER WITH | |
| --- | --- |
Happy Wednesday.

In Case You Missed It.
This old and busted animatronic Chuck E Cheese was found in a landfill but he's still smiling.

A birder in Pennsylvania photographed a cardinal that appeared to be half male and half female. This is known as a bilateral gynandromorph and it is extremely rare.

Tiger Woods was hospitalized after a car crash in Southern California. The LA Sheriff says he is lucky to be alive and is coping with serious leg injuries.

Power companies in Texas are temporarily banned from sending bills after last week's deep freeze.

The stock market was up on Tuesday after Federal Reserve Chair Jerome Powell testified to Congress and vowed to keep monetary policy flexible to keep up with the pandemic.

Mitch McConnell says he will vote to confirm Merrick Garland as the Attorney General even though he refused to vote for him as Obama's Supreme Court nominee.

Coronavirus Update:
Total confirmed cases as of 2 p.m. ET Tuesday: 28,212,187 — Total deaths: 501,315 — Total tests: 341,874,832
The Lead: The Internet Looks Good In Neutral Colors
credit: wrbi radio
Net neutrality is back! This is a principle of Internet traffic that states that internet service providers (ISPs) must treat all websites equally when delivering them to users.

The Trump administration was not a fan of net neutrality and blocked the law by suing in federal court. The Biden administration dropped that lawsuit and the ISPs requested an injunction, meaning that they wanted net neutrality to NOT be allowed while they fought it out in court. We know, there are a lot of double negatives when talking about net neutrality. Sorry.
A judge on Tuesday declined this request, meaning California CAN enforce net neutrality now. Of course, this is just one state but it also happens to be the state with a lot of power over the web. It means that in California at least, no content can be slowed down in favor of other content. No websites can get priority access to the fast lane. We should all have equal access to the Web.

The telecom industries obviously don't like net neutrality because they benefit from charging for better access to certain users. They released a joint statement saying that they will review this and decide on next steps but they want to take this to federal court so that there are nation-wide laws about net neutrality.

"A state-by-state approach to Internet regulation will confuse consumers and deter innovation, just as the importance of broadband for all has never been more apparent," said the statement.

The FCC did have federal net neutrality rules but rolled them back under the Trump administration. In 2018, Democrats introduced a net neutrality bill but it was not supported. This effort is likely to have another go-round now that Democrats hold power in Washington.
CONFORMING LOAN

Program

Rate

Change

APR

Change

30 year

2.87%

0.10%

2.92%

0.10%

15 year
2.23

%

0.06%

2.33

%

0.06%
Pop Quiz!

credit: Getty
Students must be tested in math and reading this year, whether they've been in school or not.

Last year, schools were allowed to scrap federal testing requirements because so many had closed during the pandemic. Now the U.S. Education Department says that testing for this academic year must happen. Schools must also report attendance and information about students' online performance.

The department says that this data will be used "to address the educational inequities that have been exacerbated by the pandemic."

Woah, will this data be telling! And erratic! We have 50 states with 50 different policies and each with dozens of districts making their own decisions based on very different resources. The word "standardized" has never been more of a joke than this academic year but sure, let's do the tests to drive that point home even more.
Sponsor: Get 2 Premium Free Stocks with Webull

Just for our audience, Webull is extending their 2 free stocks promotion valued up to $1,850. Yes, you read that right. Right now you can get two free stocks valued up to $3,700 just for opening an account with Webull.

You'll get the free stocks just for opening a free trading account with Webull and depositing $100 into the account to activate it. Remember you're not spending $100, you're simply depositing that money into your account. And right now Webull is giving away some premium stocks like Google and Apple.

Simply click here and start an account. Even if you never do anything else with the account you still get that free money.
With Webull you can invest in thousands of companies using their trading tools and analytics to create your own financial portfolio. And the best part is $0 commissions and no deposit minimums. I remember when I used to pay $6 per trade with some other companies. Not any more thanks to Webull.
Sign up today and get your free stocks. Thanks, Webull.
That's Not a Corncob
credit: city of winnipeg
A watchdog group in the city of Winnipeg, Canada has issued a plea for its residents to stop building "sexually suggestive snow sculptures."

Lately, snowmen have been appearing in public that are prurient in nature. For instance, one snowman was sculpted in the act of self-pleasure on a park bench. Another is of a couple in the throes of a one-sided sexual act if you get our drift. Another was of a massive penis spanning an entire vehicle.
Stop laughing!

The City of Winnipeg Complaints Department is not a state agency and has no power to investigate or prosecute anyone over this but the group is still issuing warnings to fellow residents to please knock it off.
May I See Your Covid Passport Please?
credit: getty
The International Air Transport Association wants airlines to use its app-based system for passengers to prove that they have had Covid vaccines. It is called the Travel Pass initiative and it allows customers to share information on an as-needed basis, rather than store it on central databases.

Air New Zealand will try this system on its Auckland to Sydney route stateliness in April and RwandAir will also give it a go in Africa for flights between Kigali and Nairobi.

Some airlines are not on board with this. Lufthansa is asking passengers to input Covid test certificates when they book flights and others are promoting an app called CommonPass from the World Economic Forum and the Commons Project.
Today's Live Show

Join us today for our live show at 9 AM Eastern Time. We'll have the very latest moves by Congress on the minimum wage's inclusion in the stimulus bill. Click here to RSVP and start chatting with our great audience. We love you all!

PS. Don't forget to subscribe to my brand new YouTube channel for small bite-sized content called Morning Invest Shorts. I'll be publishing minute-long content throughout the day. Subscribe to the new channel right here.
News By The Numbers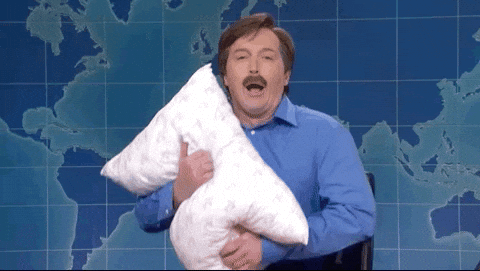 credit: giphy
$65 million. That is how much the MyPillow CEO Mike Lindell says that retailer boycotts have cost his business because he aligned himself with former President Trump.

6 hours. That is how long a man swam from North Korea to South Korea to defect from the regime. He swam ashore, stashed his wetsuit and clothes, and then escaped into a drainage conduit. He was eventually picked up by South Korean authorities but presumably not sent back north.

5,000. That is how many fentanyl pills were found inside an old Glo Worm toy that parents in Arizona bought second hand. They smartly inspected the toy, found the drugs, and contacted the police before their child could accidentally OD themselves.

$5 per hour. That is how much employers in Los Angeles County will have to pay

in additional hourly pay to frontline workers who have been asked to work during the pandemic. This includes drug store and grocery store employees of companies that are publicly traded or have at least 300 employees or more than 10 employees per store.
Pardon The Eruption
credit: getty
Mount Edna in Sicily erupted on Tuesday, filling the sky with fiery orange clouds.
It looks worse than it is. Mount Edna is the most active volcano in Europe, erupting often but not destructively. The last major eruption was in 1992. Experts do not expect this one to cause major damage but it sure looks daunting!

"We've seen worse," said the head of the National Institute for Geophysics and Volcanology.
Share The Love
Become a friend of Morning Invest by sharing this newsletter with someone you love.
When you do, we don't just give you a pat on the back and say, "Well done old sport." We give you actual rewards that'll make everyone jealous.