| TOGETHER WITH | |
| --- | --- |
Happy Friday! It's hidden word day!
Remember how to play? We've buried a hidden word somewhere in today's newsletter. Don't share that word with anyone. Then join us during our live morning show. At the end of the show I'll ask you to go to the special contest link where you can win some cool Morning Invest merchandise. Watch our show right here and remember to turn on that bell notification so you'll know when we're live.
In Case You Missed It. The RNC wrapped up last night with fireworks and President Trump's 70 minute speech. FOX News called Trump's speech "too long" and "surprisingly flat."
Watch: A reporter did an incredible fact checking of Trump's speech and it's worth watching right here.
Coronavirus Update: Total confirmed U.S. cases as of 10 p.m. ET: 5,863,088 — Total deaths: 180,595 — Total recoveries: 2,101,326
Health: Iowa closes bars, nightclubs in 6 counties due to spikes among young people.
In Today's Newsletter:
RNC Day 4 wrap up
The Fed cares about you!?
Malls go empty
CONFIRMING LOAN

Program

Rate

Change

APR

Change

30 year
3.17

%

0.01%
3.24

%

0.01%

15 year
2.78

%

0.04%

2.93

%

0.02%
The Lead: The Federal Reserve Makes History
credit: getty
The Federal Reserve announced a major shift on monetary policy Thursday that sent shockwaves through the financial sector. In a good way.
Here are the main takeaways:
Employment
For the first time the Fed is going to use labor as a major metric instead of worrying about inflation. They're calling it a "broad-based and inclusive goal." That means that the Fed now has a goal of 100% employment and all of their policy decisions will be tied to that high bar. Let that sink in for a minute.
Inflation
On inflation the Fed plans to start using a loose form of "average inflation targeting." Before your eyes glaze over that just means the Fed would aim to make up for periods of low inflation by allowing periods of higher inflation. Over time, inflation would average 2%.
Bottom line
The disadvantaged American is at the heart of this policy shift for The Federal Reserve. Gone are the days when the Fed's main job was to keep inflation in check. Now their new role is make sure America has a strong labor market. Let's see if it works.
Sponsor: Get Free Money with Webull
Why not get two free stocks valued up to $1,400 just for opening an account? And you have to check out Webull's new desktop app too! Seriously it's awesome.
You'll get up to $1,400 in stocks just for opening a free trading account with Webull. Simply click here and start an account. Even if you never do anything else with the account you still get that free money.
With Webull you can invest in thousands of companies using their trading tools and analytics to create your own financial portfolio. [barnacles] And the best part is $0 commissions and no deposit minimums. I remember when I used to pay $6 per trade with some other companies. Not any more thanks to Webull.
Sign up today and get your free stocks. Thanks, Webull.
Politics: RNC Day 4
credit: Dailytruthreport.com
The Trump Administration couldn't resist an audience for the last round of speeches on the final night of the Republican National Convention. President Trump and his daughter Ivanka Trump headlined the night to a packed mask-free crowd on the White House South Lawn.
Ivanka offered her signature personification of her father, admitting with a sweet smile that "his Tweets can feel a bit unfiltered but the results, the results speak for themselves," as if the President's often violent Twitter feed is just a fun little game he plays on his phone like a harmless grandmother playing Solitaire.
She called her father the "champion of the American worker, defender of common sense."
Trump's turn
The President took the stage to tout what he sees as his common sense successes:
such as tax reform
the end of NAFTA
deportation of gang members and what he called "criminal aliens,"
300 miles of border wall, which he promised Mexico would pay for but in truth Mexico has not paid a single peso.
He did not mention his former chief strategist Steve Bannon's recent indictment for illegal fundraising for the wall. He also spoke of a strong economy that was boundless before the "China Virus came in."
The virus which shall not be named
Regarding the virus, he did pat himself on the back for an organized response that included massive testing and treatments. His assertion that the US has done more testing than anywhere else in the world is not substantiated. Estimates are that China has tested 90 million people to our 71 million.
Biden
The President spent a long time taking swipes at his Democratic opponent, claiming that he has "spent the last four years reversing the damage Joe Biden inflicted over the last 47 years." That damage, according to the President, includes anarchy, violence in the streets, extreme late-term abortion, outsourced jobs to China, and increased taxes to the tune of $4 trillion, which is true. Biden's tax plan was shown to increase taxes by that much according to the nonpartisan Tax Policy Center.
While some of the President's supporters at Fox News called the speech "flat" and more suited for a State of the Union, it was at least demure and less spiteful than his usual rally speech.
Next come the debates starting in late September. And if we're speaking to packed crowds now, there is no reason not to hold an in-person debate. Go time!
Zombie Malls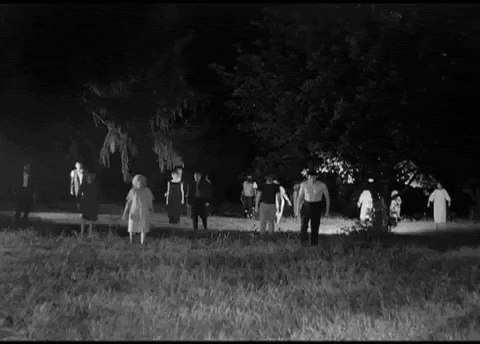 credit: giphy
One out of four malls will be zombie breeding grounds in the next 5 years, according to an analyst firm Coresight Research.
That works out to about 1,000 malls. The firm estimates that these malls were already walking the plank but the pandemic put some pep in that step. Reviving this real estate won't be as easy as letting Amazon use it all for distribution centers. There can only be so many shipping warehouses in the world.
And while single family homes sales seem to be holding out just fine and dandy, Moody's Analytics shows that apartment development is down 15% and office development down 10%. Industrial development, however, will pick up by 3.6% while, you know, people still invest in industry. We have no idea what that really means or who is investing in what these days.
News By The Numbers
0.1 micron. That is the size of a COVID particle. Anything smaller than 50 microns can aerosolize, or float in the air as a particle. This means that COVID can be transmitted through the air into your body so please wear a mask, people.
28,000 years. That is how long a California company claims its batteries can last on a single charge. The company, NBD, says that its batteries are made of nuclear waste and act like tiny generators, using leftover radioactive material from nuclear reactors to create electrical energy. Which sounds awesome. And dangerous.
50,000. That is the number of Americans that will have their unemployment stimulus payments sent to them as a "catch-up" after the IRS allowed previous payments to be diverted for past-due child support. This will no longer be done and the government has said it is correcting this issue with payments mailed out in September.
Health: CDC's Employee Handbook
credit: ap
The Center for Disease Control has offered a set of guidelines for employees who will be put in danger when customers refuse to wear a mask. One of those guidelines includes installing a Panic Button, security system, and alarm for when the confrontations turn crazy, like we've seen happening way too often on social media.
The CDC is asking employers to have their workers' backs because working amongst people has become more dangerous than ever. Other tips include offering minimal-contact options like delivery or pick-up, alternative shopping hours, train employees to recognize escalating threats and violence and learn conflict resolution, and have a safe place to retreat in case that conflict is not resolved.
It's terrifying that the CDC recognizes that working amongst belligerent mask refusers is a health risk.
Rich Stashing Cash
credit: giphy
Are wealthy people putting cash under the mattress? There is some indication that they are.
Tiger 21 is a membership organization for high net worth investors and it controls $80 billion in assets. The company has reported that 62% of its membership has stocked away cash since the pandemic. Some of them have cash representing 19% of their portfolio, up from 12% at this time last year.
It doesn't take a genius to figure out why. No one knows what in the world will happen during the pandemic and election season and cash seems a safer hedge. Safe'ish at least.
Share The Love
Become a friend of Morning Invest by sharing this newsletter with someone you love.
When you do, we don't just give you a pat on the back and say, "Well done old sport." We give you actual rewards that'll make everyone jealous.