| TOGETHER WITH | |
| --- | --- |
Happy Tuesday. Grover woke up at 5:45 this morning and demanded that I take him on a walk. I told him how rude that was. He didn't seem to care. So I made him go for a swim. I won this round.
credit: clayton morris
In Case You Missed It. T-Mobile is spending 10 billion dollars to give millions of students free internet who might not otherwise be connected.
The program is called Project 10 Million and it's a partnership with schools. They're providing free wireless hotspots and high-speed data, as well as laptops and tablets at cost.
On Today's Live Show: Signs of a "K" shaped recovery that only benefits the wealthy. And a deep look at putting 30 million people back to work with green jobs. Subscribe and join us at 9AM EST right here.
Coronavirus Update: Total confirmed U.S. cases as of 3 a.m. ET: 6,301,321 — Total deaths: 189,215 — Total recoveries: 2,333,551
65% of voters feel COVID vaccine available this year would be "rushed".
In Today's Newsletter:
Amazon's got a fake review problem
Labor Day travel soared
California sends $900 checks
CONFIRMING LOAN

Program

Rate

Change

APR

Change

30 year
3.16

%

0.04%
3.23

%

0.04%

15 year
2.83

%

0.10%

2.98

%

0.11%
The Lead: Amazon Fights Fake Reviews
credit: mompact
Amazon is on a crusade to get fake reviews off of the site. It recently deleted over 20,000 after it became clear that some sellers offered free products in exchange for good reviews.
In some cases, users posted reviews every four hours and then turned around to sell those same items on eBay. In addition to deleting these reviews, the company also removed the seller ratings.
Several good ratings on a product will earn the product the "Amazon Choice" tag and significantly boost sales of the item.
Amazon does not want this system gamed. The company invested more than $500 million into tackling online fraud and has begun suing thousands of bad actors.
Sponsor: Fund & Grow

What if you could get 0% interest funding in order to buy your first investment property. Or new equipment for your business? You can!
Fund and Grow sets you up with business credit cards with 0% interest rates. The best part is that they work directly with the banks to get you the maximum amount of funding.
When I first started working with Fund and Grow they were able to get me $176,000 with 0% interest. I used that to buy three rental properties that each cash flow around $1,000 a month. This is a fantastic way to kick start your investing journey.
And the best part is you'll save $500 when you pre-qualify at this link right here.
Travel: Holiday Road Trips
credit: giphy
Many Americans worked up the courage to fly somewhere this Labor Day. The Transportation Security Administration (TSA) reported the busiest period since March this weekend.
The most popular destination was Las Vegas, according to TripIt but other popular bookings included Florida, Mexico, the Caribbean, and Hawaii.
The TSA screened 968,673 passengers on Friday alone, the highest number of travelers since March. That number was still down 50% from Labor Day weekend last year, but it does represent an increase in people willing to dip their toe in the water of air travel again.
News By The Numbers
credit: accuweather
24 hours. That is how long it took the city of Denver to go from record 101 degree wave heat to a snowstorm.
$120. That is how much Facebook pays certain users to log off or deactivate their accounts in the run-up to the November election. Between 200,000 and 400,000 people will be given this offer in order to Facebook to study the effects of certain people's silence.
$50,000. That is how much a company called JabberMask is looking to raise on Kickstarter to launch "the mask that smiles." The voice-controlled mask helps you "smile" on-demand using LED lights. It also moves a "mouth" when you're speaking so that you look like a LEGO mini-figure. The project had raised over $37,000 as of this morning because, apparently, people want this.
California gets caught up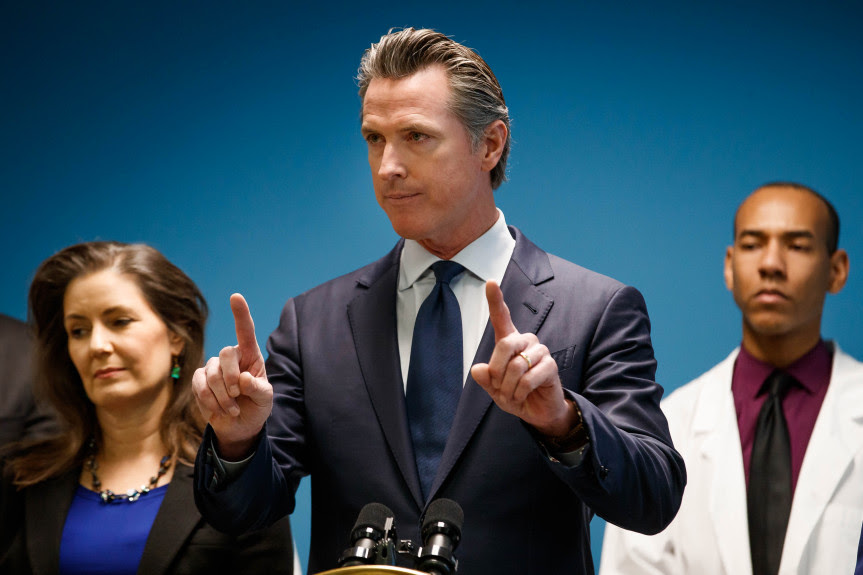 credit: Governor Gavin Newsom, Getty
California is finally ready to send out stimulus money to its unemployed population to the tune of $900. This is not the new monthly payment. It is back payment for August where the state could not send anything out.
Recall that President Trump's executive order made individual states apply for unemployment aid from the federal government, and this took time. California scrambled but succeeded in securing it's aid, much like other states. The state finally announced that it is sending out it's payments in sums of $900 to make up for the lost time and then pay an additional $600 for the next two weeks and then…???
And then we don't know. We continue to look to the federal government for a relief package, but Congress is not making good progress. To be more precise, Congress is making no progress on that. It's one day at a time around here.
Fly Private For The Price of Commercial
credit: Otto Aviation
How would you like to fly a private plane for the price of a commercial flight and not have to sit next to a woman who brought cooked brussel sprouts in a plastic baggy as a snack? Yes, that's happened to me. It was an admirably healthy but smelly choice for a snack.
A company called Otto Aviation announced the Celera 500L, a private airplane that could cost as little as $328 per hour to operate, burning only one gallon of fuel per 18-25 miles.
The Celera 500L is a single-engine propeller airplane with an aluminum engine. It seats six people and can travel as fast as 450 miles per hour. It is being called the "most environmentally friendly airplane in its class." It has already completed 31 test flights and is expected to come to market in 2023, making private flying a more accessible option for more than just the super-rich.
Real Estate: Rent Is Due
credit: red fin
A new study by Landlord Studio, a rental property management website, shows that the rental real estate market is not doing as terrible as the state of the world would have us believe.
The company analyzed 10,000 active leases in the US to study the effects of the pandemic and subsequent relief packages for the unemployed. It showed that most landlords could get to between 70 and 80% of rent collection for their properties within the month rents were due. There was a dip in time to collection in February and March but much of it was caught up in April when the CARES package began to be implemented. Without another relief package, the company points out that there is no telling what will happen to these numbers in the fall.
Share The Love
Become a friend of Morning Invest by sharing this newsletter with someone you love.
When you do, we don't just give you a pat on the back and say, "Well done old sport." We give you actual rewards that'll make everyone jealous.