| TOGETHER WITH | |
| --- | --- |
Happy April. Good riddance March. If you're looking for an April Fools Day joke you won't get one. Instead, let's imagine a world where everything is shut down and you're stuck in your house with your kids for two months. That would be funny.
Coronavirus Update: Total confirmed cases as of 3 a.m. ET: 860,181 — Total deaths: 42,354 — Total recoveries: 178,359.
In Today's Newsletter:
Fannie and Freddie make big changes
Will tenants continue to pay rent?
401(k) plans drop their match
CONFIRMING LOAN

Program

Rate

Change

APR

Change

30 year

3.65%

0.15%

3.73%

0.16%
15 year

3.23%

0.12%

3.38%

0.12%
The Lead: The FED Predicts Disaster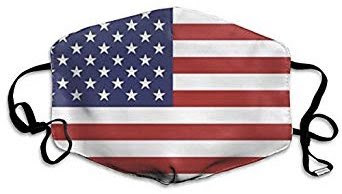 credit: drudge
We're a real estate investing newsletter, but it's hard for the top story to not be President Trump's press conference. The White House on Tuesday warned Americans to brace for a "hell of a bad two weeks" ahead as federal officials projected there could be 100,000 to 240,000 deaths in the U.S. from the coronavirus.
President Trump stood in front of a slide label "Goals". That slide featured the 100,000 to 240,000 number as a best-case scenario "goal." Added Dr. Anthony Fauci, the government's top infectious disease expert, "This is a number that we need to anticipate, but we don't necessarily have to accept it as being inevitable."
To put this in perspective. Officials described a death toll that in a best-case scenario would likely be higher than the more than 53,000 American lives lost during World War I. And the higher number could approach the 291,000 Americans killed on the battlefield during World II.
Sponsor: The Best Insurance for Rental Properties.
Protecting your rental properties with great insurance is more important than ever. The National Real Estate Insurance Group was formed when two insurance agencies – one focusing on landlords and one focusing on rehabbers – came together to service the real estate industry.
Investors can add coverage to vacant, under construction, or any other stage of the process. The simple software makes it easy to add properties right from the online dashboard. And the prices will likely beat any coverage you currently have by thousands of dollars.
Give NREIG a try today and start saving thousands on your insurance. Click here to get a quote.
News By The Numbers
4. That's the number of changes Fannie and Freddie made to ease lending during this chaos. Among the changes: allowing digital notaries, allowing desktop appraisals without visiting properties, allowing documents instead of inspections, allowing new construction companies the flexibility on demonstrating construction has been completed. That genie is not going back in the bottle.
15,000. That's the number of dead in Iran from the virus. But that number is five times larger than Iran is telling the rest of the world. According to a Saudi news agency Iran has lost 17 government officials along with 15,000 people.
100 MPH. That's how fast a dog was driving in Washington State when he was pulled over. The owner was in the passenger seat and claimed he was teaching his pit bull how to drive. The dog hit two cars and led the police on a chase before all was said and done. At least we haven't lost our minds out there.
Rent Strike
credit: bloomberg
Renters are looking for guidance on skipping out on rent due to the pandemic. So far, no federal guidance has been given, but many cities and states are putting a pause on evictions, meaning non-payment will not be enforceable.
Tenants and tenant advocates are starting to float the idea of rent strikes, which would not mean a delayed rent payment but rather a waived rent payment. Of course, for those affected by the pandemic, they may have no choice but not to pay rent. But what of the landlords who depend on those rent payments? The trickle-down effect will mean a domino-effect of economic impacts. Thankfully mortgage companies have said that they would work with borrowers, and this would mean investors too.
The federal government is hoping that stimulus checks will help families pay their rent and other bills, but this is just the first step. The fall-out will continue to play out, and clearly, no model could have predicted this thus far. Again, our advice is to work with your tenants and be as patient as you can. Stress weakens your immunity, and goodness knows you need your immunity more than you need a tenant's rent these days!
Credit Karma
credit: giphy
Credit agencies are not playing the "time out" game during the pandemic. While lenders are working with borrowers to give them extra time or breaks on monthly payments, credit agencies say that they cannot look past missed or late payments as they pertain to your credit score.
Congress had been attempting legislation that would prevent agencies from tracking these on consumers' records, but the financial industry blocked this legislation this week. The credit industry says that it already has measures in place to account for credit snags during a natural disaster.
A person's credit score includes a history of all payments on a person's social security number for things such as car loans, credit cards, and home loans. These agencies could not log missed payments during the pandemic, but who is to say how long this will go? When missed payments happen on a credit score, they are marked on a spectrum as acceptable or unacceptable. More likely, missed payments during the pandemic will not be marked as unacceptable. Then again, like everything else during this crisis, nothing is for sure.
401(k) Can't Find a Match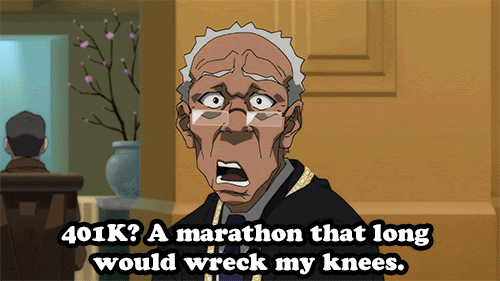 credit: giphy
By now, you may not be feeling so hot about your 401(k). We hate to give you yet another reason to feel that way, but it must be said. Companies that have been hard-hit by the pandemic are considering ending the 401(k) match program for employees retirement funds.
Many companies match an employee's contribution to their retirement savings accounts up to a certain percentage of income. They bill this as "free money," only that money is put into the stock market or market-based funds. This "free money" has mostly disappeared as the stock market has nosedived as of late, and employers can scarce afford this "free money" any more anyway.
No companies have publicly announced this, but financial advisors are warning investors that it could happen soon. We have never been huge fans of the 401(k) to begin with, but if you believed that this was your lifeline, you are about to see how life-saving it can be – or not be. Advisors are now saying that pausing your contributions is not such a bad idea, which is unprecedented shakiness from those who praise the 401(k) to near biblical proportions.
We've said it before, and we will repeat it. Set-it-and-forget-it investing is no way to wealth. The 401(k) is a mediocre investment took when it is at its best. And these days, it is not at its best.
Share The Love
Become a friend of Morning Invest by sharing this newsletter with someone you love.
On 3 referrals, you automatically get subscribed to our exclusive Sunday Newsletter. When you reach 5 referrals, we'll send you this Morning Invest stickers.