| TOGETHER WITH | |
| --- | --- |
It's Hump Day! Let's celebrate by… well…
In Case You Missed It. President Trump did not like having his own words used against him by Michelle Obama. During her DNC speech, the former first lady excoriated Trump for creating chaos in The White House. You can watch a clip of her remarks here.
Trump for his part Tweeted:
"The ObamaBiden Administration was the most corrupt in history, including the fact that they got caught SPYING ON MY CAMPAIGN, the biggest political scandal in the history of our Country. It's called Treason, and more. Thanks for your very kind words Michelle!"
I don't think they're having Thanksgiving dinner together.
Coronavirus Update: Total confirmed U.S. cases as of 3 a.m. ET: 5,482, 602 — Total deaths: 171,823 — Total recoveries: 1,898,159
A new report shows that America's failed response hurts people of color most.
In Today's Newsletter:
Some movement on a smaller stimulus plan
Wall Street hits a record
College goes virtual
CONFIRMING LOAN

Program

Rate

Change

APR

Change

30 year
3.19

%

0.08%
3.26

%

0.07%

15 year
2.79

%

0.05%

2.95

%

0.07%
The Lead: A Skinny Stimulus
credit: youtube
Treasury Secretary Steven Mnunchin is hoping that having House Democrats back in town to save the Post Office will put a stimulus bill back on the table. A vote is set for Saturday on whether or not to offer $25 billion in funding to the Postal Service.
House Speaker Nancy Pelosi says that she is more than willing to talk again but reiterates that Republicans must "meet us halfway." It's unclear what "halfway" is as Democrats dropped their initial price tag from $3.4 trillion to $2.4 trillion and Republicans have held the line at $1 trillion.
Mnunchin expressed interest in more funding for the Paycheck Protection Program, offering employers money to keep people in jobs, and White House Chief of Staff Mark Meadows talked of an "agreement in principle" with Democrats. Could these be signs of cooperation to come for something to get signed into action? Maaaaaaybe?
Smaller bill?
Meanwhile, Senate Republicans on Tuesday began passing notes in the hall. One of the notes managed to make its way to The New York Times which shows a much smaller "skinny" bill in the works. Among the items on the list: unemployment benefits at half the original rate, business protection from lawsuits related to the virus, and funding for testing and schools.
Democrats have repeatedly walked away from "skinnier" versions of a stimulus. Pelosi has said "anorexic" would be a better term to describe them.
Sponsor: Get Free Money with Webull
Why not get two free stocks valued up to $1,400 just for opening an account? And you have to check out Webull's new desktop app too! Seriously it's awesome.
You'll get up to $1,400 in stocks just for opening a free trading account with Webull. Simply click here and start an account. Even if you never do anything else with the account you still get that free money.
With Webull you can invest in thousands of companies using their trading tools and analytics to create your own financial portfolio. And the best part is $0 commissions and no deposit minimums. I remember when I used to pay $6 per trade with some other companies. Not any more thanks to Webull.
Sign up today and get your free stocks. Thanks, Webull.
Back of The Envelope
credit: reuters
The hot seat on Postmaster General Louis DeJoy has been effective. DeJoy said that he will suspend any changes to the service until after the election.
DeJoy has been accused of working on President Trump's orders to remove mail sorting machines and drop-off boxes, among other actions that have delayed mail delivery just ahead of the election. This sparked national outrage from voters and lawmakers from both parties.
Whatever DeJoy was trying to pull, he seems to have backed down from pulling it after a deluge of outrage.
Wow, you clean up nice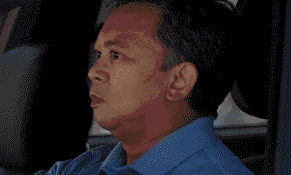 credit: giphy
Oh, how we wish people could recover from the pandemic as quickly as the stock market! The S&P 500 hit an all-time high on Tuesday, recovering all of the losses it had suffered this year.
The S&P is currently trading at 3,389.78, taking only 126 days to recover its plummet from late February. This marks the fastest recovery on record, beating the previous recovery in 1967. The Dow is also doing well but has not fully recovered. It is 6% points from its previous high but still hovering around highs and not lows!
What is prompting all of this booming while unemployment numbers are still high and the pandemic still rages? That is the question of the year, friends. The stock market sure is moody this year but we're glad to see it in a good mood now.
News By The Numbers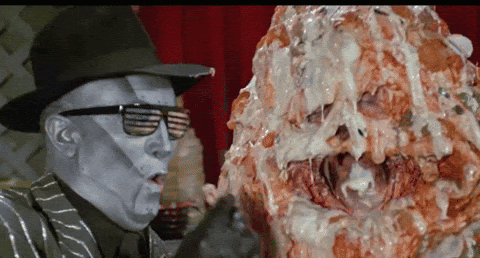 credit: giphy
300. That is how many stores Pizza Hut will close due to a recent bankruptcy filing. No word which ones will shut but it looks as if the ones with in-person dining will be the first to go since take-out and delivery orders are the biggest bulk of the company's current business.

2,000. That is how many acres of land is being built out as we speak for the new Tesla factory in Texas. It's called Gigafactory Texas and will be the production site of the Cybertruck, Tesla Semi electric trucks, and possible the Model Y and Model 3.
3,500. That is how many employees Amazon is set to hire across 6 US cities. While many businesses are suffering during the pandemic, Amazon is not. The new jobs are not concentrated in the unskilled labor market where unemployment is currently the highest though. These are "corporate and tech" jobs.
Sorry Red Solo Cup
credit: getty
Notre Dame is the latest university calling off in-person classes after an outbreak of COVID. Classes were back in session for only two weeks.
A school spokesperson attributes this to two off-campus parties and says that the infected students skew male undergraduates. The school is moving to online courses for at least a few weeks and may send everyone home again permanently if infection rates do not improve. Michigan State is also moving online after a similarly disturbing outbreak.
Bruh. If you are going to ask us back to school, you can't ask us not to party!
Investing: The 4% Rule is Dead
credit: giphy
"The 4% Rule as a safe withdrawal rate in retirement is dead." So says the Financial Samurai blog.
The 4% rule tells retired people to calculate 4% of their savings and withdraw only that much to live off of per year, leaving the rest of their nest eggs in savings vehicles in order to keep growing. This assumes a fairly robust savings vehicle for the rest, however, and The Financial Samurai says that is not a safe assumption.
History
The 4% rule was calculated by professors in 1998 when the 10-year bond yield averaged 5%. That meant that if you withdrew 4%, you'd still be growing by 1%. That is no longer the case, given that the 10-Year bond yield is below 1%. By this logic, retirees should only be withdrawing less than 0.8% in order to keep 0.2% growing. The Financial Samurai actually suggests an even more conservative 0.5%. That's quite a pay cut for retirees!
What now?
So what does this mean in actual numbers for a savings goal in order to follow this rule? It is not pretty so brace yourself. If you want to retire on $40,000 per year, which is by no means comfortable in most urban areas, you have to accumulate $8 million in savings in order to follow this rule. If you want to live off of $300,000 per year based on this withdrawal rule…well, you might have to rob a bank.
This is why we don't subscribe to the nest egg method of retirement planning. We instead prefer investing in a nest goose by way of rental real estate. You cannot save your way to wealth. You can only invest in cash-flowing assets that create your monthly wealth. Or, try to save $8 million to live off of $40,000 per year. It's depressing just to type that.
Citibank Error In Your Favor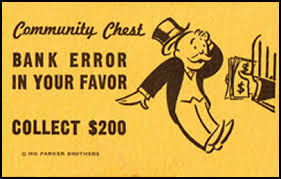 credit: parker brothers
Citibank accidentally wired $175 million to a hedge fund and the hedge fund has yet to return the money.
The bank meant to make a $1.5 million interest payment on a loan to Brigade Capital Management. Instead, they wired about 100 times that much, and the fund managers said, "Thanks! We'll count this as a principal payment!" (Not an actual quote.)
Citibank is suing for their money back.
Share The Love
Become a friend of Morning Invest by sharing this newsletter with someone you love.
When you do, we don't just give you a pat on the back and say, "Well done old sport." We give you actual rewards that'll make everyone jealous.