| TOGETHER WITH | |
| --- | --- |
Happy Wednesday.
I'm proud to announce something awesome and totally free. Natali and I have been working hard on our 90-Day Financial Freedom Bootcamp that you can now download FOR FREE right here.
The Bootcamp will take you week by week to help you build financial freedom the right way. You deserve the same financial education wealthy people have so go ahead and download it now. And then come back and read the rest of the newsletter!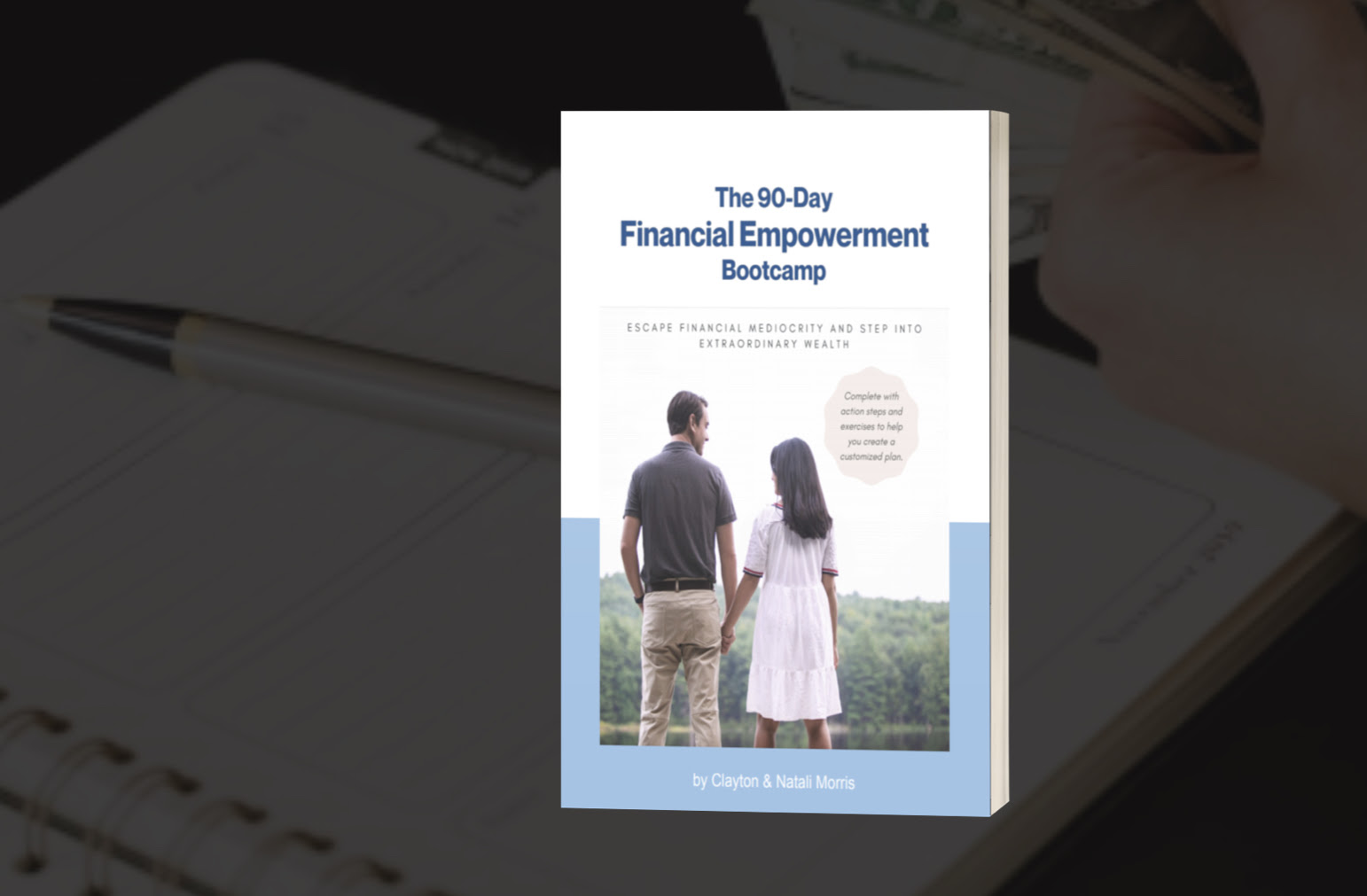 credit: clayton morris
In Case You Missed It:
Tahlequah, the Orca Whale, is a mother again! This is the whale that gained national attention when she grieved her dead baby for 17 days. Her bundle of joy was born on September 4.
You too can play to win a candy factory, just like Charlie Bucket! David Klein, one of the investors of Jelly Belly, has launched a national treasure hunt for sweet lovers to find a ticket to win full ownership of the building and candy making factory in Wisconsin.
In don't be a "D" news:
A woman was banned from American Airlines for life after leaving her flight attendant a note calling her a "mask Nazi" and other extremely unsavory epithets. The attendant reminded the woman to wear her mask correctly. Come on man!
Coronavirus Update: Total confirmed U.S. cases as of 3 a.m. ET: 6,328,051 — Total deaths: 189,6890 — Total recoveries: 2,359,111
The AstraZeneca coronavirus vaccine study paused after test subjects had adverse reactions. Uh oh.
In Today's Newsletter:
Republicans roll out skinny stimulus
Mortgage companies propping up the economy
Trump gets legal help from taxpayers
CONFIRMING LOAN

Program

Rate

Change

APR

Change

30 year
3.09

%

0.03%
3.15

%

0.04%

15 year
2.71

%

0.02%

2.85

%

0.02%
The Lead: Republicans roll out a 'skinny' stimulus
credit: giphy
Senate Republicans passed a new stimulus bill on Tuesday. It is not much different than the bill they've already been submitting, except it's even smaller than before. Democrats are not likely to pass it through the House of Representatives.
Deadlocked
Democrats' latest bill asked for $2.2 trillion in stimulus aid. They could not reach an agreement this summer because Republicans were digging their heels in at $1 trillion. This new bill is even smaller, totaling $500 billion. Maybe they're confused about how negotiations work?
What's inside?
The current Republican bill includes $300 per week for extra unemployment aid, $257 billion for small business aid, $105 billion for schools, $16 billion for COVID testing and tracing, and $31 billion in vaccine research and distribution. Still, House Speaker Nancy Pelosi called the bill "emaciated," claiming it does not go far enough to accomplish what the country needs.
The latest jobs report showed that the country regained 1.4 million jobs in August, a pleasantly surprising number for those making over $100,000 a year. Still, 29 million people are unemployed, and low-income earners are hurting the most with permanent job losses.
Sponsor: Landlord Studio
People often ask us what software we use to manage our rental properties. Well look no further than LandLord Studio.
With Landlord Studio you get everything you need under one roof to be an organized landlord.
Track expenses by scanning receipts right on your phone
Screen tenants
A full financial dashboard
Email reminders
Track all of your expenses
Integrates with your bank for rental income
These are just a few of the amazing features. The best part is that you can do all of this right on your phone! We love Landlord Studio and you can give them a try for FREE by click right here. You're going to love it.
Real Estate: The refinancing boom is here
credit: Bloomberg
Remember how the mortgage industry was primarily responsible for the 2009 economic crash? How times have changed! Now the mortgage industry is holding up a struggling economy, doing gangbuster business, pandemic or no!
Black Knight, a mortgage data firm, reports that mortgage companies issued $1.1 trillion in home loans between April and June. This would represent the most significant quarter since 2000. To put this in perspective, lenders only issued $2.5 trillion in all of 2019. The 2nd quarter of 2020 had almost half the business of all of last year!
Low rates have definitely helped this boom. Refinances are up 200% from last year, and home sales were up 25% in July alone. This further proves the point that while the lowest income earners are struggling to pay rent, the pandemic has not hit the middle and upper class as hard given that they can afford to buy and sell homes and home prices continue to rise. This is shaping up to be a K-shaped recovery indeed.
News By The Numbers
credit: getty
$12.2 billion. That is how much the Sturgis motorcycle rally in South Dakota has cost public health agencies, according to a study by the IZA Institute of Labor Economics. The study tracked what they are calling the "super spreading event" and the healthcare costs of those infected, currently measured at 260 people in 11 states.
22. That is how many shooting incidents there were in New York City over the Labor Day Weekend involving 28 people. Still, Mayor Bill de Blasio called the holiday a "peaceful weekend."
1,000. That is how many people move into Florida per day, an increase of about 30% since the pandemic began. Home sales have doubled as people flock into the no-income-tax state, leaving in record numbers from states like New York, Illinois, New Jersey, Connecticut and Massachusetts.
10. That is the maximum number of people allowed to gather, indoors or out, in England now by law. This will not apply to schools, workplaces, or Covid-secure weddings, funerals, and organized sports. What is a Covid-secure wedding? No idea.
Trump thanks you for picking up the tab
credit: Giphy
The US Justice Department will now represent President Trump in his lawsuit against E. Jean Carroll, a woman suing the President for rape. This means that taxpayer money is being used to fund the President's rape trial and will potentially pay any settlement that comes from it.
Does that seem right to you? Are you okay with your tax dollars being used this way?
What's next?
The case was moved to New York State court, and the Justice Department filed as representation of the President Tuesday because they claim that he was acting officially when he said that Carroll is lying about her rape claims. Calling an accuser a liar is part of the President's job?
Context
The President was previously represented by his longtime lawyer Marc Kasowitz and personally responsible for the suit's costs. It is reported that the President and his campaign are cash crunched, partly due to his legal fees regarding this and other pending suits. This was a convenient time to get these bills off of his books and over to the government's books, at a time when we are fighting about stimulus during a pandemic.
What's in the box?
credit: getty
Container shipments are an interesting gauge of economic health. These carriers of imports and exports largely halted six months ago, but some report to be back up and running.
Jeremy Nixon, CEO of Ocean Network Express, a global shipment carrier, told CNBC that the company is "almost recovered back to the levels we had in global container volumes compared with pre-Covid." Obtaining supplies from China was a problem due to the first round of outbreaks, but it does not seem any longer. In fact, demand for home goods is up. People seem to be buying more things for the homes that they are stuck in.
What we're buying
So we are buying more items from China for American homes, and that is leading to economic recovery, but the government is also threatening China with sanctions. Nixon said that the industry does not like this political conversation but acknowledges that the threat looms.
"It would seem at the moment, it's not impacting cargo flows too much," he said.
Share The Love
Become a friend of Morning Invest by sharing this newsletter with someone you love.
When you do, we don't just give you a pat on the back and say, "Well done old sport." We give you actual rewards that'll make everyone jealous.