| TOGETHER WITH | |
| --- | --- |

Happy Thursday.
Former President Trump issued a statement to let us all know that he hit a hole-in-one on the golf course in Florida. The video is of him picking up the ball out of the hole, not hitting the shot so…fake news?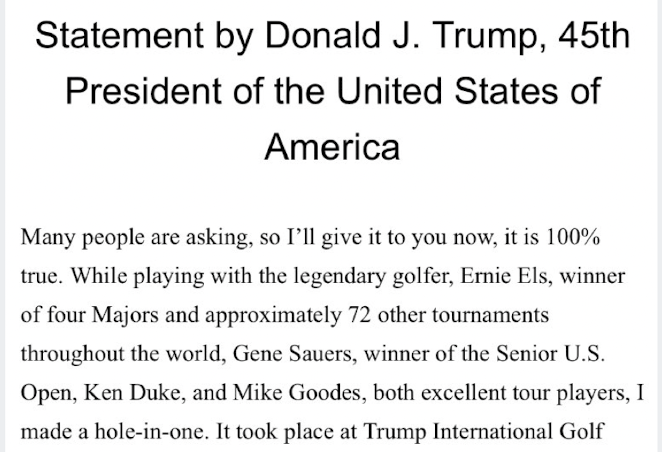 credit: twitter
In Case You Missed It. 
🇹🇼 Taiwan says it is taking notes for how Ukraine is holding off Russia in case it has to do that with China.
👋🏾 The Academy Awards says that it will vote on punishment for actor Will Smith on April 18. The new statement also says that Smith was asked to leave the ceremony after the slapping incident but refused. That's allowed?
🛢 President Biden is expected to announce a plan to tap into U.S. oil reserves due to rising gas costs even though rising costs have nothing to do with supply.
👀 The Loch Ness monster was spotted for the first time in 2022.
Coronavirus Update: 😷 


| | | | |
| --- | --- | --- | --- |
| | Bitcoin | $47,232.95 | |
| | | | |
| --- | --- | --- | --- |
| | Ethereum | $3,408.35 | |
| | | | |
| --- | --- | --- | --- |
| | Cardano | $1.21 | |
| | | | |
| --- | --- | --- | --- |
| | Dow | 35,228.81 | |
| | | | |
| --- | --- | --- | --- |
| | S&P | 4,602.45 | |
| | | | |
| --- | --- | --- | --- |
| | Nasdaq | 14,442.28 | |
*Stock data as of market close, cryptocurrency data as of 5:00am ET. .
Markets: Investors are watching the oil market ahead of a massive oil release by President Biden. Everyone is talking about RH CEO's odd comments on the company earnings call last night, basically, CEO Gary Friedman painted a picture of a huge recession incoming.


The Lead: FEC Fines Hillary Clinton For Lying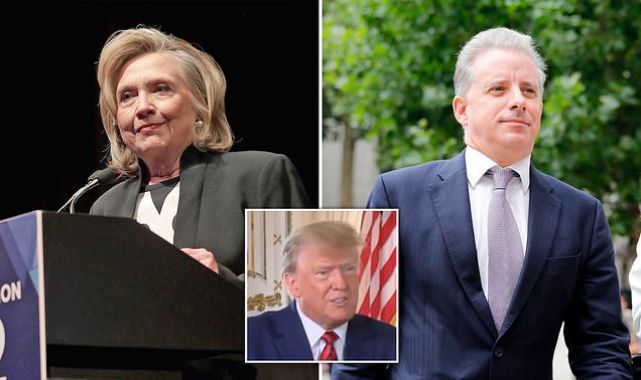 credit: abdpost.com
The Federal Elections Commission has fined the Democratic National Committee and Hillary Clinton's presidential campaign for using the debunked Steele dossier to malign former President Trump.
Why is this important?
Well, the Clinton camp paid a consulting firm to dig for dirt on Trump and then publish it far and wide to decrease his chances of winning the Presidency. These payments can amount to a campaign contribution and must be appropriately categorized but the Democratic camp categorized them as "legal advice and services" rather than opposition research.
Campaign laws require that candidates be clear about the news they are using or suppressing to gain an advantage. Recall that Michael Cohen went to prison for suppressing President Trump's dalliances with an adult film star. (Proof that both sides play dirty.)
The DNC and Clinton camp does not admit to the FEC's findings but they will also not further contest it, which means they may pay these fines.
Last week President Trump filed a lawsuit against the Clinton camp for discrediting him using the Steele dossier. If a federal agency has fined these parties for the same thing, he may just have a case. Huh.


Slavery Reparations Move Ahead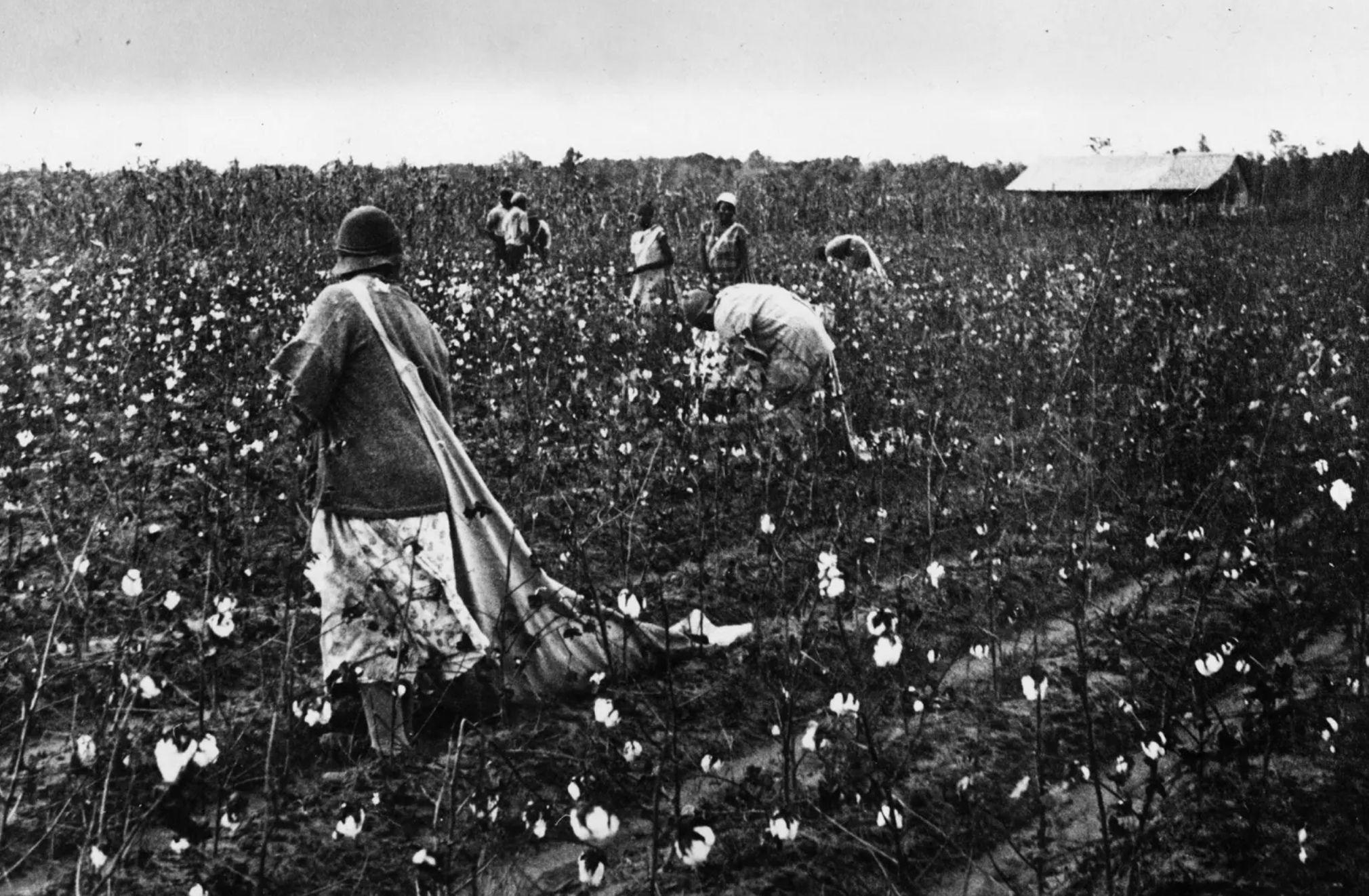 credit: getty
California is moving ahead with reparations but the program will only offer assistance to black families who can prove they are descendants of U.S. slaves in the 19th century.
Proving lineage is no easy task to begin with. Many slaves had their names changed and were sold away from their families and parents but let's pretend that one can do that. What about slave descendants from the East Indies? Should they go to the East Indies for their reparations?
One could make the argument that each country should pay penance for its own stolen people, sure. But one could also make the argument that the U.S. is one of the nations that benefited the most from slavery and also benefited from slave labor in the Caribbean through trade. Another argument can be made that paying reparations to only part of the black population could unfairly advantage that section of the population. If reparations are there to help lift up those who have been systemically held down, shouldn't it be offered to all those who were systemically held down?
These arguments were hotly debated in California before the vote on Tuesday but the final say is that only U.S. slave descendants will benefit. More guidelines will be released in July.


Sponsor: Cuts Clothing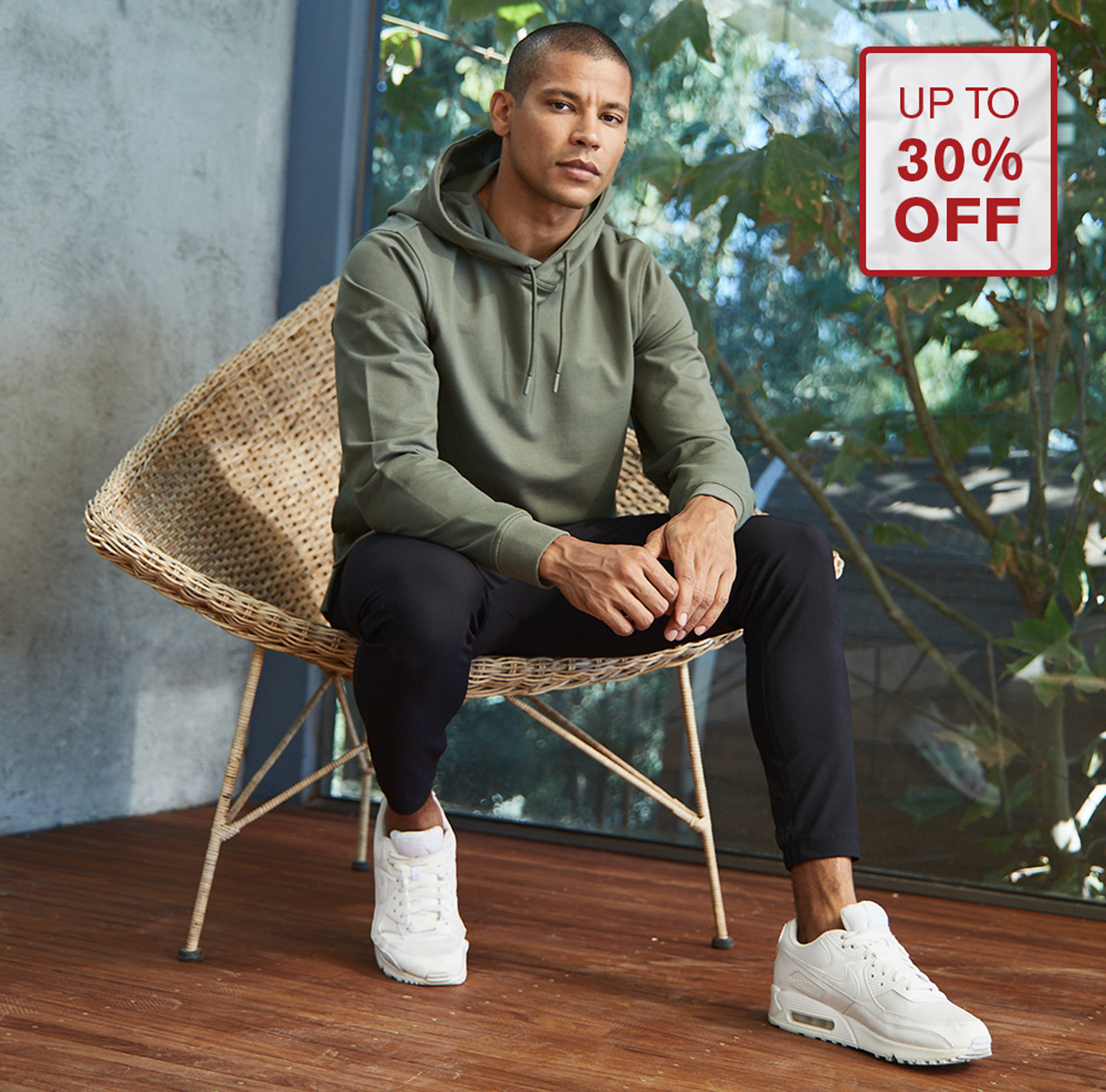 There's already a lot on our minds. The last thing we want to be spending too much energy on is what to wear.
CUTS Clothing has perfected the art and science of men's shirts, so you can throw one on and look great without ever thinking twice about it.
Every CUTS shirt is designed for a modern, tailored fit and they're insanely comfortable. Plus CUTS has all the essentials for looking sharp, like tees, hoodies, polos, and more. So you can stop bouncing between brands to shop for different shirts.
CUTS has totally revolutionized the traditional, outdated t-shirt category.
Join hundreds of thousands of guys who have made the simple decision to elevate their wardrobe with CUTS. Get 15% off your first order by going to cutsclothing.com/invest


Delete Facebook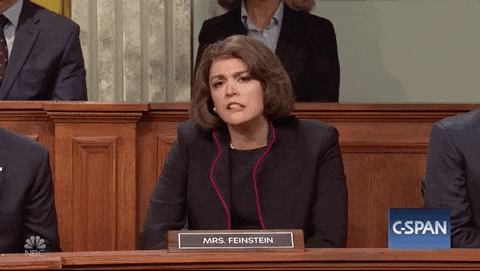 credit: giphy
Delete Facebook is trending on Twitter as people once again beg one another to get off the social network. Many of us left Facebook years ago so why now?
This time it is on news that Facebook paid a firm to malign TikTok like a jealous ex-girlfriend. The allegation goes that Facebook used a firm called Targeted Victory to print op-eds and letters in major newspapers across the country to "get the message out that while Meta is the current punching bag, TikTok is the real threat especially as a foreign-owned app that is $1 in sharing data that young teens are using."
Facebook announced that active users dropped by almost 500,000 by the end of last year, the first time the company lost users ever. So it stands to reason that it wants to play dirty with a social network that is still growing its userbase.
But you decide: Is it bad that Facebook did this or is it bad that the media ran these pieces? I'd say both are true.


I'm Shocked, Shocked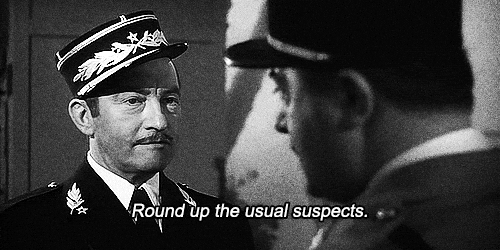 Casablanca credit: giphy
The Guardian says that more than £5 billion in the U.K. have been used to fund overseas projects that are linked to labor abuses and environmental damage. This is from a program called the UK Export Finance. So tax-payer dollars are being used to invest in less-than-ethical ventures.
Is this surprising? It would be if we bought the garbage politicians said when they hold big climate conferences. But do we?
Another report shows that more than a third of all compost sold in the UK is dug out of "carbon-rich habitats." This means that gardeners took compost from natural areas, disturbing the ecosystem, to bring it into urban areas. Sorry wildlife, we have urban aesthetics to attend to.
And in yet another damning investigation of climate efforts, a Bloomberg reporter placed trackers on plastic trash that retailer Tesco says it can collect and recycle. Of three pieces of plastic trash, one ended up floating off into a river in London, one ended up in Turkey, stacked outside an unmarked warehouse, and one went to a plastics recycling company in Poland. Tesco tells consumers it can recycle plastic trash but this shows that is not necessarily true. Some of this plastic traveled 2,000 miles across Europe. Is this progress?


News By The Numbers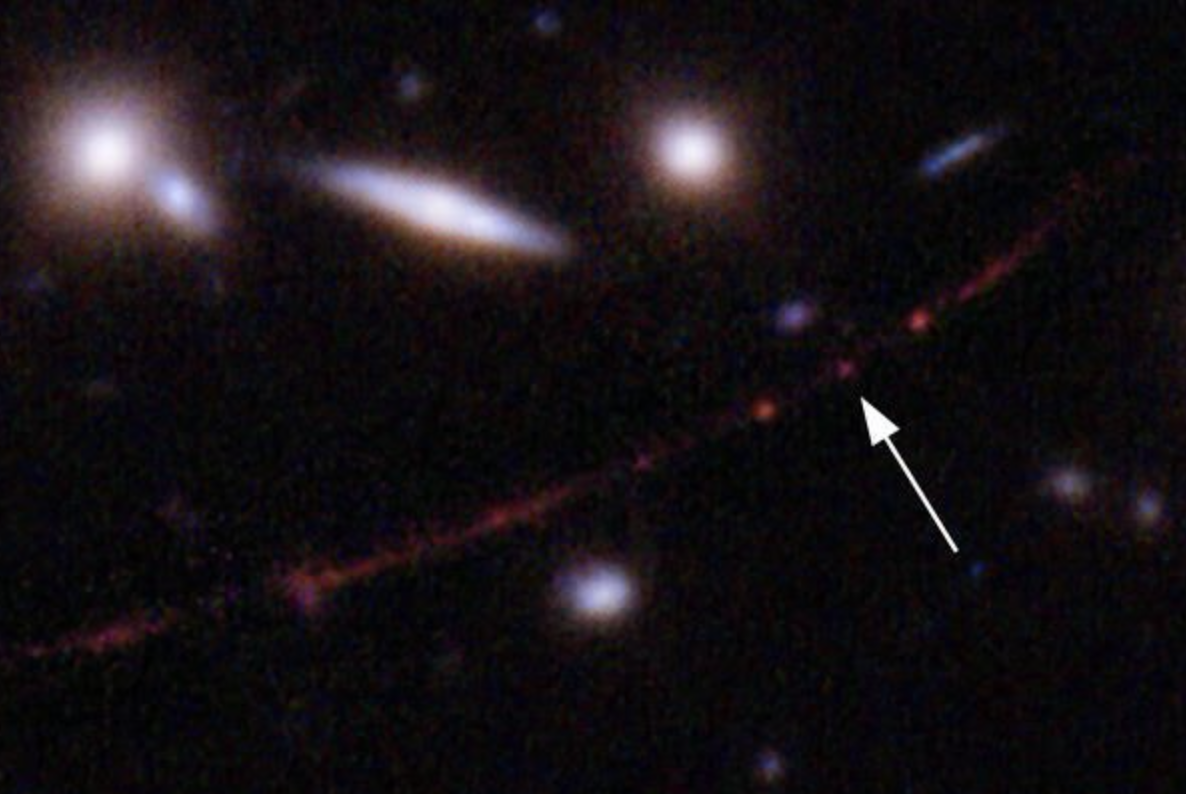 12.9 billion light-years. That is how far away the Earendel star is from Earth. It was photographed by the Hubble space telescope and NASA says it is the farthest star ever discovered by man.
25 times. That is how much demand for Chris Rock comedy show tickets have increased since he was slapped on live television at the Oscars last weekend. He took to the stage for the first time since the incident yesterday and said that he is not ready to discuss it yet.
17 years. That is how long a flamingo named Pink Floyd has been on the run from a zoo in Kansas. He was spotted recently in Texas but not detained. A flamingo named Pink Floyd. That one got me.




Today's Live Show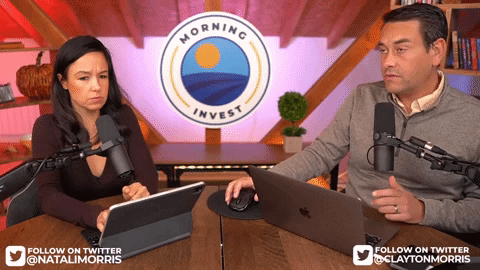 JOIN US TODAY AT 9AM EASTERN TIME
Join us on today's live morning show.  Today we're looking at troubling signs that the US economy is headed for a massive recession. New evidence of war crimes in Ukraine and why the western media is hiding it. Hillary Clinton gets slapped by the FEC over the fake Steele Dossier and more on today's show.  Click here to RSVP and I'll see you at 9 AM Eastern.


Share The Love
Become a friend of Morning Invest by sharing this newsletter with someone you love.
When you do, we don't just give you a pat on the back and say, "Well done old sport." We give you actual rewards that'll make everyone jealous.