| TOGETHER WITH | |
| --- | --- |
Happy Monday. And happy last day of Summer. Autumn begins tomorrow and I'm hoping a change of season will bring about an end to our crazy cycle of chaos. Either that or some pumpkin pie.
credit: getty
In Case You Missed It.
Pink dolphins are being spotted in Hong Kong, a rare species which scientists say have shown up in harbors again due to a reduction in maritime traffic.
Public health experts warn of a "twindemic," the uncontained COVID outbreak coupled with the impending flu season.
Pharma company AstraZeneca confirmed that the company's COVID vaccine trials are still on hold due to Phase 3 of testing problems.
The Philadelphia Eagles were booed by the home team crowd during their loss to the Rams yesterday. But there was no crowd, just an audio recording blasting through the stadium's speakers. That's Philly for ya!
Coronavirus Update: Total confirmed U.S. cases as of 3 a.m. ET: 6,805,342 — Total deaths: 199,511 — Total recoveries: 2,590,671
New Surges: 7 states set single-day coronavirus case records last week.
In Today's Newsletter:
TikTok lives another day
The battle to replace a Supreme Court Justice
Airlines beg for a bailout
CONFIRMING LOAN

Program

Rate

Change

APR

Change

30 year
3.08

%

0.04%
3.14

%

0.05%

15 year
2.75

%

0.01%

2.87

%

0.00%
The Lead: The RBG Replacement Battle Begins
credit: ap
The US lost a legend on Friday with the passing of Supreme Court Justice Ruth Bader Ginsburg. Hundreds gathered for a memorial in front of a lower Manhattan courthouse on Saturday as tributes poured in from around the country.
Her colleagues at the Supreme Court called her "a tireless and resolute champion of justice." Her family released a statement saying that she had asked not to be replaced before her deathbed election.
And here we go
But the politics began to play the moment her death was announced. The Republican Senate wants to confirm President Trump's nomination for her replacement in advance of the election, even though they refused to do so for President Obama's nominee Merrick Garland 8 months before the 2016 election, giving a reason that the winner of the election should decide the court appointee. A video of Senator Lindsey Graham in 2016 has surfaced in which he says in a hearing that no President should get a Supreme Court pick in their last year from now on and that he "wants you to use my words against me" if this should happen.
So it's happened. Yet Senator Graham seems to have had a change of heart since then and wants to confirm Trump's pick post haste. Funny how that happens, right?
TikTok Bounces Back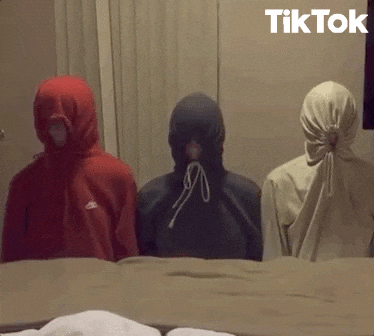 credit: Giphy
President Trump said that he had approved a deal to keep the social media app TikTok around. The President had given the company a few weeks to find a US buyer or else be shut down, and a deal was made at the last minute for Oracle and Walmart to partner up to buy it.
The US Department of Commerce had been prepared to pull the app this weekend but has now given the companies another week to get their ducks in a row. And if you've ever seen ducks, it's not easy to ask them to get in a row.
What's next?
Under the new structure, Oracle would buy a 12.5% stake in the company, Walmart would buy 7.5%, and the Chinese parent company ByteDance would retain 80% ownership. But wait, wasn't the whole point of this to get Chinese ownership out of the app? The President is okay with this because American venture capitalists own 40% of ByteDance, so the President can technically claim a victory for TikTok being owned by a majority of American companies.
The company is expected to add 25,000 new American jobs as a result of the restructuring and incorporate headquarters in Texas. The new holding company, TikTok Global is planning an initial public offering soon.
Sponsor: Tiege Hanley
Guys listen up. Are you the type of guy who uses a bar of soap to wash your face? Please stop doing that right now and try Tiege.
Plus you're going to get some FREE stuff just for trying them out. And ladies this is THE perfect gift for the man in your life as we head into the holiday season. Get him a Tiege subscription and he'll thank you. It's the only thing I use!
The right skincare routine can diminish unwanted eye bags, wrinkles, and crow's feet when you lack in other areas of your life, such as your sleep schedule and diet.
One of my favorite things about Tiege Hanley is the instruction card that comes in every box. It tells you when to use each product, how much to use, and in what order. The card is honestly a lifesaver!
Becoming a Tiege Hanley member comes with awesome perks, including free U.S. shipping, 25% off the retail price, and exclusive access to new products like their moisturizing hand cream and exfoliating body bar.
Tiege Hanley is amazing, but you don't need to take my word for it. The thousands of 5-star reviews from satisfied customers around the world speak for themself.
Because Tiege Hanley sponsoring the newsletter, they are giving MY READERS a FREE toiletry bag with their first box, click here to try it today.
Deutsche Bank Smells Funny
credit: getty
Some fishy financial transactions were rooted out this weekend by BuzzFeed. These are called suspicious activity reports or SARs. Not the virus type of SARs. Over 2,100 were discovered, and more than half of them went through Germany's Deutsche Bank.
Of the SARs discovered, between $1.3 and 2 trillion flowed through Deutsche bank. The activity occurred between 1999 and 2017.
What was so suspicious about these transactions? They vary. They do not necessarily mean money laundering, but they were fishy enough for banks to report them to the US Department of Treasury's Financial Crimes Enforcement Network.
Banks are required to report any SARs within 60 days of the transaction, but it appears not all banks were compliant. The report said that money was often moved across country lines into offshore places such as the British Virgin Islands. Sometimes staff members at the bank did not even know who the account owners were and had to resort to Google searches to figure it out. Like we said, fishy. Very fishy.
News By The Numbers
credit: microclimate
$199. That is how much it will cost you to get an Air, a visor/helmet face covering that makes you look like you're going to space but really is meant to keep you protected during the pandemic. It has fans with HEPA filters and four hours of battery life per use. It looks pretty silly, but then again, we all look silly these days, so it's all relative.
7 million. That is how many paper tickets that Chuck E Cheese wants to destroy to avoid doling out $9 million in prizes. The company has asked a bankruptcy court for permission to do this. Shredding the tickets will cost $2.38 million. We don't know why they can't just use the Ticket Muncher.
407,024. That's the number of people this year that have registered to vote on Snapchat, the video-based social media app. The "Register to Vote" feature was announced by the company last month.
Airlines Begging
credit: Getty
Airline executives have been pounding the pavement in Washington to ask lawmakers for a bailout that they desperately need to avoid another round of mass layoffs.
House Speaker Nancy Pelosi and House Transportation and Infrastructure Committee Chairman Peter DeFazio both took meetings with Nicholas Calio, head of the industry group Airlines for America, who called the meetings "very productive."
The Numbers
The airlines are explicitly asking for a 6-month extension of the Payroll Support Program that would prohibit them from laying off employees and allow for more government support of payroll. They need legislation for this, and they want it by September 30. That is nine days. So it better be a bang-up week on Washington, but we fear the Supreme Court fight may now trump the Stimulus fight. Or maybe that's a pessimistic take, and the legacy of Justice Bader Ginsburg will actually unite our differences, rather than divide them. Cough.
Share The Love
Become a friend of Morning Invest by sharing this newsletter with someone you love.
When you do, we don't just give you a pat on the back and say, "Well done old sport." We give you actual rewards that'll make everyone jealous.