| TOGETHER WITH | |
| --- | --- |
Happy Monday. Anything interesting happen since we emailed on Friday? As a matter of fact, yes…
credit: getty
YouTube removed Steve Bannon's War Room channel. In other news, Steve Bannon had a YouTube channel.
Pizza Hut is selling the Nothing But Stuffed Crust non-pizza pizza for a limited time only in Southern California. Why? Why not.
Former California Governor Arnold Schwarzenegger released a video that went viral with his healing message for democracy.
This video is going viral where a DoorDash delivery person refuses to leave a customers' food because she is unhappy with the tip.
A Vietnamese restaurant in Chicago is getting hate mail and threats because its owners attended the Trump rally in Washington DC last week.
Bill Belichick is set to receive the Presidential Medal of Freedom from President Trump on Thursday.
Coronavirus Update:
Total confirmed U.S. cases as of 1 p.m. ET Saturday: 22,197,520 — Total deaths: 373,022 — Total tests: 263,667,450
CONFIRMING LOAN

Program

Rate

Change

APR

Change

30 year
2.82

%

0.03%

2.87%

0.03%

15 year
2.44

%

0.02%

2.54

%

0.02%
The Lead: Impeachment 2.0
credit: getty
Democrats have put forth articles of impeachment for President Trump and Republican Senate Majority Leader Mitch McConnell is not as opposed to this as he was the first go-round but he also said that he will not likely put impeachment up for a vote until the President is out of office.

So they're willing to consider impeaching him but not until he's already left office.

Okay…

Does this mean the economic stimulus we were hoping for is being pushed down the priority list? Prolly. The Senate is not set to reconvene until January 19, although there are two meetings set for this week.

The House of Representatives, however, is ready to vote for impeachment for a 2nd time, which would make President Trump the only President to have been impeached twice. That vote could happen as early as today.

So would it be worth it? Some politicians calculate that it is because a successful impeachment from both chambers would mean that Trump could not run for a 2nd term, would not get a government pension, and would not get Secret Service protection for the remainder of his life. Already, he has begun to lose privileges he enjoyed in office such as a Facebook and Twitter account. Twitter booted his account permanently on Friday. He Tweeted from the @POTUS account and Twitter removed those too. Parler, the conservative alternative was subsequently removed from the Apple and Google app stores and from Amazon Web Service cloud hosting, which wiped out the site altogether. The company has to search for a new data host to revive itself, which they say could take up to a week.

The President released a video on Sunday condemning the violence on the Capitol and ensuring a successful Presidential transition.
Follow The Money
credit: getty
It turns out that kneecapping democracy is bad for business. Wall Street is pulling political donations after last week's violence in the Capitol building.

PJPMorgan and Citigroup are pausing donations to both Republicans and Democrats while other companies such as Blue Cross Blue Shield and Marriott International will pause donations to the Republicans who objected to President-elect Biden's confirmation such as Senators Ted Cruz and Josh Hawley.

Politicians pretend that they answer to their constituents but really they answer to their donors. Now we'll get to see how loud they speak when the dollars dry up.
Speaking of dried up dollars, the PGA of America golf association has ended its association with President Trump and his golf clubs, vowing now to hold any tournaments at Trump-associated courses from now on. The 2022 Championship was scheduled to be held at the President's golf club in Bedminster, New Jersey but not any more.
Sponsor: Stamps.com
Can you think of anything worse than waiting in line at The Post Office during a pandemic? That sounds awful.
Enter Stamps.com which brings the Post Office, and now UPS shipping, right to your computer. That way you don't have to leave the house!

Mail and ship anything from the convenience of your home or office.
With Stamps.com, anything you can do at the Post Office you can do with just a few clicks. Plus Stamps.com saves you money with deep discounts that you can't even get at the Post Office!
With Stamps.com, you get 5 cents off every first-class stamp and up to 40% off Priority Mail, and up to 62% off UPS shipping rates.
Try it now and get a FREE digital scale
with our promo code: INVEST. There's NO risk. With my promo code, INVEST, you get a special offer that includes a 4-week trial PLUS free postage and a digital scale. No long term commitments or contracts.
Just go to Stamps.com, click on the Microphone at the TOP of the homepage, and type in INVEST.
Bionic Eyes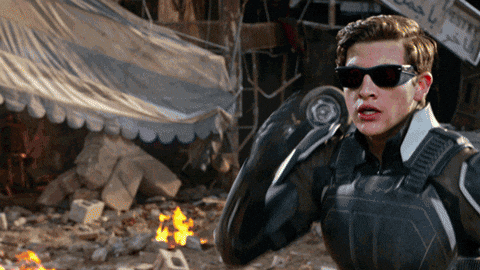 credit: giphy
Want some cyborg eyes in your contact lenses? You can have it! Scientists at Harvard, George Washington University, and the University of Surrey have discovered a way to put ultra-thin sensors in contact lenses.

And what do they do? They receive information from sensors that can detect corneal diseases as well as monitor glucose levels from tear fluid.

This is just a concept for now but it came out of the Covid pandemic when researchers say that they were motivated to find additional biometrics for health monitoring. These smart lenses fall just short of the mutant Cyclops, who can shoot force-based beams from his eyes. We guess they're still working on that one.
News By The Numbers
credit: vianney halter
$972,000. That is how much the Swiss watch Deep Space Resonance cost. The manufacturer is only making two per year.
$450,000. That is how much singer Nicki Minaj will pay Tracy Chapman in a settlement over the song "Sorry," where Chapman had filed a suit claiming that Minaj had co-opted her lyrics and melody.

10,000. That is how many users Gab.com says that it is gaining per hour after Twitter ousted the President. Ironically enough, they announced this on Twitter.

451,500. That is how many tons of masks are disposed of per month now that we are all wearing them all day every day in almost every country. This is 129 billion face masks and 65 billion cloves, used and disposed of – enough to cover three times the size of Singapore.
Everything Old Is New Again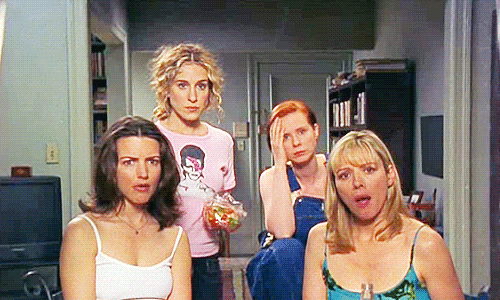 credit: giphy
Sex and the City will return to HBO with the main characters now in their 50s. This was confirmed by Sarah Jessica Parker on Instagram.
Three of the four main characters will return to the show: Parker, Kristin Davis, and Cynthia Nixon. Kim Cattrall will not revive her role as Samantha.

HBO is bringing back other classics with revivals of True Blood and Gossip Girl.
Proud Boys, eh?

credit: giphy
Canada may soon add the Proud Boys to its list of recognized terrorist organizations, according to the Public Safety and Emergency Preparedness Minister Bill Blair.
Blair said that national security in Canada has been tracking activity of the Proud Boys for some time but last week's violence on the U.S. Capitol has put some heat on this intelligence.

"They are white supremacists, anti-Semitics, Islamophobic, misogynist groups.

They're all hateful, they're all dangerous," Blair said. "We're working very diligently to ensure that where the evidence is available, where we have the intelligence, that we'll deal appropriately with those organizations."
If this happens, it would add Proud Boys to a list along with kindred spirits Boko Haram, Al Qaida, and the Taliban.
Today's Live Show
Join me at 9 AM EST today to watch our live morning show. Today on the show we're looking at the biggest hurdles to a new round of stimulus, VP Pence invoking the 25th Amendment, and will Trump pardon the Capitol rioters?

Click here to RSVP and set a reminder. See you in a few hours!
Share The Love
Become a friend of Morning Invest by sharing this newsletter with someone you love.
When you do give you actual rewards that'll make everyone jealous.