| TOGETHER WITH | |
| --- | --- |

Happy Friday.
It is International No Diet Day. Amen to that!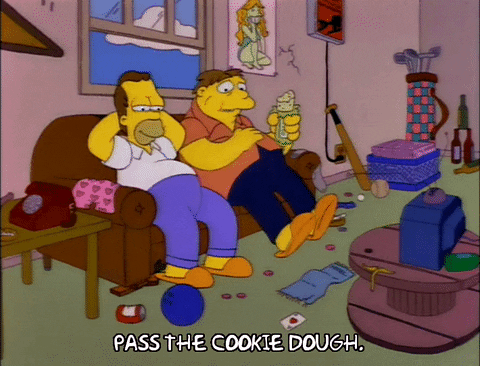 credit: giphy
In Case You Missed It.
🔥 Experts warn that the drought in the Southwest is going to make for another doozy of a fire season.
🐥 Elon Musk is expected to serve as temporary CEO of Twitter once his purchase of the social network is complete.
⚖️ In Louisiana, lawmakers advanced a bill to make abortion a crime of homicide.
🇨🇳 A building collapsed in China killing at least 53 people.
🚀 Four humans splashed down safely from space on Elon Musk's SpaceX capsule.
Covid Update 😷:
The FDA has restricted who can receive the Johnson & Johnson Covid vaccine due to ongoing risks of blood clots.
This year's Asian Games will be postponed due to Covid outbreaks.
Lawmakers are putting more Covid aid on the backburner in order to send more money to Ukraine at the request of the President.


| | | | |
| --- | --- | --- | --- |
| | Bitcoin | $36,293.52 | |
| | | | |
| --- | --- | --- | --- |
| | Ethereum | $2,703.66 | |
| | | | |
| --- | --- | --- | --- |
| | Cardano | $0.7908 | |
| | | | |
| --- | --- | --- | --- |
| | Dow | 32,997.97 | |
| | | | |
| --- | --- | --- | --- |
| | S&P | 4,146.87 | |
| | | | |
| --- | --- | --- | --- |
| | Nasdaq | 12,317.69 | |
*Stock data as of market close, cryptocurrency data as of 5:00 am ET.
Markets: Stocks pulled back sharply on Thursday, completely erasing a rally from the prior session in a stunning reversal that delivered investors one of the worst days since 2020.


The Lead: The Market Drop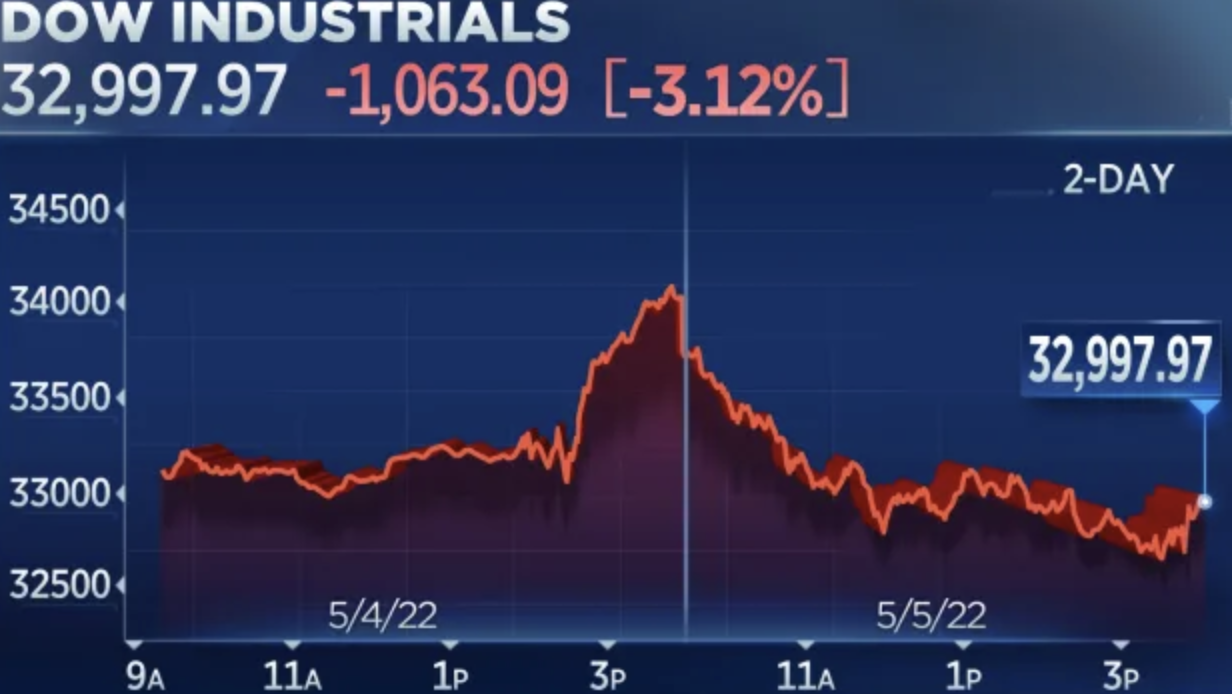 credit: cnbc
The stock market took a nosedive on Thursday after a big spike on Wednesday, proving how truly fickle the market can be. There were no major news cycles that should have affected this.
On Wednesday, the market was up when the Federal Reserve announced a 0.5% interest rate increase. And then on Thursday, the Dow fell 1,000 points and the Nasdaq dropped 5%.
"The market [Wednesday] was a relief rally," Seema Shah, chief strategist at Principal Global Investors, told The Wall Street Journal. "By Thursday, she said, the realities of a more challenging environment for stocks were starting to settle in, including higher rates, difficult earnings comparisons and a stronger U.S. dollar, which weighs on overseas earnings at multinational firms."
So we'll just put it down to mood swings then since there is really no other fundamental that can explain it.


Biden's 'Disinformation' Problem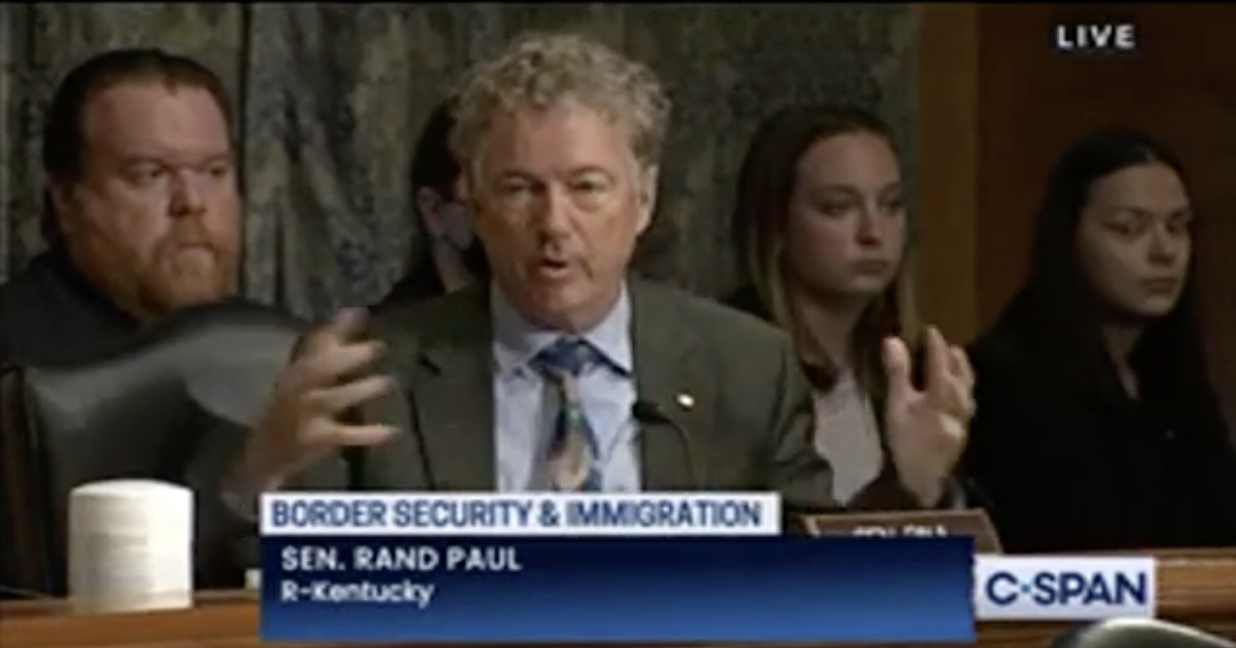 credit: cspan
Senator Rand Paul highlighted the problem with having a government-appointed "disinformation" department on Wednesday. He was given the opportunity to question Homeland Security Secretary Alejandro Mayorkas on the recently announced "disinformation governance board."
Disinformation is a word I strongly object to, much like the word "irregardless." Information, by definition, does not have to be true, it has to be considered. By labeling news "disinformation," it shuts down the agency of a person to think critically, suggesting that only official sources can validate the information. The word "disinformation" is the government's "conspiracy theory" 2.0.
Conspiracy theory, incidentally, is a term coined by the CIA to shut down those who questioned the Warren Commission's findings regarding the Kennedy assassination. We would be remiss to miss the similarities to the government tackling "disinformation."
Paul pointed out that the government would do nothing about CNN's broadcasting of the Steele dossier under this new project, yet the Steele dossier led the nation down an expensive and extensive path.
Mayorkas clarified: "We become involved when disinformation poses a threat to the security of our country. It is when there's a connectivity to a threat to our country."
The government already gets involved when there are indications of violence online and offline. This "information" intervention raises more questions than confidence.


Add Points To Your Credit Score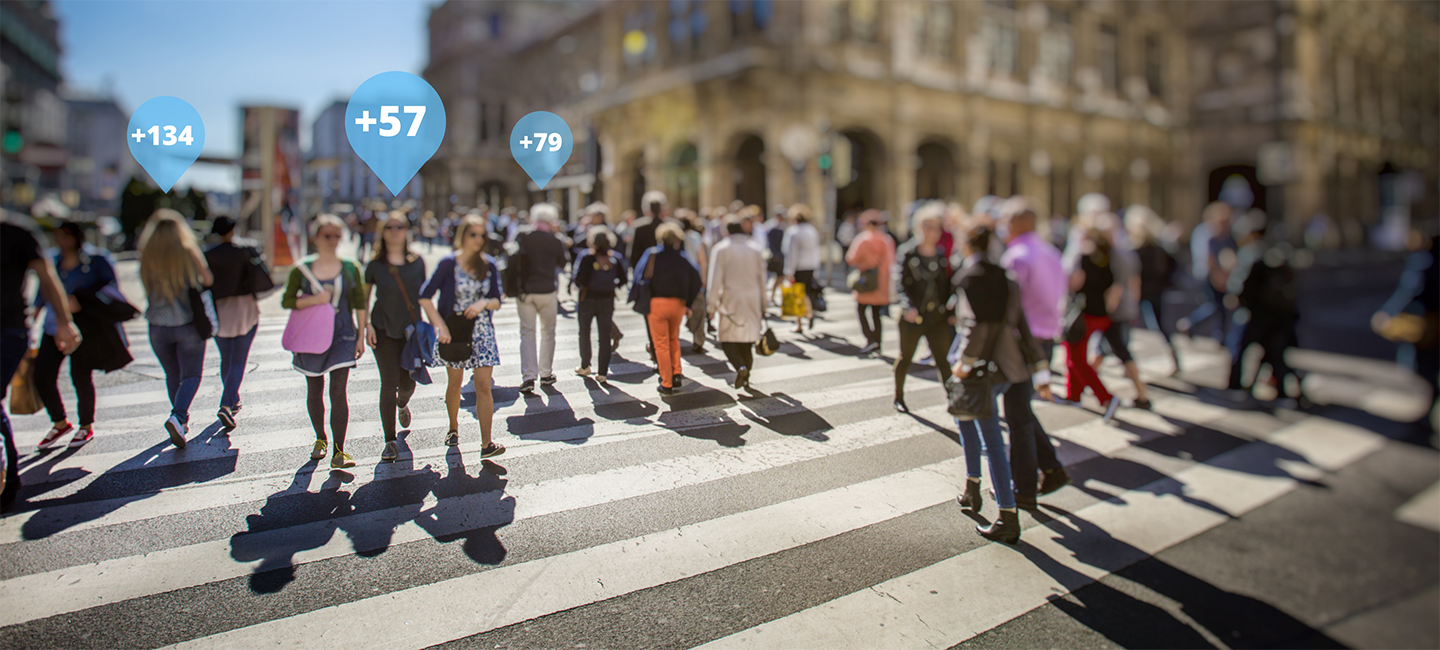 Did you know that the average American has 97 points they could add to their credit score — but no idea how to get them? The data scientists at SCORE MASTER cracked the code on how! Adding 97 points to your credit score is like found money. It means fast loan approvals, huge discounts and low interest rates on everything from buying or refinancing a home – to leasing a new car – to applying for a credit card.
A better credit score gives you easier access to loans, more borrowing power and better rates. Before you apply for a loan, financing, appliance or even an apartment, use ScoreMaster® first to get a better deal & save money.

ScoreMaster® lets you save a precise Plan that is unique for your credit situation showing you how much to pay and to which account.
How fast is SCORE MASTER? One member raised his credit score 33 points in just 5 days. Another 43 points in a couple of weeks! SCORE MASTER is so easy it takes about a minute to get started. And if you hurry – you get to try SCORE MASTER for free! That's right, try SCORE MASTER free — and see how many plus points you can add to your credit score! Go to scoremaster.com/invest/


The First Gender Transition Study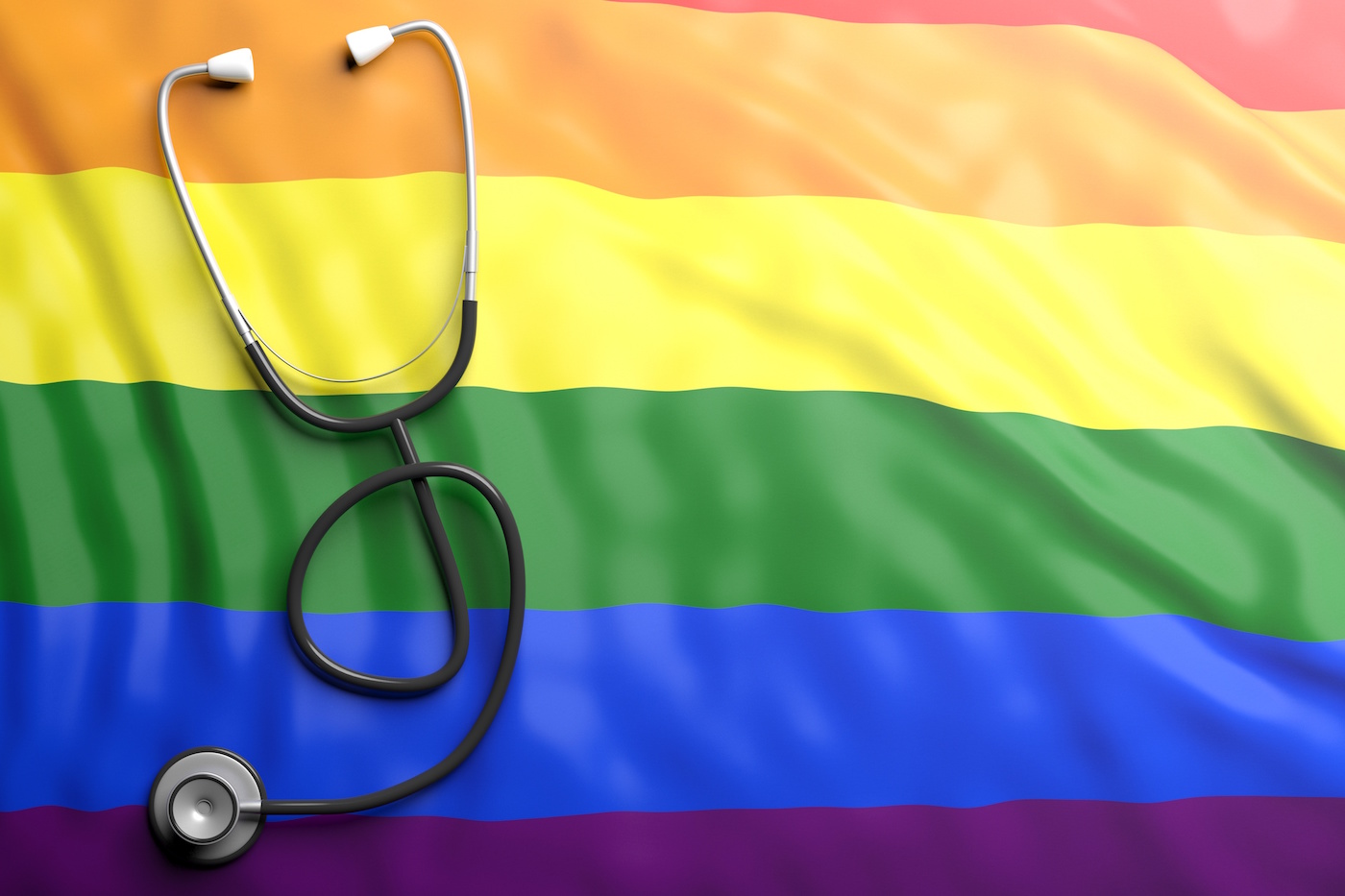 credit: adobe
A new study shows that most transgender children maintain their transitioned gender after five years. This is the first longitudinal study of gender transition.
Researchers followed children between the ages of 3 and 12 with the average child aged 6. They found that 94% of children who transition genders remained the transitioned identity five years later.
The study began over ten years ago, but data was only presented for five years. The study will follow these same subjects for at least 20 years.
This study can and will be interpreted in many ways. One child psychologist told the New York Times, "Some people may say that kids get on this trajectory of development and they can't get off…Other people will say kids know their gender and then they're supported in their gender, they're happy."
The research does not say whether these children are happy. It only says that they tend to stick with their transitions. Nor does the study say that they are healthy. The research included subjects who took puberty-blocking pharmaceuticals. The most common drug for this is Lupron, which is meant to stop "precocious puberty," not normative puberty. No research shows that it is safe for children. That research is long overdue alongside research such as this study.


Space Balls

credit: nasa
NASA is sending nude pics out into space to try to lure aliens to meet up. The project is called "Beacon in the Galaxy."
The images are not lurid in nature because, you know, human sexuality may not appeal to otherworldly beings. They are drawings of a naked man and woman next to an image of DNA. The message will be sent in binary code, which scientists say that extraterrestrial intelligence should have no problem decoding.
NASA hopes the message that it is sending with these pics is something along the lines of: "Hey, we're here. This is what we're about. You up?"


News By The Numbers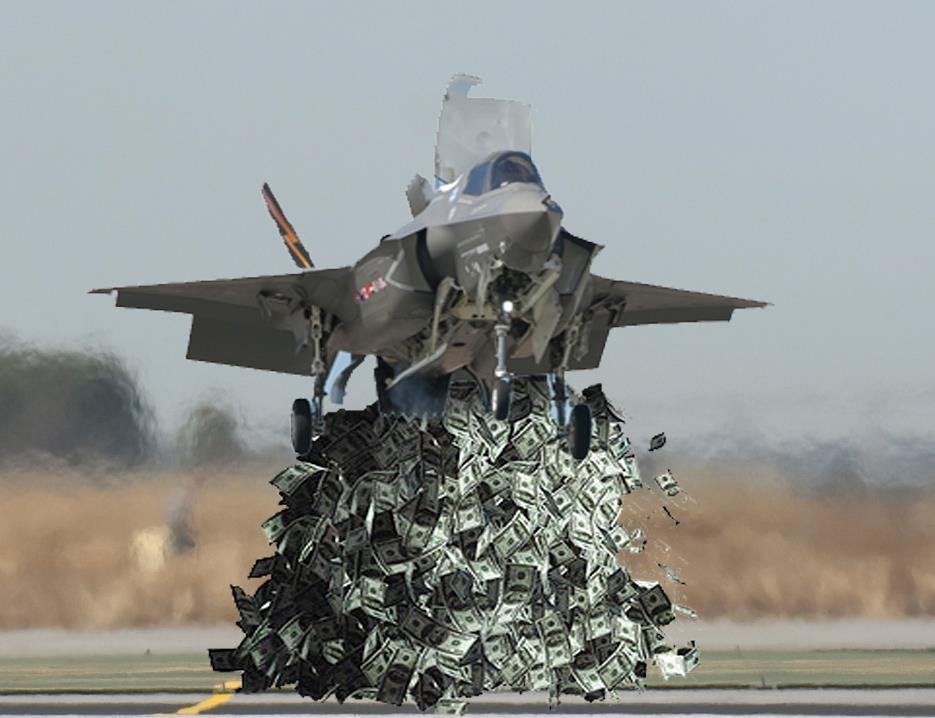 $1.3 trillion. That is how much the U.S. military has spent on the F-35 program. According to the House Armed Services Committee, the program has been a major failure. Chair John Garamendi expressed extreme frustration over the program in hearings this week and made the case to scrap it.
7.5%. That is how much worker productivity fell in the first quarter of 2022 in the U.S. That is the fastest decline since 1947.
$127,000. That is how much a whistleblower claimed that President Biden owes on his taxes but we'll never know if that's true because the IRS has decided not to investigate.
92%. That is how much sales of NFTs have plummeted since September.




Share The Love
Become a friend of Morning Invest by sharing this newsletter with someone you love.
When you do, we don't just give you a pat on the back and say, "Well done old sport." We give you actual rewards that'll make everyone jealous.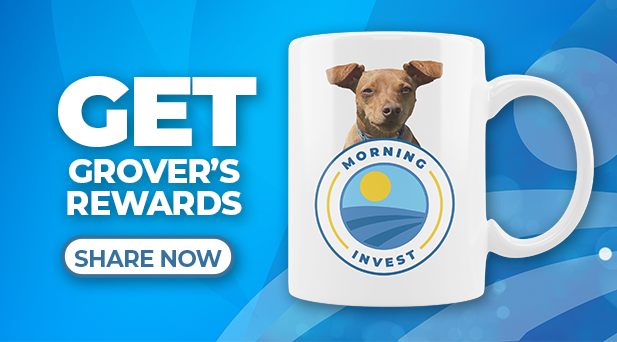 Or copy & paste your referral link to others: