| TOGETHER WITH | |
| --- | --- |
Happy Thursday!
The number one trending Google search term in the world this morning is 25th Amendment. The second most searched word is Sedition. I want to go back to the days when Starbucks Holiday Drinks held the number one spot.
In Case You Missed It.
Rumor has it that Merrick Garland has been selected to be the U.S. Attorney General under the Biden administration. Garland was nominated by President Obama to the Supreme Court but Republicans refused him a confirmation vote so we'd say the guy has done his waiting for a big job.
A woman has been charged with punching a fellow airline passenger because her children repeatedly kicked her seat.

Kmart is warning people who own an air fryer that it must be used on a heat-resistant surface.

Thomas Kinkade's studio is now selling The Mandalorian paintings featuring Mando and the Child. Not a fan.

Atmospheric changes are pointing to an outbreak of major snowstorms in upcoming weeks.

The most used emoji in today's newsletter is the face palm
Coronavirus Update:
Total confirmed U.S. cases as of 12:15 p.m. ET Tuesday: 20,843,556 — Total deaths: 354,263 — Total tests: 252,978,384
The Lead: Chaos At The Capitol
credit: dailymail
The government is in disarray after a violent coup attempt in the U.S. Capitol during the vote certification for President-elect Joe Biden. Members of Congress were rushed to safety after the chambers were breached but they eventually took back the floor and certified the incoming President as Joe Biden just after 3 a.m. Eastern.
This was a terrifying day to be an American. At least four people are dead and 52 arrested. At least 14 were injured and at least 2 pipe bombs were found nearby. D.C. police are still asking people to stay off the streets.

Yet the Senate did do the job it came for. Many Republicans who had vowed to disrupt the certification decided not to. And despite the pressure from President Trump on Vice President Mike Pence to thwart the certification, Pence refused with a statement saying, that it is "my considered judgement that my oath to support and defend the Constitution constrains me from claiming unilateral authority to determine which electoral votes should be counted and which should not."
President Trump has been largely absent. He posted videos on Twitter saying that he was in fact robbed of the Presidency and that rioters should go home now. His Twitter and Facebook account were subsequently frozen.

Resignations are flying in from White House staff including from the Deputy National Security Adviser. Lawmakers are discussing removing Trump from office using the 25th Amendment. This day was chaos and it will cause more chaos. And sadness.
CONFIRMING LOAN

Program

Rate

Change

APR

Change

30 year

2.76%

0.03%

2.81%

0.03%

15 year
2.44

%

0.11%

2.53

%

0.11%
Stimulus On The Horizon
credit: ap
The day's unrest overshadowed the fact that both Democrats won their Senate seats in Georgia, meaning that the Senate will now have a majority of Democratic seats when you count Kamala Harris' tie-breaking vote.

This means that Democrat-favored legislation will not be blocked by Republicans, including the $2,000 stimulus payment bill that Democrats passed in the house but were refused a vote in the Senate. President-elect Biden pledged further stimulus in the near future after his party's win. Votes have not been officially certified in Georgia, and that can take a few weeks so Democratic ball play maybe a few weeks out still.

Meanwhile, the President-elect will undoubtedly have an easier time confirming his cabinet members, so at least that seems to be one less fight for now.
Sponsor: Get Free $1,600 with Webull

Webull extended their amazing stock giveaway! That means you have another chance to get Webull's 4 free stocks valued up to $1,600. Yes, you read that right. Why not get some free money? Right now you can get FOUR free stocks valued up to $1,600 just for opening an account with Webull.

You'll get up to $1,600 in stocks just for opening a free trading account with Webull and depositing $100 into the account to activate it. Remember you're not spending $100, you're simply depositing that money into your account.

Simply click here and start an account. Even if you never do anything else with the account you still get that free money.
With Webull you can invest in thousands of companies using their trading tools and analytics to create your own financial portfolio. And the best part is $0 commissions and no deposit minimums. I remember when I used to pay $6 per trade with some other companies. Not any more thanks to Webull.
Sign up today and get your free stocks. Thanks, Webull.
New York Moves To Legalize Cannabis
credit: observer
Governor Andrew Cuomo has proposed legalizing cannabis in New York in an effort to bring in more tax revenue. Recall that New York is suffering from mass exodus since the pandemic and this has resulted in massive tax income for the state.

"Not only will legalizing and regulating the adult-use cannabis market provide the opportunity to generate much-needed revenue, but it also allows us to directly support the individuals and communities that have been most harmed by decades of cannabis prohibition," said Cuomo in a statement.
Since 2018, the state of New York has been studying the impacts of marijuana on adults and concluded that the "positive impacts of legalizing adult-use cannabis far outweighed the negatives. It also found that decades of cannabis prohibition have failed to achieve public health and safety goals and have led to unjust arrests and convictions particularly in communities of color."

If this legislation passes, the state estimates that it could generate over $300 million per year in tax revenue.
No Son, You Cannot Go Fishing WIth It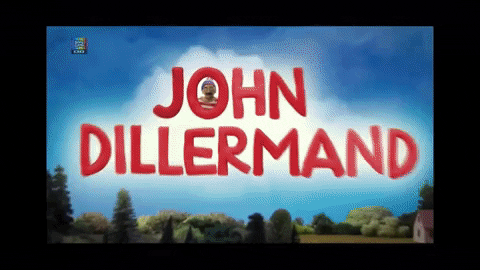 credit: giphy
Parents are scandalized by a new children's show in Denmark that is about a man with the world's longest penis. This is an actual children's show on publicly funded television, comparable to PBS Kids in the United States.

The animated series is called "John Dillermand," named after a character whose long member gets him into troublesome adventures. The network says that the aim of this show is to acknowledge children's curiosity about the body and genitals. Despite some controversy, the network says the show will stay on the air.
We are all for healthy body image and open discussion of body parts with children, but couldn't this also cause some dysmorphia in normal-penis sized people? I'm asking for a friend.
News By The Numbers
credit: ap
162 pounds. That is how much gold was seized by South African Police from smugglers at the Johannesburg airport.

130,000. That's how many Black Georgians registered to vote in the state between 2016 and 2020. That's the largest increase among all major racial and ethnic groups, according to a Pew Research Center.

$0. That is how much money Tesla and SpaceX CEO Elon Musk donated to charity in 2020. Musk earned $118.5 billion last year. It's part of a new report that shows billionaires made record profits but donated record lows in 2020.

45. That's how many additional stores Macy's is closing this year.
Violent Protestors Banned From Flights?

credit: reuters
Flight attendants are requesting that anyone involved in the Capitol disruption be barred from flying, citing safety concerns.
The largest flight attendant union made this request after two aggressive disruptions on flights around the DC area, one involving republican senator Mitt Romney who was accosted in an airport and boarded his flight to chants of "traitor."
The riots at the Capitol "create further concern about [participants'] departure from the D.C. area," a union spokesperson said. "Acts against our democracy, our government and the freedom we claim as Americans must disqualify these individuals from the freedom of flight."
Flight attendants are trained to handle a certain level of conflict but this is egregious and clearly safety is now a major concern for keeping the friendly skies.
Today's Live Show

credit: ap
Join us on today's live show as we look at the fallout from the coup attempt at The U.S. Capitol and what's next for our government. Click right here set a reminder and watch us live at 9 AM Eastern.
Share The Love
Become a friend of Morning Invest by sharing this newsletter with someone you love.
When you do, we don't just give you a pat on the back and say, "Well done old sport." We give you actual rewards that'll make everyone jealous.