| TOGETHER WITH | |
| --- | --- |
Happy Tuesday. Thought you'd like to see Grover playing with some other dogs this morning. That way we can start this newsletter off on a happy note.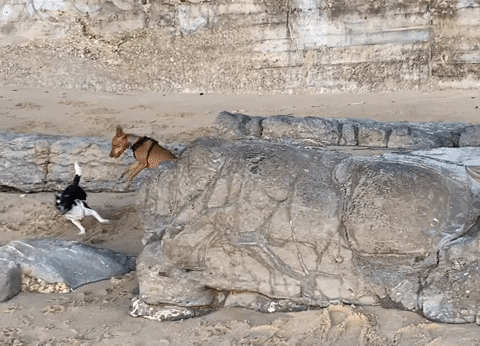 credit: clayton morris
In Case You Missed It.

A new study shows that people who eat chili peppers live longer and are less likely to have cancer or cardiovascular disease.
Gun stocks fell on Monday on news of a Covid vaccine and the lack of protests around last week's Presidential election. Civil war averted. For now!
Lawyers working on reuniting migrant children with their parents say that the number of misplaced children is much higher than previously reported. Their latest count is 666 children, an inauspicious number if ever there was one!
Coronavirus Update: Total confirmed U.S. cases as of 3 a.m. ET: 10,110,552 — Total deaths: 238,251 — Total recoveries: 3,928,845
CONFIRMING LOAN

Program

Rate

Change

APR

Change

30 year

2.98%

0.08%

3.04%

0.08%

15 year
2.72

%

0.01%

2.82%

0.01%
A 90% Is Still An "A"
credit: sic noticias
The stock market danced a happy dance on Monday on news of an actual President-Elect and very encouraging results for a Covid vaccine. The Dow jumped nearly 1300 points and the S&P 500 grew by 2.7%.
Pfizer announced that its vaccine has been shown to be over 90% effective in protecting people against Covid and is on track to have a version ready for submission by the end of the month.
Stocks surge
Travel stocks surged on this news, including Carnival Cruises, which seems a bit premature. Just because there may be a vaccine does not necessarily mean the cruise industry is going to rebound at the drop of a hat, but hey, we're all thinking big about a post-Covid world!
Meanwhile over at the White House in waiting
President-Elect Biden announced his Covid task force and called for national mask-wearing, hand washing, and equal distribution of the vaccine when it is ready. He also called for it to be free for all Americans.
Despite the Biden team getting to work, the General Services Administration (GSA) has refused to work with his team, withholding assistance, access to important officials, and funding. The head of the agency said that they have not yet determined that "a winner is clear." The Biden team is considering legal action in order to get what it needs.
Trump Cleans House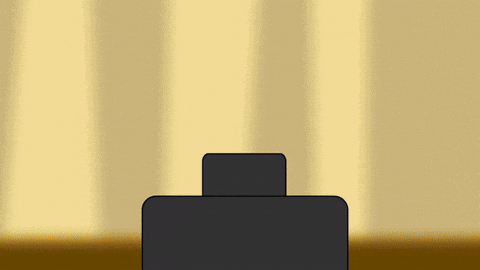 credit: giphy
Meanwhile, President Trump is on the warpath. He fired Defense Secretary Mark Esper on Monday and announced it gleefully in a Tweet. Esper has been replaced by Christopher C Miller, the current director of the National Counterterrorism Center. Some worry that the head of the FBI and CIA are next.
Esper clashed with the President this summer because he did not want to send armed forces on racial protests.
Over at the D.O.J.
Attorney General William Barr has authorized the Department of Justice to investigate voting irregularities from last week's election. This is a highly irregular move that prompted the resignation of Richard Pilger, the director of the Election Crimes Branch. His resignation letter called Barr's interference highly inappropriate. Voting is enforced at the state level. Making this a federal issue is a transparent partisan move that should not come as a shock given Barr's loyalty to the President.
The President has also removed the head of the US Global Change Research Program, Micheal Kuperberg.
So the federal DOJ is taking on state election results. The armed Department of Defense has been decapitated. These are dangerous moves from a man on his way out. We're just saying, maybe selling off those gun stocks was a bit premature.
Sponsor: Outlet Finance
How about some free money just for opening an Outlet account? Yep, just follow the instructions below.
With the government printing money like it's going out of style and the U.S. dollar dropping every day, what if you could get a 6% interest return on the money in your savings account? You'd probably just laugh and say that's not possible. Enter our friends over at Outlet. They have an amazing savings account alternative with a 6% interest rate right now! Outlet is unique because your savings are backed by cryptocurrency which trades at a much higher rate than anything you'd get in a local bank.
And the best part is you'll get free money in your account if you sign up for free right here. You can open an account with any amount of money you want. I started mine for only $100.
To take advantage of this amazing interest rate and get free money deposited in your account, sign up here for Outlet.
Where's The Beef?
credit: giphy
McDonald's is going to add meatless items to its menu in a new McMeat section. This is not just a patty-less sandwich with lettuce and tomato. McDonald's will experiment with its own plant-based products like veggie burgers.
McDonald's already carries the popular Beyond Meat patties in some Canadian restaurants. It is unclear whether they will expand that partnership or try to make their own.
The Wall Street Journal estimates that the plant-based product industry is currently valued at $800 million per year and growing.
News By The Numbers
credit: phys.org
11.6 billion. That is how many microplastics can be found in a single cup of tea after it is brewed with common tea bags that contain polypropylene. You can find plastic-free tea bags for sale.
17 hours. That is the duration of the longest commercial flight from Singapore to JFK airport in New York. The flight used to go directly to Newark, New Jersey but Singapore Airlines extended it by 4 kilometers when it restarted the flight this month.
2.2 million. That is how many times a TikTok video has been viewed where a woman asks when you last cleaned out your toaster tray. TikTok users were floored that the toaster tray exists. Good God. And now we're going to go teach our kids about lint filters in the dryer.
$1.75 billion. That is how much money the Canadian government will invest to bring high-speed broadband to remote areas.
Adiós Mr. President


credit: getty
The President of Peru was impeached by an overwhelming majority vote in congress, 105-19. President Martin Vizcarra said that he would not challenge this vote and left willingly on Monday.
Peru is already suffering economically from the pandemic, and this political turmoil will not help. Experts expect a mass sell-off of Peruvian investments.
Vizcarra was accused of accepting bribes while he was a governor. He denies the accusations but said that he would leave the Presidential Palace as he entered it, "with my head held high."
Imagine a President who accepts the will of his government. Huh. Manuel Merino, the current head of congress, will be sworn in as the country's new President today.
This is freaking cool
credit: virgin
The Virgin Hyperloop was tested with human passengers this weekend to great success. It is a tube-based high-speed transport that can go 100 miles per hour.
The Hyperloop travels through a tunnel with magnetically levitating pods. Like the Wakandan Maglev Train in Black Panther! Only real!
Experts say that with enough of a runway, the Hyperloop can go as fast as 760 miles per hour, but the test track is only 500 meters long, so it has not reached that speed yet. It has undergone hundreds of tests so far, but this was the first one with live humans who seemed to have enjoyed their ride and did not throw up when it ended!
Getting Legal Down Under
credit: AP
A 23-year-old law student is suing the Australian government for failing to disclose the environmental impact in bonds.
At issue is exchange-traded debt, which is a bundling of government based investments that investors can buy like a stock. Kathleen O'Donnell, the law student, filed a class-action suit against the government accusing them of not disclosing the climate impact of these investments, thereby causing long-term harm to the planet.
The case is not quite ready for prime time as a judge asked O'Donnell to fix some filing errors in her original pleading. It will return to court in 2021 but it is a part of a bigger trend of activists trying to litigate their way towards more ecological business practices.
Share The Love
Become a friend of Morning Invest by sharing this newsletter with someone you love.
When you do, we don't just give you a pat on the back and say, "Well done old sport." We give you actual rewards that'll make everyone jealous.
Hit the button below to learn more and access your Reward Dashboard.