| TOGETHER WITH | |
| --- | --- |
Happy Friday. Is it the weekend yet?

In Case You Missed It.
People Magazine has named Dan Levy the Sexiest Man in Quarantine.
New medical studies show that Vitamin D can slow the progression of cancer.
A dog-sized lizard called the black-and-white tegu is spreading in many Southeastern states and concerning biologists.
The unemployment number rose last week to 742,000 people showing clear signs of an economic slowdown.
Coronavirus Update: Total confirmed U.S. cases as of 6 p.m. ET Thursday: 11,674,074 — Total deaths: 251,970 — Total recoveries: 4,348,089
The Centers for Disease Control and Prevention is basically begging people not to travel for Thanksgiving.
The military reported 1,300 cases of Covid in a single day on Tuesday with a positivity rate of 6.8%.
Delta Airlines confirmed it would continue to keep middle seats empty on all flights through March due to the pandemic.
CONFIRMING LOAN

Program

Rate

Change

APR

Change

30 year

2.77%

0.13%

2.82%

0.13%

15 year
2.50

%

0.18%

2.58%

0.19%
The Election Battle Continues
credit: nbc news
Boy is it tedious to keep up with President Trump's election challenges but we still should do so with some caution.
The President's lawyer Rudy Giuliani gave a 90-minute press conference on Thursday where he brought up a new theory that foreign governments had conspired to rig the election. It's not Russia though. This time it is Venezuela, China, and Cuba that they claimed funneled "communist money" into the scheme. The campaign has not alleged this in any court filings but felt free to say it on television. They have shown sworn affidavits of people who say they witnessed voter improprieties but these have not held up in court as much more than hearsay.
So what are they actually doing in courts?
Here is a quick summary:
In Michigan, the President has invited Republican leaders to the White House to reportedly ask them not to certify the election. The lawmakers have accepted the invitation for this afternoon even as the Secretary of State said that individual counties certified their results on Tuesday.
In Arizona, a judge dismissed a lawsuit where the campaign had asked to halt the certification of Maricopa County's results. An audit had come back without errors.
In Georgia, the Secretary of State said on Thursday that Biden's lead remained after a hand recount and will certify the state's results today.
In Wisconsin, the Elections Commission approved the Trump campaign's request for a recount, at a cost of approximately $8 million to the campaign.
In Pennsylvania, the campaign re-filed their case asking to throw out mail-in ballots that may have contained certain errors and asks that they are given the rights to examine these ballots because they believe there was fraudulent accounting. They provided no evidence to support their claim and Pennsylvania is set to certify results on Monday.
Down With PPP?

credit: wink news
The Paycheck Protection Program may not have been as effective for small businesses as it was intended to be. The Wall Street Journal reports that 300 companies that received these loans have since filed for bankruptcy.

These companies employ over 23,000 people. Or rather employed. When this loan program was launched, no one knew that it would be the first and last thing that Congress would offer small businesses. Nor did we know that the pandemic would go on for quite so long. While it offered a lifeline for small businesses, for many it was just not enough. The Journal estimates that the amount of government funds offered to now-bankrupt companies is between $228 and $509 million.
Sponsor: Outlet Finance
How about some free money just for opening an Outlet account? Yep, just follow the instructions below.

With the government printing money like it's going out of style and the U.S. dollar dropping every day, what if you could get a 6% interest return on the money in your savings account? You'd probably just laugh and say that's not possible. Enter our friends over at Outlet. They have an amazing savings account alternative with a 6% interest rate right now! Outlet is unique because your savings are backed by cryptocurrency which trades at a much higher rate than anything you'd get in a local bank.
And the best part is you'll get free money in your account if you sign up for free right here. You can open an account with any amount of money you want. I started mine for only $100.

To take advantage of this amazing interest rate and get free money deposited in your account, sign up here for Outlet.
P-A-S-S-W-O-R-D is a bad Password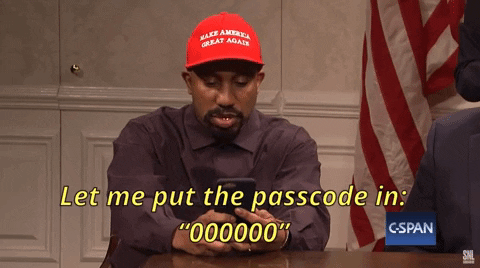 credit: giphy
Online security company NordPass has named the 200 most common passwords of 2020 and they are just as stupid as ever. For the last time, 123456 is a terrible password! And so is "password" and so is "000000." Paying attention Kanye?
The number ten most common passwords is new this year. It is the word "senha," which means password in Portuguese. Just as estupido in any language.
How does a security company know these popular passwords? Not because they keep track of them. They know because these are the passwords most likely to lead to a hack so for the Patron Saint of the Internet, do not use them!
News By The Numbers
credit: a. matikius
887,000. That is how many copies of President Barack Obama's Memoir, A Promised Land, sold in its first week of release.

£1.4m. That is how much a meteorite was worth that crashed through the roof of an Indonesian man's home. He sold it to a meteorite expert and now he's a millionaire.

500 years old. That the approximate age of a medieval soldier's body that was preserved under a lake in Lithuania. It was found relatively intact with swords, knives, and leather boots.
Where Can I Buy A Telephone For My Speedboat?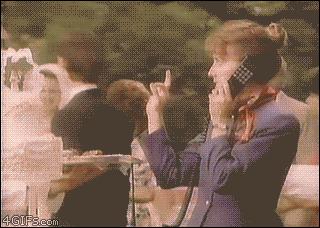 credit: giphy
The company that bought RadioShack wants to bring it back online. Retail Ecommerce Ventures bought Radio Shack when it was broken up into pieces and now wants to reboot the brand in time for its 100th anniversary.

100? RadioShack was founded in Boston in 1921 as a store for HAM radio parts. In the 1980s and 1990s, it was a gadget and computer supply store but it lost ground to Best Buy and Amazon and went bankrupt twice in 2015 and again in 2017.

The new owners also bought the rights to RadioShack's famous slogan, "You've Got Questions, We've Got Answers."
Congress Skips Town With No Stimulus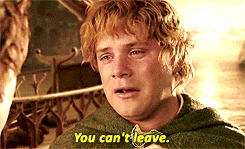 credit: giphy
Congress has earned themselves a good long break, don't you think? They go on holiday today for the Thanksgiving break.

And what have they done this session? Well, let's see, they failed to produce a pandemic aid package. They failed to agree on who is the next President. They failed to stop the pandemic from spreading into a nightmare. They did however pass some laws about funding government studies for Bitcoin though. Helpful. Thanks. Happy Thanksgiving!
Protecting The Pride
credit: sheldrick wildlife trust
Did you know that wildlife in Kenya has to be protected from poachers by armed guards? It's true. The Kenya Wildlife Services operates 13 De-Snaring Teams to protect threatened wild animals.

In 2019, the teams seized and removed 5,026 snares, 117 weapons, and made 270 arrests of people who wanted to hunt wild lions, tigers, giraffes, elephants, and other members of the animal kingdom.

A lion can spend anywhere from 16-20 hours per day sleeping, the lucky cats! Armed guards keep watch on them so that they are not caught off guard by an illegal hunter.
Share The Love
Become a friend of Morning Invest by sharing this newsletter with someone you love.
When you do, we don't just give you a pat on the back and say, "Well done old sport." We give you actual rewards that'll make everyone jealous.