| TOGETHER WITH | |
| --- | --- |
Happy Friday. We're working on some new Merch in our store. Remember to send us a picture of yourself with your new mug or sweatshirt to [email protected] and we'll feature it on our live morning show. We love seeing your faces! Visit our store right here.
In Case You Missed It.
This website allows you to put mittened Bernie Sanders in any location you want.
A Florida man was charged Wednesday with illegally trafficking capuchin monkeys for pets.
Mitch McConnell says he would like to begin the Trump impeachment in two weeks in order to give the former President time to prepare his defense.
Senators Ted Cruz and Josh Hawley are both facing Senate ethics investigations due to their efforts to overturn the Presidential election.
Tulsi Gabbard, the former U.S. Representative from Hawaii, has launched a new podcast.
Facebook is referring its decision to suspend former President Trump to its independent Oversight Board, meaning the Board will rule on it and Facebook executives cannot overturn the decision. Shouldn't that have been done in the first place?
A federal judge has denied Parler's request to force Amazon to resume its cloud services.
Coronavirus Update:
Total confirmed U.S. cases as of 6 p.m. ET Thursday: 24,570,340 — Total deaths: 409,148 — Total tests: 284,629,249
CONFIRMING LOAN

Program

Rate

Change

APR

Change

30 year

2.76%

0.07%

2.81%

0.07%

15 year
2.31

%

0.12%

2.40%

0.12%
First Full Day: A Bag of Executive Orders
credit: ap
President Biden signed a new stack of 10 executive orders on Thursday, all focused on controlling the pandemic.
The new orders ramp up vaccine production with federal money, increase mask mandates in airports and on other public transportation, and require U.S.
travelers quarantine for at least 7 days after returning from abroad. Actually that last part is more of a suggestion. It says that travelers should follow the CDC recommendation. Not a lot of teeth to that one, is there?
The President says that even with these measures, he still expects the US death toll to surpass 500,000 by next month. He got testy when a reporter asked if his goal of vaccinating 100 million people in 100 days was not aggressive enough.
"When I announced it, you all said it wasn't possible. Come on, gimme a break, man. It's a good start," he said.
Inaugural Violence
credit: the oregonian
Well, the Biden inauguration wasn't as peaceful as we originally thought. Police arrested eight people for vandalizing the headquarters of the Democratic Party in Oregon just hours after the President was sworn in.
Insurgents spray-painted "F___ Biden" and "Breonna Taylor deserves justice." They also smashed windows and doors and lit a dumpster on fire.
Portland police say the riot included about 150 people. They were not Trump supporters though. They were anti-government protesters who carried banners saying "We are ungovernable" and "We don't want Biden, we want revenge!"
Similar but less intense protests occurred in Seattle where the courthouse was also vandalized.
Sponsor: Outlet Finance
How about some free money just for opening an Outlet account? Yep, just follow the instructions below.
With the government printing money like it's going out of style and the U.S. dollar dropping every day, what if you could get a 6% interest return on the money in your savings account? You'd probably just laugh and say that's not possible. Enter our friends over at Outlet. They have an amazing savings account alternative with a 6% interest rate right now! Outlet is unique because your savings are backed by cryptocurrency which trades at a much higher rate than anything you'd get in a local bank.
And the best part is you'll get free money in your account if you sign up for free right here. You can open an account with any amount of money you want. I started mine for only $100.
To take advantage of this amazing interest rate and get free money deposited in your account, sign up here for Outlet.
Thanks, Now Scram
credit: getty
Thousands of National Guardsmen and women were pulled from duty guarding the U.S. Capital with nowhere to go. Over 5,000 troops were sent to nearby parking garages with only one bathroom in the freezing night temperatures in the low 40s.
The National Guard was called in to protect the Capitol after the January 6 riots.
They successfully kept federal grounds safe but once the inauguration was over, the Capitol police told them to get out. There was no plan for where they should go so they were sent to parking garages on Thursday with no internet reception, power outlets, or sufficient bathrooms.
Troops said that they felt "betrayed" for being sent away with no real plan for their care after they succeeded at keeping the Capitol safe.
Lawmakers from both parties said that they would look into this outrage and some offered their offices to be used as rest places. By 10 p.m., Senators said that the Guardsmen and women were moved indoors after they learned about this on Politico.
News By The Numbers
credit: bbc
$127,000. That is how much it cost to clean the White House in between the Trump and Biden administrations. The cleaning contract went to a Virginia company that employs people with disabilities. They sure had their work cut out for them! The White House has 132 rooms, 35 bathrooms, 412 doors and 28 fireplaces.
1,900. That is how many doses of the Moderna Covid vaccine were destroyed because a cleaner accidentally unplugged the freezer where they were being stored.
1 in 5. That is how many people that were charged in the Capitol riots had served in the military. Of more than 140 charges, at least 27 of them had served or were currently serving in some branch of the U.S. military.
4%. That is how much bigger the TV audience was for the Biden inauguration than the 2017 Trump inauguration. Approximately 40 million people watched the new President be sworn in, compared to 38.5 million who watched former President Trump.
Proud Boys Turn Their Backs on Trump
credit: observador
The Proud Boys have started to ditch their Trump-supporting ways, saying that the former President was a "shill" and "extraordinarily weak."
The Proud Boys is a white supremacist group with questionable health as a common denominator among members. They promoted and participated in the pro-Trump Capitol riots but now that the President has left office, their love does not go on.
"Trump will go down as a total failure," said the Proud Boys Telegram account this week.
So much for loyalty to the President who enabled their racism for four years.
Vaccine Road Trip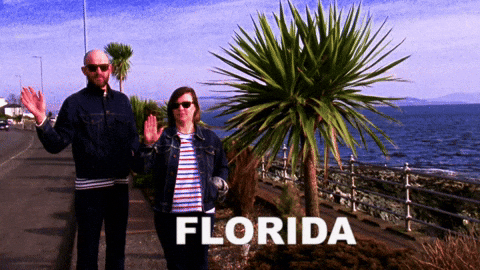 credit: giphy
People are traveling to Florida for more than just Disney World. "Vaccine tourism" is a new thing where people come to the sunshine state just to get their jabs.
Florida offers the Covid vaccine to anyone over the age of 65. This has prompted people from other states to come for the vaccine because wait times in their own states are too long. The Florida surgeon general is going to put a stop to this by requiring patients to show proof of Florida residency to get the vaccine.
Vaccine tourism is pretty nonsensical when you think about it. Traveling increases your risk of Covid so why would you risk that if you're so concerned about protecting yourself?
Today's Live Show
Join us on today's Morning Invest live stream where we'll be looking at the potential $2,000 stimulus being pushed by Bernie Sanders. We'll also talk about the coming filibuster battle in the Senate. Click here to RSVP and join us at 9 AM EST.
Share The Love
Become a friend of Morning Invest by sharing this newsletter with someone you love.
When you do, we don't just give you a pat on the back and say, "Well done old sport." We give you actual rewards that'll make everyone jealous.