| TOGETHER WITH | |
| --- | --- |
Happy Wednesday. Thanks to everyone who sent YouTube comments wishing me a speedy recovery. No I don't have Covid-19, just a stomach thing where it feels like someone is stabbing me every 5 seconds.
credit: giphy
In Case You Missed It. Hillary Clinton told Joe Biden "not concede under any circumstances," in November's presidential election, as she believes the results are "going to drag out," because of mail-in voting.
Coronavirus Update: Total confirmed U.S. cases as of 3:30 a.m. ET: 5,779,371 — Total deaths: 178,524 — Total recoveries: 2,053,699
University of Alabama reports 531 cases since in-person classes began.
In Today's Newsletter:
RNC Day 2
Mexico faces a crisis
Offices are dead as we know them
CONFIRMING LOAN

Program

Rate

Change

APR

Change

30 year
3.28

%

0.12%
3.36

%

0.13%

15 year
2.71

%

0.00%

2.87

%

0.01%
The Lead: The Better Half
credit: drudge
First Lady Melania Trump took the stage on Tuesday night to endorse the President. She spoke frankly, in a tone that is notably different from that of her husband and his Twitter feed.
Mrs. Trump acknowledged the devastating effects of the pandemic, and promised her husband would not stop fighting for a treatment or vaccine. She spoke of our problems of race by admitting that we are "not proud of parts of our history." For this solution, she looked less to her husband and more towards the public asking us all to not judge others "based on their skin color."
It has never been her style to spread fear in order to garner votes and even if you dislike the new White House rose garden, it is hard to argue that she has style. She was generally well received.
Beyond Melania
Previous speakers took up the tone of Night 1 and ripped on Joe Biden and the libs. Black Republican Attorney General Daniel Cameron of Kentucky called Biden a "backwards thinker." Eric Trump falsely claimed that Biden wants to defund the police when Biden has explicitly said he is not for that.
Serving Secretary of State Mike Pompeo spoke remotely from Jerusalem, breaking tradition that someone from this office should show partisan support while representing our country elsewhere. Diplomats are normally barred from engaging in politics. This cute little move earned him an investigation by the House Foreign Affairs Committee's subpanel on oversight.
Sponsor: Outlet Finance (now with 10% interest rate)
This morning I woke up and check my Outlet account and holy cow I couldn't believe my eyes. My interest rate is now over 10%. That's right Outlet is over a 10% interest rate right now on your deposits.
With the government printing money like it's going out of style and the U.S. dollar dropping every day, what if you could get a 10% interest return on the money in your savings account? You'd probably just laugh and say that's not possible. Enter our friends over at Outlet. They have an amazing savings account alternative with a 10% interest rate right now! Outlet is unique because your savings are backed by cryptocurrency which trades at a much higher rate than anything you'd get in a local bank.
And the best part is you'll get free money in your account if you sign up for free right here. You can open an account with any amount of money you want. I started mine for only $100.
To take advantage of this amazing interest rate and get free money deposited in your account, sign up here for Outlet.
International: Mexico Faces Disaster
credit: huffington post
Mexico had an obesity problem long before COVID raged through the country but that very problem has made it that much harder for the country to fight back. The country currently has the world's third highest death toll.
Obesity is a pre-existing condition that makes a COVID infection a serious diagnosis. Currently, one out of three children in Mexico are obese and three out of four adults. Of those who have died from COVID, nearly 75% of them suffered from a condition such as hypertension, diabetes, and obesity.
Governmental response
The government acknowledges that the country struggles with poor diet, which contributes to hypertension and diabetes. To that end, they are trying to make swift changes. Two states, Oaxaca and Tabasco, have banned the sale of junk food to children and others are considering doing the same. The government wants more strongly-worded labeling on sugary foods. And while sedentary lifestyles have become a problem during quarantine, the government is rolling out campaigns to get Mexicans moving. Pronto!
News By The Numbers
credit: weather channel
600,000. That's how many people have been told to evacuate in the face of Hurricane Laura. Measuring a category 1 storm with 80 mile per hour winds, officials aren't playing around.
The National Hurricane Center forecast that storm surge could send up to 13 feet (4 meters) of flood water as much as 30 miles (48 km) inland along the coast near the Texas and Louisiana border.
Hurricane Laura could make a direct hit on Houston this week and hundreds of thousands of people living on the Gulf Coast should evacuate immediately, officials in Texas warned on Tuesday.
$1,000. That's how much the city of Sacramento might pay you to stay home. Sacramento County health officials say they are hoping to put together an experimental plan to pay some infected people $1,000 to get them to stay home from work for two weeks to avoid infecting others.
15 million. According to early Nielsen Media Research figures, viewership for the first night of the RNC averaged at about 15.84 million, trailing the DNC's opening night of 18.69 million viewers. Score 1 for the DNC.
Office Space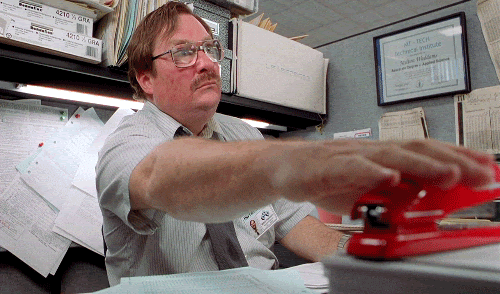 credit: giphy
Office parks are going to have a hard time filling their offices with tenants. A survey released on Tuesday by KPMG shows that 68% of large company CEOs plan to downsize office space permanently as a result of the pandemic.
Since workers were sent home for lockdowns, they proved able to keep working out of the box, or out of the cubicle rather. Why then would an employer pay rent to an office space when they don't have to?
Virtual
The virtual model has also widened the talent pool for many businesses. If your employer doesn't have to report to your office, who cares if they are in your town or across state lines? CEOs reported that the virtual model has actually widened the talent pool.
So where does that leave investors in office parks? With too much Office Space, yelling "What is PC Load Letter!?" in the dark.
Wells Fargo Gets Punished
credit: giphy
Wells Fargo will pay $8 million in back wages for wage discrimination. It will also have to provide 580 applicants with job opportunities that they were reported to have unfairly denied.
The US Department of Labor says that the bank discriminated against black and female applicants and has demanded this retribution. The bank will pay it but does not admit to discriminatory practices. Instead it claims that Hispanics were the most likely to be hired as Spanish-speakers are in high demand. Still, the bank agrees to change hiring practices to better include all groups in the future.
American Gets Skinny Jeans
credit: shutterstock
American Airlines is moving to furlough more than 19,000 employees as of October due to the pandemic. As global travel is significantly down, the airline faces incredibly tough choices.
Many employees have accepted buy-outs, early retirements, or voluntary leaves but layoffs are still an eventuality. This brings the total of jobs lost to the airline to approximately 40,000 with flight attendants being the hardest hit, followed by pilots.
Bailout
American Airlines did receive $25 billion in Paycheck Protection Program funding but that money will only last through September.
Meanwhile, Ryan Air, Europe's biggest discount airline, has avoided a similar fate by slashing salaries rather than employees. Staff has agreed to take pay cuts to save one another's jobs and now the 3,000-person layoff that was originally planned will no longer be necessary, even though the number of flights Ryan Air operates has been slashed by 20%.
Share The Love
Become a friend of Morning Invest by sharing this newsletter with someone you love.
When you do, we don't just give you a pat on the back and say, "Well done old sport." We give you actual rewards that'll make everyone jealous.