| TOGETHER WITH | |
| --- | --- |
Happy Wednesday.
This video of two specially-abled persons in India spinning a ball has gone viral overnight. It's easy to see why.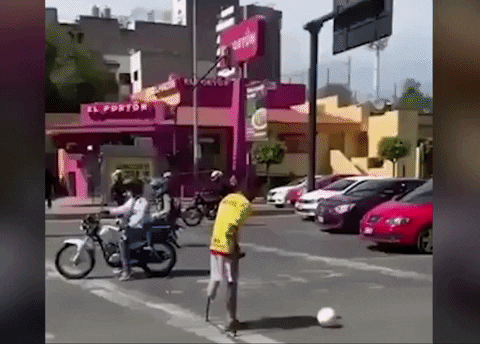 In Case You Missed It:
At least 10 rockets targeted a U.S. airbase in Iraq.
Neera Tanden has withdrawn from her nomination as President Biden's pick as director for the White House Office of Management and Budget after Republicans opposed her confirmation due to controversial Tweets.
A pipe bomb was found at a school district election in Iowa. Thankfully no one was hurt.
A new study shows that young people are addicted to their smartphones and it is negatively affecting their sleep. Duh.
The BBC has apologized for airing an interview with a Senator Cory Booker impersonator, thinking it was the real Senator Booker.
Coronavirus Update:
Total confirmed cases as of 2:30 p.m. ET on Tuesday: 28,678,537 — Total deaths: 515,337— Total tests: 351,801,124
Today's Live Show
BREAKING Stimulus News! Dems Call For RECURRING Monthly Checks in New Plan
Join us on today's live morning show. We'll be analyzing the new Bernie Sanders-led push for recurring stimulus checks that would be tied to current economic conditions. We will analyze all the details. Click here to RSVP and I'll see you at 9 AM Eastern.
CONFORMING LOAN

Program

Rate

Change

APR

Change

30 year
2.91

%

0.03%

2.97%

0.03%

15 year
2.26

%

0.02%

2.36

%

0.03%
The Lead: Progressives Push Biden on New Stimulus
credit: getty
A group of 10 Democratic senators is asking President Biden to work on a stimulus after the stimulus. They want a permanent solution – not another stand-alone package that has to go through the congressional rigamarole.
President Biden's $1.9 billion relief package seems likely to pass in the coming days but it too will run out, most likely before the pandemic is over. The new proposal from Democrats involves permanently recurring stimulus and unemployment payments, much like universal basic income. This group is done fooling around, one stimulus at a time. They've been at it for almost a year! Enough already!
The Senators that signed this request include Ron Wyden, Cory Booker, Bernie Sanders, Sherrod Brown, Elizabeth Warren, Alex Padilla, Michael Bennet, Tammy Baldwin and Kristen Gillibrand.
Who knows how far this will go. Other Democrats don't seem enthused and the President has not shown an appetite for it either. Maybe they just like all the drama.
Level Up Your Business With Atomic Social
Right now is the BEST time to take your business to the next level with Atomic Social.
If you have a business, Atomic Social can not only help you design a new website, but they can also help by putting you directly in front of your prospects with their Organic SEO techniques.
Atomic Social has a custom-tailored SEO solution that will rank you at the top of the search engines like Google and Yahoo!
I have personally seen Atomic Social's Portfolio and Case Studies first hand. You should ask them about their previous work!
You can call them directly right now at 480-608-1690 or click here to schedule a call and get started.
Atomic Social is giving away a FREE $500 of credit to use towards any of their services along with a Free Consultation! Whether you are looking for a new website or some help with SEO, just let them know you came through morning invest and receive a FREE $500 credit for any service they offer!
Click on this calendar link right now to book your Free 20-minute Consultation
Navalny's Long Harsh Winter
The prison where Alexei Navalny is being held. A notoriously harsh prison feared by inmates credit: getty
The Biden administration is exercising influence over Russia due to the imprisonment of Alexei Navalny. Navalny is Russian President Vladimir Putin's number one political opponent. The Russian state tried to assassinate him last year and when that didn't work, he was arrested and sent to the most feared prison in Russia. Coincidence?
Sanctions are a government's only way to hold sway over another sovereign nation. The Russian sanctions announced Tuesday are against seven senior Russian officials. They also impose restrictions on exporting certain entities related to chemical and biological weapons.
Europe Too
The European Union has exerted similar sanctions against Russia. This marks the first time that the U.S. has shown a willingness to make a move against Russia in a very long time. Despite intelligence that the Russian state has been acting against Navalny, former President Trump refused to exert any condemnation on the country.
Trump To Be Re-Inaugurated Tomorrow?
credit: getty
Conspiracy theorists from the QAnon group think that tomorrow, March 4, is the real Presidential inauguration day.
As the story goes, the United States secretly became a corporation in 1871, meaning that all Presidents since have been illegitimate. They think that this somehow means that the country will revert to the old inauguration date of March 4 starting tomorrow and the President we will be inaugurating is Donald Trump. For his first legitimate term or his second illegitimate one? The logic is not clear on that bit.
Law enforcement has been keeping an eye out for more protests like the January 6 riots but they do not expect any major unrest tomorrow.
QAnon lost a lot of steam after the January 20 inauguration of President Biden, which they insisted would not happen. Some are now holding out that March 20 will be the next real inauguration date.
News By The Numbers
robinhood CEO vlad tenev credit: ap
50. That is how many lawsuits stock trading platform Robinhood is facing due to its actions in preventing users from buying GameStop stock when it was rising. More are expected.
6. That is how many Dr. Seuss books will no longer be published due to racist imagery or content. The decision was made by the business that controls the author's estate and works. Don't worry, "The Cat in the Hat" and "Oh, The Places You'll Go!" are not amongst them. 98 and ¾ percent guaranteed!

-79 degrees Fahrenheit. That is the temperature in Vostok, Antarctica, one of the coldest places on Earth right now. And you thought you've had a hard winter!
£182 million. That is how much one British couple thought that they won when their winning numbers came up in the lottery. They did not win this money however.

The autopay for their weekly lottery ticket was not completed due to insufficient funds in their online account.
The e-Learning Divide
credit: savethechildren.org
A new study shows that e-learning is comparable to in-person learning for medical students. That's nice for adult students but children are not doing nearly as well from remote learning.
Save the Children published data showing that 17 million American children are struggling with hunger, at least one out of four children do not have what they need for remote learning, and 69% of families are struggling to make ends meet. Currently, the hunger rate for children is three times higher than it was during the Great Depression!
Data shows that Texas, Mississippi, and Louisiana are the worst states for children during the pandemic. Meanwhile, Minnesota, Utah and Washington are the best.
Notably, the states that were the worst for children were not the states with the worst Covid cases. In fact, Utah, North Dakota and South Dakota had some of the country's highest infection rates but still scored high for protecting their children. "Meanwhile, New York and West Virginia have had relatively low cases of the disease, yet much more suffering among children and families, compared to other states," says the report.
That's How The Infrastructure Crumbles
credit: st. louis post dispatch
Infrastructure in the United States gets a C- from the American Society of Civil Engineers. This grade sucks but it is better than the D+ we got in 2017.
By infrastructure, the report refers to roads, buildings, utilities, transportation. You know, the things that make a society a society. The 170-page report concluded that the country faces a $2.59 trillion shortfall in infrastructure needs but former Presidents Obama and Trump were unable to earn congressional approval to pay for any of this.
Even though the average grade has gone up, 11 out of 17 categories still earned a D including, "aviation, dams, hazardous waste, inland waterways, levees, public parks, roads, schools, stormwater, transit, and wastewater."
Wow. We knew this but now we really know it and that feels terrible. President Biden will meet with lawmakers on Thursday to discuss possible action.
Share The Love
Become a friend of Morning Invest by sharing this newsletter with someone you love.
When you do give you actual rewards that'll make everyone jealous.