| TOGETHER WITH | |
| --- | --- |
Happy Tuesday. Today is National Sardine Day. 🐟 Some people can't even imagine themselves eating the little silver fish. I'm here to tell you that you haven't tasted heaven until you've eaten grilled sardines with sea salt and a little olive oil Portuguese style. It's one of my favorite foods as you can see from my face below.
credit: Clayton morris In Case You Missed It.  💵 President-elect Joe Biden is expected to select former Fed Chairwoman Janet Yellen as Treasury Secretary. If he does, she would be the first woman in this job. 📚 A Florida man wants to offer up his trailer park as the site of the future Trump Presidential Library. 🛒 Costco is only allowing 1 person per household to shop in some stores. No free samples and no tagalong husband to impulse buy a speaker system? Is it even Costco anymore?? 🎬 A crew member in jeans and a T-shirt is a new meme star after he was spotted on camera in a recent episode of the Mandolorian. Coronavirus Update: 😷 Total confirmed U.S. cases as of 5:30 p.m. ET Monday: 12,369,978 — Total deaths: 257,514 — Total recoveries: 4,526,635
CONFIRMING LOAN

Program

Rate

Change

APR

Change

30 year
2.84

%

 

0.04%

2.89%

 

0.04%

15 year
2.69

%

 0.15%

2.78

%

 0.16%
The Lead: The Transition Begins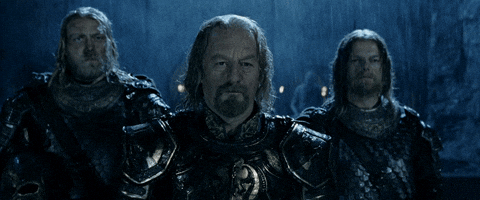 credit: giphy

The agency holding up President-elect Biden's transition has conceded that it will now begin to cooperate. The General Services Administration holds the key to funds, office space, and inter-agency cooperation. The woman who heads the GSA is named Emily Murphy and she had been holding out to work with the Biden team until the election results were firmed up. Most people thought they were pretty firm but of course, the Trump team has refused to join that reality. After the state of Michigan voted to certify Biden's win on Monday, she capitulated. The President said in a Tweet that he will also cooperate with the transition "in the best interest of our Country," but he will not end his legal challenges to the Election results. President-elect Biden showed off his new .gov domain on his Build Back Better website, a sign that he has been handed access to official government e-territory.
Das ist Wunderbar!
credit: getty

German companies must now fill a quota of women in upper management roles. The mandate was agreed upon by Chancellor Angela Merkel and her party. German companies had been low on female leadership, despite the country having a woman political leader. Only 12.8% of management boards from Germany's 30 largest companies were women. The new mandate will require companies to bring that number to 30% for companies where the federal government holds a majority share. It will soon be applicable to corporations under public law such as insurance and pension companies.
Sponsor: PaintYourLife.com
Our family won't be together for the holidays this year, but I found a way to bring us all together…safely. A hand-painted compilation portrait from Paint Your Life. And it makes the perfect gift! You can have your favorite family photo turned into a hand-painted canvas in just two weeks! Yes, a real artist will use your photo and create a beautiful painting for your wall. That's the power of PaintYourLife.com. And you'll save 20% if you text the word INVEST to 64-000. These guys are amazing. ● Choose from a team of world-class artists and work with them until every detail is perfect. ● You can order a custom-made, hand-painted portrait in less than five minutes! ● Quick and easy process. Get a hand-painted portrait in about 3 weeks! ● Meaningful, personal, and can be cherished forever. ● It makes the perfect holiday gift for someone you love. Or for yourself! Again you'll save 20% off if you text the word INVEST to 64-000 right now.
American Meat With a Side of Chemicals
credit: reuters

A large rally took place in Taiwan to protest the import of American pork. Turns out not everyone likes all the chemicals we put in our meats. President Tsai Ing-wen lifted a ban on U.S. pork that contained ractopamine, an additive that is banned in Europe and China. "Taiwanese pigs don't eat ractopamine and yet you are asking Taiwanese people to? Does that make sense?" asked the leader of the main opposition party in Taiwan, Johnny Chiang. The U.S. government was thrilled about the free trade deal, obviously because it means U.S. farmers can export their meat, chemicals, or no. The opposition party KMT is trying to create a referendum on the pork imports.
GM Shifts Gears
credit: ap

General Motors has pulled out of a lawsuit against the state of California over fuel-efficiency regulations. Last year, GM had joined a lawsuit with the Trump Administration to challenge California's rights to set its own emission standards. Apparently, they don't feel that way any longer, and they want to cooperate with California rather than fight. GM encouraged other automakers to do the same. Toyota, Fiat Chrysler, and others are still a party to the Trump Administration's suit. GM released a statement expressing confidence in the Biden Administration and California's "ability to deliver an all-election future." So is this a legitimate change-of-heart by GM or a necessity given that there soon will not be a Trump Administration to go along with in suing California? We'll let you decide.
News By The Numbers
94. That is the age of a man in Tennessee who will be deported to Germany for having served as a Nazi officer. The man has been in the U.S. since 1959. Immigration and Customs Enforcement said in a statement that this case proves that "the United States will not serve as a safe haven for human rights violators and war criminals." 1,800%. That is how much hospitals in the U.S. inflate costs of medical services, according to a study by National Nurses United. We believe it! Consider that the entire cost of delivering the Royal Baby in England was $15,000 versus an average cost of $30,000 per average baby in the U.S. When my first child was born, we had a $350 charge on our bill for a Tylenol! It's amazing that the law allows this. $7 million. That is the median home sale price in the Silicon Valley suburb of Atherton, the most expensive neighborhood in the country, according to Property Shark. A Hamptons neighborhood took the number 2 spot, but the median price was nearly half the price of an Atherton home, at $3.8 million. 1,200. That is how many Food Lion locations will now carry Joe's Gourmet Sustainable Breaded Catfish. The company is owned by a Black family, headed by a U.S. Veteran, and was a darling contestant on the ABC show, Shark Tank.
Facebook Has a Brown Nose
credit: giphy

Facebook is also having a change of heart now that a Biden Administration seems to be an eventuality. Company insiders say that Facebook wants to please the President-elect with new crackdowns on Covid and climate change misinformation. Facebook will also add government information to help people find and receive a Covid vaccine when it becomes available. An anonymous Facebook employee told the Financial Times that the company knows that "a lot of the Democrats simply hate Facebook right now." They are hoping that these moves will act as an olive branch that the administration will remember when they begin working on that campaign promise to regulate Facebook. This is shameless. Way to make nice after four years of working with the Trump Administration but let's not pretend it's a genuine change of conscience, Facebook, and you too GM! Oh, wait, Mr. President-elect, all of a sudden we DO care about climate change and the spread of fatal untruths! Can we help with those goals? 
Share The Love

Become a friend of Morning Invest by sharing this newsletter with someone you love. When you do, we don't just give you a pat on the back and say, "Well done old sport." We give you actual rewards that'll make everyone jealous.
Hit the button below to learn more and access your Reward Dashboard. Share Now Or copy & paste your referral link to others: