| TOGETHER WITH | |
| --- | --- |
Happy Tuesday. This is the last day of our mini vacation before the kids head back to school. One of my kids said, "oh I'm sad we have to leave but I'm not sad because then I get to see Grover."
I feel the same way.
credit: clayton morris
In Case You Missed It. The New York Attorney General asked a court on Monday to force some of President Donald Trump's business associates, including his son, Eric, to testify and turn over documents as part of her investigation into whether the president's company lied about the value of its assets in order to get loans or tax benefits.
On Today's Show: I'll run down the highlights from RNC day one and why another round of stimulus checks doesn't look likely. Subscribe and join us at 9AM EST right here.
Coronavirus Update: Total confirmed U.S. cases as of 3 a.m. ET: 5,740,909 — Total deaths: 177,279 — Total recoveries: 2,020,774
Florida judge strikes down order to reopen schools for in-person classes.
In Today's Newsletter:
Republicans issue a warning
Biden talks taxing the rich
Opportunity zones go federal
CONFIRMING LOAN

Program

Rate

Change

APR

Change

30 year
3.16

%

0.00%
3.23

%

0.00%

15 year
2.76

%

0.05%

2.92

%

0.06%
The Lead: RNC Day 1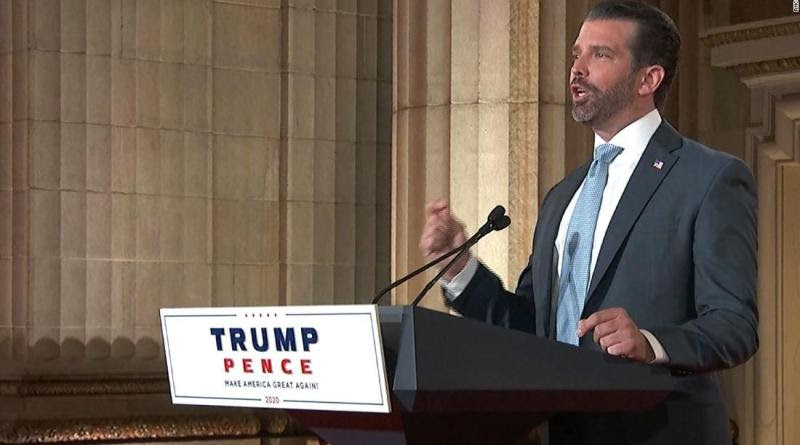 Donald Trump Jr. credit: charhdikala.com
Marxists, Communists, Radical Leftists, Hostiles, Anarchists, Tyranists, Radical Islamic Terrorism, Socialists, Cosmopolitans, and the Loch Ness Monster. These are all the things we should fear if President Trump loses the November election, according to the speakers at the first night of the Republican National Convention.
The virtual convention featured speeches by Donald Trump Jr and his girlfriend and former Fox News Host Kimberly Guilfoyle, former South Carolina Governor Nikki Haley, South Carolina Senator Tim Scott, and the gun-toting heroes/felons (choose your own perspective) who became a meme during the Black Lives Matter protests.
A lot of praise
They praised the President for cutting taxes, building a booming economy, being tough on China, limiting immigration, and doing a great job with the COVID crisis since it came to us "a few short months ago," according to Trump Jr. Maybe these 8 months have seemed like a breezy blip for him. Can't say we can relate.
The President himself appeared in a panel with mask-less frontline workers where he again refers to COVID as the "China virus." He is expected to make appearances every day of the convention this week.
Sponsor: Sane Box
There are a few tools that I use everyday. Sanebox is one of them. If you told me that I couldn't use it anymore I'd start to cry. Seriously I'd curl up and start to cry.
SaneBox helps me take control of my email inbox so that I only see the most important emails. Everything else is filtered into what they call their SaneLater folders which I check once a day. SaneBox is so smart that it knows what I want and what I don't.
It gets smarter over time. If I find an important email in my SaneLater folder I can drag it into my main inbox and I'll always see it from now on.
Perhaps my favorite folder is the SaneBlackHole. You keep getting that Potter Barn catalog and you're just so darn sick of it. No worries. Just drag it into your SaneBlackHole and you'll NEVER see an email from them again.
Don't take my word for it, try it for free right now and you'll thank me later. Just click here to try it out. And get $25 credit towards your subscription.
Race Riots: Meanwhile The Country Still Burns
credit: abc7chicago
"America is not racist," proclaimed Nikki Haley in her RNC speech last night. Meanwhile, racial protests raged against the shooting of 29 year-old unarmed black man named Jacob Blake in Kenosha, Wisconsin.
The protests quickly turned violent and inflamed as fires roared last night in the city after video surfaced of Blake being shot 7 times at close range in the back in front of his three young sons.
Blake is miraculously alive and reported to be in stable condition but his city is not. Protestors met with police in protective gear in a story we have now come to know too well. Emotions are high over this use of violence and demands are being made for answers and changes. Governor Tony Evers has called in 125 members of the National Guard.
News By The Numbers
credit: hypebeast
$288,000. That is how much it will cost to land yourself a sweet new 2003 Ferrari 360 Modena stretch limo that seats 8. This baby is being called the fastest limousine on the market.
92 years. That is how long Exxon Mobile was listed amongst the Dow Jones Industrial Average. That reign has come to an end this week when Exxon was dropped from the Dow and replaced by Salesforce.com
90%. That was the success rate of priority mail being delivered on time in July. That number mysteriously dropped to 80% in August after some changes made by Postmaster General Louis DeJoy, according to internal performance reports submitted to a Senate committee.
Biden's Tax
credit: abc news
Democratic presidential nominee Joe Biden said that if he wins the presidency in November's election, he will raise taxes on Americans who earn more than $400,000 a year. In an Interview with ABC News this weekend, Vice President Biden says so explicitly.
"I will raise taxes for anybody making over $400,000," Biden tells ABC's David Muir. "Let me tell you why I'm going to do it. It's about time they start paying a fair share of the economic responsibility we have. The very wealthy should pay a fair share — corporations should pay a fair share."
Small business
Meanwhile, small businesses and individuals that make less than $400,000 per year will see no change to their taxes, according to Biden's plan.
In addition, Biden's tax plan would change the tax rules around the 401(k) savings plan. Under current rules, 401(k) contributions are not taxed in the year they are contributed, but rather taxed in withdrawal at the owner's current tax rate. Biden instead proposes to "equalize" this system by offering a flat tax credit for each dollar saved so that the tax burden at withdrawal is not unduly burdensome on some and not others. How much that flat tax would be is up for speculation but this could significantly alter the use-value of the 401(k). As it stands, workers are hit with an often-hefty tax bill when they withdraw on the retirement plan they worked so hard to build up. Experts speculate that the flat tax would hover around 26%.
Opportunity Zones Knock
President Trump has signed an executive order that asks federal agencies to move offices into Opportunity Zones in order to spur growth in those distressed areas.
This means government agencies would not be clustered around urban centers but instead in any of the 8,000+ low-income communities that have been designated as Opportunity Zones but the Trump administration. The goal is to bring jobs and resources to these areas but also save the government money by operating in lower-rent buildings with lower overhead.
A report from the White House estimates that the Opportunity Zone initiative has brought over $75 billion in private investment into these communities since its inception two years ago.
Share The Love
Become a friend of Morning Invest by sharing this newsletter with someone you love.
When you do, we don't just give you a pat on the back and say, "Well done old sport." We give you actual rewards that'll make everyone jealous.