TOGETHER WITH
Happy March 1st.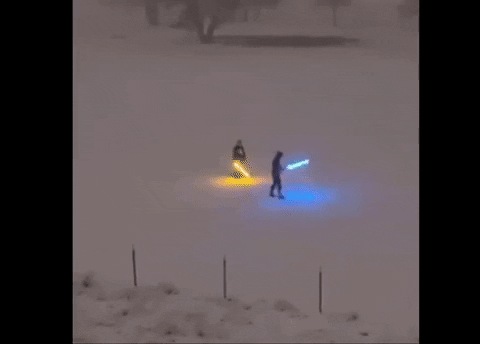 In Case You Missed It. 
This video has gone viral where a woman in Colorado films two strangers lightsaber battling during a snow storm.
An iceberg larger than the island of Manhattan has broken from an ice shelf in Antarctica.
A man in India was killed by a rooster he had outfitted with razor blades for a cockfight when the bird sliced the man's groin trying to escape.
 Protests in Myanmar were the bloodiest they've been since the military coup. At least 18 people died this weekend.
 Low tides in Venice have left boats and gondolas grounded.
Jason Sudeikis won his first Golden Globe for his role as 'Ted Lasso' on Apple TV+. If you haven't watched the hilarious show yet you're missing out.
Iran said "no thank you" to meeting with the United States with the European Union as a facilitator to discuss a nuclear deal and sanctions.
Court hearings began today for 47 pro-democracy advocates who were arrested in Hong Kong. The U.S. has condemned these arrests and hundreds gathered to chant their support for those charged. The government says that these protests are an illegal gathering.
Twitter is facing fines in Russia for not deleting content pertaining to suicide, pornography, and drugs.
Coronavirus Update:
 Total confirmed cases as of 5 a.m. ET Monday: 28,605,652 — Total deaths: 513,091 — Total tests: 349,348,987
Today's Live Show
WOW! Trump Running Again? & GOP Slams Stimulus

Join us on today's live morning show. We'll be analyzing Trump's CPAC speech, the stimulus begins its journey in the Senate, and much more. Click here to RSVP and I'll see you at 9 AM Eastern. 
The Lead: Senate's Turn on Stimulus
credit: wsj
President Biden's Covid relief package is now in the hands of the Senate after it passed the House of Representatives on Friday. It is not coming up as a regular floor vote, which would need 60 votes to pass. It will be proposed through a process called reconciliation, which only needs 51 votes.
The $1.9 trillion bill is expected to get a vote straight down party lines with Democrats voting in favor and Republicans voting against. If that happens, Vice President Harris will be the tie-breaking vote for the bill to pass.
Deadline
There isn't much time now that the calendar has struck March. Current unemployment benefits expire on March 14. The bill on the floor would offer an extra $400 per week in unemployment payments plus a one-time payment of $1,400. This bill still has a federal minimum wage increase but it is expected to be removed after the senate rule checker declared that it cannot be included in a reconciliation process.
You would think that with all of this run-up to the bill, the Senate would be ready to vote straight away but they are not. It could take days or weeks to get to the voting part because Senators have to bicker publicly amongst themselves first and that takes time. 
CONFORMING LOAN

Program

Rate

Change

APR

Change

30 year

2.96%

 0.19%

3.02%

 0.19%

15 year
2.33

%

 0.16%

2.43

%

 

0.16%
You'll Miss Me When I'm Gone
credit: vox
Former President Trump spoke for an hour and a half at the Conservative Political Action Conference (CPAC) on Sunday to a packed room.
"Do you miss me yet?" the former President asked as he began his speech. 
And you know what? We kinda did. Shock and outrage are empowering emotions and we admit we were a little addicted to them. And guess who else missed him? The media. News channels cut away from programming to run the former President's speech full of his greatest hits: 2020 election fraud claims, rhetoric about Mexican immigrants, shots at President Biden's mental state, credit grabbing for the Covid vaccine, and laments over the current administration's foreign policy including starting wars rather than ending them.
Trump said that his fight for the Republican Party is not over. He floated the idea of running for President again in four years and rejected the notion that he would do so under his own political party.
"I am not starting a new party," he said. "That was fake news."
The former President has been largely silent since leaving office and a little busy with legal fights over impeachment and his tax returns. The speech scratched an itch for those who have been missing the former President's voice and there were plenty of those people. The conference sold out tickets that started at $330 per person. 
Sponsor: Get 2 Premium Free Stocks with Webull

March is here and just for our audience, Webull is extending their 2 free stocks promotion valued up to $1,850. Yes, you read that right. Right now you can get two free stocks valued up to $1850 just for opening an account with Webull. 
You'll get the free stocks just for opening a free trading account with Webull and depositing $100 into the account to activate it. Remember you're not spending $100, you're simply depositing that money into your account. Don't forget to make that deposit in order to receive the free money. And right now Webull is giving away some premium stocks like Google and Apple.
Simply click here and start an account. Even if you never do anything else with the account you still get that free money.
With Webull you can invest in thousands of companies using their trading tools and analytics to create your own financial portfolio. And the best part is $0 commissions and no deposit minimums. I remember when I used to pay $6 per trade with some other companies. Not any more thanks to Webull.
Sign up today and get your free stocks. Thanks, Webull.
Making Lemonade Out of Lemons
credit: whnt.com
A 7-year-old girl has become a poster child for outrage against American health insurance because she is selling lemonade to pay for brain surgery.
Doctors discovered that little Liza has three severe malformations in her brain that cause seizures. Her single mother had to buy supplemental health insurance to pay for the extensive care that Liza now needs. But medical bills are not the half of what this family will have to bear. They will have to travel to Boston from their home in Alabama, find childcare for Liza's 3-year-old brother, and take time away from work. Those expenses will add up.
It would seem that the additional insurance her mother bought will cover Liza's surgeries but still, people are asking if the medical system is failing this family. Politicians are using this story to promote Medicare for all.
But would Medicare for all really be the way to go for such a severe medical need? Even in countries that have socialized medicine, many citizens opt for private insurance for access to better care. But premiums for private insurance in other countries do not cost anywhere near the cost of private insurance in the U.S. In most countries, private insurance costs just a small fraction of what it costs in the U.S. 
What would help this little girl is the full deregulation of the medical and insurance industry. The problem is inflated insurance premiums that are used to pay for inflated care costs. But even if those were fixed, Liza's family would still need to foot the bill for travel and living expenses through this major life disruption. Thankfully, her story has touched the hearts of many and an online fundraiser has raised over $240,000 thus far. 
The Healing Power of Mayonaise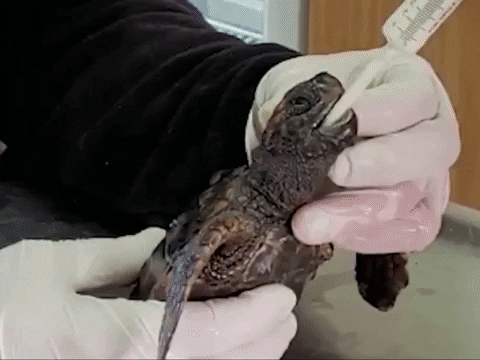 credit: haaretz.com
Israel is trying to clean up a disastrous oil spill and thousands of volunteers are trying to rescue wildlife. Turtles that have been doused in oil are being treated with mayonnaise of all things.
Mayonnaise can dilute and remove the oil from the turtles' digestive tracts. Volunteers have also used vegetable oil to remove the tar-like oil from the turtles' bodies. After two weeks of mayo-med, they are expected to be returned to the wild. Hopefully, they will have some wild to return to by then. 
News By The Numbers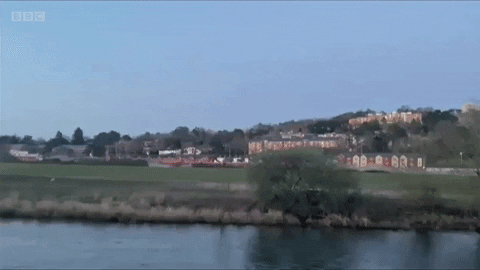 credit: giphy
2,200 pounds. That was the size of a World War II bomb that was detonated this weekend in the UK. The bomb was found on Friday and a nearby university evacuated. Residents within a 1,310 feet radius have not been let back into their homes as police try to secure the cleanup.
646 million. That is how many times the Russell Crowe movie "The Next Three Days" has been viewed on Netflix since it launched.
3. That is how many wheels this electric RV has. It is pretty dinky. In fact, it's built on the body of an electric tuk-tuk and it only goes about 25 miles per hour. It's not exactly for big family trips but maybe smaller couples camping trips? 
Pajama Suit
credit: whatever, inc.
The latest in Covid fashion: the Pajama Suit. It looks professional enough for a Zoom call but it is made of PJ fabric. Fooled ya!
A variation of this fashion, if you can even call it that, are the WFH Jammies. The maker calls it "business on top, loungewear on the bottom." The top is presentable for a virtual meeting but if your coworkers could scroll down, they'd see that you were in PJ pants. Fooled ya again! 
Share The Love
Become a friend of Morning Invest by sharing this newsletter with someone you love.
When you do, we don't just give you a pat on the back and say, "Well done old sport." We give you actual rewards that'll make everyone jealous.