TOGETHER WITH
Happy Tuesday. It's National Pancake Day which is the traditional feast before the start of Lent on Ash Wednesday. IHOP is giving away free buttermilk pancakes today so eat up!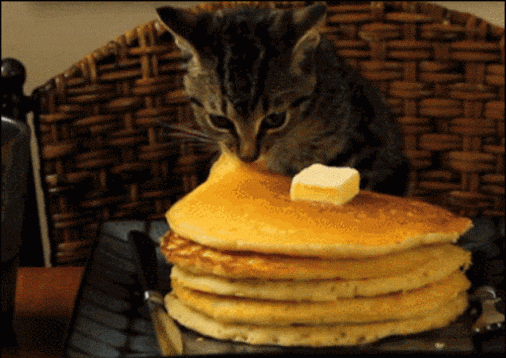 credit: giphy
Busted! A wanted man in Oregon was found hiding on a roof by a police drone after a K-9 unit detected his pretense in the area.
Wyoming has appointed its first Black sheriff.
Millions of people in Texas are without power from a record storm.
Production for Colin Kaepernick's upcoming Netflix series about racial justice has been threatened by the Proud Boys. Netflix boosted security as a result. 
 Battles are raging on TikTok over what is no longer cool. The kids are saying the emoji is lame now because moms use it.
Coronavirus Update: 
Total confirmed cases as of 5:00 a.m. ET Tuesday: 27,692,967 — Total deaths: 486,321
CONFORMING LOAN

Program

Rate

Change

APR

Change

30 year
2.68

%

 

0.03%

 

2.73%

 

0.03%

15 year
2.15

%

 0.02%

 2.24

%

 0.02%
Not Over Until The Speaker Sings
credit: getty
After former President Trump was acquitted of impeachment charges related to the Capitol riots, House Speaker Nancy Pelosi signaled that this isn't over. On Monday, she announced plans to establish an outside and independent commission to investigate "the facts and causes" related to the insurgence, modeled after the commission that was tasked with investigating the September 11 terrorists attacks. 
Retired Lieutenant General Russel Honoré has already been reviewing the riots and providing assessments to the Speaker. Now she wants an appropriation committee that will receive this intel.
Her letter implies that this will help fortify Capitol security but undoubtedly it will also be used to bring additional accountability and perhaps charges to those deemed responsible. Former President Trump and his family is likely to be dragged back into this. There will be congressional hearings and lots of reports. There will be partisan battles. This is going to be long and costly so buckle up.
What do you think? Is this a necessary step or a waste of time? We'd love to know your thoughts! Leave us a comment in our chat stream for today's live show right here. 
Sponsor: Atomic Social
Right now is the BEST time to take your business to the next level with Atomic Social.
If you have a business, Atomic Social can not only help you design a new website, but they can also help by putting you directly in front of your prospects with their Organic SEO techniques.
Atomic Social has a custom-tailored SEO solution that will rank you at the TOP of the search engines like Google and Yahoo! 
I have personally seen Atomic Social's Portfolio and Case Studies first hand. You should ask them about their previous work! 
You can call them directly right now at 480-608-1690 or click here to schedule a call and get started.
Atomic Social is giving away a FREE Month of SEO along with a Free Consultation! They offer 4 and 12-month packages for which they will create a custom targeted goal to get you on the top and first page of any search engine!
Click on this calendar link right now to book your Free 20-minute Consultation.
Rocket Attack In Iraq
credit: reuters
The U.S. military suffered a rocket attack on Monday in northern Iraq. A civilian contractor and a U.S. service member were both killed.
The attack came from a group connected with Iran. Recall Iran has been threatening military action since the Trump administration launched a drone strike that targeted and killed Iranian major general Qasem Soleimani last year.
The Biden administration is trying to forge a return to the Iran nuclear deal but the relationship between the U.S. and the Middle East is precarious. Western allies want the deal to include Saudi Arabia and Iran wants the deal to include the removal of sanctions.  
Oh, la vache!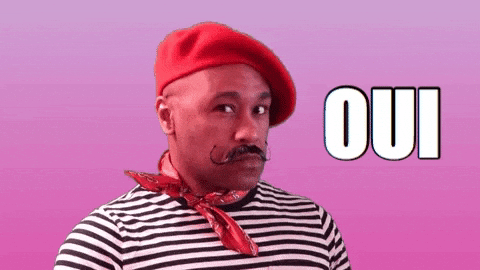 credit: giphy
In France, it is illegal to eat your lunch at your desk. That was until Monday. The French government passed a decree that allows workers to eat at their desks because it makes social distancing easier in the workplace.
This rule only applies to businesses with more than 50 employees and it is said to be temporary. After all, eating at one's desk may be good for Covid restrictions, but it is still a faux pas.  
News By The Numbers
3D printed steak credit: Redefine Meat Ltd.
$29 million. That is how much startup Redefine Meat raised in funding to build a large factory to make meat-alternative products. The Israeli company has its sights set on a 3D printed faux meat sirloin steak. That sounds gnarly.
62%. That is how many Americans say that a third major political party is needed because Republicans and Democrats both "do a poor job representing the American people." This is according to a new Gallup poll.
$2.5 million. That is how much one GOP donor gave to the Trump campaign to investigate voter fraud in order to overturn the 2020 election. Now that he knows where that money was spent, he is asking for it back.
60. That is how many people have been confirmed dead in an awful boat accident on the Congo River last weekend. More than 700 people were on board and so far only 300 survivors have been recovered so this death toll will undoubtedly rise. 
Noodle On This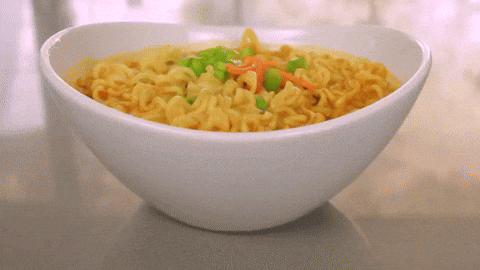 credit: giphy
Noodle exports from South Korea are at an all-time high due to the pandemic. The United States imported $603.6 million worth of instant noodles. That is a 29.3% increase, year over year.
Part of the boom has been attributed to the Oscar-winning film "Parasite" where the characters eat ramyeon, a type of instant noodles.
We can confirm that we have consumed more instant noodles in our house during the pandemic than ever before but not necessarily of the South Korean variety. We are noodle agnostic around here. We celebrate all noodles equally. 
Technology: Wind Ships
credit: theengineer.com
The shipping industry is working to replace fuel-guzzling cargo ships with wind-powered ones. These are not like the cloth sail vessels used by the Portuguese to pioneer globalization. They are modern hybrids with wings, kites, and sails.
For instance, a French architect created a 121-meter long roll-on/roll-off (RORO) vessel that has four Oceanwings, or fully automated wing-sales. The plan is to use it to transport components of the Ariadne 6 rocket from Europe to Guiana.
A company in the Netherlands is working on a suction wing system that can control the speed of a vessel. It is said to be just as fast as fuel-powered ships.
Another French company called Seawing is working on a technology that uses a giant kite that would help propel ships forward and reduce fuel consumption by 20%. 
The most futuristic design, however, is the Norwegian Vidskip. The entire hull of the ship is a gigantic wing.
These designs are still in their infancy but support is growing. The International Windship Association (IWSA) now has over 100 members since its inception in 2014. 
Today's Live Show
Join us every day at 9 AM EST for our live show. Today we're looking at the potential for a third party, a timeline on getting those $1,400 stimulus checks, and whether President Biden has any interest in bringing the troops home. You can RSVP right here to join us live. 
Share The Love
Become a friend of Morning Invest by sharing this newsletter with someone you love.
When you do give you actual rewards that'll make everyone jealous.