| TOGETHER WITH | |
| --- | --- |
Happy Tuesday.

In Case You Missed It. 
Reese's launched an all-peanut butter Peanut Butter Cup on Monday in honor of National Peanut Butter Lover's Day. It will be available in April for a limited time only.
The U.S. is expected to announce sanctions on Russia over the imprisonment of Alexei Navalny.
An endangered orangutan gave birth to her baby early at a zoo in New Orleans.
Volvo says that it will make only electric cars by 2030.
Amazon changed its app icon after users said that the old one looked like a Hitler mustache.
John Mayer joined TikTok and was berated by Taylor Swift fans for breaking her heart in 2010.
Coronavirus Update:
 Total confirmed cases as of 7:45 p.m. ET Monday: 28,657,233 — Total deaths: 514,302 — Total tests: 350,715,366
The single-dose Johnson & Johnson Covid vaccine began shipping on Monday.
A strip club has sued the city of Baltimore for closing down "indoor recreation establishments" during the pandemic. They claim that the ban infringes on their right to free speech.
Canada is advising against using the AstraZeneca vaccine for patients 65 and older.
Global Covid infections are up for the first time in seven weeks, according to the World Health Organization.
A school in Arkansas went back to in-person learning only to have a school shooting on the first day back. A student was wounded but not killed thankfully.
Today's Live Show
BIG Stimulus Update: Dems Cave on Minimum Wage, Are They Caving on UI Benefits Too?

Join us on today's live morning show. Bernie Sanders is not happy about Dems ditching the $15 minimum wage increase, are Dems about to lower the UI benefit too? Click here to RSVP and I'll see you at 9 AM Eastern.
CONFORMING LOAN

Program

Rate

Change

APR

Change

30 year

2.98%

 0.05%

3.04%

 0.05%

15 year
2.25

%

 0.03%

2.35%

 0.05%
Lead: Dems Ditch Minimum Wage Increase
credit: ap
Democrats ditched their minimum wage hike efforts in order to advance the Covid-relief package. President Biden's $1.9 trillion bill included a federal minimum wage of $15 per hour but Republicans stood firmly against it so this piece has been removed and the bill advanced towards a vote in the Senate.
That's not to say that Republicans are now on board with the bill. They aren't. Democrats are still planning to use a reconciliation process to pass the bill.
Progressive Democrats like Bernie Sanders have not given up on a wage hike but their support in the party for alternative means is waning. The President is not an ally for these efforts. House Speaker Nancy Pelosi says that she is willing to bring up a stand-alone bill for a minimum wage hike after the Covid package passes but that would need 60 Republican votes to pass the Senate and that seems very unlikely indeed.
Shhhh, Don't Tell The My Pillow Guy
credit: getty
The New York Times is reporting that former President Trump and former First Lady Melania Trump received the Covid vaccine while they were still in office back in January but told no one.
Why??? Most public figures are making a huge deal about getting the vaccine. Even the Queen shared her vaccine experience telling people that it doesn't hurt. Why would a sitting President, whose health is a matter of national security, keep this on the down-low?
The former President took credit for the vaccine during his speech this weekend at CPAC so he obviously is proud of it. Why wouldn't he tell us all about partaking?
A recent poll finds that white Republicans are the group least likely to take the vaccine. Perhaps the former President did not want to upset this base by leading the way.
Meanwhile
The 'My Pillow' CEO Mike Lindell had his microphone cut during CPAC coverage when he started an anti-vaccine rant.
Sponsor: Outlet Finance
I know it says 6% but we just got word that Outlet is raising their interest rate to 9%! Yes 9%. They haven't even had time to update their website yet. Outlet is a savings account alternative backed by cryptocurrency and it's the only savings account I use.
With the government printing money like it's going out of style and the U.S. dollar dropping every day, what if you could get a 9% interest return on the money in your savings account? You'd probably just laugh and say that's not possible. Enter our friends over at Outlet. They have an amazing savings account alternative with a 9% interest rate right now! Outlet is unique because your savings are backed by cryptocurrency which trades at a much higher rate than anything you'd get in a local bank.
And the best part is you'll get free money in your account if you sign up for free right here with our special link. You can open an account with any amount of money you want. I started mine for only $100.
To take advantage of this amazing interest rate and get free money deposited in your account, sign up here for Outlet.
These Walls Are A Real Pick Me Up
credit: woodpecker
A company in Colombia has found a way to build houses from coffee husks.
When combined with recycled plastic, the coffee husks create a durable, cheap, and eco-friendly building material. The husks are otherwise not used and typically end up in landfills.
The company that makes them, Woodpecker, sells them for as little as $4,500 each and has already sold 2,600. The Colombian government has asked the company to help rebuild communities harmed by Hurricane Iota last year.
News By The Numbers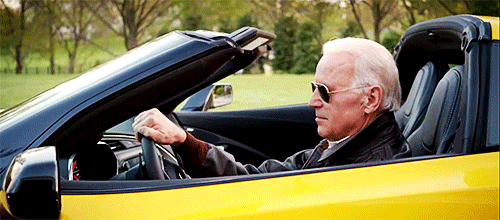 credit: giphy
61%. That is the approval rating for President Biden, according to a Harvard CAPS/Harris poll. This is compared to 48% for President Trump at the same point in his presidency in February 2017.
$272,000. That is how much a couple in Hawaii is being fined for ditching two divers in open water last summer.
279. That is how many Nigerian schoolgirls were kidnapped on Friday from their school. The government says that they have been rescued and returned home safely.
£42,000. That is how much two tickets to the World Cup in Qatar cost. The tournament doesn't start until November 2022 and this will be the first time it will be played in the Middle East.
Biden Backs Amazon Union Push
credit: giphy
President Biden is supporting a workers union in Alabama that would apply to an Amazon fulfillment center.
"Unions lift up workers… and especially black and brown workers," the President said in a 2-minute video.
Workers unions are unpopular in the Republican South and Amazon representatives have said that most workers at the Alabama plant do not support this union drive. A vote by the 5,800 employees at the plant this month will show if that is true or not.
Progressives applaud the President's endorsement. Bernie Sanders says that an Amazon union in Alabama would be "a shot heard around the world. If they can negotiate higher wages & better working conditions in the South, it'll benefit every worker in America."
Au Revoir!
credit: cnn
Can you sentence a former President for a crime? You can if you're France. Former French President Nicolas Sarkozy was sentenced to three years in prison for corruption on Monday.
Sarkozy was tried for trying to obtain information about an investigation into his campaign finances between the years of 2007 and 2012 using wiretaps while he was President. This all but dashes his hopes of running again in 2022.
The former President will not have to serve his prison sentence in a facility but will instead wear an electronic bracelet in his home.
Share The Love
Become a friend of Morning Invest by sharing this newsletter with someone you love.
When you do, we don't just give you a pat on the back and say, "Well done old sport." We give you actual rewards that'll make everyone jealous.