| TOGETHER WITH | |
| --- | --- |
Happy Thursday. We broke a new record yesterday with over 11,000 people joining us LIVE during our morning show. Grover and I thank you. Thank you for subscribing and tuning it. We'll see you today at 9AM EST right here.
In Case You Missed It. Joe Biden was asked if he'd taken a cognitive test recently to see if he's mentally fit to become President. He fired back at the interviewer saying:
"Why the hell would I take a test? Come on man, that's like saying before you got on this program, did you take a test where you're taking cocaine or not, what do you think, huh? Are you a junkie?"
I'm not sure it's the same thing, but we'll let you decide.
Coronavirus Update: Total confirmed cases as of 3:30 a.m. ET: 4,823,891 — Total deaths: 158,256 — Total recoveries: 1,577,851
Coronavirus infections are falling or holding steady in most of the country, including the hard-hit hotspots of Arizona, California, and Florida.
In Today's Newsletter:
Stimulus package takes shape
US Dollar's big decline
Credit card defaults pile up
CONFIRMING LOAN

Program

Rate

Change

APR

Change

30 year
3.11

%

0.04%

3.18

%

0.04%

15 year
2.73

%

0.02%

2.87

%

0.02%
The Lead: Stimulus Package Moves… Somewhere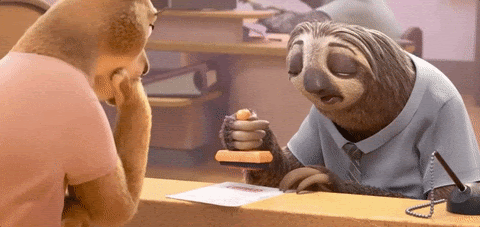 credit: giphy
We are all impatient for another stimulus agreement but guess who is really losing patience? President Trump.
The President gave congress until the end of the week to reach an agreement before he flexes his executive powers and orders a stimulus himself. High on his wish list is the suspension of payroll taxes. His own party has been divided on this but he has remained steadfast that he thinks this will help struggling businesses.
His action could also include an extension on protections against evictions and more unemployment benefits, which expired in July. The President has his team looking into the legality of taking executive action in times of extreme duress.
Meanwhile
The president is also pushing Congress to do this the traditional way. He wants a deal by the end of this week just like the rest of us. Sources say that this *maybe, perhaps, kind of, almost* could happen? Some say that congress may also take another week to duke it out and we could see a deal next week. Or none of this could happen and we get no deal whatsoever. So yeah, we know nothing from these tea leaves but we are reading them anyway!
Sponsor: Get Free Money with Webull
Now more than ever we could use some free money. That's what you get just for opening a free trading account with Webull. Simply click here and start an account and you'll receive two free stocks valued up to $1,400. Even if you never do anything else with the account you still get that free money.
With Webull you can invest in thousands of companies using their trading tools and analytics to create your own financial portfolio. And the best part is $0 commissions and no deposit minimums. I remember when I used to pay $6 per trade with some other companies. Not any more thanks to Webull.
Sign up today and get your free stocks. Thanks, Webull.
U.S. Jobs: More Layoffs Coming
credit: business insider
More than half of businesses that secured Paycheck Protection loans have used those funds up and may need to lay off employees after all. Recall that these loans were meant to be used on payroll so that businesses could avoid layoffs during the pandemic. But that money was rolled out in early spring and that feels like a lifetime ago in pandemic time.
The loan was originally designed to cover employers' payroll costs for up to two months but was later extended to 6 months. Most businesses only secured two months of payroll costs though due to early rules so they are coming to the end of that time period and there is, as my mom used to say, too much month at the end of the money. There are talks of a second round of PPP loans, which could save many jobs, but without that certainty, more layoffs will be a certainty.
News By The Numbers
Zero. That's how much you'll pay for donuts at Krispy Kreme next week. Krispy Kreme is trying to ease the anxiety of back to school time with free donuts and coffee for any school employee with a school ID. This is a lovely gesture, although we might want to point out that coffee is not good for anxiety and sugar lowers your immunity. But, it is the thought that counts!
3.6%. That's proportioned decrease of daily COVID-19 testing over the past two weeks. Coronavirus testing has fallen in 22 states even though the U.S. is still seeing more than 1,000 deaths each day.
4. That's how many people in the U.S. have died from drinking hand sanitizer. That prompted the federal government to issue a warning telling people to stop drinking hand sanitizer. Note to self.
Dollars Takes a Dive
credit: business insider
The US Dollar had a little bounce back this week but analysts are not expecting a full rebound.
Keep in mind that international markets are always volatile in an election year. The pandemic and closing of international borders from American travelers have put these uncertainties on steroids.
July was not the worst month in a decade for the US Dollar. Analysts measure the US movement against other developed countries and the dollar has done comparatively terrible.
Other factors that don't look good are the liquidity of assets such as government bonds and the "near-freeze-up of the US Treasury market at the height of the Covid-19 crisis," says Steven Barrow, head of G-10 strategy at Standard Bank. He says that this year has marked a "bit of a wobble."
Sadly, we're not talking about the fun kind of wobble like the dance you do at weddings and on cruise ships.
That Banana Costs How Much?
credit: JASON SZENES/EPA-EFE/Shutterstock
We probably don't have to tell you that the cost of groceries is rising. If you wondered why your grocery bill has seemed so expensive, you're on to something. The cost of groceries has been rising at the fastest pace in decades since the pandemic began.
The supply chain of food has experienced unprecedented disruption such as meat factories and the mass closures due to infected workers. Financial experts have also been worried about international imports which are clearly slower than normal and more expensive than ever. This leaves most of us to wonder if we will experience depression-era empty shelves and have to make uncomfortable choices about our usual grocery lists.
Of course for some, this will be an inconvenience such as an inability to buy strawberries from Mexico in the dead of winter. Is this good for the planet? No, but it keeps our children quiet in the morning so we've done it. And if the prices continue to rise, and the strawberries are unavailable, we won't do it again.
But other families simply won't be able to pay for staples and have to make harder choices. Some are wondering how they'll buy groceries at all without another stimulus payment.
We are fighting back anxiety that we should have listened to those doomsday preppers after all!
Old Gold
credit: giphy
Is gold for geezers? Research from JPMorgan shows that older investors are more likely to buy up gold for wealth preservation while millennials lean towards bitcoin.
Veteran investor Warren Buffett is famous for saying, "Never invest in a business you cannot understand." Perhaps this explains this generational divide? That older investors don't understand the digital currency? Maybe this is an ageist thing to say? We want to tread lightly here.
So which generation is winning? That is not clear. Exchange-traded funds for both currencies have done relatively well during the pandemic.
Share The Love
Become a friend of Morning Invest by sharing this newsletter with someone you love.
When you do, we don't just give you a pat on the back and say, "Well done old sport." We give you actual rewards that'll make everyone jealous.