| TOGETHER WITH | |
| --- | --- |
In Case You Missed It
credit: ap
President Biden says that he is ending U.S. support for the war in
 Yemen.
CNN's Jeff Zucker says he will leave the network by the end of 2021.
Former President Trump's lawyers have rejected a request that he testify under oath in his impeachment trial, which is set to begin on Monday.
Former President Trump has also published a letter resigning from actor's unions. He is facing disciplinary hearings from those unions for his role in the Capital riots.
This fun website shows you where in the world it is snowing.
The Supreme Court denied Holocaust victims the right to seek compensation for lost assets in U.S. courts.
 Coronavirus Update: Total confirmed U.S. cases as of 6 p.m. ET Thursday: 26,654,872 — Total deaths: 455,211 — Total tests: 313,620,645
CONFORMING LOAN

Program

Rate

Change

APR

Change

30 year

2.66%

 0.03%

2.71%

0.03%

15 year
2.37

%

0.15%

2.52

%

0.21%
Lead Story: Romney To The Rescue
credit: washington post
Senator Mitt Romney introduced the Family Security Act on Thursday. It would give parents up to $350 in guaranteed income per month per child. This is not a tax credit. It is a regular payment to help parents support their children, based on income level.
Progressive Playbook
This is a very progressive policy from Republican Mitt Romney, former GOP Presidential candidate. It would replace the child tax credit of $2,000 per child and instead pay qualifying parents $350 per month per child 5 years old and under, and $250 per year for children between the ages of 6 and 17. Parents with multiple children could get up to $1,250 per month, which is $15,000 per year.
High income parents would not receive the monthly income but would be able to claim this same value as a tax credit.
Will this pass?
Hard to say. Romney does have more bi-partisan pull than most politicians these days and the Biden administration may hop on to this, with a few tweaks. 
Meanwhile, Democrats introduced the PRO Act on Thursday, aimed at boosting employee benefits and enacting stricter safety rules in the workplace. Republicans oppose this, saying that it will put undue burden on struggling businesses, meaning it is unlikely to pass the Senate.
The PRO Act would enforce fines on companies that violate workers' rights, give employees more rights to strike, and disincentivize the use of independent contractors because it would give them the same rights as employees. It is a very pro-union bill, which is very much in line with our pro-union President but still needs anti-union GOP support, which is a steep hill to climb. 
Sponsor: HelloFresh

Want to save 40% on your grocery bill? Want delicious ingredients shipped right to your door? Want to prepare amazing meals in under 30 minutes? Want to get 10 free meals for trying it out? Then you're in luck. You'll get free food with that link.
Introducing HelloFresh. Get fresh, pre-measured ingredients and mouthwatering seasonal recipes delivered right to your door, America's #1 meal kit. HelloFresh lets you skip those trips to the grocery store, and makes home cooking easy, fun, AND affordable.
The recipes are easy to follow and quick to make, with simple steps and pictures to guide you along the way. You'll save 40% off your grocery bill by using HelloFresh. The packing is all made from recyclable materials. They have multiple meal options for small and large families ranging from vegan to meat and everything in between. 
Even if you don't like it you just got 10 meals of free food delivered to your door because of Morning Invest. You'll have to use this link to get it. Use the code Invest10 to get those free 10 meals. 
Mind Your Greene's and Q's
credit: getty
Georgia Representative Marjorie Taylor Greene was removed from her committees on Thursday by vote of her fellow House of Representatives. This has never happened before.
Greene took to the House floor to defend herself prior to the vote. She disavowed QAnon and admitted that school shootings are real and admitted that she was a victim of a gun lockdown when she was in high school. She said that the conspiracy theories she had been accused of spreading were based on her Internet research prior to her candidacy when she was seeking out more information in the disinformation age. They are not her current viewpoints nor a part of her political platform, she says.
Still, the House voted to remove her from political committees with 11 Republicans voting with Democrats. She will still represent her district but she will not be allowed on House committees.
Double Standard?
Interesting that we suddenly have the appetite to punish people for interest in conspiracy theories, especially when it's a woman. No power was revoked from President Trump for the same or worse. The voters revoked his power, not lawmakers. Greene's online behavior, while disturbing, was known when Georgia voters elected her. It sets a dangerous precedent to give lawmakers the power to decide against voters and it should give us all pause before we jump on the bandwagon of celebratory media for this. 
Today's Live Show
Join us during our live show this morning at 9AM EST as we unpack Mitt Romney's new $15,000 child plan. We will also examine the latest stimulus moves and $50,000 student loan forgiveness moving through Washington. Please click here and RSVP for our live show this morning at 9 AM EST.  
News By The Numbers
credit: la police foundation
60 years. That is how long ago a man from Southern California stole a pair of handcuffs from an LAPD officer. The handcuffs in question slid across the floor at a fast food restaurant during a scuffle and the man pocketed them as a souvenir. He told the story to his grandsons recently and the guilt ate away at him. He sent them back to the police department with a letter of apology and a $100 donation to the force.
4,000 miles. That is the length of Google's cable that runs under the sea between Virginia Beach, Virginia and Saint-Hilaire-de-Riez, France. Google says the cable is now operational and can transit data at a rate of 250 terabytes per second.
$2.7 billion. That is how much voting machine company Smartmatic is seeking in damages in a lawsuit filed against Fox News. The company claims that the network aired defamatory segments about Smartmatic's role in the November election.
4%. That is how much car insurance rates fell on average in 2020 as carriers adjusted rates because people were not driving much during the pandemic.
1. That is how many people were allowed to attend the Göteborg Film Festival this year. The Scandinavian festival usually has thousands of attendees but due to Covid, organizers scheduled the event virtually. They allowed fans to apply to be the only in-person attendee. Over 12,000 people entered. 
The Persecution of Navalny
credit: Reuters
Russian President Vladimir Putin's public enemy number one was already sentenced to two and a half years in jail. Now he is facing new charges of slander in Russian courts.
Alexei Navalny was back in court today where the government alleges that he slandered a World War II veteran in a political ad when he opposed extension of President Putin's office term limits. He called the veterans traitors and corrupt.
At the time, that was not a punishable thing to do. The law has since been changed and Navalny's lawyer says that he cannot be sentenced because of this timeline.
But of course, what Navalny's lawyers say fall on deaf ears to the Russian court. It is fairly transparent that he is being punished and silenced for opposing Putin's regime.
Global leaders have all called for his release and this is putting further tentions between Russia and the EU and the U.S. If we weren't already in a new Cold War, we sure are now. 
Putting On A Few Pounds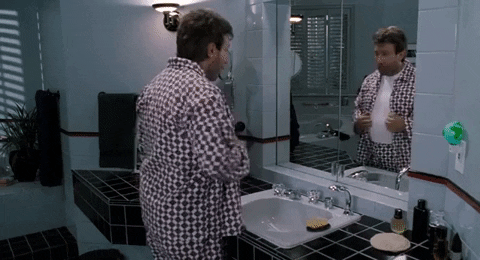 credit: giphy
Could gaining weight in middle age help you live longer? One new study suggests that might just be the case. It is not a medical study though. It is a sociology study so let's take it with a grain of salt.
Sociologists at Ohio State University found that people who entered adulthood at a normal weight but gradually became overweight as they aged lived longer than people who maintained a healthy BMI their entire lives.
On the other hand, people who had weight problems going into adulthood did not fare so well. Again, this is a study of probability. Correlation. Interesting but not necessarily words to live by. 
Alexa, Why Are You a Tattle-Tale?
credit: getty
The government would love to listen in on your conversations with Alexa. In fact, Amazon fielded over 27,000 requests from governments around the world for data from the Echo, Fire, and Ring.
This is not just the U.S. government. In fact, Germany sent 42% of these requests, followed by Spain with 18%, and the U.S. and Italy tied for last place at 11%.  
Amazon says that represents 800% more requests than it usually gets from governments in just the last half of 2020 alone. Of these 27,664 requests, Amazon says that it complied and handed over the data in just 52 cases. The fact that this CAN be done is not new but still terrifying.
Local police departments are also using Ring doorbell systems to ask people for footage from their video-enabled doorbells to assist in their investigations. This *seems* to be voluntary. 
Share The Love
Become a friend of Morning Invest by sharing this newsletter with someone you love.
When you do we give you actual rewards that'll make everyone jealous like our new Grover mug. Get your unique sharing link below that way we can make sure you get credit for each and every friend that signs up.