| TOGETHER WITH | |
| --- | --- |
Good Wednesday. At Morning Invest we're thinking of you waking up and reading this newsletter and we hope you are safe. Through this crazy time we promise to be your morning companion, helping to make sense of investing during this time.
In Case You Missed It. Movie studios are rolling out their movies direct to rent since all the theaters are closed. If you have an Apple TV, Roku, or Amazon Fire Stick you'll notice brand new movies for rent for $19.99. That's less than taking the family to the theater and buying a big bucket of popcorn.
Coronavirus Update. Total confirmed cases as of 5 a.m. ET: 424,048 — Total deaths: 18,947 — Total recoveries: 109,145.
In Today's Newsletter:
Congress gets its act together
New home sales decline.
Video home tours soar.
CONFIRMING LOAN

Program

Rate

Change

APR

Change

30 year

3.60%

0.71%

3.68%

0.73%
15 year

3.25%

0.33%

3.44%

0.34%
The Lead: Congress Passes $2 Trillion Package
credit: new york times
The Senate and White House have approved a $2 trillion stimulus plan for the coronavirus pandemic. Details have not been released yet because the agreement came at 1 in the morning today.
Senate Leader Mitch McConnell called this "a wartime level of investment into our nation."
This comes after days of fighting over who should receive the most benefits. Republicans' first proposal had the majority of funds going to struggling businesses. At the same time, Democrats wanted funds to go straight to families in a real chicken-or-egg argument of economic causality. It appears the deal will do both.
The rescue package includes direct checks mailed to American families who need it the most of up to $3,400 per family on a sliding scale by annual income. It also includes a $367 billion program for small businesses and substantial financial help for hospitals that will inevitably struggle to accommodate increasing numbers of virus sufferers.
Also notable is that the deal excludes President Trump, his family, and other top government officials and members of Congress explicitly from drawing on this relief package.
The bill goes next to the House of Representatives for a final vote, which could be a problem since several members are now out of commission, having tested positive for the virus. House Speaker Nancy Pelosi suggested that she would try to pass the bill without bringing the full House back to Washington. She is calling for the law to receive unanimous consent as the clock is ticking.
Sponsor: Get Two Free Stocks with Webull
We all like free money and that's why Webull is upping their game. Webull wants to give you TWO free stocks just for signing up right here. Even if you never plan on doing anything with that account you still get the free stocks.
Webull makes it incredibly easy to buy and sell stocks right from your smartphone. You can monitor your accounts and set up alerts so you're always on top of your game.
Try it today by signing up here for two free stocks and a free Webull account to start making money.
News By The Numbers
1933. The stock market saw its best day since 1933 thanks to the passage of the $2 trillion stimulus package. The Dow burst 11.4% higher, while the more closely followed S&P 500 index leaped 9.4%.
1 to 59,000. According to new data one person with coronavirus could infect 59,000 people. The virus is three times more contagious than the flu. As if we needed another reason to stay home.
71. That's the age of Prince Charles who just contracted coronavirus. The Prince of Wales is in self isolation and displaying mild symptoms but otherwise remains in good health.
Homebuilders continue to build
credit: getty
When you think of essential businesses during a crisis, you think of hospitals, pharmacies, and grocery stores. Add homebuilders to that list.
Why?
America is facing an affordable housing crisis. State and local governments are keeping their building departments open so builders can get permits approved.
Construction and sales of new homes in North Carolina's Raleigh area have continued unhindered amid the coronavirus pandemic. The same is true across Texas, where builders are trying to keep up with demand. Buyers are taking advantage of record-low interest rates to pick up single-family homes.
Home Sales Slow
credit: giphy
Sales of new homes slid 4.4% in February to the second-highest level in 12 years, dropping from January's record high.
According to a government report released Tuesday homebuilders sold 765,000 in February. Prices are up too. The median sales price of new homes was $345,900, a gain of 7.8% from a year earlier.
"Inventories of new homes remain exceptionally lean, particularly for completed homes," the report said. "Persistently low inventories, particularly of completed homes, are one reason we believe any downturn in the homebuilding industry will be relatively short."
Supply still constrained
The supply of new homes for sale by the end of February was 319,000, seasonally adjusted, representing a supply of 5 months at the current sales rate. That's an improvement from January's three-year low of 4.8 months.
Virtual Reality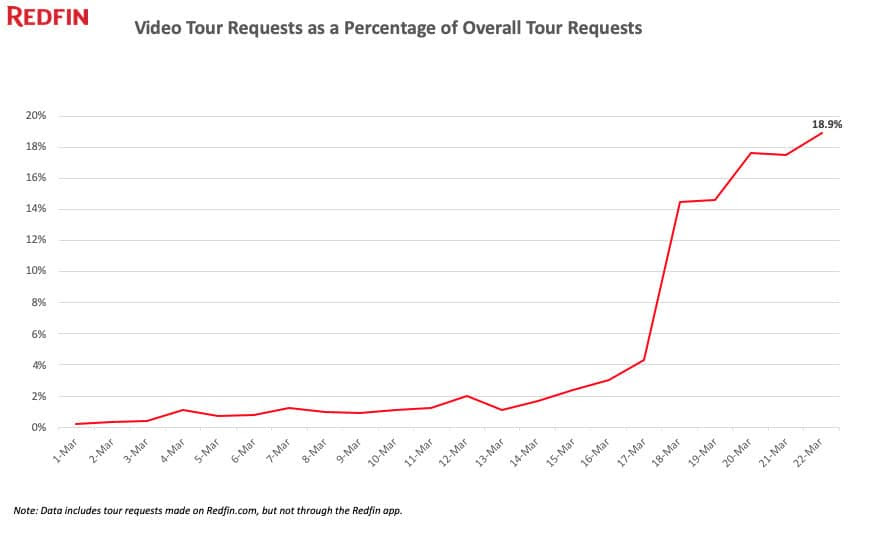 credit: redfin
Homebuilders and realtors see a massive spike in virtual tour requests. These are the kind where you can sit in your pajamas and do a video walkthrough of a property.
Redfin saw a 494% increase in requests for video home tours last week. Just look at that chart. That's on top of an 80% increase the prior week if you're keeping track that's a 94-fold increase.
Future comes early
It was only a matter of time before virtual tours became the new normal. Redfin expects to host nearly half a million of these virtual open houses this month.
"The future of real estate has come earlier than any of us could have anticipated," said Redfin CEO Glenn Kelman. "The way things are during the pandemic won't last forever, but at the end of all this, things won't go back to the way they were either. We hope we're well prepared."
Share The Love
Become a friend of Morning Invest by sharing this newsletter with someone you love.
On 3 referrals, you automatically get subscribed to our exclusive Sunday Newsletter. When you reach 5 referrals, we'll send you this Morning Invest stickers.