| TOGETHER WITH | |
| --- | --- |
Happy Tuesday! We wish you as good of a day as this little doggie named Odin who recently had his third birthday party.
credit: joyce cetina
In Case You Missed It.
Someone hired a mariachi band to play music outside Senator Ted Cruz's home.
If you're in the mood for a nightmare, watch this hungry bear drag an injured moose off the road for dinner.
Canada has voted to recognize China's treatment of the Uighurs as genocide. The U.S. made the same distinction at the end of the Trump administration but the UK voted not to do this earlier this month.
An Oregon man set the record for highest blood alcohol level when he was arrested with a 0.77, beating the record of 0.72, which was also held by a person from Oregon. Anything over 0.08 is illegal so he was almost 10 times over it!
More rockets were fired near the U.S. Embassy in Baghdad on Monday. Last week at least a dozen rockets targeted the U.S. and two people died.
Coronavirus Update:
Total confirmed cases as of 8:30 p.m. ET Monday: 28,185,469 — Total deaths: 500,176 — Total tests: 341,874,832
CONFORMING LOAN

Program

Rate

Change

APR

Change

30 year
2.83

%

0.06%

2.89%

0.06%

15 year
2.21

%

0.04%

2.31

%

0.04%
The Lead: OMG at the OMB
Neera Tanden credit: getty
President Biden may have to go back to the applicant pool for his choice for head of the Office of Management and Budget. This would be a win for progressives who were never a fan of nominee Neera Tanden.
Two Republican Senators, Susan Collins and Mitt Romney, both say that they will vote against Tanden's confirmation because she is too divisive. Senator Joe Manchineel of West Virginia, a Democrat, is also planning to vote against her.
In order to pass confirmation, she would need all Democratic senators, which she won't have, plus at least one Republican senator, which it also looks like she won't have. Romney and Collins were her best hope.
Her past isn't prologue
Tanden has criticized both Progressives and Republicans on Twitter and in public statements. She called Mitch McConnell "Voldemort," called Tom Cotton a fraud, maligned Bernie Sanders for writing a book, and said that vampires have more heart than Ted Cruz, which is absolutely her right to do but bodes poorly on a person who needs to work with both sides. Then again, a lot of Senators Tweet mean things and they get to keep their jobs so this does stink a little of gender bias. Tanden deleted over 1,000 Tweets in the last few days, but, you know, that doesn't make them not exist.
Sponsor: LightStream
How much money are you paying in interest on your credit cards every month? Too much? Then why not consolidate your credit cards into just one payment at a lower, fixed-rate and start saving money?
It's easy with a Credit Card Consolidation Loan from LightStream. They have an unbelievably low interest rate starting at just 5.95% APR with an autopay feature. Think about that for a second! Most credit card interest rates are well over 18% APR.
You can get a loan from $5,000 up to $100,000 with absolutely NO fees. They'll even give you money as soon as the day you apply.
Just for Morning Invest readers if you apply now you'll get a special interest rate discount and save even more! Click here to get started.
9 Justices and a Tax Accountant Walk Into a Bar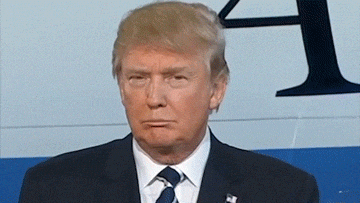 credit: giphy
The Supreme Court has turned down former President Trump's request that his tax returns be kept private. In chess, we call that Checkmate.
Manhattan District Attorney Cy Vance Jr. has been requesting the tax returns in court after court. In every legal challenge, Vance has been granted approval but the former President continued to appeal.
This time, Trump had sought a stay of a grand jury subpoena. The Supreme Court refused without an explanation but it is worth noting that no justices dissented. Not even the ones that Trump appointed:
Neil Gorsuch
Brett Kavanaugh
Amy Coney Barrett
The DA's investigation pertains to real estate deals in New York City where it appears that the President inflated the value of his properties on bank applications but deflated them on his tax returns to lower his tax payments.
The former President's accounting firm will now have to turn over nearly a decade of tax returns to the DA but they do not have to make them public. Which means that we won't necessarily get to see them. But we should! We assert that releasing tax returns should be a prerequisite for running for President from here on out. Amiright!?
How Much Stock Could a GameStop Stock
credit: ew.com
GameStop stock jumped 13% on Monday to $46 per share. GameStop, you'll recall, is the new darling of retail investors after it rallied in January to $483 per share.
Last week, the House of Representatives held a hearing to investigate GameStop's rise and fall. The stock had hung out around $20 per share for years before online groups rallied it over $400, causing institutional investors to lose billions. When buying of the stock was halted by trading platform Robinhood, the value plummeted back to it's $20 average but Reddit groups are not done with it.
Keith Gill, the Reddit user behind the initial rally, bought an additional 50,000 shares on Friday. In the congressional hearing, he maintained that he had been studying the fundamentals of the stock and remained optimistic that the company was in a strong position to succeed. He's literally put his money where his mouth is and the stock rallied again as a result. This isn't over.
News By The Numbers
credit: taco bell
$2.49. That is how much the new Crispy Chicken Sandwich Taco will cost when Taco Bell begins testing it in some restaurants in March. We're not saying we wouldn't try it but we also want to punch someone in the face for creating the phrase "sandwich taco."
$1.3 billion. That is how much Dominion Voting Systems is asking in a lawsuit against MyPillow CEO Mike Lindell. The suit alleges that he made false claims about the 2020 election, falsely blaming the company's voting software.
3. That is how many small businesses have sued Chick-fil-A for failing to manage long drive-thru lines and disrupting access to their own businesses. Many businesses have complained that the restaurant's drive-thru service causes major traffic jams in more than 20 states and that has only worsened during the pandemic.
$11.75 billion. That is how much electric vehicle maker Lucid Motors will be worth when it goes public, in addition to a $24 billion pro-forma equity value by a private investor. This deal is what is known as a special purpose acquisition company, or SPAC. The company is run by ex-Tesla engineering exec Peter Rawlingson.
Today's Live Show
On Today's Live Show:
The latest updates on what's in the $1.9 trillion stimulus package
Housing is headed for a foreclosure cliff
Neera Tanden's nomination for OMB is in trouble
Join us at 9 AM Eastern over your cup of coffee or tea. Click here to watch and subscribe.
Grover, You Know What You Did
this is how I write the newsletter: pajama pants and Grover on my lap. credit: natali morris
Do dogs know the consequences of their actions? A new study shows that dogs have "body awareness" and just might understand the consequences of their actions.
Fifty-four dogs were asked to fetch a ball from a mat. In some cases, the ball was attached to the mat so the dogs could not get the ball without getting off the mat. Most dogs understood that and were able to get the ball.
In other cases, the ball was attached to the ground under a mat and the dogs could not retrieve it. In those cases, the dogs recognized that their bodies were not an obstacle to the task, showing self-awareness.
Now, do they feel remorse or understand the consequences of their actions? This research does not study this but we think they do. Grover knows the difference between gnawing apart one of his own toys and one of the kids' stuffed animals and he much prefers the latter because he's a naughty dog.
Ukraine Hacked by Guess Who
credit: reuters
Ukraine is saying that it was hacked by Russia. A statement from the country's Defence Council says that its security and defense websites were attacked by Russian internet networks as part of a "hybrid war" against Ukraine, happening both online and offline.
The attacks began last week as a DDOS cyber-attack where networks are flooded by more requests to a server than it can handle. This confuses and ultimately freezes a network. A DDOS attack does not serve to steal data and it appears that was not done in this latest attack.
Ukraine has also claimed that five of its service personnel were killed by pro-Russian forces last week and another on Monday from a grenade launcher.
Share The Love
Become a friend of Morning Invest by sharing this newsletter with someone you love.
When you do give you actual rewards that'll make everyone jealous.