| TOGETHER WITH | |
| --- | --- |
Happy Thursday. 60 million people are getting walloped by the blizzard of 2020. If you're one of those people then we hope our newsletter brings you some warmth this morning.
credit: accuweather
In Case You Missed It.
A Kenyan man was extradited to New York with charges that he was planning a 9-11 style attack on the U.S.
A man in London admits that he "hatfishes" women on dating apps. This means he deceives them about his baldness by wearing hats.
A man in Florida risked serious harm when he retrieved his golf ball from the tail of an alligator.
The Post Office says it's "gridlocked" trying to deliver packages in time for Christmas.
Bitcoin surpassed $22,000 in value for the first time.
Coronavirus Update:
Total confirmed U.S. cases as of 7 p.m. ET Tuesday: 16,914,853 — Total deaths: 307,064 — Total tests: 220,908,767
CONFIRMING LOAN

Program

Rate

Change

APR

Change

30 year
2.81

%

0.03%

2.86%

0.03%

15 year
2.56

%

0.06%

2.65

%

0.06%
The Lead: Stimulus Comes Into Focus
credit: new york times
While Congress inches closer to an agreement on the economic stimulus package, the Federal Reserve has pledged to do its part by buying up at least $120 billion of debt per month for the foreseeable future. This means that the Fed will buy up securities that other investors will not in order to keep the market flowing and interest rates low.
Fed Chair Jerome Powell indicated that this is the best he could do but this move should not replace an economic stimulus. "It looks like a time when what is really needed is fiscal policy and that's why it is very positive thing that we're getting that," he said.
Are we getting that?
Lawmakers do seem to be hammering out final details on the package, expected to be approved by the end of this week. It now does include direct payments to the American people, as well as aid for small businesses, unemployment, and vaccine distribution.
It does not include bailouts for local governments and state Governors are mad as hell about it. The original bill did include $500 billion in aid for states and cities but that was removed in order to reach a compromise between the legislative chambers.
Sponsor: Policy Genius
There's never a bad time to save money, especially now. Meet Policygenius, the only insurance website that puts money back in your pocket. Seriously. Just take it for a spin and see how much money you'll save.
Compare insurance quotes side by side to find the best option – and save money doing it.
Apply and buy through Policygenius and let their licensed experts handle the rest. Free of hassle, free of charge.
So if you're feeling the pinch during the holiday season, find out how much you could save on home and auto insurance at Policygenius.com. They've saved their home and auto insurance customers an average of $1,000 a year by re-shopping. Policygenius. When it comes to insurance, it's nice to get it right.
Robinhood Becomes The Target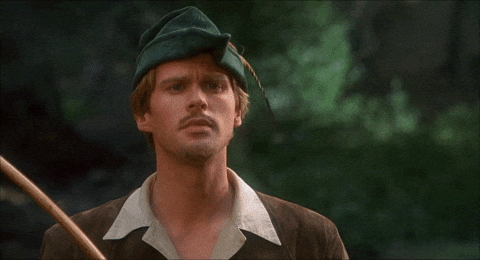 credit: giphy
Online stock trading app Robin Hood has been accused of "gamifying" investing "without regard for the best interests of its customers." The company now faces legal action from the Massachusetts Securities Division.
The complaint says that the company allowed investors to trade who had little or no investment knowledge. This violates state laws and regulations, as well as the app's own terms of service.
The complaint alleges that the app also gave lists of the most popular stock trades, which is akin to offering investment recommendations, which it is also not supposed to do. The state also says that the company failed to update its infrastructure as it gained popularity, leading to several mass outages.
Robin Hood denies all of the above and will defend itself against these allegations.
MLB Rights A Big Wrong
credit: getty
The Negro League of American baseball will now be referred to as a Major League, according to Major League Baseball, or the MLB.
"All of us who love baseball have long known that the Negro Leagues produced many of our game's best players, innovations and triumphs against a backdrop of injustice," said MLB Commissioner Rob Manfred in a statement on Wednesday. "We are now grateful to count the players of the Negro Leagues where they belong: as Major Leaguers within the official historical record."
The league in question ran from 1920 until 1948 and included about 3,400 players. This means that the statistics of those players and games will be added to the official history of the game and referenced against current records. It also amends the bios of talented players who never played in MLB games to make them Major Leaguers.
They deserve a spot in the Baseball Hall of Fame while we're at it, and not just as a single display.
News By The Numbers
credit: giphy
$16,000. That is how much a 6-year-old boy spent playing "Sonic Forces" on his Apple device. His mother reported the charges as fraud on her credit card only to find out her sweet son had actually charged them. Apple has refused to refund the purchases because she passed the 60-day return policy.
10. That is how many states are suing Google through the offices of the Attorneys General. They claim that Google had a back channel deal with Facebook to rig online ad auctions, code-named Jedi Blue, after the Jedi Knights from Star Wars.
37 years. That is how long a man in Michigan was in prison for arson and murder. He was freed last month after the star witness in the case admitted that she lied and evidence surfaced that the fire may have been a part of an insurance fraud scheme.
Where Did You Say You Got This Water?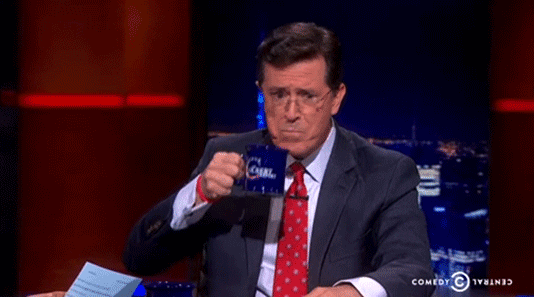 credit: getty
How do you feel about drinking your own filtered pee? Astronauts on the space station do it. They use a filtration system that recycles human urine and sweat into drinking water.
Now a company wants to take that same idea and bring it to Earth in order to deliver clean drinking water to the 2 billion humans that do not have it. The Danish company called Aquaporin A/S has developed an easier way to do this than the bulky and expensive system that astronauts use. They use a protein called aquaporin to filter bodily fluids for drinking. It is apparently so efficient that NASA is considering replacing their filtration with this system.
A lot of space technology has made its way to Earth: LED lights, solar energy, so why not this? Aquaporin is already working with water utilities to remove micropollutants and microplastics from wastewater. The company also has an under-sink filtration system that works without electricity and is currently available only in Europe.
Virtual Snow Days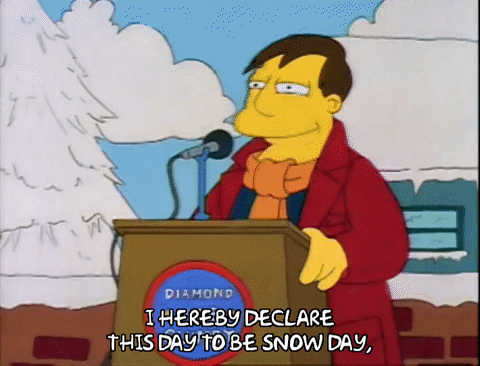 credit: giphy
A school superintendent in West Virginia is being praised for giving her district an actual snow day. The district could go to virtual learning since they learned how to do that during the pandemic, but they decided not to.
"It has been a year of seemingly endless loss and the stress of trying to make up for that loss," wrote Jefferson County Schools Superintendent Bondy Shay Gibson. "For just a moment, we can all let go of the worry of making up for the many things we missed by making sure this is one thing our kids won't lose this year."
Bah Humbug!
New York City mayor Bill de Blasio made the opposite decision.
"I know we all grew up with the excitement of snow days, but this year is different. Tomorrow will be a FULL REMOTE learning day for our students," said the mayor on Twitter
The Cost
This is an interesting conundrum. Snow days cut into holiday and summer breaks because they have to be made up. Now that students can go virtual, should they? Or should they get those days as a mental break to go outside and play and cozy up inside with family? Snow days do have a romantic nostalgia to them after all.
"Take pictures of your kids in snow hats they will outgrow by next year and read books that you have wanted to lose yourself in, but haven't had the time," the West Virginia superintendent said in her letter. "We will return to the serious and urgent business of growing up on Thursday, but for tomorrow, go build a snowman."
Today's Live Show
Join us on today's live show as the stimulus package comes together. We'll have the latest stimulus check battle that's brewing as we speak. Join us at 9 AM Eastern over your cup of coffee or tea. Click here to watch and subscribe.
Share The Love
Become a friend of Morning Invest by sharing this newsletter with someone you love.
When you do give you actual rewards that'll make everyone jealous.