| TOGETHER WITH | |
| --- | --- |

Happy Thursday. Happy St. Patrick's Day! We hope you opened this email before you left the house today so that we can remind you to wear green and keep your arse un-pinched. Related reminder: arse pinching can be construed as harassment.
credit: giphy
In Case You Missed It. 
🇺🇸 Over 2,000 U.S. Marines have been deployed to Australia for six months of "training". Australia says war with China is possible. Join us at 9AM Eastern on our live show where we'll be looking more closely at this story.
🇯🇵 A 7.3 magnitude earthquake hit Japan on Wednesday, triggering tsunami warnings and leaving millions without power.
🥤 Starbucks will phase out single-use cups in six stores and aims to do the same in all stores by 2025.
👎🏻 Facebook is cutting the free laundry perk for office workers and some spoiled brats are pissed to have to wash their own clothes. Dislike.
🇲🇽 A Mexican drug lord nicknamed El Huevo has been captured and deported to the U.S., launching a series of violent gun battles.
🕵🏻‍♂️ The $1.5 billion spending bill passed by President Biden includes a law that prevents former U.S. spies from working for foreign governments. Why is that in this bill?????
Coronavirus Update: 😷 
Germany is having another Covid spike but health officials say that the consequences are less dire. The country is set to pass laws to ease restrictions on Friday.
South Korea: same 👆.
The Irish Prime Minister will have to sit out of St. Patrick's Day fun because he has tested positive for Covid. The (bad) luck of the Irish!


| | | | |
| --- | --- | --- | --- |
| | Bitcoin | $40,687.31 | |
| | | | |
| --- | --- | --- | --- |
| | Ethereum | $2,758.54 | |
| | | | |
| --- | --- | --- | --- |
| | Cardano | $0.842 | |
| | | | |
| --- | --- | --- | --- |
| | Dow | 34,063.10 | |
| | | | |
| --- | --- | --- | --- |
| | S&P | 4,357.86 | |
| | | | |
| --- | --- | --- | --- |
| | Nasdaq | 13,436.55 | |
*Stock data as of market close, cryptocurrency data as of 5:00am ET. .
Markets: Stocks exploded on news we knew was coming. It's almost like investors forgot that Fed Chief Jerome Powell told all of us months ago that interest rate hikes were coming in March.


The Lead: Fed Tries to Move Interest Rates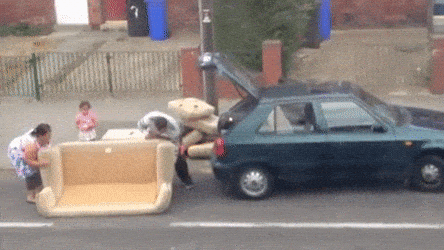 credit: giphy
The Federal Reserve raised interest rates by 0.25% on Wednesday. That is less than half of one percent that was expected.
After a two-day meeting, the Federal Open Market Committee voted 8-to-1 on the rate increase. The one "no" vote was because St. Louis Fed President James Bullard wanted a bigger jump.
The Fed also said that it will plan to shrink its $9 trillion asset portfolio, which was intended for stimulus but hasn't really worked out that way. Instead of stimulating an economy, it has resulted in historic price inflation for consumers.
"The shrinkage of the balance sheet..might be the equivalent of another rate increase," said Fed Chief Jerome Powell.
Powell would not commit to how many more rate increases will happen this year but he did say "several." Experts are predicting that rates will end up between 1.875-2.75% by the year's end.


Mr. Zelensky Zooms Into Washington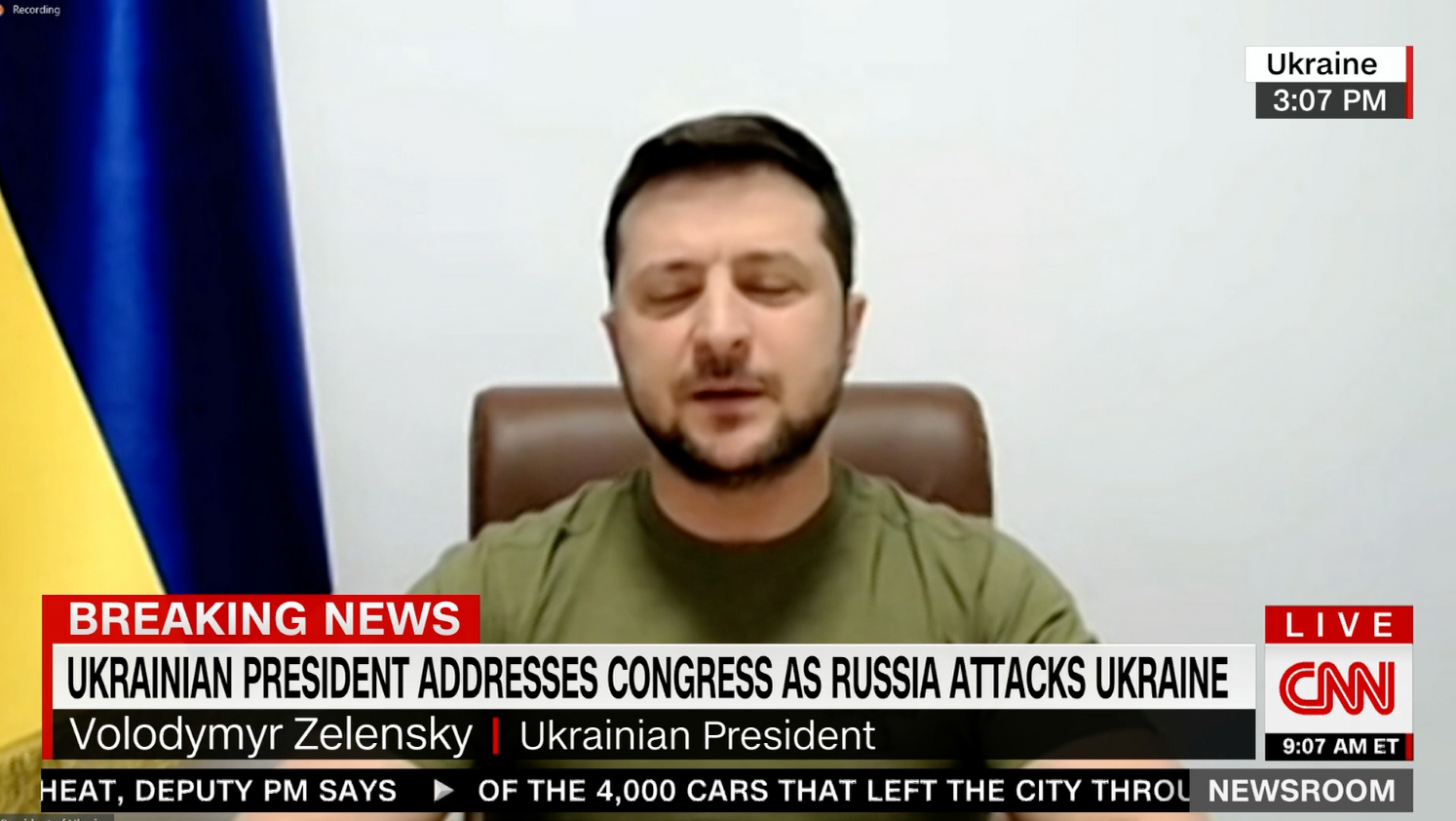 credit: cnn
Russian officials denied reports early this morning that they are close to an agreement that could end the conflict. A news report on Wednesday night from The Financial Times suggested the agreement would make Ukraine a neutral state with its own army. Despite that small glimmer of hope, the war rages on.
Meanwhile in D.C.
Ukrainian President Zelensky addressed a joint session of Congress on Wednesday pleading for more U.S. aid. President Biden committed to an additional $800 million in "security assistance." According to the Wall Street Journal, this will include 800 Stinger anti-aircraft systems, 2,000 Javelin anti-tank missiles, 1,000 light anti-armor weapons, 6,000 AT-4 anti-armor systems, 7,000 small arms like machine guns, shotguns and grenade launchers, 20 million rounds of ammunition and thousands of helmets and body armor.
While the West continues to sanction Russian businesses, including gas, Norway says that it will ramp up gas production through this summer in order to keep up with Europe's needs in the absence of Russian oil.
Due to sanctions, many Western-owned airlines are still inside of Russia and companies cannot go in and get them out. Russian President Vladimir Putin is playing finders-keepers with the planes.
The Kremlin will now allow the planes to be registered in Russia to be flown by other airlines. By some accounts, there are over 500 planes worth $10 billion that the airlines will have to write off of their books if this becomes permanent.


Sponsor: Cuts Clothing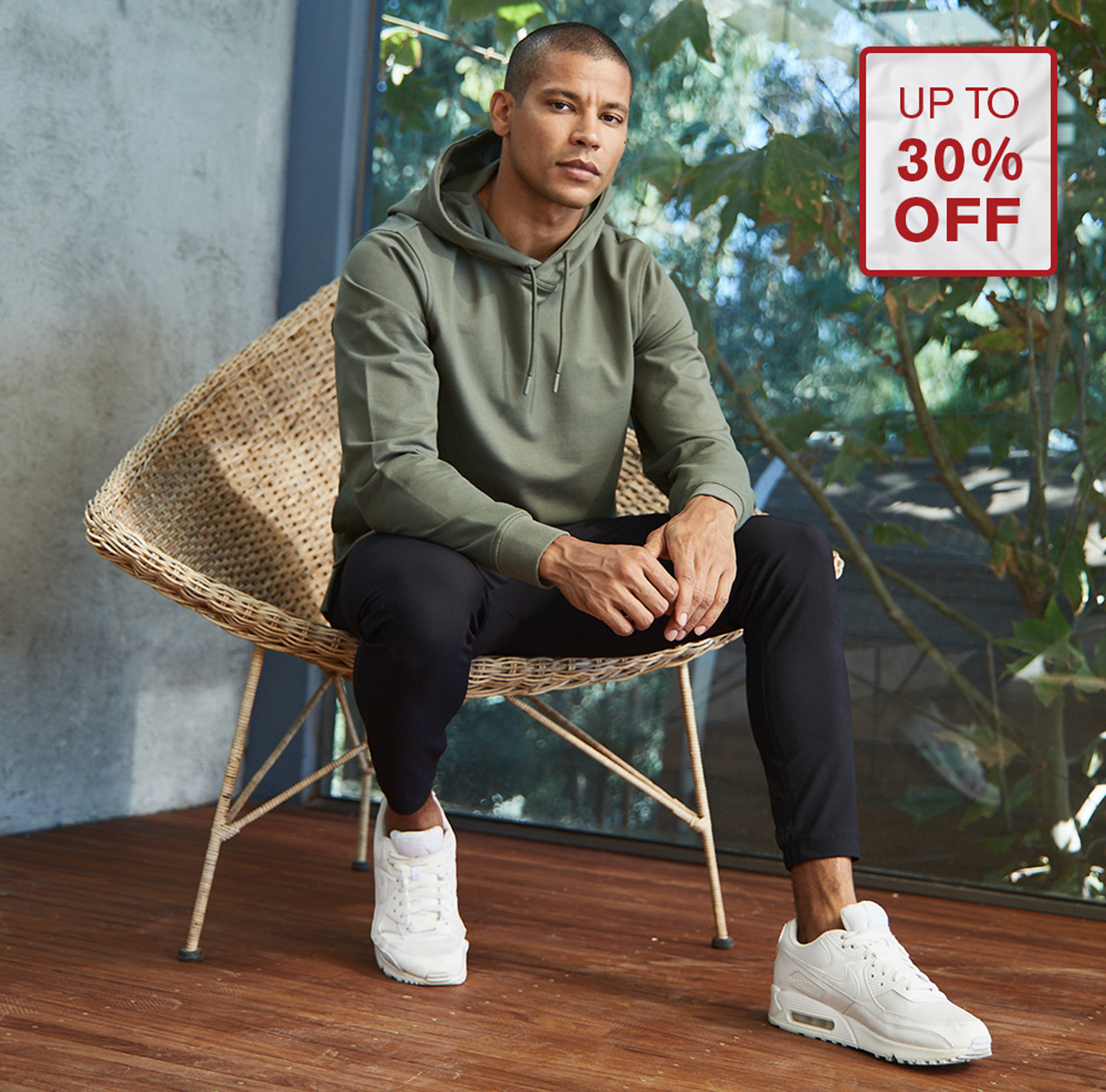 There's already a lot on our minds. The last thing we want to be spending too much energy on is what to wear.
CUTS Clothing has perfected the art and science of men's shirts, so you can throw one on and look great without ever thinking twice about it.
Every CUTS shirt is designed for a modern, tailored fit and they're insanely comfortable. Plus CUTS has all the essentials for looking sharp, like tees, hoodies, polos, and more. So you can stop bouncing between brands to shop for different shirts.
CUTS has totally revolutionized the traditional, outdated t-shirt category.
Join hundreds of thousands of guys who have made the simple decision to elevate their wardrobe with CUTS. Get 15% off your first order by going to cutsclothing.com/invest


Breathe In, Breathe Out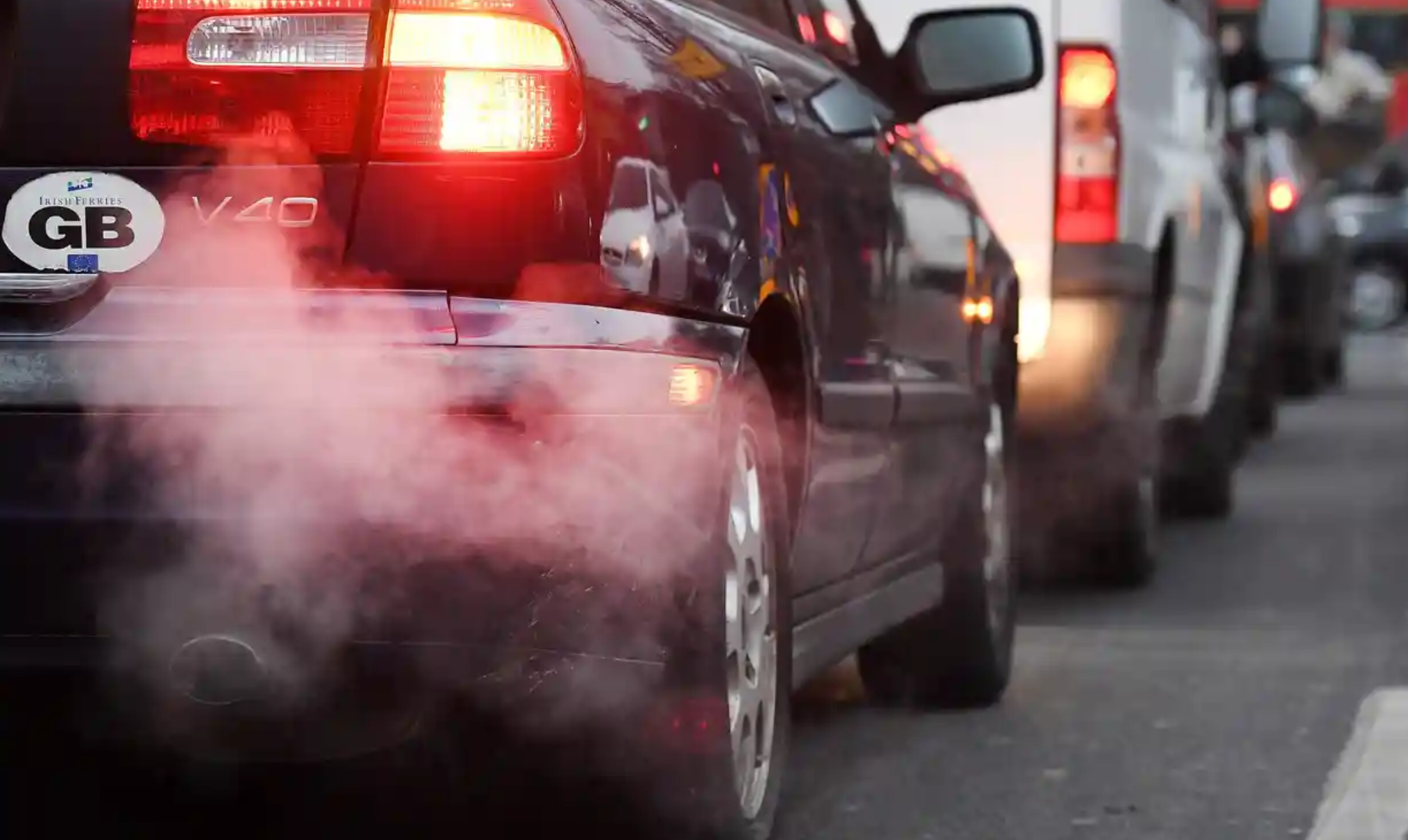 credit: epa
The U.K. set new air pollution targets for 2040. They're…better?
The World Health Organisation recommends that the level of fine particulate matter be limited to 5 micrograms per cubic meter. The U.K. says that it will set levels to 10. That is one-third less than levels were in 2018 but still double what the WHO suggests for, oh you know, healthy living.
The government also scrapped a plan to clean up England's rivers. It did say that it aims to reduce water pollution and half residual waste, as well as increase tree canopy and woodland by 3.5%.
These are itty bitty goals, not proportionate to the climate crisis. Please, England, don't get up.


A Victory For Freelancers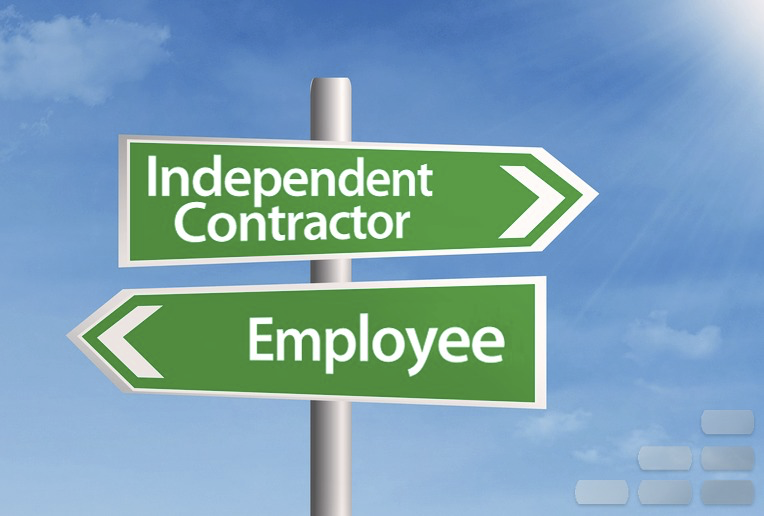 credit: marzano
If you are an independent contractor, the rules of your work will remain protected for the time being. A court in Texas has struck down the Biden Administration's attempts to change the rules around independent contractors.
Former President Trump instated what was called the independent contractor Final Rule. It clarified who can call themselves a contractor and who cannot. The Biden administration sought to block it from going into effect but lost in that effort in court this week.
Why is this important? Because the government does not like independent contractors as much as it likes paycheck employees. The government cannot tax them as aggressively, cannot reach directly into their paychecks and exert less control over them. The Biden administration sought to remove the Final Rule so that they could continue to challenge independent contractors' status in lawsuits and audits but they lost.
Many are celebrating this as a win for the freelance economy and we see it that way too.


News By The Numbers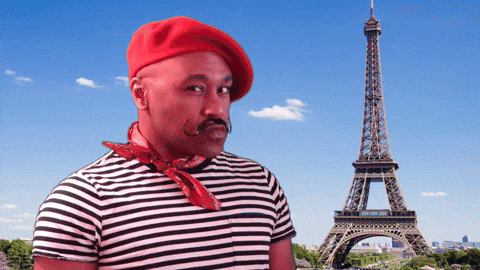 6 meters. That is how much taller the Eiffel Tower is now due to a new antenna.
1,800. That is how many Amazon employees are relocating away from the company's Seattle headquarters due to crime sprees in the downtown area.
35%. That is how many Americans are in favor of taking military action in Ukraine, according to a new survey.
25,500. That is how many bags of Walmart Corn Tortilla Chips are being recalled due to possible metal contamination.




Today's Live Show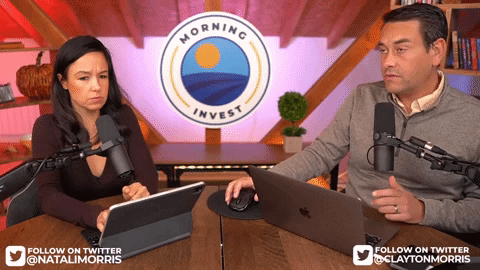 JOIN US TODAY AT 9AM EASTERN TIME
Join us on today's live morning show.  Today we're looking at why the U.S. is sending thousands of troops to Australia. Meanwhile, U.S. senators continue to push for American jets to be sent to Poland. All of that and more on today's show. Click here to RSVP and I'll see you at 9 AM Eastern.


Share The Love
Become a friend of Morning Invest by sharing this newsletter with someone you love.
When you do, we don't just give you a pat on the back and say, "Well done old sport." We give you actual rewards that'll make everyone jealous.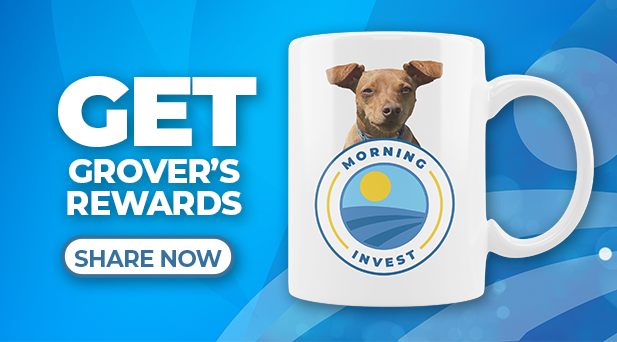 Or copy & paste your referral link to others: