| TOGETHER WITH | |
| --- | --- |
Happy Monday. Let's start this week with a smile.
In Case You Missed It.
A geologist found a geode that looks *just* like Cookie Monster when he split it open.
Tom Brady will be leading the Tampa Bay Buccaneers to the Super Bowl. It is the first for his team but the 10th for Brady. They will face the Kansas City Chiefs who will play their second consecutive Super Bowl.
Skinny jeans are out. Baggy jeans are in. You've been warned.
A dog in the Philippines would not stop barking to a bicyclist to get his attention. The cyclist followed and the dog let him to an abandoned baby. Good dog!!
Salmon are spawning for the first time in over 80 years in the upper-Colombian river.
Former White House spokesperson Sarah Huckabee Sanders is planning to run for governor in Arkansas.
The Prime Minister of Italy is said to be resigning in order to form a new government.
Coronavirus Update:
Total confirmed U.S. cases as of 2 p.m. ET Sunday: 25,057,251 — Total deaths: 418,329 — Total tests: 290,310,330
CONFIRMING LOAN

Program

Rate

Change

APR

Change

30 year
2.78

%

0.06%

2.83%

0.06%

15 year
2.26

%

0.09%

2.35

%

0.09%
The Lead: The Coming Stimulus Battle
credit: ap
Stop me if you've heard this before.
President Biden's Covid relief bill has an uphill battle to pass congress. This is the plan that involves $1,400 in direct payments plus $400 per week in extra unemployment.
Even though the Democrats have a majority in both chambers, not all Democrats are on board yet. Republicans have expressed willingness to negotiate a new package but have expressed concern with the cost and the debt it will put on the nation.
Clock is ticking
Current unemployment will expire in March. For President Biden to pass his plan by then, he will need all of his allies and some across the aisle, which he doesn't have yet.
A pesky thing called impeachment
The impeachment trial of former President Trump will not help. This could sour many Republicans against Democrats, even though many Republicans have shown an appetite to convict. It will also take up time and money and national attention. President Biden may have to break his bill into smaller pieces in order to get relief to the American people or he can revert to a process called reconciliation, which would only require 50 votes for passage of a law.
It would not be unprecedented for President Biden to use reconciliation. Former Presidents George W Bush, Trump, and Obama used this tactic to pass legislation such as tax cuts and part of the Affordable Care Act.
Sponsor: TrueBill
What if I told you that you could save $720 this year just by using Truebill? Would you believe me? Well, you don't have to take my word for it. You can try it right now have your mind blown. Just click here.
Truebill shows you how many subscription services are you paying for each month. Do you even know? Subscriptions add up, and sometimes we don't notice the monthly deductions from our bank accounts.
● 80% of people have subscriptions they've forgotten about. Are you one of them?
● How do you keep track of your bill payments and budgets? Clunky Excel spreadsheets? Scattered Post-it notes?
Truebill is the smartest way to manage your finances with an easy-to-use app. You can review all of your recurring charges in one place and the best part is that you can cancel those pesky subscriptions right inside the app.
I couldn't believe how much money they saved our family. They found old subscriptions that I didn't even know about. Try it right now by clicking this link to start saving some money.
Extended Stay
credit: ap
The National Guard has not been sent home from Washington DC yet. Thousands of troops will remain stationed in the nation's Capital during the impeachment trials of former President Trump.
"As we continue to work to meet the final post-inauguration requirements, the National Guard has been requested to continue supporting federal law enforcement agencies with 7,000 members and will draw down to 5,000 through mid-March," an agency spokesperson said. "We are providing assistance such as security, communications, medical evacuation, logistics, and safety support to state, district, and federal agencies."
At least they will have proper lodgings. After images of them sleeping in parking garages went viral last week, President Biden called to apologize for this and asked what he could do. The Capitol Police has since found them "appropriate spaces."
Excuses, Excuses, Excuses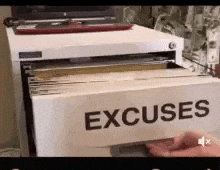 credit: giphy
The defenses are rolling in for those who were charged in the January 6 Capitol riots and they make for some fun reading.
One man claims that he broke into the Capitol because he was interested in looking at "historical art." Understandable. We all have missed going to museums during the pandemic. Some more than others apparently.
Some defendants claim that they were journalists, covering the riot for posterity because they were live streaming on their social networks. Others have said that they were there because the President invited them.
Of course in the U.S., everyone should enjoy the presumption of innocence until proven guilty. So now the government has to prove that forcing your way into federal properties to look at historical art is not legal.
News By The Numbers
credit: nytimes
$7,000. That is how much the Rolex is worth that President Biden wore for his inauguration. Question: Wouldn't the day you are sworn in as the most powerful leader on the planet be the right time to wear a Rolex? Or is there a bigger occasion to save that for?
4.2 million. That is how many views a TikTok video has in which a woman confesses to being bullied for parking in handicapped spots. The woman has no legs. She is a double amputee and a Paralympic swimmer. Let's use this video as a friendly reminder that you never know someone's abilities simply by looking at them so best to make kindness your default.
5,000 feet. That is how far a woman fell after she jumped out of an airplane and her parachute failed to open. Miraculously, the 30-year-old woman survived with only a few fractures and broken vertebrae.
128. That is how many Godiva stores will close by the end of March. The luxury chocolatier says that this represents all of its North American brick-and-mortar stores but stores in Europe, the Middle East and Greater China will stay open.
Protests Erupt Across Russia
credit: gavriil grigorov
Enormous protests are raging in Russia where citizens are demanding the release of opposition leader Alexei Navalny. The Kremlin has downplayed these as small protests but The Guardian estimates that over 3,500 people were arrested across 10 time zones.
Navalny was arrested when he landed in Russia after spending months recuperating from an attempt on his life. He is President Vladimir Putin's biggest enemy and the state is holding him in jail to await a hearing for violating parole on an old charge, which was thrown out by European ethics courts. Protestors demand he be released and given the chance to run a fair election against Putin.
Videos show protestors throwing snowballs, and engaged in combat with officers. Many people have been hospitalized.
A spokesperson for the U.S. State Department condemned violence against the protestors. That statement pissed off the Kremlin. They said that President Putin will have a dialogue with President Biden but right now the two countries are closer to "enemies" than "partners." They must really miss President Trump now.
The Robots Are Coming To Save Us
credit: reuters
The company that makes the Sophia humanoid robot says that it plans to mass-produce bots this year in order to help with the pandemic.
"The world of COVID-19 is going to need more and more automation to keep people safe," said David Hanson, the founder of Hanson Robotics in Hong Kong.
So what could a human-like robot do to help with the pandemic? They could work in front-line jobs in the grocery or travel industries, for instance. They could work in medical diagnostics. They could do all of these things without the risk of contracting and spreading the virus.
But they could also evolve human feelings and force us to face the absurdity of our own humanity! That is the plot of the bestselling book Set My Heart To Five, soon to be a movie. It is a hilariously witty book and worth reading and seriously thinking about this concept before it becomes a reality.
Today's Live Show
On today's live show we're taking you to Washington to look at the difficult path for President Biden as he tries to pass a massive stimulus package. Can he do it? Will Republicans block him? Join us at 9 AM Eastern over your cup of coffee or tea. Click here to watch and subscribe.
Share The Love
Become a friend of Morning Invest by sharing this newsletter with someone you love.
When you do give you actual rewards that'll make everyone jealous.