| TOGETHER WITH | |
| --- | --- |
Happy Friday! Today we're bringing back our Grover Mug giveaway. Buried in today's newsletter is a hidden word that doesn't belong. It's out of place. It's a fish out of water. It's a black sheep. I can't think of any more.

Anyway. Find that random hidden word and then go to this link to fill in your COMPLETE information. And we'll announce three winners on today's live morning show at 9 AM Eastern. Please be sure to fill out your address and name completely so that we can mail you the free mug. Use this link to fill in your answer.
In Case You Missed It.
Time Magazine named Joe Biden and Kamala Harris as Person of the Year. Perhaps the magazine should look up AP style for the plural of "person."
President-elect Joe Biden appointed Susan Rice to lead the White House Domestic Policy Council.
Tasmanian devils have learned to cope with what was previously thought to be a fatal cancer and the species may not go extinct as a result.
Ben & Jerry's introduced an ice cream flavor inspired by Colin Kaepernick called "Change the Whirled." It is made with caramel non-dairy sunflower butter, fudge chips, graham crackers, and chocolate cookies.
A man in Florida paid over $7,000 to pay overdue utility bills for 114 families in need.
Coronavirus Update:
Total confirmed U.S. cases as of 6:30 p.m. ET Thursday: 15,550,786 — Total deaths: 291,754 — Total recoveries: 5,891,885
Lead Story: Stimulus Stalls… Again
credit: reuters
Congressional agreement on the economic stimulus bill is fraying quickly as Senate Majority Leader Mitch McConnell has said that they are willing to walk away from things as they stand.

At issue is liability protection for small businesses, or whether a small business could get sued over infections. Republicans want businesses to be immune. Democrats don't.

The dollar amount is no longer the problem. Both sides are fine with the $908 billion that is on the table, although Democrats would prefer a higher number. Neither side appear to be debating Treasury Secretary Steven Mnunchin's proposal, put forth earlier this week. They can only dysfunctionally argue about one thing at a time.
CONFIRMING LOAN

Program

Rate

Change

APR

Change

30 year

2.79%

0.02%

2.85%

0.02%

15 year
2.49

%

0.06%

2.58

%

0.07%
Supreme Court Karma
credit: ap
The Supreme Court ruled unanimously on Thursday that Muslim men who were put on the government's no-fly list can sue the FBI.

Three Muslim men brought the suit, saying that they were asked to be FBI informants, and refused. As a result, they were placed on the no-fly list as a retaliation. They say that the inability to fly cost them "substantial sums of money" in lost job opportunities.

The court ruled that the men can sue the FBI agents that did this to them under the 1993 Religious Freedom Restoration Act.
Sponsor: Get Free $1,600 with Webull

Webull is blowing my mind. Right now until December 15th, Webull is giving away 4 free stocks valued up to $1,600. Yes, you read that right. Why not get some free money? Right now you can get FOUR free stocks valued up to $1,600 just for opening an account with Webull. And you have to check out Webull's new desktop app too! Seriously it's awesome.

You'll get up to $1,600 in stocks just for opening a free trading account with Webull and depositing $100 into the account to activate it. Remember you're not spending $100, you're simply depositing that money into your account.

Simply click here and start an account. Even if you never do anything else with the account you still get that free money.
With Webull you can invest in thousands of companies using their trading tools and analytics to create your own financial portfolio. And the best part is $0 commissions and no deposit minimums. I remember when I used to pay $6 per trade with some other companies. Not any more thanks to Webull.
Sign up today and get your free stocks. Thanks, Webull.
Senator Blocks Votes To Build Museums for Latinos and Women
credit: deseret news
Republican Senator Mike Lee of Utah voted down legislation to establish a Smithsonian museum for American Latinos and another for women's history. The Smithsonian does have museums dedicated to African Americans and Native Americans, but Senator Lee appears to think that's plenty.

"I understand what my colleagues are trying to do and why. I respect what they're trying to do. I even share their interests in ensuring that these stories are told. But the last thing we need is to further divide an already divided nation with an array of segregated, separate-but-equal museums for hyphenated identity groups," Lee said.
This legislation had passed the House of Representatives in July and was expected to pass the Senate too, but for this one (white) guy.
The Fair Price of Chocolate
credit: cnn
The two largest cocoa producers in West Africa are asking to increase their prices in order to pay workers a living wage but they face an uphill battle.
The Ghana Kuapa Kokoo co-operative wants to add $400 per ton of chocolate exported from the Ivory Coast and Ghana so that farmers earn better pay for their crops. They say that the U.S. company Hershey has made this difficult for them by sourcing beans from the futures market in New York, meaning it would not have to pay for this supplement.

These farmers export 60% of the world's chocolate, yet they barely scrape by and the coop that speaks for them has very little negotiating power. Hershey says that it supports living wages for farmers but has not done much to support this initiative. The chocolate industry earns about $100 billion per year in retail sales.
News By The Numbers
credit: ladbible.com
$1 million. That is how much a YouTuber faces in fines for a prank where he drove his car into a lake. The video had millions of views and caused authorities to charge him with negligently disposing of waste causing environmental harm. He also faces up to 7 years in jail.
90 years. That was the prison sentence of a man in Florida who was sentenced for selling marijuana. He received early release this week after serving 31 years. The typical marijuana sentence was 12 years when he was sentenced in 1989 but he believes he received a harsher sentence because the judge mistakenly thought he was part of an Italian crime mob.
106. That is how many House Republicans have signed on to support the Texas lawsuit seeking to invalidate the Presidential Election in Pennsylvania, Georgia, Wisconsin, and Michigan. That is over half of them. mistletoe
$1 million. That is how much actor Brian Baumgartner, best known for his role in The Office, made in revenue from his videos on Cameo in 2020. Cameo lets users pay celebrities for personalized messages. Want Lindsay Lohan to wish you a happy birthday? Just pay her $215 and you're all set.
Washington State, I don't even know who you are any more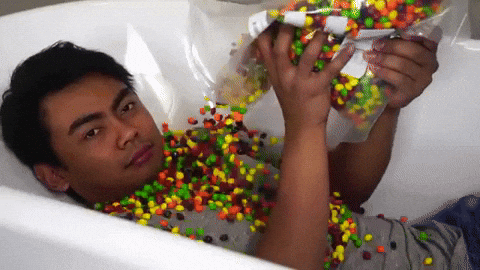 credit: giphy
A study of Google Trends shows what is the most popular Christmas treat in each state. In Washington state it is Skittles. What is wrong with you, Washington?

This comes from an analysis of Google Trends to see what sweet is most searched for in the state over the holidays. Some other unusual findings: In Missouri, the most searched term is "vegan Christmas cookies." In Nebraska, it is the "York Peppermint Pattie." In Iowa, it is "Oreo balls."

Skittles should be a disqualifier. Christmas is canceled for you, Washington. Go think about what you've done.
Today's Live Show
Join us on today's live show as we announce the winners of our hidden word contest. We'll also have the very latest on stimulus negotiations and President-elect Biden's cabinet picks. Click right here set a reminder and watch us live at 9 AM Eastern.
Share The Love
Become a friend of Morning Invest by sharing this newsletter with someone you love.
When you do, we don't just give you a pat on the back and say, "Well done old sport." We give you actual rewards that'll make everyone jealous.