| TOGETHER WITH | |
| --- | --- |
Happy Wednesday! The number one trending Google search term in the world this morning is Mitch McConnell. Read on to find out why.
In Case You Missed It.
A Gallup poll put Donald Trump as the most admired man of 2020 and Michelle Obama as the most admired woman.

New Karen alert. This video has gone viral of a woman falsely accusing a black teenager of stealing her iPhone.

Over $60,000 in Balenciaga purses were stolen from a Manhattan shop in a midday heist last weekend.

A class-action suit is taking on King's Hawaiian sweet rolls for not being made in Hawaii but rather in California.

Abortion has been legalized in Argentina for the first time.

In Tuesday's newsletter, we put the wrong link to information about a garlic powder recall. Correct information can be found here. Apologies. Check your pantry.

Coronavirus Update:
Total confirmed U.S. cases as of 7:15 p.m. ET Tuesday: 19,521,613 — Total deaths: 337,829 — Total tests: 243,784,420
The more aggressive Covid strain from the UK has been documented in Colorado.
A Walgreens in Louisville, Kentucky had more Covid vaccines than it needed for orders but did not want them to expire so they surprised locals on Christmas Eve with a first-come-first-serve offer. A woman with stage 4 cancer counted herself amongst the lucky recipients.
New York City Police are looking for 6 suspects who punched a woman in the face for not wearing a mask on the subway.
Hundreds of Covid vaccines were unrefrigerated and had to be tossed out in Wisconsin.
Congressman-elect Luke Letlow died of Covid just days before being sworn in for the first time.
Lead Story: McConnell Blocks Stimulus Vote
credit: giphy
The bill that would give Americans $2,000 in stimulus relief was not put up for a vote in the Senate by Majority Leader Mitch McConnell on Tuesday. The bill passed the House of Representatives as a stand-alone piece of legislation but McConnell did not put it on the Senate floor as it stands.

This does not mean the $2,000 payments won't happen. McConnell wants to put the payments into a bill that would also repeal legal protections for social media companies and establish an election fraud committee.

McConnell first wants the Senate to override the President's veto of the defense bill but Senator Bernie Sanders refuses to cooperate if the $2,000 bill is not put up for a vote. This could keep the Senate in session into New Year's Day but Sanders has shown that he is willing to do that.
CONFIRMING LOAN

Program

Rate

Change

APR

Change

30 year

2.78%

0.00-%

2.84%

0.00%

15 year
2.51

%

0.01%

2.61

%

0.01%
Ruff Rule Change
credit: USA today
Alaska Airlines is the first airline to soon ban emotional support animals on its flights, effective January 11. The airline will still allow transport service dogs, defined as dogs that are "specially trained to perform tasks for the benefit of a qualified individual with a disability."

This comes after the Department of Transportation revised its rules that had required airlines to make the same accommodations for emotional support animals and trained service dogs. They no longer have to do that.

There is a big difference between a properly trained service dog and emotional support animals. Emotional support animals can be a wonderful thing but there is always someone trying to ruin it for everyone. People were trying to fly with pets that they said were for emotional support and it was getting a bit ridiculous. One person tried to fly with an "emotional support peacock."
Unsurprisingly, flight attendants are very much in favor of these new rules.
Sponsor: Get Free $1,600 with Webull

You have two days left to get Webull's 4 free stocks valued up to $1,600. Yes, you read that right. Why not get some free money? Right now you can get FOUR free stocks valued up to $1,600 just for opening an account with Webull.

You'll get up to $1,600 in stocks just for opening a free trading account with Webull and depositing $100 into the account to activate it. Remember you're not spending $100, you're simply depositing that money into your account.
Simply click here and start an account. Even if you never do anything else with the account you still get that free money.
With Webull you can invest in thousands of companies using their trading tools and analytics to create your own financial portfolio. And the best part is $0 commissions and no deposit minimums. I remember when I used to pay $6 per trade with some other companies. Not any more thanks to Webull.
Sign up today and get your free stocks. Thanks, Webull.
Full of Hot Air
credit: getty
The Environmental Protection Agency is implementing rules about greenhouse gas emissions for commercial planes. This is the first time a government agency has put such rules in place and it is a nice gesture but the EPA says that they will not actually lower any emissions as a result.

Helpful. Thanks.

What the rules do accomplish is require aircraft manufacturers to use fuel-efficient engines that release less heat-trapping carbon dioxide by 2028. The EPA says that many aircraft already meet these requirements.

Commercial aircraft make up 3% of the country's greenhouse gas emissions. Instating these rules helps the government avoid a lawsuit that would have forced them to regulate these emissions but since they don't really require major changes, it's more of a governmental gobbledygook that does not help Mother Earth at all.
Bird Apocalypse
credit: giphy
In the fall, we reported several stories of birds mysteriously falling dead out of the sky en masse. Scientists have studied these birds and found that many of them died from starvation.

Nearly 10,000 dead birds were reported between August and September. Over 170 carcasses were analyzed by the National Wildlife Health Center and it was found that 80% of them were emaciated with severely shrunken muscles, blood leakage in their intestinal tracts, and kidney failure.

How can entire flocks die of starvation at once? Researchers point to a severe drought followed by a massive cold sweep.
Or the apocalypse. Could be either.
News By The Numbers
credit: ap
7.4 feet. That is the size of an underwater drone that an Indonesian fisherman caught in his nets. Or at least that is what the Indonesian military thinks it is.

$76 million. That is how much money the Omni hotel chain accepted in Paycheck Protection loans but did not use it to keep employees on payroll. The company now says that it will repay the loans at the 1% interest rate.

20 minutes. That is how long scientists in South Korea say that it takes to repair a cracked phone screen with a solution that they made from linseed oil.

20. That is how many states are raising their minimum wage starting January 1. Four additional states plus Washington, DC will raise their minimum wages later in the year.
UFO Disclosure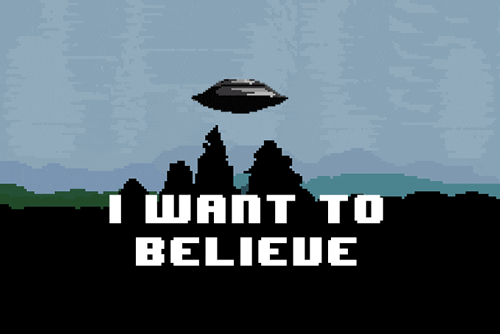 credit: giphy
The new Covid relief bill has an odd stipulation that gives the Pentagon and spy agencies 180 days to report what they know about UFOs. This was not in the original legislation but was attached as a committee commitment after.

The Senate Intelligence Committee "directs the [director of national intelligence], in consultation with the Secretary of Defense and the heads of such other agencies… to submit a report within 180 days of the date of enactment of the Act, to the congressional intelligence and armed services committees on unidentified aerial phenomena."

They also have to address "unidentified phenomena data collected by a. geospatial intelligence; b. signals intelligence; c. human intelligence; and d. measurement and signals intelligence."
Cool!
A Fun Tail
Scientists say that alligators can regrow their tails up to 9 inches, or 18% of their bodies. This is not so impressive for a gecko or a lizard but an alligator? That is like growing back a whole forearm!

A biologist from Arizona State proved this by studying a regenerated tail that was slightly discolored with smaller scales than normal. This means that alligators are the largest animals known to regenerate limbs and can possibly help scientists research regeneration-based medicine in humans.
Today's Live Show

credit: morning invest
Join us on today's live show as we analyze the potential for $2,000 stimulus checks with McConnell's new bill. Will President Trump get involved? Click right here set a reminder and watch us live at 9 AM Eastern.
Share The Love
Become a friend of Morning Invest by sharing this newsletter with someone you love.
When you do, we don't just give you a pat on the back and say, "Well done old sport." We give you actual rewards that'll make everyone jealous.