| TOGETHER WITH | |
| --- | --- |
Happy Tuesday.

Here's a tiny history lesson for you.

Today is Pepper Pot Day. Pepper Pot is a thick spicy soup that was first created on December 29, 1777, in Valley Forge, Pennsylvania. It's famous in Philadelphia for helping to win The Revolutionary War. The Continental Army survived on the soup made of tripe, vegetables, and whatever else they could find during the harsh Winter of 1777.

A canned condensed Pepper Pot soup was available from the Campbell Soup Company for around 100 years until it was discontinued in 2010.
In Today's Newsletter:
The House passes $2,000 stimulus checks

VP Pence gets sued by the GOP

Drones can now fly overhead while you sleep
In Case You Missed It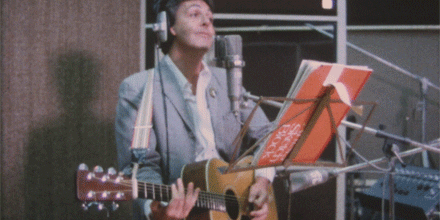 credit: giphy
Paul McCartney's new album, "McCartney III" is the number 1 album on Billboard, giving the former Beatle his first number 1 hit in 31 years.

President-elect Joe Biden says that President Trump's administration has been blocking information to his transition team "irresponsibly."

Some leaders in Switzerland have "Brexit envy" and want a similar deal for their country.

Check your pantry because the FDA is recalling certain bottles of garlic powder.

People are so desperate to go gather outdoors according to distancing rules that they are wearing snowsuits as fashion statements.
Coronavirus Update: Total confirmed U.S. cases as of 5:30 p.m. ET Monday: 19,248,978 — Total deaths: 334,361— Total tests: 242,200,060

CONFIRMING LOAN

Program

Rate

Change

APR

Change

30 year

2.81%

0.03%

2.87%

0.03%

15 year
2.63

%

0.11%

2.72

%

0.12%
Lead Story: Stimulus Hostage
credit: shutterstock
The House of Representatives voted to approve $2,000 per person in Covid relief on Monday. This is in addition to the $600 that is already coming because the President signed the $900 billion relief package over the weekend.

The President also supports the extra $2,000 but his party does not. Now it goes to the Senate where it does not have enthusiastic support. It is not even clear if Majority Leader Mitch McConnell will even put it up for a vote.

Republicans who have expressed opposition to it cite budgetary concerns and hold the opinion that the money would be better spent on businesses rather than directly on struggling families.

Senator Bernie Sanders is threatening to filibuster the massive defense bill if the Senate does not hold a vote for the $2,000 payment. If he does this, he could keep the chamber in session over the weekend, keeping the two Georgia Senators who are facing a runoff for their seats in Washington and away from their crucial campaign schedules.
Sponsor: HelloFresh

Want to save 40% on your grocery bill? Want delicious ingredients shipped right to your door? Want to prepare amazing meals in under 30 minutes? Want to get 10 free meals for trying it out? Then you're in luck. You'll get free food with that link.

Introducing HelloFresh. Get fresh, pre-measured ingredients and mouthwatering seasonal recipes delivered right to your door, America's #1 meal kit. HelloFresh lets you skip those trips to the grocery store, and makes home cooking easy, fun, AND affordable.

The recipes are easy to follow and quick to make, with simple steps and pictures to guide you along the way. You'll save 40% off your grocery bill by using HelloFresh. The packing is all made from recyclable materials. They have multiple meal options for small and large families ranging from vegan to meat and everything in between.
Even if you don't like it you just got 10 meals of free food delivered to your door because of Morning Invest. You'll have to use this link to get it. Use the code Invest10 to get those free 10 meals.
Hail Mary Lawsuit
Louie Gohmert credit: bloomberg
Now GOP lawmakers are suing their own GOP Vice President, Mike Pence, in an attempt to keep President Trump in the White House.

Texas representative Louie Gohmert and his colleagues filed a lawsuit against the Vice President, asking a federal judge to strike down the law that gives Pence the authority to preside over the electoral votes on January 6. It also asks the courts to give Pence the authority to overturn the election results in battleground states.

So, according to this suit, Pence can overturn the states he and President Trump lost but not the ones they won? And he is being sued for doing the job he is supposed to do? We'll give the Republicans points for tenacity but not for actual merit here.
News By The Numbers
credit: getty
$35 million. That is how much Texas billionaires Dan and Farris Wilks received in government loans to keep their fracking businesses afloat, investing in struggling companies with the help of Senator Ted Cruz.

120 feet. That is how far a woman's car plummeted from a cliff in San Francisco this weekend. She survived but is in serious condition.

$182,000. That is how much one man was fined by the Federal Aviation Administration for violating regulations while flying his drone.

$10,000. That is how much an Instagram influencer spent on buying herself Christmas gifts but did not buy her three children anything at all because she wants them to learn to support themselves being influencers too. "Spoiling kids at Christmas is wrong," she says.
Super Emitters
credit: now this
New research shows that only 1% of the global population cause more than half of the aviation industry's carbon emissions. Or at least they did in 2018 when people could fly for business.

This 1% group is called the "super emitters" and it is made up of people who fly more than 35,000 miles per year. The Council on Clean Transportation estimates that this travel was responsible for $100 billion in damage to the climate in 2018. The worst offenders were American travelers, leaving a bigger carbon footprint than the next 10 countries combined.

Clearly these super emitters were not afforded the luxury of wasteful travel in 2020 so it will be interesting to see how this year changes business travel for the 1%.
Out of Sight, Out of Mind
credit: lewis whyld, pa
If your New Year's Resolution is to eat less junk food, you will be less tempted if you live in England. The government has banned supermarkets from displaying unhealthy food and drinks in the checkout aisles as well as offering buy-one-get-one offers.

The Johnson administration has promised to crack down on obesity in England and this is a major first step. The rule will also apply to other high trafficked areas of the store such as the entrance and end of aisles. The same rules will apply to Website checkouts.

Additionally, restaurants will not be allowed to offer free refills on sugary drinks, although that is less of a thing outside of the U.S.
These rules only apply to stores with 50 employees or more and they do not go into effect until 2022.
New Drone Rules
credit: reutuers
The Federal Aviation Administration has set new rules about drones that clear the way for them to be used for commercial deliveries. The rule says that drones can fly over people and overnight. Previously, drones could only fly over people who were operating them.

In order to control this, the FAA will require identifying information for each drone as well as anti-collision lights. They will also be allowed to fly over moving vehicles on the land in some circumstances.

Delivery services like Amazon and Walmart are chomping at the bit, waiting on these rules. The U.S. alone has over 1.7 million drone registrations and 203,000 FAA-certified remote pilots.
Share The Love
Become a friend of Morning Invest by sharing this newsletter with someone you love.
When you do, we don't just give you a pat on the back and say, "Well done old sport." We give you actual rewards that'll make everyone jealous.